Last Edited:
September 24, 2020
All of the information on this page has been reviewed and certified by an addiction professional.
Facing Drug and Alcohol Addiction in Massachusetts
People in Massachusetts have created a diverse culture all their own. Boasting about some of the country's richest history, they also have serious bragging rights as home to the most successful colleges. Among the most notable are Harvard, MIT and Boston College. Massachusetts officials are very mindful of the dangers of drug and alcohol abuse and are proactive in curbing the developing addictions. Massachusetts has treatment facilities with well trained professionals ready to help those in need.
In This Article
However, even with this support in place, Massachusetts residents may still find their way into trouble. If you are one of the millions of people affected by addiction, it is never too late to get the help you deserve.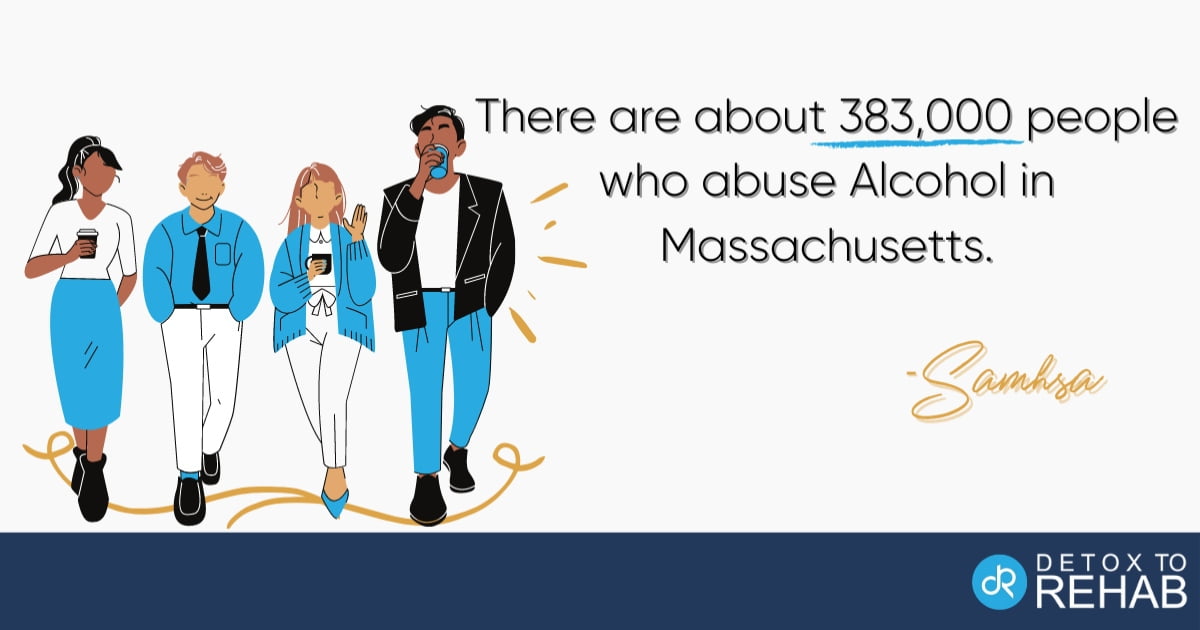 Quick Facts:
There are about 383,000 people who abuse Alcohol in Massachusetts.

Realizing that you need to get treatment for your addiction can feel overwhelming. It is doable, these days getting addiction treatment is so common that insurance companies now pay for treatment.
Drug treatment is becoming less taboo as people are finding their medications are easily addictive and decide to get help before their addictions spiral out of control. Drug treatment is confidential and tailor made to fit your needs. Treatment centers don't just address your addiction, they treat the problems that you may have lured you into abusing drugs and alcohol. We can help you break free from your addiction and get clean today, find a treatment center that can help save you from addiction. For more information on services for substance abuse call, (866) 578-7471.
Best Massachusetts Treatment Centers
Massachusetts Inpatient Rehab Facilities
Massachusetts Outpatient Rehab Centers
Massachusetts Sober Living Houses
Massachusetts Drug & Alcohol Detox
Getting started with detox center can seem like a daunting task for anyone. Often people have many fears about the process and tragically, let this apprehension keep them from getting the help needed. After all, life has been centered around drugs and alcohol for so long, what will life be like after?
The most common question faced by detox professionals surrounds the issue of pain. Will it be uncomfortable since my body is so used to a minimum amount every day? The truth is that there are many ways to approach detox that will limit your discomfort and help prepare you for rehabilitation.
The nurses or doctors in a detox center may utilize a wide variety of cutting edge treatments methods to give you the relief you need to get through this vital first step.
Massachusetts Drug & Alcohol Rehab
Once you detox and stabilize the next stage of recovery begins. Rehab is where you start working through issues that could have sparked your addiction and learn healthier living habits. Healthy relationships are often a casualty of addiction, which in turn can further promote addiction.
Many people need to learn or relearn how to set boundaries, value their own worth and stand up for themselves and their values. To stay sober for the long haul, it is essential to learn healthy habits and gain a strong support system that has your best interests in mind.
The change will occur through psychotherapy, counseling and other methods. Getting to the root of the issues that caused you to begin abusing alcohol and drugs in the first place can help prevent relapse in the future.
Finding Treatment
Massachusetts is mindful of the significant problems that alcohol and drug abuse cause individuals and society. Preventative methods are in place and treatment facilities are available to accommodate different lifestyles. Look for a treatment facility that is willing to fit your needs.
Do you have a job and children to look after? Maybe an outpatient facility suits you best. Need a fresh start away from triggers and old friends? Perhaps your best bet is an inpatient facility. Use our search tool above to browse what's available near you.
The first step is deciding that enough is enough. If you are tired of the endless and vicious cycle of using and needing more, get help today. Determining what treatment plan is best for you may feel overwhelming, but we are here to aid you through the process.
Should I Travel for the Best Addiction Treatment?
For many people looking to get and stay sober, travelling for treatment is recommended. Some people decide to travel to get away from old friends, home and other triggers that could threaten their sobriety. Many people do not realize the level of social pressure that is involved with using.
You have taken the admirable leap toward a new life, however not everyone has the same frame of mind. Others may want you to stay bogged down in misery for their own selfish reasons and will pressure you to do so also.
For people in a situation such as this, travelling for treatment is the most excellent choice as it will remove the individual from the potentially negative influences that seek to interfere with finding a better life in sobriety.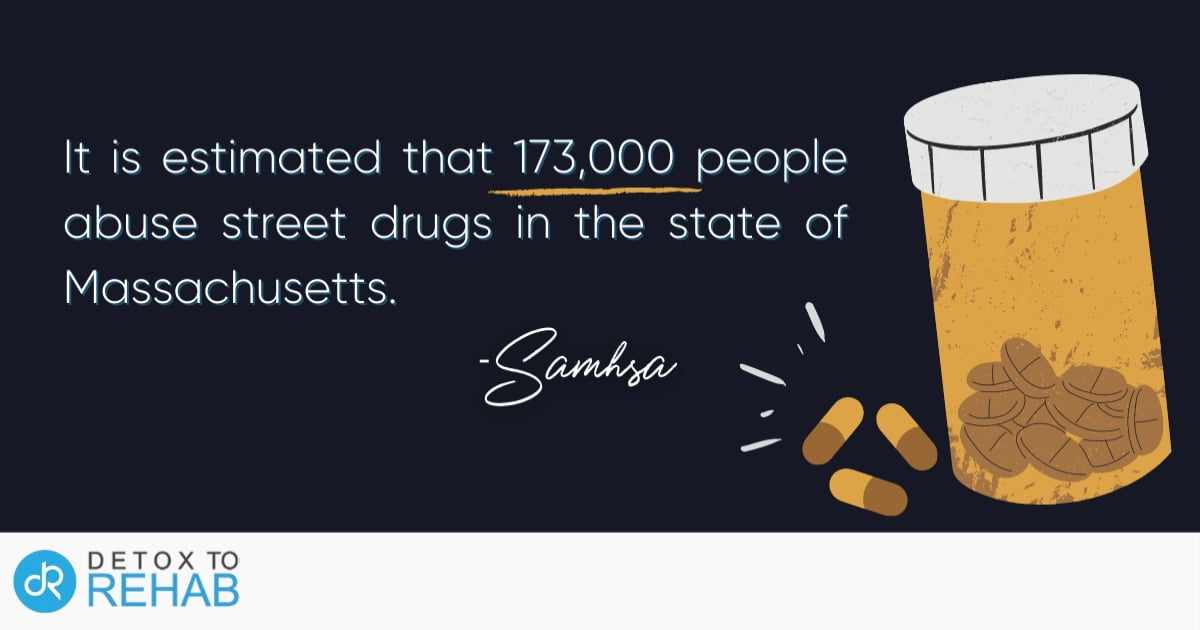 Quick Facts:
It is estimated that 173,000 people abuse street drugs in the state of Massachusetts.

The Importance of an Intervention
Even in Massachusetts, with its renowned focus on education, substance abuse is a rising problem. The state is aware of the problem and is very proactive in battling addiction. No one recovers from addiction alone. It is crucial to keep in mind that your loved one is battling a disease and needs your help to find their way back to health and happiness.
An intervention can be the turning point in the life of someone struggling with addiction. With the aid of a professional interventionist, you stand a great chance of successfully convincing your loved one to seek addiction treatment.
Staging an intervention often means the difference between life and death so, do not hesitate to get help. If you have a loved one who is suffering, there are several treatment centers are available.
Living Your Recovery
A common misconception about recovery is that it must be boring due to the lack of mind altering substances involved. When individuals living in recovery are some of the most joyful people around.
You only get one life to live, so make sure you enjoy the experience. Learning to stay sober can require a good deal of work, but just as much fun is involved. You will find many good people you relate to and enjoy spending time with in any local 12-step meeting.
It is important to find rewarding activities to fill your days with as boredom is something that has fueled more than a few relapses. When you find entertaining pastimes that get you involved and energized without causing triggers, you will be right in reach of a long life spent in recovery.
Treatment Options in Massachusetts
Massachusetts has a wealth of treatment resources available for those seeking help with their drug or alcohol addiction. The journey of recovery is not always easy. A strong support system and good guidance are required for successfully staying sober in the long run.
There are a multitude of treatment modalities and programs available. Different levels of treatment include detox, inpatient rehab, outpatient rehab, group and individual therapy, and sober living centers.
Once you have found your treatment center, you will most likely be provided with a variety of treatment modalities. A combination of different forms of therapies are provided to ensure that each person gets the necessary help. If you are searching for treatment and don't know where to start, we are here to help you. Finding treatment isn't as difficult as it may seem.
Aftercare Services in Massachusetts
A vital part of recovery is one's aftercare plan, which, refers to the planned program for continuing a connection to a sober community and support system. Aftercare can include meetings with other alumni, supportive friendships formed in treatment, 12-step program meetings, sober living, and intensive outpatient programs. Combining as many different sources of support and guidance is the best way to ensure long-term success.
One of the most effective and proven tools for continuous recovery is attending fellowship meetings. There are fellowships for every kind of addiction, such as Alcoholics Anonymous, Heroin Anonymous, and so on.
Quick Facts:
Approximately 1,724 people died from drug overdose a yeear in Massachusetts.

There a person can develop friendships and find the support he or she needs to continue living a healthy life of recovery. Give us a call today for more information on aftercare. We are here to help.
"In the middle of difficulty lies opportunity."
When you make the decision to change your life, nothing is impossible. There are a multitude of people in this world who have recovered and so can you. It will take time and dedication but it will all be worth it. If addiction is holding you down, it is time to stand up. Give us a call and we can help you get to where you want to be in life. You can reach us at: (866) 578-7471.
Thoughts can Kill
Rarely do misconceptions kill. In the case of addiction, however, stigma is a mass murderer.
Addiction is a mental illness characterized by compulsive using, drug seeking and continuing to use despite negative consequences. The characteristic of it being an "allergy of the body and an obsession of the mind" makes it especially difficult to overcome. If one hook lets go, there is still two more holding the person down.
It is hard for those not afflicted to understand why someone would keep using when the consequences are seemingly so obvious and horrific.
Addictions Deadly Grasp
For the person caught in addiction's deadly grasp, the drug becomes the only thing that matters and everything else disappears. Like a horse bridled and with blinders on, the only thing they see is what the drug lets allows them to see.
Those in active addiction can look as though they are choosing to behave the way they do, however for them there is no choice. Because addiction affects the mental processes, it demands outside help for the person suffering.
Professional treatment is preferred to help the person see the cyclical nature of addiction and learn new, healthier ways of thought and living. In most cases, intensive therapy is needed to help overcome issues of the past to prevent these traumas from impacting the future of someone's sobriety.
The government and the media have reached out to the public in the hopes of educating people that addiction is a disease. President Obama held a televised meeting and made numerous statements regarding the increasing problem of drug and alcohol addiction in the United States. More than a few high-profile deaths have revamped the interest in addiction and how to stop this runaway train.
The roadblocks for getting a person the help he or she needs piles sky high. The most important factor is convincing an individual that he or she has an addiction problem and needs professional help. Regardless of willingness, resources exist for only 10 percent of those who need treatment. Overlying all of this, for far too many people the stigma of identifying as having an addiction is worse than death.
Per the National Survey on Drug Use and Health between 2009 and 2011, over 27 percent of sufferers of mental health or drug addiction decided against seeking help due to the stigma surrounding the disease.
Derogatory terms such as tweaker, junkie, and pill head only work to ostracize and segregate people. Such terms illustrate the human tendency to dehumanize and generalize people who are suffering from a mental illness. Cancer patients are not shamed for their diagnosis; however, society villainizes those struggling with addiction.
Addiction is an emotionally traumatic disease. Many people feel as though their heart strings are being cruelly manipulated time and again by those continuing to use or relapse. To cope with the heartbreak many people turn to blame aimed at the person in addiction. The misconception that using is a choice becomes devastating as many people turn to culpability as a simpler explanation for the tragedy of addiction.
The general lack of accuracy regarding the nature of the disease of addiction may cause people to avoid people and places of recovery. Words of warning are common when talking about 12-step meeting houses and other such places. Some still seem to consider these places of danger and encourage fear of the inhabitants. In reality, the opposite is true; generally, those in recovery are more trustworthy and upstanding.
For many people, a successful completion of a rehab program is the single most important life achievement. People should proudly announce their graduation from such a program, but rarely does this happen.
The stigma does not end with active use or detox. Discrimination still happens to those who have long-term continuous recovery.
The moment a past problem with substance abuse is introduced, the most extreme cases and worst case scenarios are immediately dumped on the person. Those in recovery find themselves facing a difficult choice, either live with discrimination or live a double life.
Words can hurt and this age-old idiom has been taken to whole new heights when in regards to a substance abuse disorder.
Overcoming the Disease
Overcoming the debilitating disease of addiction is no easy feat. Those in recovery should have a parade thrown in their honor, instead of being met with fear and suspicion at every turn.
Substance abuse affects a staggering number of people. According to the Center for Disease Control nearly one in 10 American adults has a substance abuse disorder. That translates to approximately 24 million people, which is the combined population of the 10 largest US cities, from New York City to San Jose.
Fear of being stereotyped or stigmatized perpetuates the using or denial of an enormous number of people. When one in every 10 people need professional addiction help, but only a 10th of that 10th can get it, there is a social catastrophe looming on the horizon.
It seems cruel, but unfortunately not unusual, for people to suffer the symptoms of a deadly and devastating illness without the ability to get help. Or worse, ask for help only to be shunned for reaching out.
The archaic thinking of the masses must change for the good of everyone.
Massachusetts & Drug Abuse
Drug addiction and abuse affects people from all walks of life. There is not one person who is immune to the devastating effects of addiction and Massachusetts is no exception. The rise in prescription pill addiction and abuse has caused a surge in the use of illicit drugs. Drug addiction commonly robs people of their relationships, dignity, and, sadly, all too often their life.
Drug abuse should never be dismissed or taken lightly. The individuals who have been fighting to better their life because of drugs needs your help finding their way back to a life of happiness and health.
Addiction is a progressive and deadly disease that requires help to overcome. If you or someone you know is abusing drugs, get the help you deserve. Give us a call, we are happy to help you.
Massachusetts & Alcoholism
3Alcohol is the number one offender in the addiction community worldwide. Due to alcohol's legal status, how easy it is to obtain and social drinking, many individuals do not comprehend the harm that can be done with consuming the substance. Alcohol abuse and alcoholism account for more emergency room visits and physical harm than any other substance.
Alcoholism is in fact a disease that no group or community is immune to. The progressive and fatal nature of the disease increases the urgent need to get help as soon as possible.
Numerous individuals die each year from alcohol and alcoholism related deaths. Do not become just another statistic. Give us a call and we can help save you from the depths of alcohol addiction and turn your life around.