Last Edited:
September 24, 2020
All of the information on this page has been reviewed and certified by an addiction professional.
Finding Addiction Treatment In Illinois
Illinois has such deep and rich history within the United States, spanning from the historic Route 66 running through the state, to the iconic memorials of Abraham Lincoln. Illinois provides a unique mixture of natural beauty from rolling rivers, lakes and trails, as well as live and bustling activity and industry from the greater cities like Chicago. Even within such a beautiful place, the residences still are faced with the same issues of addiction and substance abuse that afflict the rest of the world. Addiction and substance abuse can feel like a never-ending battle. If you are abusing drugs or alcohol, you are not alone.
In This Article
Quick Facts:
An estimated 661,000 people in Illinois are abusing Alcohol.

Best Illinois Treatment Centers
Illinois Inpatient Rehab Facilities
Illinois Outpatient Rehab Centers
Illinois Sober Living Houses
Illinois Drug & Alcohol Detox
Detox is the first step to regaining control of your life. During this phase, the toxins that you put in your body through the use of drugs or alcohol will have a change to be cleared out of your system.
Although this is not the most pleasant phase, it is extremely important. Once your body is cleared from harmful substances, you can begin to address the roots and causes behind your addiction, treating the issue from the source.
Illinois Drug & Alcohol Rehab
Rehab facilities and programs have options that appeal to every lifestyle.
Are you a parent that can't leave your family to enter treatment? An outpatient rehab may be right for you. Are you looking to remove yourself from triggers and other routines before getting clean and sober? An inpatient facility may be right for you.
Finding Treatment in Illinois
Ideally, anyone pursuing treatment could pause everything in life and move into an inpatient treatment program. While this option with inpatient treatment is generally preferable, we understand that dropping everything and entering inpatient care isn't always a realistic option.
In many cases, outpatient programs have worked just as well. With outpatient care, you can still work and fulfill family obligations while pursuing recovery.
Wherever you are in life, there is a facility that can meet and accommodate any of your needs. Call us now, so we can help find the best path for you today.
Should I Travel for Treatment?
Traveling and getting away from old and familiar people and places may be the best option. It can go a long way in making sure that your sobriety is long term. Most people do nest when they are not bothered by outside influences.
When people leave their comfort zone they can begin a new life away from the temptations and people that contributed to their abuse. For many, this option helps maintains a stronger foundation for aftercare. While traveling for treatment is a personal choice, we can help you figure out if it the best option for you.
Don't wait any longer. Find a new beginning and call us now at (866) 578-7471.
Intervention Can Help Before it's too Late
Illinois is home to beautiful lakes, rolling rivers, Abraham Lincoln memorials and the historic Route 66, but you might know someone who's getting their kicks in another way. If you know a loved one who is fighting a drug addiction or alcoholism, don't wait for things to get worse before you get them help.
Call (866) 578-7471 today to reach a professional interventionist.
Planned with a lot of care and  support, a properly conducted intervention can be the difference between life and death for someone who is addicted. Your loved one is locked in a desperate struggle that they might not even be aware of and they need your help. Get them the help they need so they can begin their journey to recovery today.
Living a Life of Recovery
There are millions of people in the world who are struggling with substance use disorders.
Although many people are still suffering in their addictions, many others have found a new way of life. Finding this new way to live is not always easy or on a clearly defined path. However, Illinois has various resources and treatment centers that assist individuals in detox, rehabilitation, aftercare and more.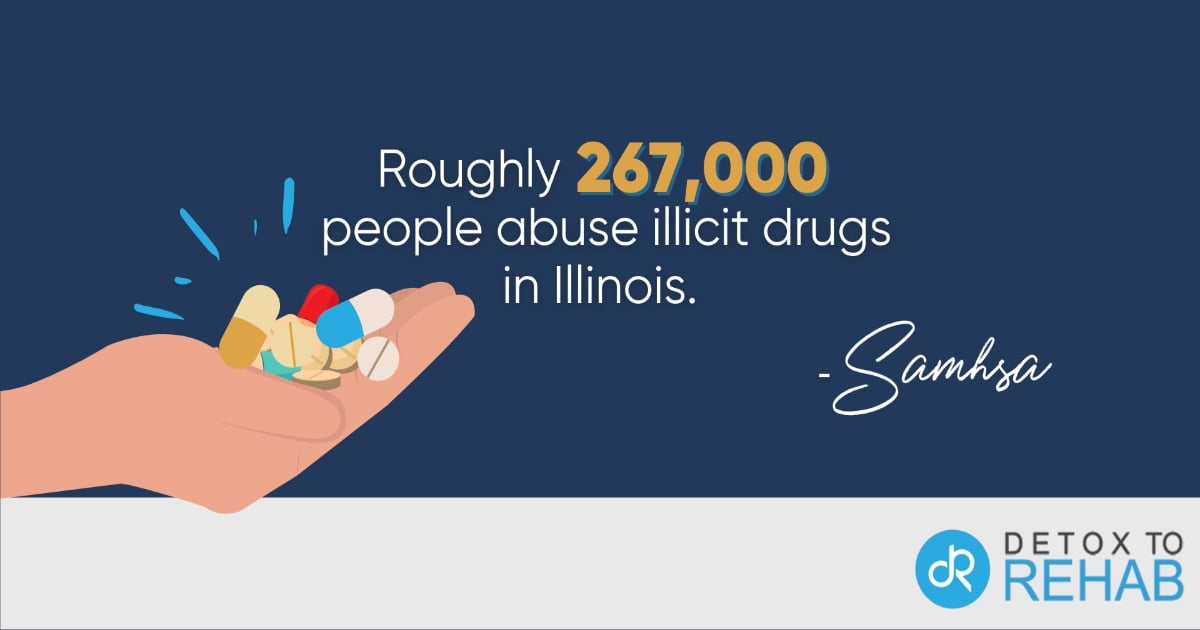 Quick Facts:
Roughly 267,000 people abuse illicit drugs in Illinois.

If you aren't sure where or how to find these resources we can help though our find a meeting web application or getting you connected to what other resources you might be looking for. . Give us a call and we'll help you to find the perfect place for you in this wonderful state.
Can I Still Have Fun in Recovery?
When leaving a treatment facility and going into recovery, finding activities can be a bit of a challenge. Back out in the real world, the same activities and environments a person enjoyed before may have contributed to their addiction in the first place, so going back to them probably isn't wise. That's not to say living sober is boring, mind you.
In the great state of Illinois, there are so many great things to experience and all of them are even better without the foggy haze of drugs and alcohol hanging over the mind.
With rolling green hills to hike and have picnics on and beautiful lakes and rivers for fishing or kayaking, there's no shortage of awesome outdoor activities to enjoy.  You can have fun living every day for a long, healthy and happy life.
Aftercare Services in Illinois
Illinois comes in 12th in the nation for drug and alcohol overdose. An average of 10 out of 100,000 people overdose and die every year.
Illinois has implemented strong plans of action to prevent drug abuse, as well as support its residents in reclaiming their lives from addiction. It would greatly benefit you to take advantage of the support offered by your state.
While private insurance may cover your rehabilitation, some facilities also take payments from government grants that help to pay for the facility you choose. Give us a call, and we can help you sort through your options.
"Your life is worth saving"
Addiction has a way of making you feel like your life isn't as important as someone else's. This is not true, you are worth every bit of work it takes to get sober or clean. You deserve a life of recovery, not one in active addiction. We can help you get there, once you do you'll wonder what took you so long to call.
Relapse is Not the End of Recovery
Relapse is a part of a lot of people's stories, if it becomes a part of yours it doesn't mean you failed. Don't let guilt get the best of you, use it to learn what your triggers are and keep moving forward.
If you end up slipping-up, make sure you are not too hard on yourself, everyone slips-up every now and then, you will need a learning experience to recognize your triggers so you can prevent relapse in the future. A stressor or trigger could be rather simple, like walking into a grocery store where you used to buy alcohol or meet your dealer. When relapse occurs, you will create your restrictions and learn from your slip-ups so you don't have to go through a relapse again.
The guiltiness, indignity and sorrow you feel after a relapse is an emotion you couldn't measure. Your will worry you and possibly fill you with shame. It's important to remember that relapse creates a question, how is it that you practice encouraging thinking to increase the probabilities of not only deciding to recover, but staying there?
Throughout your recovery, you should ask individuals who are in long-term recovery what joy means to them. You will get numerous diverse answers on how to avoid relapse such as; staying positive, going to meeting or groups and staying associated to your peers. Make sure to test out what they say and see what makes you joyful. Taking those steps, one day at a time, and practicing kindness is recommended for an encouraging and happy life in recovery.
To practice kindness, you need to be of service to others. Serving a fellow person in recovery is a fantastic way to continue to be happy in recovery. Doing stuff for other individuals and not expecting anything in return is not as hard as it seems. Practicing kindness is as simple as helping the someone take groceries to the car. Smiling is considered infectious, so keep on smiling!
With practicing kindness, while continuing to work on yourself as a person, you may find relapse prevention is an inspiring and gratifying. You will recognize a new freedom, go back to living life on life's terms and repair burnt bridges. Living in joy, true joy, is a gift– remember to cherish it.
Quick Facts:
1,835 people are estimated to have died from drug overdose in Illinois.

Illinois & Drug Abuse
The top drug market in Illinois is the Chicago area- one of the nation's main drug market and a national-level supply center. Drugs distributed into Chicago are intended not only for the resident market but also for states across the country. With that in mind, take a minute to spot your individual efforts in acting compared to your addiction.
Drug addiction is not to be taken lightly. When an individual is using and abusing drugs his or her whole lifetime is balanced around the receiving, using and finding ways and income to get more.
Please call us and we will do our best job to make sure you get the help you need.
Illinois & Drug Abuse
Alcoholism is a sneaky illness. It does not have sympathy for any one race, gender, nation or background. Plus, alcohol is commonly used in Illinois, whether it's at a family member's home, at a café or grocery store.
Also, it could be challenging to identify when "social" drinking, turns out to be out of hand, developing into addiction. When addressing alcohol abuse, you should wisely select the rehabilitation center that's right for you.
If you think yourself or someone you know has crossed the line of social drinking into having a drinking problem cal us. We can help you figure out if that line actually was crossed and what to do about it if it has been.