Last Edited:
November 12, 2020
All of the information on this page has been reviewed and certified by an addiction professional.
Find the Right Detox and Rehab in Alaska
Even a place as secluded as Alaska isn't free from drug and alcohol addictions. If you or someone you love is struggling with addiction to alcohol or other drugs, you are not alone in this struggle, there is hope. If you've made the decision to get clean and sober, then your next step is to find a facility that will give you the tools and support you need. From outpatient programs to luxurious inpatient facilities, we're here to help you make the choice that suits your individual needs.
In This Article
No matter how hard or easy your decision was, you may feel some anxiety about the major changes you're about to make. We understand. We will help you and your loved ones choose an approach to recovery by suggesting sensible options for you to choose from. Let us help you take the next step on your pathway to recovery. Fill out the contact form below and we will contact you to get started. If you don't want to wait, we welcome your phone call: (866) 578-7471.
Quick Facts:
In 2013, approximately 39,000 Alaska residents reported abusing Alcohol.

You do not want to let drug addiction or alcoholism control your life any longer. If you live in Alaska and need help with a substance abuse problem, then call us now. You will speak with a representative who can help start you on the path to recovery. Whether you would like to travel for treatment or stay in Alaska we can help you get control back from your addiction. Call and speak with someone who understands your struggle and has found recovery.
Best Alaska Treatment Centers
Alaska Inpatient Rehab Facilities
Alaska Outpatient Rehab Centers
Alaska Sober Living Houses
Alaska Drug & Alcohol Detox
Detox is started immediately upon entering a program. It's best if it is done in a hospital or hospital-like setting to medically monitor your body's response to the change. For certain drugs like Benzodiazepines or Alcohol, detoxing and medicinal assistance may be used to prevent life-threatening conditions that may occur, such as seizures.
Medicines may also be utilized to help the patient go through the detoxification process as comfortably as possible. By detoxing, the user may be more open to the treatment process involving group counseling, one on one therapy sessions and extensive support from other addicts.
It is not easy to complete the detoxification process. But it is possible if you are willing to put yourself in the proper environment. Addiction is a mental disorder. Like any other mental disorder, you need professional help to recover from your substance abuse problem. Detoxing on your own is very dangerous. Old-fashioned cold turkey methods can cause lifelong health issues.
Alaska Drug & Alcohol Rehab
After detox, it's important to find an inpatient facility to continue your sobriety. Sobriety is a lifelong battle, and just going to detox won't cut it. Learning how to break old habits and developing new ones is pertinent to continued sobriety. It's why it's important to figure out which rehab facility is important to go to.
Unfortunately, trying to do this by yourself will not work, as you are likely to slip back to old habits. And finding the right one to go to is just as important as deciding to go to one. Every rehab facility is different, and finding the right one is just as important. Every person is different and each have their own unique needs, so it's crucial to find one that best meets all the criteria one is looking for.
Living a life of sobriety is never easy; it's a constant battle. Going through detox and rehab, although important, will not do anything if it isn't taken seriously. Addiction is a chronic disease, and like any other chronic disease, you need to be on top of it everyday. Finding the right place that teaches the methods to be on top of your disease is just as important as deciding to end your addiction.
Alaska and Addiction
Within Alaska, the state has been battling rising rates of substance abuse. For several years, Alaska has been having one of the largest opium problems in the country. In addition, Alaska's rates of Marijuana dependence, prescription drug abuse and overall illicit drug addiction are among some of the highest within the United States.
Fortunately for many, finding help is as easy as pushing a button. The state is full of different treatments that can help anyone looking to end their addiction, and better their lives. Addiction is a hard disease to battle though, and any roadblock can stall one's choice for a clean living.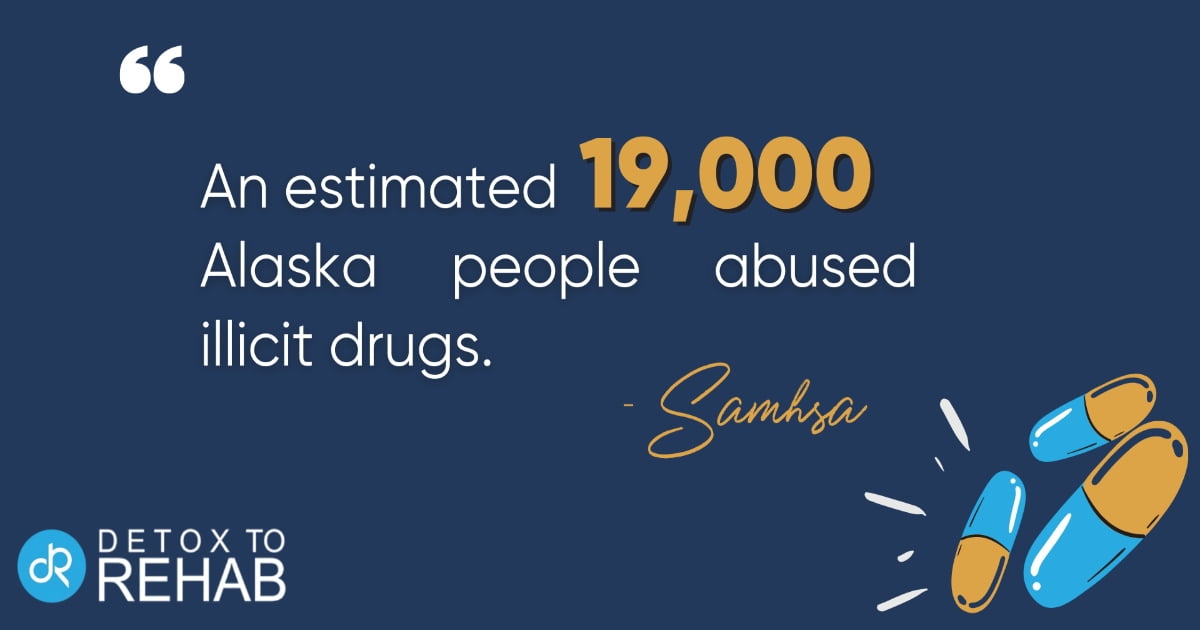 Many individuals addicted to drugs and alcohol do not reach out for the help they need to get their lives back on track. While Alaska may lack sufficient funds when compared to the rest of the nation, there are still treatment options for all different kinds of recovery in Alaska. If you or someone you love needs help, there is help available. To find the kind of help that is best for you, use the search to tool above. We can help.<
Should I travel for Treatment?
When deciding on choosing the right treatment center, one should take into account the option of traveling out of state into serious consideration. While in-state treatment options in Alaska may possess the benefit of being close to home, there are several factors that hinder quality of care in most Alaskan treatment programs.
With this state, taxes concerning treatment centers is substantially higher, which constricts the resources available in the area (such as beds, adequate staff or proper insurance coverage). Due to these restrictions, it would benefit individuals pursuing treatment to examine out of state options.
In addition, a removal of oneself from familiar stressors, distractions and triggers provides a clean break from everyday life in order to fully pursue recovery and achieving sobriety. It may be impossible viewing a sober life, let alone traveling for treatment to begin one, but finding the right facility is important, especially one that is away from all distractions.
Interventions: Beating Isolation
Planned with love and concern, interventions can be the difference between life and death for a loved one suffering from addiction, especially in the cold isolation of the Alaskan wilds. If you see a friend or loved one losing control of their life, don't wait. Addiction only gets worse and it will not get better by itself. Pick up the phone and call us now at (866) 578-7471 to find out how we can help you plan an intervention today.
Don't try to tackle this monumental task alone. Contact us today to find the best chance of getting your loved one back on the right path. It's a sensitive time and it needs to be planned out accordingly. You don't want to just wing it.
Remember that the most important thing is to show that you love them and are there to support them through this difficult time. This may not be felt by the struggle addiction throws at people, and instead come across not as love and concern, but as shame and ridicule. Contact an interventionist and help get your loved one the treatment they need to start their road to recovery.
Can People Be Addicted to More Than One Substance?
It is common for a person to be addicted to more than one substance. Many people don't realize that addiction is a disease; it's a behavioral and psychological chronic disorder. Many people can be predisposed to addiction by genetics and psychology, and the substance is often times just the outlet or the choice of addiction. People predisposed to addiction may choose a single substance or a variety of drugs and alcohol, or even gambling, pornography and sex.
When substance abuse addicts enter detox, they are assessed for many things, including multiple addictions. If they are addicted to more than one substance, it will change their treatment plan, as well as how doctors treat those addictions medically.
If you're not able to find addiction treatment in Alaska, consider traveling to a treatment center in another city or state. Traveling for treatment removes you from all the stresses and negative influences that can tempt you to abuse substances.
The Road to Recovery
In the Alaskan wilds, alcoholism is an ever-present problem. Once a patient has finished their rehab program and returns to society, it can be difficult to stay sober. Fortunately, they will have access to various tools to help them, as well as the support system of their sponsor, emergency contacts, and aftercare programs.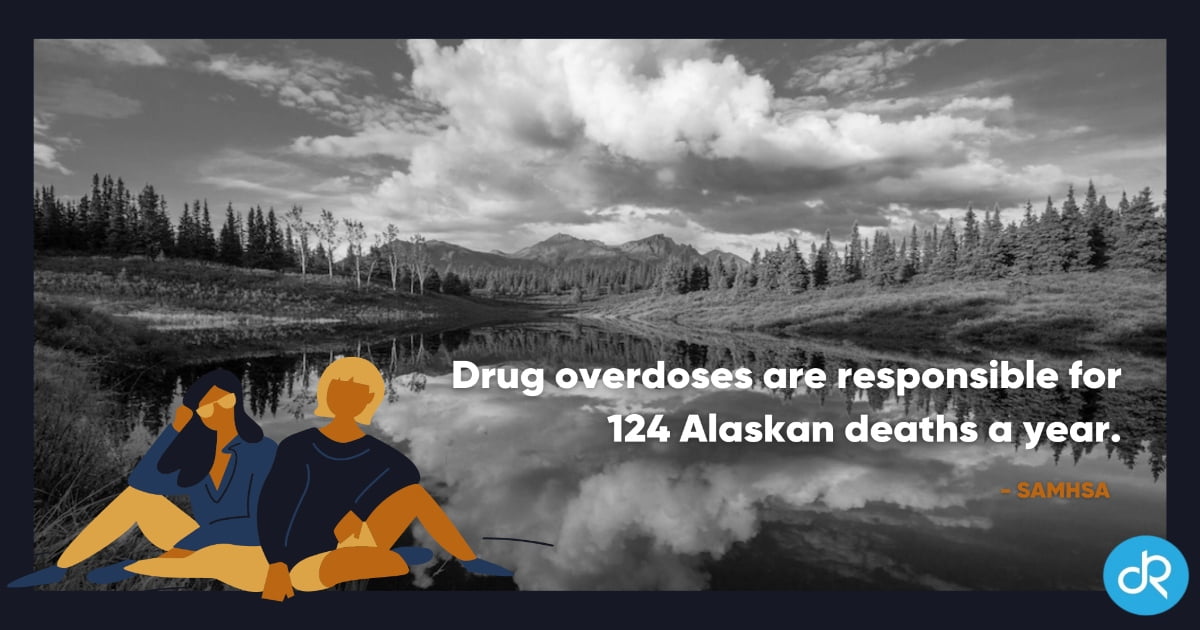 After completing rehab, it is highly recommended to commit to an aftercare program. Constant care and attention is going to help you through this fight. You can't let up.Recovery isn't a destination, but a journey, as the saying goes.
It's better to think of recovery not as your end goal, but rather the way you choose to live your life. Fear of relapse is normal, but don't let it control you. Relapsing doesn't mean you have failed, it's just a stumble, one that you can recover from, so long as you learn from it.
Are You or Your Loved One Addicted?
Are you experiencing the struggle of being unable to control your desire for drugs or alcohol? Are your teachers, employers or coworkers finding you uncharacteristically undependable? Not able to stop using drugs or alcohol when you try to?
Maybe you're having issues with parents, friends, or teachers when you never had those problems before. Maybe it's not even you, and rather a friend or family member. If you've noticed something wrong, then speak up and say something; it may save their life.
Don't wait until it's too late. Seek the help you or your loved one needs. Click the button below to learn more about what to do. As long as you care, there's hope yet. And remember, we're always here for you. Call today to learn more.
Quick Facts:
An estimated 19,000 Alaska people abused illicit drugs in 2013.

"Do you want help, but don't know where to start? "
We're here for you. There are plenty of different treatment programs that can help you in the battle of addiction. What works for one person may not necessarily work for you, but don't let that be discouraging. There are trained professionals that are ready to take your call and find the right place that fits all your needs. No matter where you are or where you go, you'll have someone right there with you. Call us today.
Be the Wakeup Call Your Loved One Needs
One of the hardest things you can do for a loved one is telling them that you are tired of seeing them waste away to an addiction. The hardest thing for them, though, is admitting that they have a problem. They have their excuses and refuse to admit their problem, because they're in denial. Another reason though, is that they may see their loved ones being ashamed of their drug and alcohol use.
Ensure that you have the right crew for the job, so to speak. Try to pick people that are closest to them and can help persuade the person to get help. You don't want to pick someone that enables or encourages their habit, or has an abusive past with them. Remember that the intervention is supposed to help motivate them, and having the right team can make all the difference.
Also, keep in mind the order that everyone goes in. Everyone is going to have a chance to speak, but you want to be a be impactful from the start. Having a child go first is effective and hits them with how serious it all is from the get go.
Another important thing to note is that you want to set the right tone for the meeting. Remember, you aren't trying to hurt them, but rather help them. Make sure that the tone is more supporting and loving than it is accusing; you don't want them thinking that you blame them for everything. Rather, you want to let them know that they are not alone in this, and that you are here to help.
You want to find a place that isn't too imposing or threatening, but on the other hand, you don't want to do it in a place that's too comfortable. You may be inclined to host the intervention at your, or their home, but the person can become too comfortable and may try to seek out drugs in the bathroom, or their bedroom; likewise, there might be a few painful memories in a familiar place. Try to find a neutral and professional environment, where there is no painful or significant memories attached, and above all else, make sure they don't feel ambushed.
Once all that is done, make sure that you are prepared. Practice saying what you want to say, and more importantly, make sure you write it down. People edit their script multiple times to make sure that they say the right thing to persuade their loved one to get help. Don't try to ad lib though, as you can end up going off topic, or saying something that might be more damaging than helpful.
Make sure that you come up with a backup plan of sorts. Many unexpected things can happen; an intervention is almost never going to go the way you imagined. The loved one might run away, or start crying, or they'll maybe even start screaming and become violent. You never know what's going to happen, so having a backup plan and being prepared for any situation is key, that way no one is caught off guard.
Getting help from a professional interventionist can also help everything. Setting up an intervention on your own can be scary and stressful, so having someone there who can hold everything together can help provide some peace of mind. An interventionist is trained in dealing with confrontation and knows how to get the communication flowing. You aren't ignorant when asking a professional for help; you're smart.
An intervention is only the first step. Once your loved one accepts that they need help, the next step is to find it. Be sure to encourage, and if need be, help them find the professional help that they need. Detox, rehabilitation, therapy, and sober living are aspects that they need to consider. Your loved one needs to make sure that they are being supported every day. Sobriety isn't going to be easy, and the battle will have just started for it.
Waiting will hurt your loved one's chances at getting help and clean. You want to act as soon as possible, because the longer you wait, the harder it will become.  Planning an intervention can be daunting, but keeping cool-headed and focused can make all the difference. A successful intervention is about making sure your loved one doesn't become another statistic. For more information, call (number). Representatives are on the line to provide you with everything you need to get started on a successful intervention. Help your loved one begin a new and happier life.
Alaska & Drug Abuse
Drug addiction does not discriminate. It does not car what your age is , background or ethnicity you can run the risk of developing a chemical dependency with constant use of drugs. No one starts out using drugs wanting to become addicted. But after regular use, their body develops a substance abuse disorder.
The user needs to consume drugs to function from then on. Before they know it, they are ruining their relationships with loved ones and causing stress and pain on everyone close to them. Cheating, lying and stealing become hourly activities for them. Treatment by professionals is the only way to help them.
No one can complete a rehab stint for someone else. It is on the user to admit that they are ready to get the help they need. Don't just sit around and wait; the problem won't fix itself. Click below to find out more about drug addiction and what you can do to help.
Alaska & Alcoholism
Although it is legal and socially acceptable under the correct circumstances, many people don't believe that Alcohol can ruin their lives. This misconception is the reason why it is hard for most people with a drinking problem to recognize that their alcohol intake is getting out of hand, and why it is the most abused drug in the Untied States.
Just because everyone you know drinks every night too does not mean that you are not an alcoholic. Alcoholism is like any addiction and it is just as harmful as any other drug addiction. It can leave you with serious health issues, get you into legal trouble and even kill you. Many people who have a drinking problem live in denial about it.
Being in Alaska is no different; alcoholism can creep into anyone's life. If your alcohol consumption has gotten out of hand, then now is the time to find the help you need. Call today to figure out what to do to get your life back on track.
Quick Facts:
Drug overdoses were responsible for 124 Alaskan deaths in 2014.

Sources