Last Edited:
November 16, 2020
All of the information on this page has been reviewed and certified by an addiction professional.
Finding Addiction Treatment In Florida
Florida has made a name for itself in the United States, from election cliffhangers, to beautiful beaches and other tourist appeals. It's no secret that Florida is made of a variety of personalities. Just like every other state, Florida has its share of residents that are suffering from addiction as well.
Having a problem with substance abuse is nothing for you or your loved one to be ashamed about. While many people mistake people who are addicted as people with low morals or personal determination, the truth is that it's not that simple.
In This Article
Addiction rewires the brain, which is why many who suffer from it, more often than not, have to get help to stop using. Addiction affects many aspects of one's life, the loved ones around the addict and also society as a whole.
It's not hopeless. There is help. If you know that rehab is right for you but don't feel compelled to take that step just yet, it's important to know that even if you aren't motivated to get clean and sober, going through the motions will help you to get there. Give us a call so that we can pair you up with a program that is right for you. The time is now.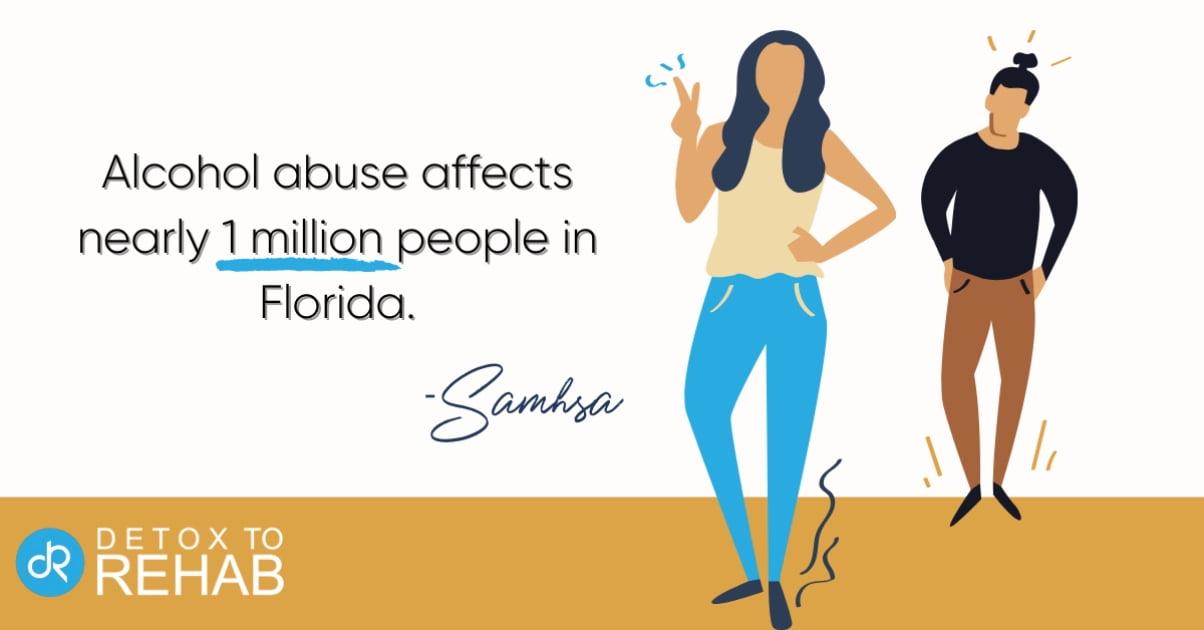 Quick Facts:
Alcohol abuse affects nearly 1 million people in Florida.

Consider traveling for treatment to begin your treatment process. Traveling can take you away from triggers that can contribute to your abuse. In a lot of ways, it can help you begin again without a lot of the negative influences. People who struggle with substance abuse often do so in the context of others, so one of the best solutions for sobriety is altering context to make room for recovery.
Best Florida Treatment Centers
Florida Sober Living Houses
Florida Drug & Alcohol Detox
The detoxification process is seen as the worst part of recovery, because of the withdrawal symptoms that are associated. Withdrawal occurs because your body is in shock from trying to operate without consuming drugs or alcohol.
Substance abuse leads to your body developing a physical addiction to that substance. In detox, your body will try to break that physical bond you have with harmful substances.
Detox alone is not a treatment and will not aid in the goal of living a drug free life. Detox is only supposed clear your body of any toxins that long-term abuse caused. It is recommended that this is done in a facility where you can be monitored. Once you're through detox, the second part of treatment can begin: therapy, counseling and behavior treatments.
Florida Drug & Alcohol Rehab
Once detox is achieved, it is time to work on the more complicated aspect of addiction: behavior patterns and brain function. This is accomplished through individual and group therapies, along with other treatments depending on your individual needs, and all of this can be found at a rehab facility.
Rehab offers a way to learn new and healthy behaviors. It is not easy to get through rehab; do not underestimate the strength of your addiction, but at the same time do not think that it is stronger than you are. If you admit that you need help, then enroll into an inpatient or outpatient program.
Everyone has different needs while going through rehab. You can save your own life by putting yourself in a supportive environment where you can recover from a substance abuse problem.
Finding Treatment in Florida
It is normal to not know, right off the bat, which rehab facility is the best program for you. That is why we are asking you to call us. When you contact us, you will speak with someone who has been where you are now. They can explain to you how the recovery process works.
You probably have questions about inpatient vs outpatient treatment, detox, therapy and follow-up programs. Our representative will walk you through all of that so we can find what the best course of action is for you.
It takes a lot of pride to come forward to ask for help, so do not let that end here. We want to help you get enrolled into a rehab center that will save your life.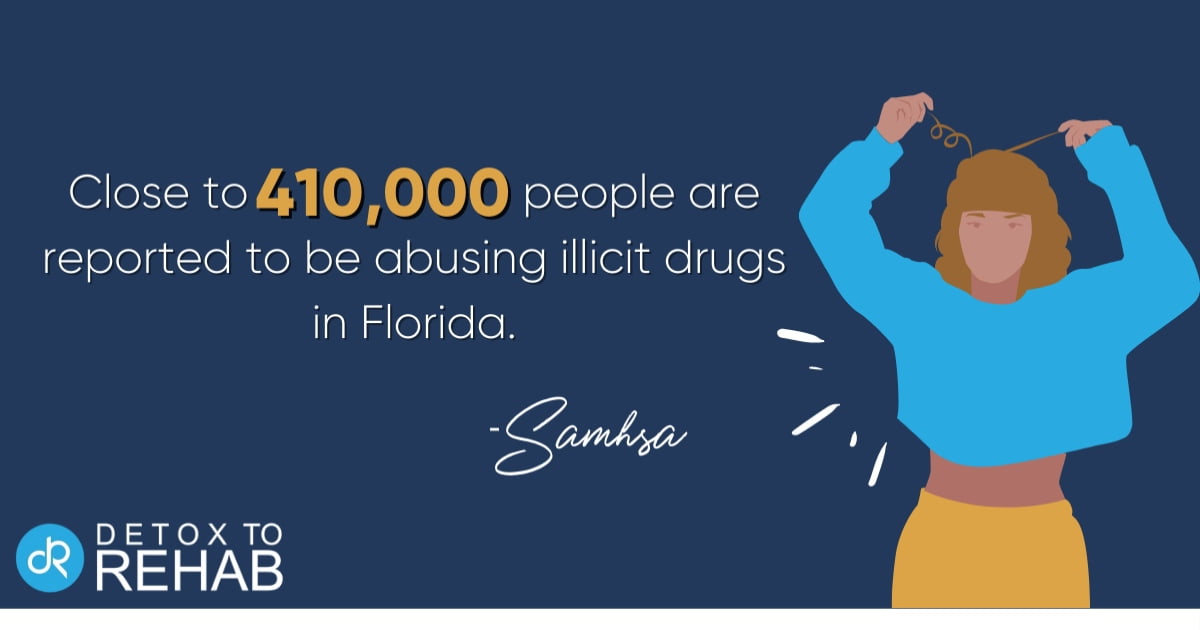 Quick Facts:
Close to 410,000 people are reported to be abusing illicit drugs in Florida.

Should I Travel for Treatment?
Finding the right treatment facility for drug addiction or alcoholism is a very personal choice. Do you feel that it would serve your best interest to go to rehab away to avoid triggers that encouraged your drug or alcohol use? Is there a specific rehab that you feel comfortable with even though it's away from home?
Sometimes, to get the most out of your treatment, you may want to travel away from your home. The truth is, rehab is hard, and sometimes not having the choice to walk away to a familiar setting can make all the difference.
Escaping to a different city or state allows you to create space from many things can trigger you. There are people who encourage your drug and alcohol intake, get away from them and consider traveling for treatment.
Can Intervention Really Help?
Florida is well known for its sunny beaches and vibrant personalities. There's no doubt that there are all types in Florida, including many who suffer from addiction.
If you notice that a loved one is suffering from an addiction, please do not wait. Addiction is progressive, which means it does not get better on its own. Call us at (866) 578-7471 today to talk with a professional interventionist. With their help, you'll be able to convey your message of love and support to the one in need.
Just remember that your loved on needs your love and support to get them through this hard time. With the right intervention method and professional help, you can help save your friend or loved one from addiction and get him or her on the path to recovery today.
Rehab to Recovery
With so many vibrant personalities populating the sunny beaches of Florida, you can be sure to find every type of person under the sun. Unfortunately, for those in recovery, this is not always a good thing.
Once out of their rehab program, patients may find their old friends still stuck in the same bad habits and influences that might have caused their addiction to begin with. In these instances, it's best to find new social circles to travel in.
Cutting ties with old friends can be hard, especially if you don't know where to look for new ones. However, if those old friends put you at risk of relapsing, then they need to go. Many people form supportive friendships with those who can help and encourage a healthy lifestyle.
Seeking the Best Treatment Option
In Florida, there are plenty of resources that are available for recovery. It is normal to not know which rehab facility is the best program for you. We want to help you get enrolled into a rehab center that will save your life.
When you contact us, you will speak with someone who has been where you are now. They can explain to you how the recovery process works. You probably have questions about inpatient vs outpatient treatment, detox, therapy and follow-up programs.
Florida, Drug/Alcohol Abuse, Domestic Violence
It is estimated that 80 percent of domestic violence cases are due to alcohol and drug abuse. You may not have an issue with domestic violence, but there might be other issues, like constant arguing or loss of general interests.
Have you lost family or friends because they didn't understand how much your drug use or alcohol use helps you get through a stressful day? Now consider what's most important in your life? Is it your loved ones? Is it drugs or alcohol? It might be a good idea to take stock in your decisions and your priorities.
If you find that you have a substance abuse problem, then give us a call and we'll make getting on the road to recovery a simple process.
"Rehab lasts as long as it needs to"
When it comes to rehab, what works for one person, might not work for you. Rehab is different for everybody, and sometimes, someone needs to stay in rehab a little longer. Typically, rehab lasts between 30 to 60 days, but there are cases where rehab has lasted a lot longer. This shouldn't be discouraging to anyone, because, no matter what, anything that helps with your recovery is a good thing. Sometimes, you just need a little more time.
The Recovery Process of Addiction
Addiction is a harsh disease, but recovery is possible. Typically,the first step of the recovery process deals with detox, meaning that you go through an intense period of time where your body purges itself from harmful toxins. Afterwards, going to a rehab center will help, as you will develop new habit and behaviors that are healthy and positive.
Detox and Rehab
Admitting you have an addiction to either drugs or alcohol is typically step one in the process of recovery. But if you don't do anything to fix the problem, or thinking you can jump right into sobriety, can be just as bad as a continued existence as an addict.
Detox refers to the process of purging leftover toxic chemicals from drugs and alcohol. Detoxing is imperative to  clients' health, in that it begins the process of recovery and returning the body back into a state of natural homeostasis. It can also refer to the period of withdrawal when someone suffering from addiction hasn't received the drugs or alcohol and his or her body begins expelling the toxins. One thing to remember is that it is extremely uncomfortable. It's recommended that detox  is monitored by a medical professional.
Quick Facts:
The amount of people died from a drug overdose is estimated to be 3,228 in Florida.

Detox and withdrawal symptoms can begin as soon as a few hours after using drugs and alcohol. This makes addiction very dangerous because, although it doesn't always happen, spontaneous withdrawal or detoxing is extremely dangerous and can lead to relapse. Suffice to say, detox is extremely uncomfortable.
The physical side effects of detoxing are very unpleasant, but it is very important in the process of recovery. The side effects vary, based on the substance you are recovering from.
Side effects include seizures, delirium, increased sensitivity to pain, sweating, hot-flashes, and flu-like symptoms like body aches, congestion, and headaches. As unpleasant as that sounds, these symptoms don't necessarily guarantee a relapse. It's the emotional portion that will get you with symptoms ranging from things like a heightened emotional state, i.e, using because you feel bad or want to continue feeling good. Another emotional side effect is the wanting to push boundaries, which means that you want to see how far they can go without using, or using one more time because you feel like you can bounce back whenever you want.
Detoxing can take quite a long time to go through, depending on the amount of toxins in the body. It can last anywhere from a few days, to about two weeks.
Even after the entire process of detox is over and the physical ailments have subsided, the mental ailments will still persist, specifically, the want and the feeling of need for opiates or alcohol. That's why you need professional assistance to recover from the addiction after the detox. It's never just a one and done thing.
It's important to understand that detoxing is just the start of recovery, and removing all the toxins is an important step that needs to happen. At a recovery facility, a doctor who is specially trained to deal with detoxing patients will monitor your vitals and make sure you are ok. At times, they will need to administer a medications like Valium, Suboxone, Naltrexone or Subacute to help ease the process. This is mainly because, although rare, detoxing can be fatal if not properly observed. As well, these drugs can help ease the need to relapse and make the detox process easier to go through.
After the detoxing process, the hard battle of sobriety begins. Entering into a rehab facility will help continue the battle for sobriety. Many experts say that doing it alone is almost a guaranteed recipe for relapse. Treatment must follow after detox to begin learning how to cope to a life without the use of drugs or alcohol. During the course of recovery, there will be new behaviors and that you will experience, such as group therapy, which allows you to build lasting connections and build a strong foundation with people going through the same battle. As well, individual therapy will help sift through your life and look through your battle through an emotional level. This is why finding the right facility is important during your search for rehabilitation.
With all the different facilities out there, it can be confusing finding the right one for you. Detoxing and going through a program is pertinent for your help, but understanding that no one can go to a facility for you, and that it's a fight that you must go through is crucial in the fight for sobriety. Call (866) 578-7471 for more information on facilities near you.

Breaking Free from a Cycle of Drug Abuse
Constant drug abuse is a growing problem in our country. People are taking to Cocaine, Heroin, prescription drugs and other harmful substances to alleviate pain and hard times in their life. The problem is, many of these people take to drugs because they feel isolated.
We are here to help take that feeling of loneliness away from you. There is no need to feel alone. Millions of people, throughout the country, are also having a hard time with drugs and alcohol. What can separate you from them is that you can call us now to take steps in the right direction.
It starts with a phone call, it ends with you being able to recover and live life on your terms again, not your addiction's.
Alcoholism is Always Creeping in Florida

Unofficially known as one the Spring Break capitol of the world, Florida, sees its fair share of alcoholism issues. It is easy for someone to fall victim to the disease of alcoholism because drinking is so commonly accepted.
People think that because their friends do almost as much as them, then it is fine. But for some people, it is not fine. Their brains become rewired to always chasing that next drunken manner. Before you know it, they are drinking every day and cannot function without consuming a few. Alcohol can be just as dangerous as drugs if the user is not cautious.
Alcohol is the most abused drug in the world, and can ruin anyone's life at any time. If you believe you have a problem, give us a call. We're here to help.
Sources