Last Edited:
October 9, 2020
All of the information on this page has been reviewed and certified by an addiction professional.
Facing Drug and Alcohol Addiction in Texas
Texans bask in pride. It's embedded in our Texas shaped hearts no matter where we live or how our sports teams do. We are not that kind of proud that has us looking down our noses at someone else. Texas comes from the Latin word for friends.
In This Article
Friendly we are! In fact, that pride that we have is mostly in good, playful fun because everyone knows that Texans love to have a good time.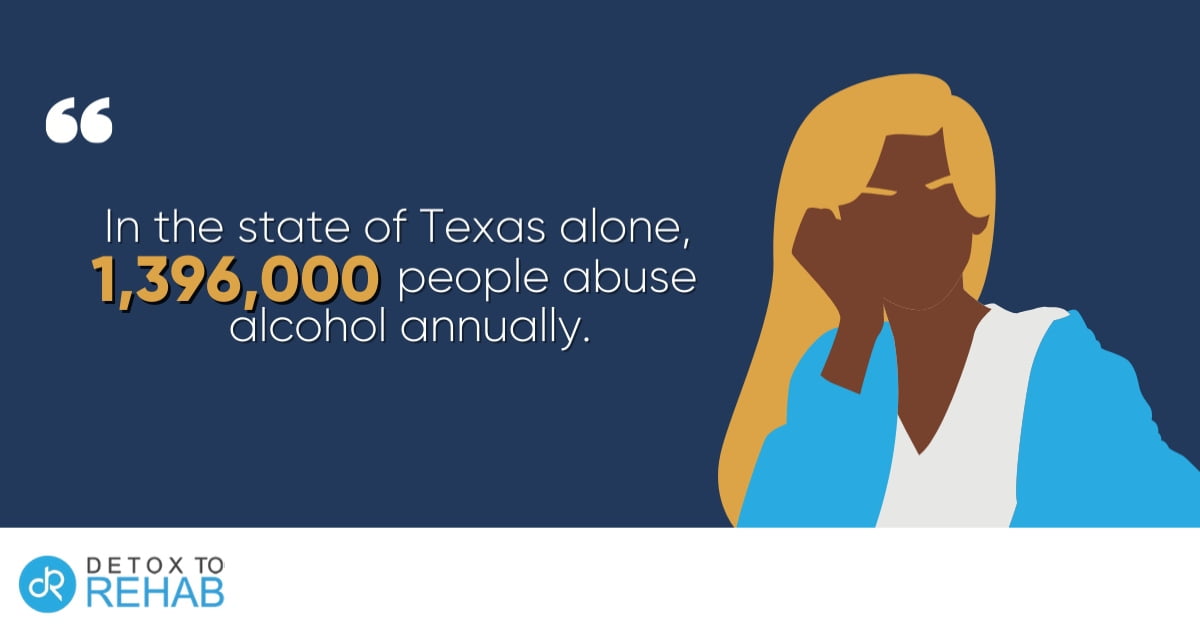 Quick Facts:
In the state of Texas alone, 1,396,000 people abuse alcohol annually.

If having a good time in your own little corner of Texas meant getting drunk or high once upon a time, it's not uncommon that it got out of control. Substance abuse can sometimes progress slowly. You may not realize when you cross the line from a recreational user to a substance abuser. Get help reeling your life back in. We want to help you start again.
If you or a loved one are experiencing substance abuse problems- you are not alone. We are here to help guide you in the right direction. Your first step will be detoxification then will come treatment. If you are looking for detoxification and treatment, please give us a call. We can help you find the right road to take.
Best Texas Treatment Centers
Texas Sober Living Houses
Texas Drug & Alcohol Detox
Removing toxins from your body with the least discomfort will be the primary goal in detox. This may sound a bit scary at first but there are medications available to help with detox. Commonly prescribed withdrawal medications are Suboxone, Valium and Methadone. These are only a few of the many medications you will take. The medications you take will depend upon what substance you used.
Detoxification is usually short, a few days or a week. The length of your detox will vary depending on your situation. Taking this step will thrust you into recovery. Entering a medically supervised detox is the best route to getting help for addiction.
If you are suffering with a substance abuse problem and want to stop, we understand. Call us today to talk about your options for treatment. (866) 578-7471.
Texas Drug & Alcohol Rehab
Immediately upon completing the process of detox, it's time to work on brain function. Drug and alcohol addiction are prone to habits and ways of life that could be hard to quit or adjust.
Through personal and group counseling, behavior therapy, and other tools your medical professional will help you in your recovery. It's extremely important that you give rehab enough time before leaving the treatment center or you may not be fully recovered.
There are extreme risks if you leave early. Leaving early can mean death by relapse. A relapse can happen at any time but is more likely to happen early in recovery. It is a good idea to have a solid aftercare program set up for you before you decide to leave the facility. Call us today for more information: (866) 578-7471.
Finding Treatment in Texas
Treatment in Texas is not hard to find. It's important that you narrow your choices down to the program that suits all your needs.
Often, we find that mental health issues and addiction go hand in hand. Here in Texas, we have treatment centers that will address these issues while addressing the addiction. Addressing both types of issues will help even further in beginning your life anew.
Quick Facts:
Approximately 464,000 people in Texas abuse illicit drugs.

Behavioral, group and individual therapy will help with these issues. In treatment, you will learn how to coping strategies for your co-occurring disorder without needing drugs or alcohol. You have the power to do anything you want in this world and finding treatment is one of the things you can absolutely do. Sometimes the things we least expect to help us end up saving our life.
Should I travel for Treatment?
Once you have determined that you have a problem, it is time to choose a treatment facility. Every so often, traveling to a new town or even state is the most successful option for treatment. If you are willing to travel for treatment you have options for treatment all over the country. Travelling for treatment will increase the chances of finding a facility that meets your individual needs.
Traveling for treatment will allow you to move away from old drinking or drugging buddies, move away from triggers, and allow you to get a fresh start. It is the best possible solution for recovery.
Contact us today to learn more about about travelling for treatment, and the treatment options that travelling can open up for you. (866) 578-7471
Intervention Might Be The Help They Need
Texas is well-known for its state pride and love of good times. Sometimes, however, a good time can go a little too far. If you have a friend or loved one who's good time developed into a full-blown addiction, you can't sit idly by.
Addiction is progressive, so it's not going to get better without help. Fortunately, help is easy to get by calling (866) 578-7471 and talking to a professional interventionist.
A lot of the time, people who are addicted don't realize they've developed a dependency, even as their life is crumbling around them. An intervention, planned with love and support, is often the wake-up call they need to start turning their lives around. Your loved one needs you, so get them help today.
Living Your Recovery in Texas
What many people fail to realize when leaving treatment is that they will always be in recovery. It'll be hard work and you'll have to be diligent. It's not a one stop shop where you get what you need and are done with it. Recovery works best when you are focused on staying clean and sober.
To get the best, and lasting results, it would be beneficial for you to join a fellowship. The people here have experienced many of the same things and feelings that you have. They know where you are coming from and can help you to where you're going. They can offer unparalleled support to your recovery.
Contact us today and make the decision to change your life. Our number is: (866) 578-7471.
What Does Treatment Consist Of?
When someone decides to get treatment for a drug or alcohol addiction, they will enter different stages of care. The first stage is detox, removing the residual chemicals of drug abuse. This process varies but usually only takes about 14 days to complete.
After detox, they will get admitted into the therapeutic dimension of treatment. In this phase, the client will learn various coping mechanisms. Addiction happens for a lot of reasons, but one of the most prominent causes of addiction is the fact that people have developed poor coping skills.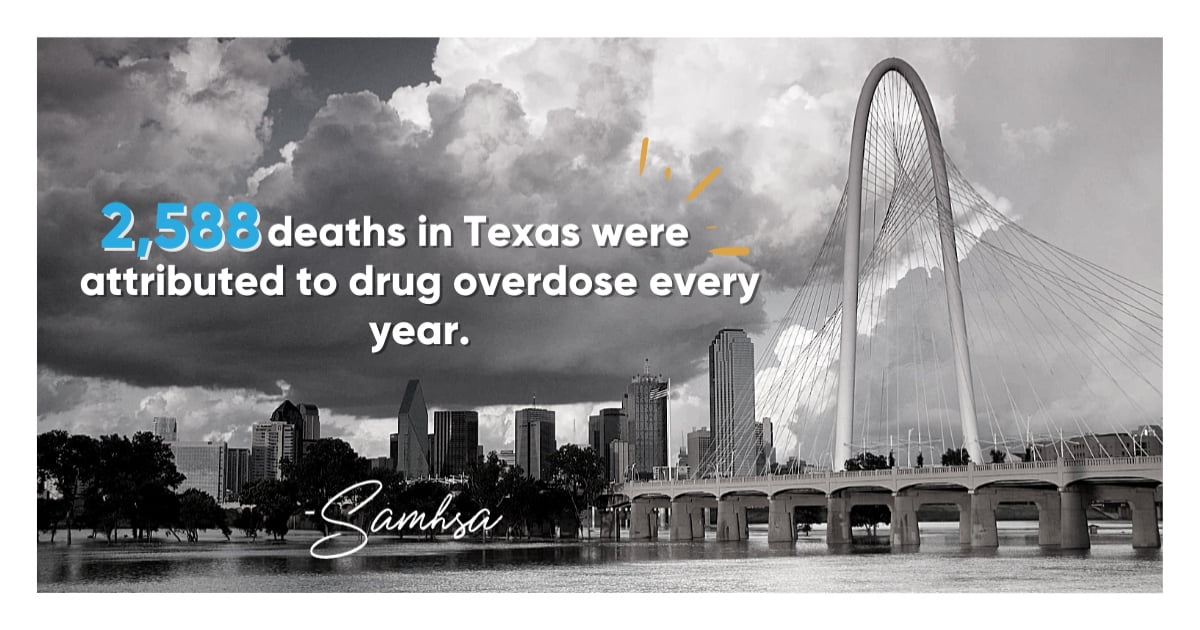 Quick Facts:
In 2015, 2,588 deaths in Texas were attributed to drug overdose.

When the client develops new coping skills they will be ready to face the world. However, just because they leave treatment doesn't mean the work is over. They will still need to seek out help through aftercare.
Is There Hope for Alcoholism or Drug Addiction?
Treatment has been successful in countless cases of both alcoholism and drug addiction. There are medical studies that show what works and what doesn't. New discoveries are always being made in the field of medicine.
It has even proven successful in cases wherein the person begrudgingly agreed to go. Once the drug or alcohol is cleared from your physical body, it becomes easier to see things clearly. There is not only hope for almost every case, but myriad examples of success stories
No one ever feels entirely ready to change their lives, but you will never be more ready than you are right this moment. Ignore the feeling that recovery isn't for you. Make the right decision and change your life. Call us today. (866) 578-7471
"Life begins right outside your comfort zone. Start changing."
The prospect of recovery can be unfamiliar and frightening, but the rewards of a life free from substance abuse are worth it. You don't have to face your fears alone. Contact us today and change your life for the better.
5 Tips to Help Your Intervention Planning
Baring witness to a loved one struggle with a substance abuse problem can be difficult. It is hard because you want to reach them to point out the obvious hardships their drug and alcohol use has put them through. One way to help reach your loved one and get the help that he or she needs is to hold an intervention. Often, someone who is having a hard time with addiction does not realize that the problem is taking a toll on those close to them. You might be able to help your loved one realize that his or her problem has gotten out of hand, while proving that friends and family still care.
In numerous cases, people who need treatment for an addiction do not seek help, because they think their friends and family will not help them. They are usually under the impression that those close to them will only ridicule them for having a drug or drinking problem in the first place.
Here are five tips to keep in mind when trying to stage an intervention for a loved one:
1) Ask everyone who is attending to be prepared. If everyone who attends shows up ready to go with a written statement to read to your loved one, then you have a better chance of succeeding. These written statements should include specific examples of how your loved one's actions during addiction has effected their relationship with that person. Let your loved one know that it hurt when he or she missed the family gathering or other social event because your loved one was scoring drugs. Or show that it hurts to see him or her not be able to hold a steady job. The more specific you are, the more real it will become for your loved one.
2) Try not to get over emotional. It is normal to feel unsure and intimidated when trying to bring up your loved one's substance abuse to them. Often, in interventions family and friends of the person at hand get too upset with what is being discussed so they become mad and judgmental of the loved one. At first glance, your loved one will think that everyone has gathered to criticize his or her addiction and express nothing but disappointment. Set the tone by being caring, but assertive. Do not force your loved one to bottle up and take in what is going on.
3) Make sure that you have a place and time in mind where you will able to reach your loved one. Sometimes, it can be hard to find a day and time when your loved one will be sober. Try to catch him or her off-guard, but again, try not to intimidate. Choose a place where your loved one feels comfortable, but not a place where he or she can be distracted. Where your loved one is living can work or invite them to a close friend's or family member's house.
4) Go into the intervention with a goal of convincing your loved one to go to rehab. You obviously care about your loved one so help him or her make the safe and logical choice of rehab. The only way your loved one can reach sobriety and get back to being happy is to complete a rehab stint. Do not let your loved one talk his or her way out of rehab after the intervention. It is not uncommon for a drug or alcohol user to tell loved ones that the intervention worked and they will stop using. It is very hard for someone to just stop using. Your loved one will most likely need professional help to lay off drugs and alcohol.
5) Know that you can never hold too many interventions. It is normal for people to need multiple interventions before they answer the wakeup call that their family and friends are trying to provide. If your first, second, third or any number of interventions fail, hold another. As long as they are still breathing there is hope for them to clean up and recovery from their addiction. Your loved one can deny his or her substance abuse problem all he or she wants, but at the end of the day they have to live with themselves. Prove to your loved one that he or she has people who will support the decision to seek treatment for substance abuse. Help is only a call away. You can call us to get more information about how to hold a successful intervention. Assist you loved one to climb out of denial and enroll into rehab.
No Better Time than Now
Each day you allow to pass is another day your loved one's addiction claims victory. Drug addiction and alcoholism do not care about age, gender or race. These terrible diseases will take anyone's life at any time that it can. Reach out to help save your loved one's life now. Call us for more information. We can help you help the person you care about.
What To Expect From Treatment in Texas?
A reputable treatment center will aim to help you stop using drugs, and drinking. They will also teach you how to maintain a drug-free lifestyle, it will also teach you how to be a constructive member of your family and society.
There are many treatment programs available, they will all share similarities and differences. Find a treatment center that best suits your needs. The rehab program that works for one person may not be right for another. Try to keep an open mind while exploring your options.
Life doesn't have to be over because of your addiction. Oftentimes, people who are addicted go on to do great things once they find recovery! A late start is better than no start at all. Contact us today and begin your journey through recovery.
Identifying Someone Suffering From Addiction
If you suspect that someone you care about may be suffering from addiction, there are signs you can look for that might help you decide if you should speak to him or her. You'll probably notice that your loved one's appearance has changed. Maybe his or her health is going downhill.
Usually an addicted person will also drop old friends for new ones and begin to have trouble at work or school. Oftentimes financial problems begin to plague them as well and he or she sleeps more often than usual.
These are not all of the signs but many times loved ones will notice these things in an addict person. If you think your loved one may have a substance abuse problem, call us and talk to an addiction specialist.