Last Edited:
December 4, 2020
All of the information on this page has been reviewed and certified by an addiction professional.
Facing Drug and Alcohol Addiction in Oklahoma
Situated in middle America, Oklahoma is a major producer of natural gas, oil and agricultural products. In the Big Friendly, people like to have fun. The waterpark, the amusement park, the zoo, the Softball Hall of Fame, and the National Cowboy Museum are all enough to keep residents busy.
In This Article
Oklahoma isn't all sunshine and rainbows though. Underneath all that fun is a drug and alcohol abuse problem that needs our attention. If you think you might have a problem and need help, waste no time and call us today. The sooner you enter treatment, the sooner you can find recovery.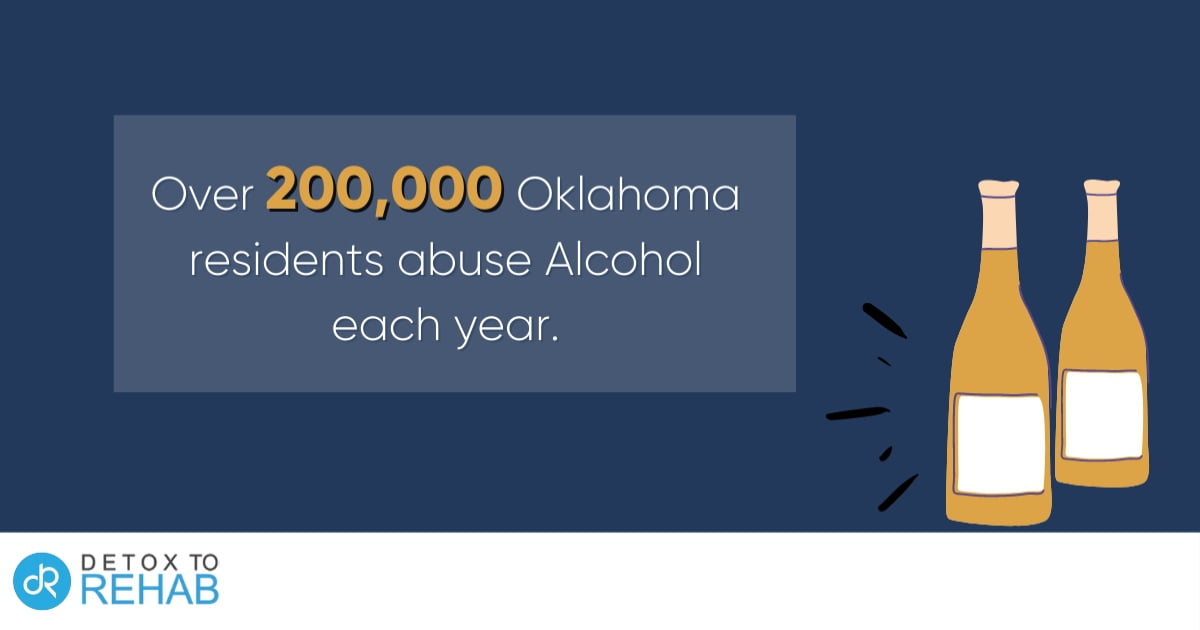 Quick Facts:
Over 200,000 Oklahoma residents abuse Alcohol each year.

The disease of addiction devastates many American lives. The Center for Disease Control estimates that nearly 10 percent of Americans struggle with a substance abuse disorder. Addiction affections the entire family, not just the person suffering from it. With so many Americans struggling with the same devastating illness, we should work together to find a solution. If you or a loved one is suffering from addiction, reach out. Hope and help is available. Give us a call at (866) 578-7471.
Best Oklahoma Treatment Centers
Oklahoma Inpatient Rehab Facilities
Oklahoma Outpatient Rehab Centers
Oklahoma Sober Living Houses
Oklahoma Drug & Alcohol Detox
For most people who have been using regularly for any amount of time, physical dependence is an issue. When drugs and alcohol are no longer used, withdrawal symptoms surface and can create extreme discomfort and sometimes death.
Detoxing should be sought in the majority of cases. If you are unsure whether you need detox support, speak to your physician about your history. Should your medical professional decide that you need to go through detox, that will be your first step upon entering rehab.
Not only does detox clear your system of any toxins left behind, it could give you, your doctors and therapists a pathway to follow when creating your treatment plan. Medications are available to help relieve the discomfort of detox and to also help to avoid relapses later.
Oklahoma Drug & Alcohol Rehab
From detox, you will head to rehab. The purpose will be to help your brain function normalize and teach better behaviors for a healthier lifestyle. It is imperative that you remain in rehab for an adequate amount of time. If you do the work, follow suggestions and stay for the recommended amount of time, rehab will be successful.
Treatment will be provided in the form of behavioral therapies, group and individual counseling, medications and more. For the best results attend the most intensive treatment program available to you. The longer and more intensive the program, the greater the progress made.
Recovery from addiction does not happen overnight. It takes hard work and dedication, however it is possible and the rewards better than you can imagine.
Finding Treatment in Oklahoma
Oklahoma offers diverse treatment options. There are treatment facilities available to give people the best chance of success across a wide range of beliefs and priorities. Whatever your preferences are, there is a treatment center for you.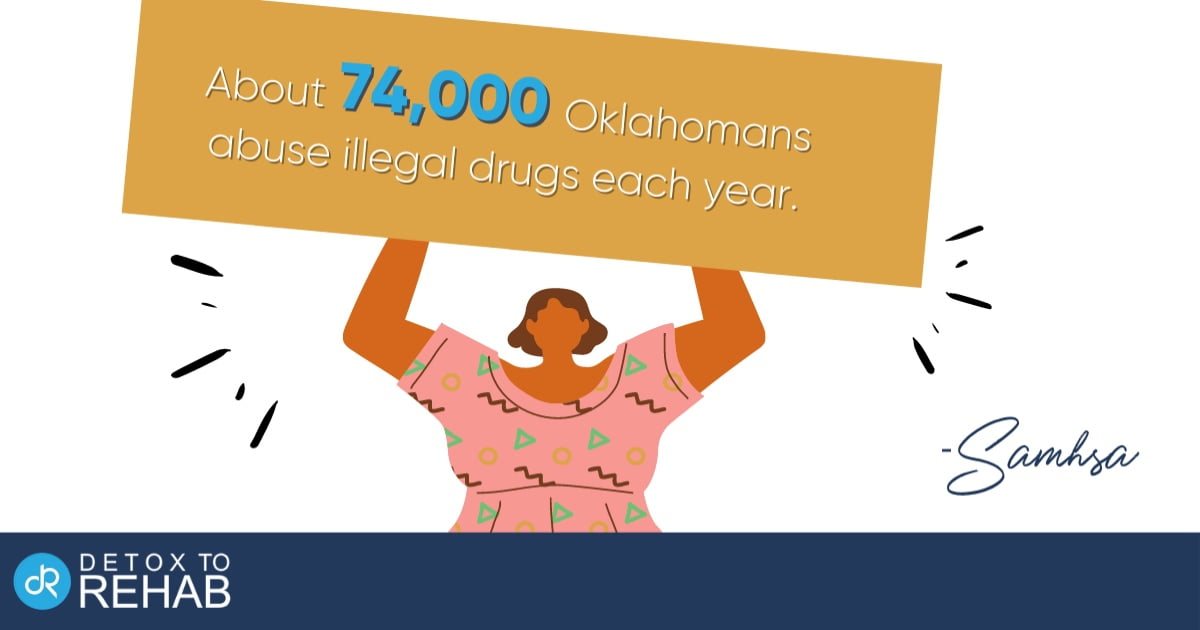 Quick Facts:
About 74,000 Oklahomans abuse illegal drugs each year.

Many people assume that treatment is out of their financial reach and subsequently do not get the help they need. There is a good chance that your stay in rehab will be covered by your insurance, with little or no out of pocket cost. If you do not have insurance, or if your plan doesn't cover a specific treatment, payment plans are available. In some cases, scholarships or grants are available to those with limited financial means.
Once you find a treatment center that fits your needs, the first step would be assessment. If you need help detoxing, you would enter the detox center phase of treatment. After detox is complete, the rehabilitation commences.
Should I Travel for Treatment?
You want to choose the treatment that will offer you the best chance at success. For some, traveling away from their hometown and their normal environments, friends and triggers will allow them to immerse themselves in treatment with no distractions. These familiar people and places can be detrimental to some people's effort to stop using and find a better life.
Some people will attempt to pull you back into the vicious cycle of using for their own selfish reasons. If you keep yourself immersed in a negative or using environment, it could ultimately cost your life.
However, some people consider themselves safer surrounded by friends and family. Also, if you have responsibilities and obligations at home, an outpatient program close to home may be more suitable. Your personal addiction history is what should dictate your choice.
What is an Intervention?
An intervention is when you set aside time to talk to the person you love about his or her addiction and the behaviors that come with it. This non-judgmental and loving way to communicate concern serves as a great way of helping the person get started in the right direction.
To stage an intervention all you really need is yourself and the person who is abusing substances. It may be beneficial to draft a statement to read on the day of the event as this will help you stay focused and on track. Find a place that is formal, yet private, and let the person know that he or she is loved, but that something needs to change.
Many people find the guidance and support of a professional interventionist to be especially helpful. This professional can help you prepare and may sit in on the event, helping keep the conversation on topic and diffuse any emotional outbursts.
Whatever the outcome of the intervention, by staging the event you are helping to get your loved one on healthier path and, ultimately, may save his or her life.
Living Your Recovery
Recovery doesn't happen in just one day. Once you leave rehab it's a whole different story and you'll have many temptations thrown at you that you may not be able to handle alone.
A fellowship is a group you join that focuses on your past addiction. Some of these include Alcoholics Anonymous, Narcotics Anonymous and Cocaine Anonymous. These are focus groups that you can join that will help you combat the feelings and insecurities that you may be experiencing. This group becomes your second family and is there to support and encourage you through this fight.
Recovery is not all work, however. There is a great deal of fun to take part in. People in recovery are fun-loving adventure seeking folk, who are always ready to have a good time. You will find that you experience more joy and better friendships in recovery than ever before. Don't wait another minute to get sober. Get started today.
Treatment Options in Oklahoma
Oklahoma is home to an abundance of treatment centers and groups able and willing to help you find your way in sobriety. There are detox centers, rehab facilities, sober living houses, 12-step meetings and more. Whatever path you prefer, there is a way to get and stay sober for the long haul.
Detox and rehab centers often offer medication to help you ease off your drug of choice. With progress in medical research, medication is available to help people break their drug or alcohol habits.
Quick Facts:
In 2015, OK had 725 residents die due to drug overdose.

Once you have stabilized, treatment centers utilize a variety of therapeutic methods to further your recovery. Some of these methods are Cognitive-Behavioral Therapy, Client-Centered Therapy, Solution Focused Therapy, Rational Emotive Behavioral Therapy, Art therapy, Music Therapy, and Equine Therapy. Each of these aims to help you overcome the underlying issues that perpetuated your addiction. Once free from past suffering, you will be able to move on toward a happier, healthier life.
Aftercare Services in Oklahoma
Through the completion of addiction treatment, you learn healthy habits instead of drugs or alcohol. Just like asthma or diabetes, recovery from addiction must be managed. Should you relapse, it does not mean that you have failed at recovery. It's a signal that your treatment either needs to be reinstated or adjusted. There is no shame in relapse as long as you maintain your effort to get sober.
One of the best ways to prevent relapse is to plan a comprehensive aftercare program. After inpatient rehab, many treatment centers offer an Intensive Outpatient Program for alumni. This will help keep you focused on your goals and endow you with even more tools to achieve these goals.
Sober living is another great way to get the support, guidance and structure you need. Daily 12-step meetings will provide you with connections to others in sobriety that can show you the way.
Deciding Between Inpatient & Outpatient
A common question when researching treatment programs is the difference between inpatient and outpatient rehab. Inpatient programs give clients more time and resources with medical professionals. Clients can get used to living a sober life in sober living accommodations while attending therapy sessions at the facility. Outpatient programs tend to be more geared toward people with moderate alcoholism issues and do not go as in depth as inpatient care does. Often, outpatient group meetings are used as follow-up sessions to a personalized, inpatient rehab program.
If I Relapse am I Past the Point of Help?
When it comes to sobriety, a large fear among those going through treatment is the possibility of falling back into old habits and abusing substances again. The fear of you or a loved one relapsing is a very real and extremely natural fear to have.
Addiction is a chronic disease that often takes over your life, and the only safe way to get over an addiction is through treatment, but treatment isn't the same over the course of your life. Treatment needs to be adapted and reconfigured to help keep you moving forward.
A person can relapse at any time, no matter how long he or she has been in recovery. The late Philip Seymour Hoffman was sober and clean for 23 years of his life, and then he relapsed and unfortunately died of a drug overdose. Although heartbreaking and overall depressing, it isn't that unheard of, and although he did tragically pass away, it doesn't mean that one relapse is the end all of sobriety. Yes, addiction is cruel and sadistic, but there is hope.
There is a difference between a slip and a relapse though, and it's important to understand this difference. A slip doesn't necessitate a total decline in recovery, but rather a slip-up. An addicted person may be put in a place that that exposes him or her to harmful and addictive substances and end up using, for an example an alcoholic having a drink at a party. This doesn't entail a full-blown relapse, but rather, increases the chance of one.
How do People Relapse?
The use of the term slip merely translates to a behavioral slip, a quick lapse in judgement if you will. It's what happens afterward that usually leads to a full-blown relapse, for instance the stress that is associated with it. Because of the fear that one has lost sobriety, people often delve themselves further into harmful behavior. Instead of freaking out, it's important to focus on the recovery process and evaluate what may have led to the slip-up, and try to prevent the same instances from occurring, preventing future slip ups from happening.
But what if a slip does devolve into a full-blown relapse? For starters, it's important to understand that a relapse doesn't mean a failure for recovery. As stated previously before, a relapse is a common, albeit painful occurrence in recovery. But it doesn't undo the progress that has been made in recovery, in fact, it's important to remember the coping mechanisms and strategies that were developed and practiced in recovery still apply. Relapse is not a failure of sobriety. As hard as it is, it is a common, and frustrating occurrence.
A relapse is a much more dangerous, it implies a continued use. Unlike a slip, where the addicted person will quit right away, a relapse is when he or she continues the use, slipping back into previous destructive behavior. It doesn't matter if the individual has been sober for a week or a decade; if he or she returns to substance abuse, he or she has relapsed.
Although it is easier to avoid a slip or relapse than it is to deal with them, there are things to do to keep the recovery process going. The first, and possibly the most important thing to do is to know that you haven't failed; the only real failure is giving up. Instead of feeling guilty, you should instead focus on your recovery, practicing what you learned in treatment.
The feeling of worthlessness isn't part of the recovery, but rather, a symptom of the addiction. It's important to understand that everyone, including yourself, is human, and that humans make mistakes. You may have felt that you have reverted back to day one, but that doesn't mean anything; the only day you have in sobriety is today, and it's important to remember that. One day at a time.
Do Not Give Up
Recovery is a lifelong healing process, with an emphasis on the lifelong aspect of it. Behavioral slips and relapses are signs that a reevaluation and modification of strategies need to be put in order. It's easy to blame yourself over relapsing, but beating yourself up over it is counterproductive. Recovery is a battle and it will have its ups and downs with many questions asked throughout the way. You don't need to have all the answers, but just a need to move past it all and grow as a person. Call 866-578-7471 today to talk with someone about getting help.
Drug abuse leads to addiction. While it sounds simple, it can be quite complicated. People usually take to drugs in the first place because they need something to alleviate sad or hurt feelings. Others take to drugs because they fall under peer pressure and think that if they don't do drugs then their social life will be nonexistent. No matter the reason for experimenting with drugs, addiction lurks behind you with every use hoping to hook you in.
Prescription drug abuse is another gateway to addiction. People can get the same loaded feeling if they use prescription pills but think that because a doctor assigns them that they are safe. That is false. Prescription drugs have the same evil power that meth and heroin do and if not taken correctly can be just as harmful.
Any amount of drug abuse can work toward the advantage of the addiction that is hiding in the shadows waiting to strike. If your drug abuse is getting out of hand, then call us now before your put yourself in a bad situation that is harder to get out of.
Oklahoma & Alcoholism
Strong will-power is not nearly enough to recover from alcoholism and drug addiction. Large amounts of alcohol and drugs abused daily will change the way your brain functions. With the brain changing, so will your addiction and habits. Getting the treatment you deserve will give you the support needed to help your brain return to a normal function. Don't worry- we are here to help. We will be able to determine what facilities your insurance covers while making sure they also meet your individualized needs. Give us a call today and we will help you get the treatment you need and deserve.
Too many people lie to themselves and others about their drinking problem. Liquor is a dangerous substance to abuse. Just because your friends and family occasionally take part in drinking with you does not mean that you do not have a problem.
People often drink too much and think that because they are the right age and purchase it legally they're immune to alcohol addiction. Alcoholism is just as deadly as any drug addiction. Do not put yourself in a tight spot because of drinking, call us now if you need more info an alcohol rehab.