Last Edited:
October 8, 2020
All of the information on this page has been reviewed and certified by an addiction professional.
Facing Drug and Alcohol Addiction in Ohio
Ohio has delivered many treasures to the United States. It was the first state to establish an ambulance service, erect a traffic light, use police cars, have cash registers, pop tops on pop cans, hot dogs, a professional baseball team and a fire department. That's just scratching the surface.
In This Article
With all these great things going on in the Buckeye state, it's hard to imagine that a large number of Ohio residents die each year due to drug-overdoses. No state is immune to drug and alcohol addiction. We're all human. But that doesn't mean life is hopeless if you have become addicted to drugs or alcohol.
Quick Facts:
In a study, 646,000 people in Ohio admitted to abusing alcohol regularly.

The hopeless feeling can be a strong foundation on which recovery can be built. It will take hard work and dedication but you can overcome addiction the same way many others have. It is never too late to seek out help of a treatment facility, addiction is a powerful foe, it will only continue to get worse unless you do something about it. There is help available in Ohio. We can help you find a rehab that is best for you. Fill in the contact form below or give us a call. We're here to help.
Best Ohio Treatment Centers
Ohio Inpatient Rehab Facilities
Ohio Outpatient Rehab Centers
Ohio Drug & Alcohol Detox
You should call so that you can get back to living a happy and healthy life. There are only three ways to end an addiction: treatment, prison or death. There are no other ways around it. Sooner or later your addiction will kill you if you keep feeding it.
Medically assisted detox is the first step in; it's not a treatment alone. Detox alone will not allow you to recover your normal brain function. It's a great start and helps with motivation to continue into rehab by cleaning out your system.
Give us a call; we will have someone help you make a list of detox centers that will fit your needs. We will then go over the best plan as to get you enrolled in that facility.
Ohio Drug & Alcohol Rehab
While no single treatment works for every person, a unique process will be created for you. Upon admittance, you will be provided with a personal program plan, often based on your needs in detox. Other factors will include your history with the addiction, genes, and the environment you will be going to after rehab.
Through intensive individual therapy, group therapy, educational seminars and other healing techniques you to overcome past issues. Healthy habits will be instilled and you will learn tools to help with cravings and avoid relapses. It requires hard work but the results are more than worth the effort.
You don't have to feel alone or helpless any longer, we are here to help you get your life back on track. It starts with one phone call.
Finding Treatment in Ohio
Ohio has a multitude of treatment centers available for its residents. From holistic centers that focus on a healthy body, mind, and spirit; to faith-based and gender based treatment centers. There are also addiction specific centers as well as outpatient facilities.
Usually, treatment begins with detox, followed by a stay in inpatient rehab. This allows for you to start at the highest level of care, detox, where you will receive around the clock support and care. Next, you phase down to inpatient rehab, where the intensive therapy is conducted and the most progress made. Once these two phases have been completed, sober living, 12-step meetings, and intensive outpatient programs will help you maintain the progress you have made and continue toward a meaningful life in sobriety.
To choose a treatment facility, contact us. We can help you determine what your choices are based on the coverage you have through your insurance. From there, we'll help you narrow facilities down to one based on your preferences.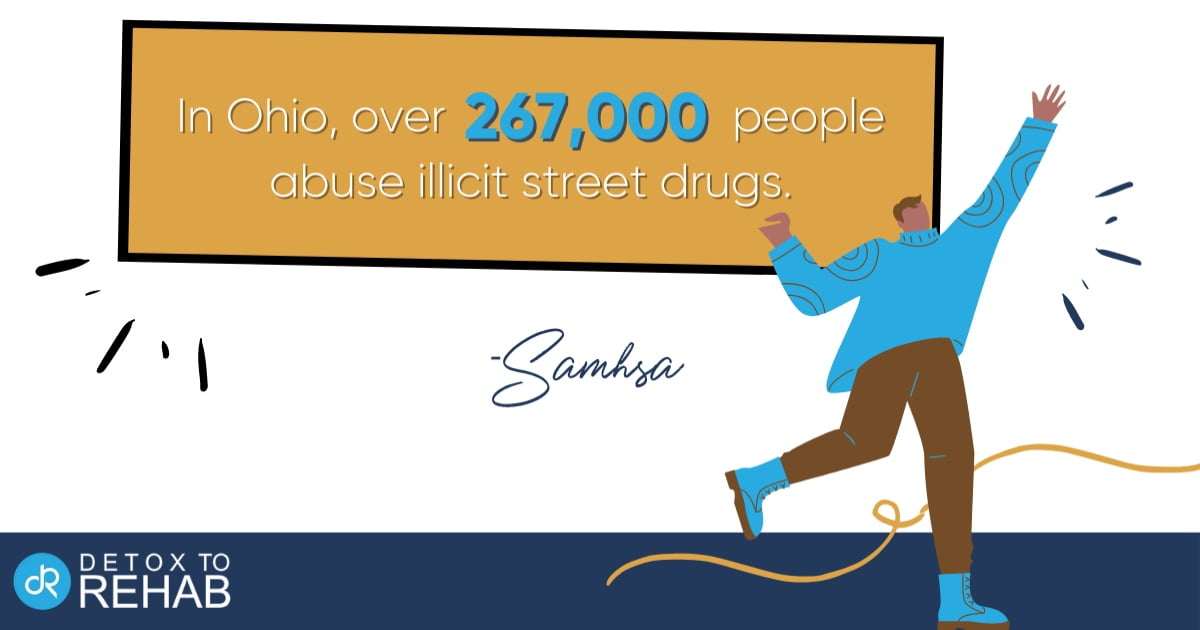 Quick Facts:
In Ohio, over 267,000 people abuse illicit street drugs.

Should I travel for Treatment?
It can be difficult to change your habits and lifestyle when surrounded by the same people you used with. The consistent strong desire to use may be too much when you see old friends still partying and using. Some people develop toxic, even dangerous, relationships while using that could prove threatening when you decide to change your life for the better.
For all the reasons just mentioned, and more, many people find that travelling for treatment is greatly beneficial to their pursuit of sobriety and a better life. Finding a treatment center located away from home gets you away from negative influences and out of your routine. You will be able to focus solely on yourself and your recovery while in an inpatient treatment center. In addition, you will gain a degree of anonymity difficult to obtain if you stay in your hometown. Give yourself and your recovery a boost and travel for treatment.
It's never too late to enroll into an inpatient rehab program. Don't let your addiction leave you behind in life, or worse, kill you.
When Is Intervention Needed?
Known as the Buckeye State, Ohio has brought many great things to the United States. Sadly, however, this does not render it immune to the effects of substance abuse. If you know a friend or family member whose life is crumbling due to addiction, don't stand by idly and watch the person spiral out of control.
Help is available. If the person will not help his or herself, it's up to you. Call (866) 578-7471 today and ask to speak to a professional interventionist. Most people caught in addiction's vicious grasp do not realize what they're doing to themselves, or that there's even a problem.
An interventionist can help identify which intervention method will have the best chance of getting through to your friend or family member. Your love and support is needed to help the person survive. You don't have to watch your loved one suffer. Make the call and get him or her the help needed today.
Living Your Recovery
Ohio residents are no strangers to drug and alcohol problem. In Ohio 16.1 people per 100,000 are killed in drug overdose related incidents, which is triple the number from 1999. There's no need for you to become one of these statistics. If you live a life of recovery and surround yourself with others in sobriety, you have a great chance of overcoming your disease.
A healthy balanced lifestyle is a crucial key to maintaining sobriety. Often, people adopt unhealthy habits while using that need to be changed when they stop using.
Many people fear that a life without using drugs or alcohol life will be boring. This is simply not true. People in recovery are always looking for sober ways to have fun. You will discover that a life lived clean and sober is far more enjoyable than anything you have experienced before.
Treatment Options in Ohio
Ohio has plenty of treatment options that are at your disposal. These resources vary from detox centers, to rehab programs, to 12-step meetings. Whatever you need, you can find a treatment option that fits.
Whether you decide that inpatient or outpatient rehab is best for you, most treatment programs utilize similar modalities. Some of the best outcomes result from clients taking part in Cognitive-Behavioral Therapy, Rational Emotive Behavioral Therapy, Client-Centered Therapy, Equine Therapy, Art and Music Therapy, and others. A combination of therapeutic options is often offered as it gives the client the chance to find what works best for him or her.
Addiction is a progressive illness that that does not stop on its own. Intensive therapy and a strong support system are often necessary to overcome its devastating illness. Let us help find the right treatment center for you, so you can start living a better life.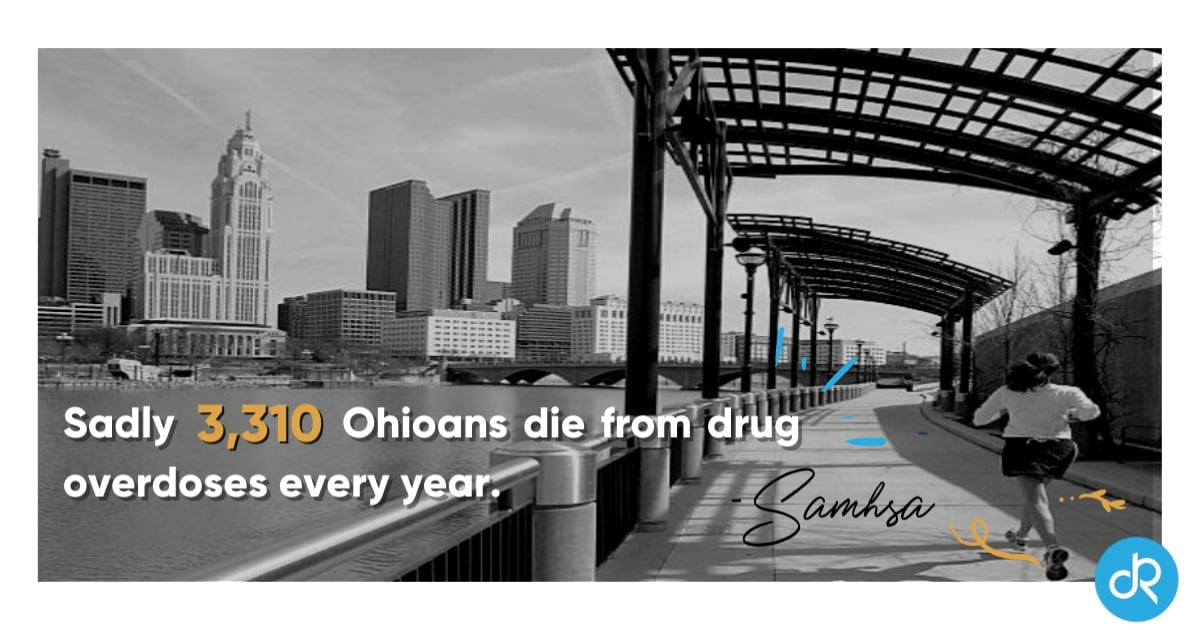 Quick Facts:
Sadly in 2015, 3,310 Ohioans died from drug overdoses.

Aftercare Services in Ohio
Ohio has brought many great things to our country, not least of which is its dedication to helping those struggling with addiction. Anyone who has successfully finished their rehab program, recovery begins after leaving the treatment facility. Before leaving the facility, an aftercare plan should be developed to help the clients stay in a treatment mindset as they venture back into a world full of temptation.
Aftercare is a crucial aspect of recovery, as it includes tools and resources to help the person battle temptation and relapse. Part of this aftercare can include fellowship meetings, gatherings with other alumni of their treatment program, sober living, and supportive friendships, many of which may have formed in treatment.
Follow-up programs are vital to the recovery process. If you do not stay focused on deny temptations to use drugs and alcohol then you greater your chances of relapsing.
Don't think that you can't get back to living a happy & healthy life
If you have nowhere or nobody else to turn to, then now is the time to call us for help. We are here to listen to you, not judge you. Then we can help you get setup in either an inpatient or outpatient rehab facility. Addiction shoots to kill. So, get out of your addiction's crosshairs and find the treatment that you need to recover from your substance abuse problem.
Looking into What Addiction Actually Is
There are many people out there who don't know why or how some people would become addicted to drugs. To them, everyone should already know the dangers of drugs and that, if you use them, you are a character of low morality and willpower whose principles need a lot of work. The thing about that assumption though, is that it doesn't take into account that addiction is unique and complex, so complex in fact, that it makes quitting extremely difficult, even for those that want too.
An important aspect to understand is that people don't just decide to become a victim of addiction and drug abuse; it's something that happens gradually overtime.  Addictions occurs when someone abuses drugs or alcohol and becomes dependent, which significantly damages his or her clinical and functioning abilities. Basically, it gets to the point where a person's brain begins to forego basic needs and necessities in favor of the substance.
As stated previously, no one intends to become addicted, and in fact, there are a myriad of reasons as to why someone would start out using. The reasons range from simple experimentation to full blown trauma; the causes of starting of are endless. This is one of the reasons why addiction becomes so complex and difficult to treat. Not person is the same as the next.
Addiction affects the brain's pleasure and reward center, where the chemical dopamine is released. Dopamine is the body's way of rewarding itself, making it feel pleasure, causing the person to want to repeat the same behaviors like eating and sleeping. Substance abuse causes an overstimulation of the brain's pleasure centers, which causes the "high" that people refer to when using drugs. The overstimulation of dopamine in the system cause the person to seek out that high again, creating a cycle of abuse, resulting in addiction. The more dopamine that is introduced into the body's system, the more it begins to adjust, creating a tolerance for the drug. Tolerance actually starts to develop the first time someone uses a drug, causing the person to use more and more in order to achieve the same level of high again. This happens because the brain is adjusting to the increase in dopamine, eventually thinking that the excess is normal. The search for that same high results in a loss of interest in other activities that they used to enjoy.
A question that is commonly asked is why someone would start using, if they know how dangerous it is. The issue isn't so much that they aren't aware of the problems, but rather that the problem is that that is the nature of addiction. Some drugs look rewarding, no matter what you've heard, and it soon becomes a need for that feeling of normalcy, no matter how harmful the outcomes are. Also in active addiction, it becomes harder to see that the negative things in your life are directly tied to the drug or alcohol use.
How Do I Overcome an Addiction?
The only safe and proven way of dealing and fighting an addiction is going through treatment. The best way to deal with an addiction is through treatment, but just like any chronic disease, you have to keep up with the treatment or you run the risk of a relapse.
A common fear in regard to treatment and addiction is relapsing. As unfortunate as it is, relapse does occur, but that doesn't mean treatment doesn't work. Like any chronic health condition, treatment is ongoing and it needs to be adjusted based on the client's needs. Often times, treatment plans need to be reviewed and revised depending on the client's needs. Remember though, that relapse doesn't mean that someone is a failure or has lower morals. Addiction is a chronic disease that needs to be treated constantly.
Educating yourself is a powerful tool in the battle against addiction. Studies have shown that prevention programs involving family, school and the media are effective in the prevention of reducing addiction and substance abuse. Personal events, trauma and the environment does affect drug use. Addiction is complex, and the recovery process addresses that complexity. There are a plethora of reasons as to why someone would begin using, and just as many as to why addiction occurs, but the important thing to note is that help is always readily available. Genetics, trauma and environment can influence whether someone is more prone to becoming addicted, but help is out there. Call 866-578-7471 for more information.
Ohio & Drug Abuse
People not familiar with the how's and why's of addiction usually ask questions such as, "how did that person become a meth or heroin addict? Don't they know it's bad for them to do drugs?" The real answer is that no one starts out abusing drugs to become an addict. Often times, people use prescription drugs for nonmedical reasons, they use them to get loaded.
When they lose access to these prescription drugs is usually when they turn to cocaine, meth or heroin. They are searching for the same high that the pills gave them. Prescription drugs and hardcore street drugs are both dangerously addictive.
Any amount of drug abuse can cause someone to get hooked through a chemical dependency to that substance. Too much of anything can be bad for you. But overdoing it with drugs can lead to prison or death. Call now for more information on drug abuse or addiction.
Ohio & Alcoholism
Consuming large amounts of liquor on the weekends can make having a good time with friends easy. But sometimes, that confuses our minds to thinking that being drunk can make everything easy. People drink alcohol every day in hopes of drowning out the stress from their life.
Alcoholism is a disease that can be just as deadly as an addiction to drugs. People think that because alcohol is legal and easily accessed that it cannot be as bad. Alcohol can break anyone's decision making skills, forcing them into dangerous situations where they can seriously hurt, or kill, themselves or others.
People have a hard time realizing that they need treatment for alcoholism. But if you have found yourself needing alcohol just to function during the day, then please call us now. We can help you recover from alcohol addiction.