Last Edited:
September 29, 2020
All of the information on this page has been reviewed and certified by an addiction professional.
Finding Substance Abuse Treatment in North Carolina
Great things have come out of North Carolina. North Carolina has always lived up to its motto, "to be rather than to seem." Babe Ruth hit his first home run here, the first American was born here, the original mini golf course and Krispy Kreme also call North Carolina home. But for all the positive things, North Carolinians are still not immune to the disease of addiction. In fact, alcohol and drug addiction is a subject that touches many lives in North Carolina.
In This Article
Drug addiction and alcoholism take over lives on a daily basis and ruin happiness and relationships faster than they can be repaired. Before the person realizes it, his or her life is heading straight downhill.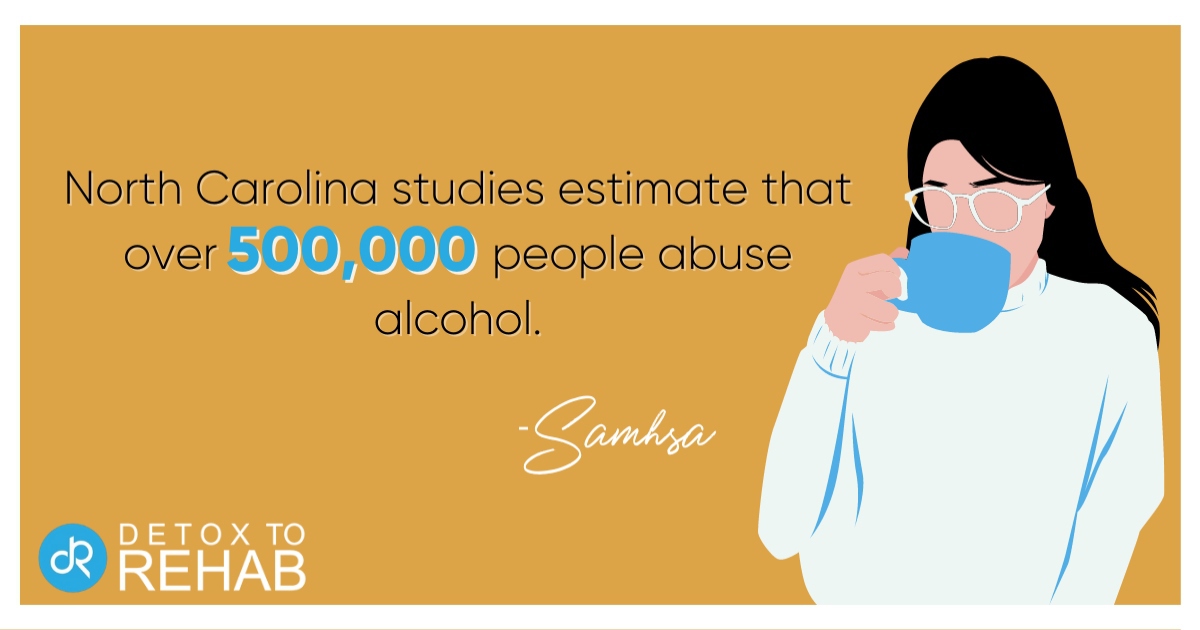 Quick Facts:
North Carolina studies estimate that over 500,000 people abuse alcohol.

We are here to tell the people who are suffering from alcoholism and drug addiction that help is available. You do not have to feel isolated any longer. There is no reason to feel guilty about asking for help with a substance abuse problem. You should feel proud to come forward to seek help, it takes a lot of courage to realize when enough is enough and that it is time to make some changes.
Best North Carolina Treatment Centers
North Carolina Detox Centers
North Carolina Inpatient Rehab Facilities
North Carolina Outpatient Rehab Centers
North Carolina Sober Living Houses
North Carolina Drug & Alcohol Detox
If you have become physically dependent, you will experience withdrawal symptoms if you stop using suddenly. Some substances, including alcohol and some prescription pills, the withdrawal symptoms are known to be potentially deadly. Due to the high risk associated with detoxing alone, it is recommended that you enter a facility for the duration of the process.
Entering a medically managed detox eliminates any need for anxiety. Many people are scared to detox, however in a detox center there is nothing to fear. The medical professionals will provide you with medication and utilize other treatment methods to ensure your safety. Pain and other discomfort is often associated with detox, however, with professional help you are assured the best experience possible.
North Carolina Drug & Alcohol Rehab
When a person becomes addicted to drugs and alcohol everything revolves around getting and using the drug of choice. To remedy the dysfunctional lifestyle and habits, many people require a program of rehabilitation. For many people, rehab equals a fresh lease on life.
Rehab will use medicines, therapy and group counseling to not only return healthy brain function, but to help you overcome any obstacle to living in a healthy manner. Basic functions have been disrupted by substance abuse, with time and counseling these functions can return to normal. There is hope and help available. Reach out and get started living a better life today.
If you place yourself in the right environment, any outcome is possible. Do not think that rehab cannot work for you, because it has worked for people are in deeper with their addiction than you are with yours right now.
Finding Treatment in North Carolina
Treatment programs vary greatly, from specialty to amenity-rich. Your preferences may depend on what your insurance covers or what you can afford out of pocket. You can find any kind of program including an outpatient programs and luxury programs offering gourmet chef prepared meals.
Finding a treatment center that meets all your needs can feel overwhelming, but it is possible. Getting started with the right treatment center is a crucial step toward recovery. Be sure to ask  questions when you are thinking of entering a rehab program.
Our experts can help walk you through the process and find the center that best fits your needs. There are plenty of rehab centers that offer personalized programs that can help you. If you are willing to travel for treatment, we can also help you compile a list of available centers that are in other states.
Should I Travel for Treatment?
Many people develop strong, toxic ties to others while using. People tend to surround themselves with others who behave and think as they do. In the case of addiction, these ties can be a great threat to continued sobriety. You have taken an awesome step toward sobriety, however not everyone has made that leap with you.
A great way to get out of the cycle of using is to travel for treatment. Getting out of the neighborhood allows you time and comfort to focus on yourself.  You will also have an added degree of anonymity when you find a treatment center away from home.
Quick Facts:
About 229,000 people abuse illegal drug each year in NC.

Fighting your addiction can be hard, so why not give yourself every advantage you can? Traveling for detox and rehab is a huge advantage because it gives you the weapons of time and space. Call now to found out about rehab treatment programs in other areas.
Intervention is the First Step
While North Carolina is home to many firsts, it is hardly the first to have problems with substance abuse. If you know of a friend or loved one who is having addiction problems of his or her own, don't stand by feeling helpless. You CAN help. Call (866) 578-7471 and talk to a professional interventionist today.
Planned with support and love, a proper intervention, led by a trained professional can be the crucial turning point your loved one needs. Remember that your loved one is suffering and needs your love and support during this trying time. Help him or her with the most important first: the first step to recovery.
Many people caught in addiction's grasp cannot see the situation clearly. They may blame themselves for becoming addicted, feel embarrassed, or feel that it's justified. Often, they believe that their loved ones will not understand and in turn will be criticized by them for not being able to "just quit." Staging an intervention is the best way to break through the barriers in communication and give them the push they need to get treatment.
Living Your Recovery
North Carolina is a state known for many firsts, and having gone through rehabilitation, you've already taken your first couple steps to recovery. After treatment, it's time to step back out into the real world and start living in recovery. This is a shaky and sometimes frightening experience for those recovering from a serious addiction. As such, it might be wise to enter a sober living facility. This provides the structure of a treatment facility and allows you to continue your healthy schedule.
Sober living can be a great way for you to ease your way back into a regular work, school, and recovery life. Other great ways to get the support and guidance you need to stay sober are attending 12-steps meetings daily and enrolling in an Intensive Outpatient Program. Sticking to your aftercare program and utilizing the tools learned in treatment are crucial in maintaining a long, happy, and healthy life free of addiction.
Attending meetings and getting involved in aftercare programs can help you stay focused on what is important in life.
Treatment Options in North Carolina
There's no arguing that North Carolinians are continuing a rich history of greatness, but unfortunately, 11.4 in every 100,000 residents die from drug-overdose. Usually, addiction keeps a people from doing the great things they're meant to do, but with treatment you can still fulfill your purpose.
North Carolina has many great, quality addiction treatment centers to choose from. From detox to inpatient rehab to outpatient rehab, you are sure to find the program that is right for you. When you call, we can help sort out all of the details for you.
Trying to detox and rehab on your own through ways of cold turkey are dangerous and usually unsuccessful. Call us so we can help you enroll into a professional treatment program. You do not have to fight back against your addiction alone, we are here.
Aftercare Services in North Carolina
Aftercare services refer to a plan for continued support and structure following the current stage of treatment. Most often, aftercare is referring to the plan following a stay in an inpatient rehab setting.
Quick Facts:
In 2015, 1,567 North Carolinians died due to drug overdoses.

North Carolina has an abundance of aftercare options. One of the best ways to stay connected to a sober community of people is to attend daily 12-step meetings. The recovery community surrounding a 12-step meeting house is stronger than your darkest moment.
Other great aftercare options include Outpatient Programs and sober living. Most inpatient rehabs offer an outpatient program to continue their recovery outside. Sober living is a great way to meet others in sobriety within a safe and structured environment keeping everyone accountable.
"Don't feel that you are in too deep to get help."
Often, people feel that their addiction is too strong and they are past the point of help, even professional help. That is not true. If you are willing to change your current situation then rehab is the answer. Working through a rehab treatment program, you can regain your happiness and health once again.
Taking a Deeper Look at the Intervention Models
Johnson Model
The Johnson Model is the one that is most commonly practiced and thought of when someone refers to an intervention. It's all about educating the addicted person. It was developed by Dr. Vernon Johnson, an Episcopal priest who was intrigued by the nature of addictions. He interviewed many alcoholics, and came up with a method that acts as a support system for the loved one with a substance abuse problem.
There are a few elements involved when discussing the Johnson Model that work together to generate a better chance of encouraging an addicted person into seeking treatment.  The seven components are:
Team: the right group of people who are closest to the addicted person. Usually consists of family, friends and loved ones.
Planning: Everything must be considered, including who will be speaking, when and for how long. You never want to ad lib, everyone needs to stay focused for the betterment of the loved one.
Focused on Care: Focusing on sensitivity and care with no yelling or demeaning.
Addiction Only: Only the addiction should be discussed, no going off on tangents.
Evidence: Evidence of the addiction should be provided in written form and discussed in detail.
Treatment: Getting help is the primary goal of the intervention, and everyone including the addict should come to that conclusion in the end.
Treatment Options: At the end of the session, there should be several treatment options available that have been presented.
When all goes smoothly, the addicted person should feel compelled to seek treatment, knowing that they have their loved ones with them.
Systemic Model
>The Systemic Model is designed to heal everyone that has been affected by addiction, not just the addicted person themselves. It's similar to the Johnson Model, but it tweaks it ever so slightly as to also address and reflect the familial bonding and healing that can come from a life of sobriety; it promotes counseling for the family and loved ones as a whole.
The first thing to note is that there is no secret hiding from the addicted person; all meetings are planned with everyone knowing when and where. Secondly, unlike the Johnson Model, the addicted person will also be allowed to speak during the meeting, if everything is in an orderly fashion. The third thing to know is that there is no big meeting, but rather smaller meetings spaced out throughout the week. Lastly, both the addict and the family member will commit to attending some sort of counseling. More likely, the addicted person will go to an inpatient facility while the family members commit to therapy or counseling during the stay.
In summation, the entire family will receive assistance and learn how to generate boundaries and address inappropriate behavior.
Field Model
What's interesting about the Field Model, is that it incorporates aspects of both the Johnson and the Systemic Model. The Field Model is specifically used to help when a person has the possibility of becoming aggressive. Because of this, it is highly recommended that a therapist who is trained for these types of interventions be used as they know how to react accordingly. The name is derived from the concept of being in the field and is based on the principles that the therapist must make decisions based on the given circumstances.
The process is very similar to the previous models, but with a catch: if the addicted person does not agree to go to rehab, a punishment will be enacted. This makes this model of intervention highly aggressive, as there is the looming threat of aggression in the background. This is why a specialist should be considered when enacting this type of intervention, since they will know which model the intervention will more closely follow, I.e., the Johnson or Systemic. Although seemingly aggressive, this model is a more passionate and provides a sense of freedom to adjust depending on the situation.
Workplace
The Workplace Model is designed for coworkers who believe that a colleague needs help. Supplying a workplace intervention isn't an uncommon occurrence; worrying about a colleague or friend is good and shows a genuine care for the bond that coworkers develop overtime. But you shouldn't think about going about it alone.
The other models, although highly encouraged, can be done without a specialist. The Workplace Model is different in that you will actually need a specialists assistance in this regard. This model is similar to the Systemic and Johnson models, as there is a group of people, not necessarily purely coworkers, who gather to express concern and worry over the addicted person. Listening and following the instructions of the specialist is crucial to the intervention. In the end, each and every single person will escort the addicted person to a rehab facility so that he or she may begin treatment.
Confronting someone about addiction can be scary, so reach out to a specialist for assistance. Call (866) 578-7471 before it's too late.
Drug Abuse & North Carolina
Nobody ever wants to get addicted to dangerous drugs such as meth or heroin. In fact, people hardly ever start out using those drugs. It always builds up to that. Many people start abusing drugs recreationally with friends or to get over a hard day at school or work. The might pop some prescription drugs, smoke some pot or even try to handle a little bit of cocaine.
But what these people might not realize is that they are building a tolerance to their high and might even be developing a substance abuse disorder. Then once they need that extra kick or lose access to marijuana or prescription pills, they feel forced to turn to hardcore street drugs.
Abusing illegal drugs is not only dangerous to your health but could put you in prison, not to mention kill you. Addiction shoots to kill. Any consistent drug abuse can lead to an addiction. If you sense your drug abuse getting out of hand, call us now.
North Carolina & Alcoholism
Alcohol is the most abused drug in the world. Millions of people abuse alcohol for millions of different reasons. But no matter the reason, anyone who binge drinks regularly runs the risks of developing an alcoholism issue. Alcoholism is just as dangerous as drug addiction, and can have similar consequences.
Alcoholism is a disease that can easily be overlooked. Alcohol is accepted in so many different social settings that people think it is normal to binge drink liquor. But getting drunk on a regular basis is terrible for your health and can lead serious health side effects. Consuming alcohol also impairs your decision-making skills, which can put you in a harmful situation.
Do not overlook the dangers of drinking alcohol just to have fun. Drinking to release stress after a hard day at work may work, but it is pointing you down a dangerous path. You might confuse your body into thinking it needs alcohol to get over any hard time.