Last Edited:
September 24, 2020
All of the information on this page has been reviewed and certified by an addiction professional.
Finding Substance Abuse Treatment from Minnesota
Minnesotans aren't people to showboat, but in addition to their famous lakes, their cross-country skiing, delectable apples, and Izzy's Ice Cream they have one of the nation's lowest rate of deaths due to drug-related incidents. While that's a great accomplishment, Minnesotans continually turn to those that need help with their addiction.
With a wide variety of treatment centers in the country, we invite you to contact us so that we can help you choose a program that's right for you. Once your system is clean, it's easier to think more clearly and it's likely that you'll be glad you took the rehab route. After all, it's nearly impossible to reach your life's potential if your addiction is holding you down.
In This Article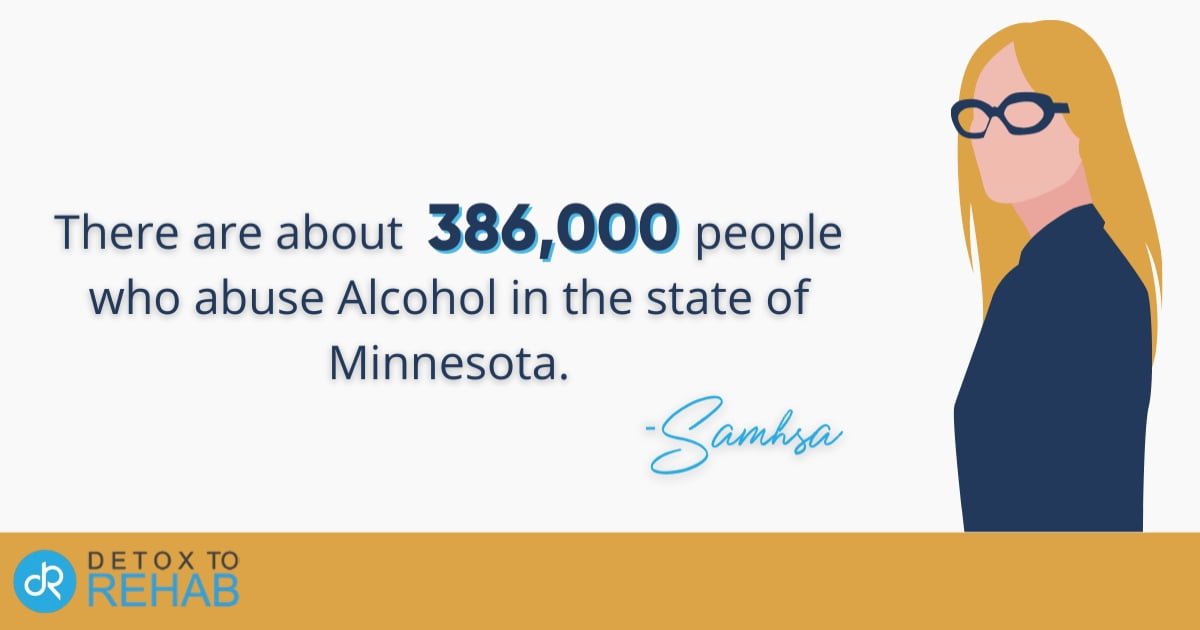 Quick Facts:
There are about 286,000 people who abuse Alcohol in the state of Minnesota.

Many people who fall ill to drug addiction and alcoholism feel that they have no hope because their addiction is too strong. That is not true. Help is available and you can live a life without having to be held hostage by drugs and alcohol.
It is our goal to help you get into a rehab facility that meets all your personal needs. Everyone suffers from addiction for a different reason. There are rehab centers that can help you get to the bottom of that reason and teach ways to avoid going back down the path of drugs and alcohol.
Best Minnesota Treatment Centers
Minnesota Inpatient Rehab Facilities
Minnesota Outpatient Rehab Centers
Minnesota Sober Living Houses
Minnesota Drug & Alcohol Detox
Detoxification of your body is an imperative first step to recovering control of your life. It allows for the body to be cleared of any leftover substance as well as toxins. You may have feelings of hesitation in anticipation of the discomfort sometimes caused by detox but this is normal.
Many people reject the idea of seeking professional help for their substance abuse problem because the withdrawal symptoms that occur in the detox stage. Do not be too scared to take on withdrawal symptoms.
If you enroll into an inpatient facility, then you will have medical attention to keep you safe and comfortable while your body cleans itself out. There are hazardous toxins that need to get flushed from your body before you can begin rehab.
Minnesota Drug & Alcohol Rehab
Persistent drug, prescription or otherwise, and alcohol use creates complex responses from the brain that require special attention during rehab. Specially trained counselors and psychologists will assist you in bringing your brain function back to normal while also helping you to replace old habits with healthier ones.
Rehab is the only safe and logical way to recover from a substance abuse problem. The only other options you have are prison or death. Rehab sounds like the most logical choice, right? Let us help you.
When you call us, we will have you speak with someone who has gone through recovery. They can listen to what you are going through, then help you list out the best options. There are numerous rehab centers both in and out of Minnesota that can help you cope with your addiction.
Finding Treatment in Minnesota
Minnesota has the 5th lowest rate of death due to drug overdose. But that does not mean it is immune from drug addiction or alcohol. From outpatient to inpatient, from religious to holistic, from women only facilities to addiction-specific facilities, Minnesota offers it all. Deciding to get treatment may be as hard as participating in the Minneapolis Polar Bear Plunge but finding a treatment center in Minnesota can be easier with our help.
No matter the substance, we will aid you in finding the help you need to recover from your substance abuse problem. Do not convince yourself that you are past the point of help.
In the right environment, you can better any situation. Let us help you find a rehab center that can meet all of your personal needs regarding your addiction.
Quick Facts:
Nearly 107,000 people abuse illegal drugs in the state of Minnesota.

Should I Travel for the Best Addiction Treatment?
Maybe. This is a personal decision. There's no right or wrong answer. The rationale behind the idea of traveling outside your hometown for treatment makes sense for some and is not necessary for others. It allows for an even further distance between you and your triggers so that you can get a good handle on recovery before returning to your own surroundings.
Traveling to another destination for rehab can put you in a more focused mindset. When you are far away from the things and people that trigger your addiction, you will have a better chance at focusing on your recovery.
You have a greater chance of realizing that sobriety is possible if you are not in your normal surroundings. Give us a call to save your life: (866) 578-7471.
Intervention has Proven to Help
Boasting one of the lowest drug-related mortality rates in the nation, Minnesota is a state that can proudly proclaim its dedication to helping those in need. If you know someone who needs help coping with his or her substance abuse problem, Minnesota is a place where help is available.
Be aware that your friend or family member is battling addiction and they might not be aware of their problem. They need you now more than ever to get them through this confusing, tough, and lonely time in their life.
The first step is always the hardest, but sometimes a little push is necessary. Pick up the phone and make the decision to help them change their life. They are worth more than what they are living.
What Exactly Is Recovery?
The state of Minnesota holds its head high when it comes to helping people overcome addiction, boasting one of the lowest drug-mortality rates in the nation. Once a person has gone through treatment and rehab, they go into what is called recovery.
Recovery is not another phase of treatment, but rather the style in which to live life from there forward, using the tools learned in treatment to resist temptation and lead a healthy life.
Recovery is best done with an aftercare program, usually laid out before the patient leaves the treatment facility. Aftercare can include fellowship meetings, many of which are 12-Step programs. Aftercare is also found in the supportive friendships formed in rehab, and gatherings with other alumni for fun activities like bowling, camping, and weekend barbecues.
Choosing an Inpatient or Outpatient Facility in Minnesota
An outpatient program is ideal for someone who has a job or family responsibilities that they need to maintain. An inpatient program is ideal for someone who can emerge themselves in recovery 24 hours every day.
Which one is right for you? Every person is different and will choose either one depending on priorities, circumstances, and the severity of the addiction. We can help you choose. Give us a call.
When you call, our representative will go over your options with you. Most people tend to prefer an inpatient rehab facility. Inpatient programs can go further in depth with each client to make sure all of their needs are being met. Living a sober life can be hard, but with the tools and skills you learn in rehab, it is possible.
Signs of Addiction
If you're not sure if someone you love has an unhealthy addiction, look for signs that are uncharacteristic of your loved one. Is he or she sleeping a lot more than usual? Experiencing money issues? Neglecting his or her appearance or health? Uncharacteristic problems at work or school?
All of these could be signs that your loved one needs help. If you know what to look for, addiction can be recognizable.
Alcoholism and drug addiction are both terrible diseases. Just like all other deadly diseases, anyone who suffers from it needs medical attention in order to recover and get their life back on tracks. It is not easy to finish a rehabilitation stint but it is possible with professional assistance. Let us help you find the help you need.
"Recovery is a new way of life that I love."
Your best day drunk or high will not compare to how great your worst day clean and sober is. There are going to be bad days but you need to keep fighting. Never lose faith in yourself. You have been through enough already. Start living the life you deserve.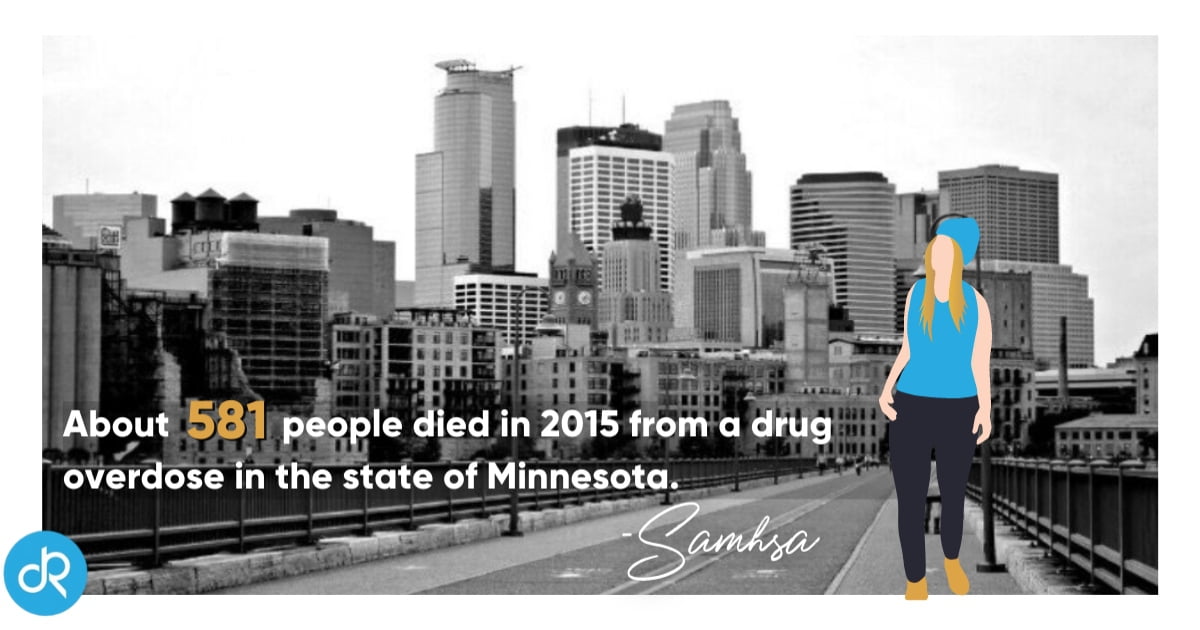 Quick Facts:
About 581 people died in 2015 from a drug overdose in the state of Minnesota.

Time to Hold an Intervention?
It can be hard to see someone you care about live with an addiction because you want to help him or her, but do not know how. Maybe you have tried hard love or isolating your loved one in hopes to provide him or her with a wakeup call that drugs and alcohol are putting negative implications on his or her life. But usually trying those methods only drives your loved one further away which puts him or her deeper in to the cycle of substance abuse. There is a chance that your loved one is done with feeling lonely and scared. He or she might be ready for a wake up call. They may have even tried to lay off drugs or Alcohol but were not successful.
After a certain point, taking to drugs and Alcohol is not a choice. Constant consumption of certain substances can lead the body to develop a chemical dependency. So, individuals who have a difficulty with substance abuse need drugs and Alcohol so that their body can operate and feel normal.
Knowing addiction can lead to many difficulties in life, no one starts drinking or using drugs with the intention of becoming addicted. They start getting loaded to relieve themselves from stress or feeling misunderstood in life. Then addiction starts to dig its claws into them. Before you know it, they are cheating, lying and stealing from those close to them. Their relationships and health start to diminish and this is understandably hard for you to watch.
So, what can you do to help? Hold an intervention. Setting up an intervention for your loved one might be the only way to provide him or her with the wake up that is needed. If you have already held an intervention and it did not work, hold another, and another. Until that person accepts the fact that they have fallen ill with a disease and need help. The goal of any intervention should be to get a loved one to be willing to attend rehab.
Many times, interventions backfire because people become too emotional and begin to criticize their loved one over his or her actions regarding drug and alcohol use. In an intervention, you have to try to stay calm, cool and collected while expressing concern to your loved one. Do not call your loved one out on all of the bad things that he or she has done. Ask everyone who plans on attending the intervention to come prepared with a written statement. Then go around the room asking each person to read their statements one-by-one.
Once your loved one sees that his or her addiction hurts  relationships, health and overall well being, the hope is that he or she will want to learn more about the options as far as getting help goes.
Who Should I Invite to the Intervention?
Assembling the right group can be half the battle when trying to stage a successful intervention. You want to invite people who have been affected by your loved one's drug and alcohol use firsthand. These people usually involve family members, close friends and coworkers. Individuals who suffer from a substance abuse problem are often times so clouded by their addiction that they do not realize they let down those close to them. It is hard for them to know that missing family gatherings, social events with friends or important work days hurts those close to them.
The Intervention Worked, What's Next?
If your loved one is willing to take on the recovery process, then the next step should be to call us. We will have someone speak with your loved one about what is going on with his or her substance abuse. From there, we will then help him or her choose a rehab facility that will help tackle all aspects of the addiction. There are numerous inpatient rehab facilities that can help anyone who is having a hard time with any substance. We want to make sure that your loved one enrolls into the right one.
Minnesota & Drug Abuse
People who are caught in a slump with a substance abuse problem often have a hard time picturing their life any other way. They feel sick and tired if they do not consume drugs, so they do, only to feel sick and tired again later. It is an endless cycle.
But those people need to realize that they have options to recover from the lows that their addiction has put them in. Attending a modern rehab facility to fully tackle their dependence on drugs can save their life.
Individuals who have an alcohol or drug problem tend to tell themselves, "one more time getting high then I'm done." But that is hardly ever the case. They do not stop because they cannot stop. The only way to end this cycle of abuse is to complete rehab.
Minnesota & Alcoholism
Alcoholism is a huge problem in the United States. People take it lightly because they believe that because they drink under legal circumstances then it cannot be a problem. Alcohol holds the power to develop a chemical dependency that can be just as bad as Heroin or Cocaine.
Drinking at night and on weekends with friends seems harmless because you are still able to hold a job and function during the day. But have you noticed you get irritated easy when you go hours without drinking?
Consuming Alcohol daily can lead to major relationship problems or legal consequences. Your loved ones might not want to be seen with you in public because you embarrass them when you drink. And driving while intoxicated can get you in major trouble with the law, or lead to death.