Last Edited:
November 12, 2020
All of the information on this page has been reviewed and certified by an addiction professional.
Finding Addiction Treatment in Georgia
Georgia is keenly aware of drug and alcohol abuse and how it affects its communities and society as a whole. If you're ready to get clean and sober, there are plenty of support systems for you. Your family and other loved ones can find support as well, thanks to the proactive manner in which Georgia government has taken on the issue.
According to the Department of Behavioral Health and Developmental Disabilities, more than 150 of Georgia's adolescents die each year from causes linked to alcohol consumption. It's time to follow the Peach State's lead and face your addiction head on. We can help.
In This Article
Understanding that addiction is not something that can just be swept under the rugs and forgotten about can seem embarrassing, but there is no reason it should be. With substance abuse being so common with many people, insurance companies are now paying to improve your overall health. Many people who are attending rehab are coming in for prescription medication abuse as their addiction started with an illness or accident that required them to take pain killers. Prescription medication is one of the most commonly abused, therefore, the most commonly treated. Drug treatment is becoming less of a taboo as people are starting to understand how quick and harmful drug addiction can be.
Quick Facts:
506,000 people are estimated to be abusing alcohol in Georgia.

Now that most insurance companies are covering the cost of treatment, you should consider traveling away for it, so that you can get away from all the possible triggers that can cause a relapse. Finding substance abuse and addiction treatment in the state of Georgia is easier, now more than ever.
Best Georgia Treatment Centers
Georgia Inpatient Rehab Facilities
Georgia Outpatient Rehab Centers
Georgia Sober Living Houses
Georgia Drug & Alcohol Detox
At first, someone suffering from an addiction may resist the idea of getting clean and sober. The process can be daunting and it requires an incredible life change. That's why it's so important to choose a detox program that he or she is most comfortable with.
Detox can be a difficult process to go through, because of withdrawal symptoms. These symptoms happen because your body can no longer operate without drugs or alcohol. Therefore, it is recommended that you go through detox at a detox center. Inpatient care will give you medical attention so that you can be stay comfortable during detox.
Cleansing your body of the harmful toxins is important as it is an important early step of becoming sober. Once your physical body is clean, rehab begins.
Georgia Drug & Alcohol Rehab
Detox alone does not cure substance abuse. Your mind and habits are just as addicted to the substance as your body was. Retraining your mind to resort to healthy habits and reprogramming the brain is unlikely without rehab.
There are numerous rehab centers across the country, and it can be hard to know which one is right for you. But if you call us, we will put you on the phone with a representative who has been in a similar situation to the one you are in now.
There's no reason to wait any longer. Call now, and we will make sure you get into a rehab program that is just right for you. Our professionals will listen to your story then help you map out the best course of action.
Finding Treatment in Georgia
Georgia offers a variety of approaches to help you be successful in your recovery. The treatment center you choose will address other needs that may have caused the substance abuse in the first place, so it is vital that you commit and remain in treatment for the allotted time.
It's crucial for your recovery to find a treatment center that works for you. Some facilities use the 12-step program, while others may operate in a holistic capacity. Of course, there are other methods of treatment as well, so it's important to find one that suits your needs.
Finding a rehab program can be a difficult task. Call us today and we can let you know what facilities take your insurance, what their programs offer and find you the rehab that seems like a good fit for you.
Travel for Treatment
Often, rehab specialists will recommend that clients travel for treatment. Traveling to a different city or state for rehab can give someone who is seeking recovery more advantages. When you travel for treatment, you can escape from any bad situations that you might find yourself in.
Getting away from everything that can trigger your addiction can offer a better chance of recovering. It will be an opportunity for you to see life from a brand new perspective. It might be hard to picture yourself getting sober because right now, your whole world revolves around getting high or drunk every day.
Give yourself the best chance at sobriety and consider traveling for treatment. When you call, our representative can help you find treatment in a nearby state if need be.
Intervention: Because They Need You
Georgia is well aware of the growing problem of substance abuse in the country and has taken a proactive stance in addressing the problem. Taking a proactive stance can mean the difference between life and death, especially if you know someone who is suffering from addiction.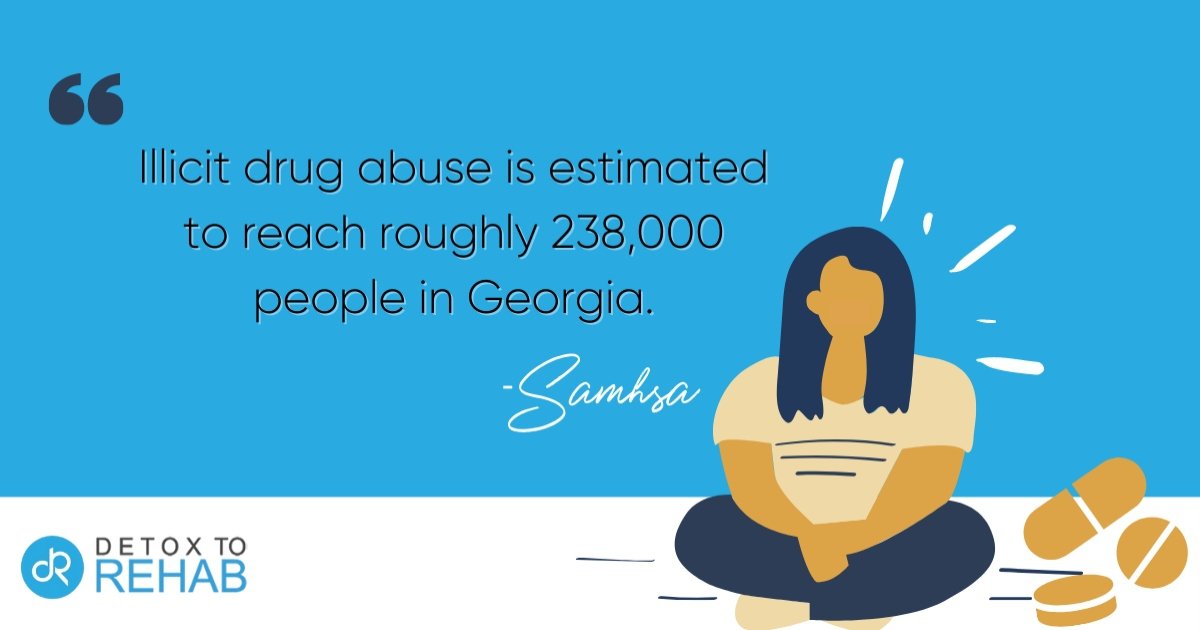 Quick Facts:
Illicit drug abuse is estimated to reach roughly 238,000 people in Georgia.

The correct method is important, but not as important as your love and support for the person who is addicted. They are suffering, even though they might not realize they're spiraling out of control. A professional interventionist can help find the right method of an intervention that'll have the most effect.
Be proactive and call an interventionist for help today. Don't wait for things to get worse, call (866) 578-7471 today.
<3>Does Your Loved One Need Help? How To Tell
Confronting someone about the possibility of a problem is tricky, because you may not know if the signs are pointing to a problem. If you suspect a loved one  about is having trouble with substance abuse, there are a few signs to help you figure it out.
First, take stock of your loved one's actions. Does he or she neglect daily appearance and or health? Is there new money issues? Have there been changes in normal behavior? Have there been uncharacteristic issues at school or work? If you answered yes, then your loved one may have a problem.
It might be time to have a loving heart to heart conversation with your loved one. Substance abuse and addiction are a serious issue that should be dealt immediately with love and care. Don't wait.
How Much Does Rehab in Georgia Cost?
In Georgia alone, there are a variety of resources available that are dedicated to helping individuals seeking recovery, including the cost of treatment. Talking about the cost of a rehab when the rehab could be saving someone's life may seem somewhat tasteless. However, considering cost is necessary.
The cost of an outpatient program is going to be less than a luxury program and there are several in between. Luckily, most insurance companies now pay for rehab, but each varies depending on coverage. We'll help you find a program that takes your specific insurance. The cost of treatment will never worry you.
We are happy to help locate a program that not only suits your needs, but will fit into your budget or even take payments. We're here to help you sort things out.
Recovery After Rehab
Well aware of its growing substance abuse problem, the state of Georgia has taken a very proactive stance in helping its people recovery from addiction. One of the most important aspects of living a life in recovery is a good aftercare plan. Most treatment facilities will help patients put together an aftercare plan before they complete the program and leave the facility.
Aftercare plans can include emergency contacts for times of dire need, supportive friendships formed with other alumni of the treatment program, fellowships such as Alcoholics Anonymous, Narcotics Anonymous and so on. Aftercare is just as important as deciding to become sober.
Recovery is not an end goal, but rather a lifestyle that you choose to keep for a long, healthy and happy life.
"Getting help doesn't need to be a hard process."
Finding the right place to get help is heartbreaking at, as there are so many things one can do on their own. But it doesn't have to be as scary as it sounds; fortunately, help is out there. Many places dedicated to finding the best facility that works for you, so that you can receive the greatest care and attention. Do not wait; help and care is just a quick phone call away.
Deciding the Best Place to Get Help
Trying to find a place where to get help is a daunting and looming task that can intimidate even the most gruff of people. Fortunately, there are many resources and places out there that can help make this decision easier, no matter where you decide to go.
How to Get Your Life Back on Tracks
Admitting that your addiction has made you sick and tired of being sick and tired can be hard. People who suffer from a substance abuse problem often feel guilty and ashamed so they do not come forward to seek the help they need. Drug addiction and alcoholism are medical diseases. Like any other disease, you need professional medical attention to recover from it. Feeling powerless to a harmful substance can put anyone into a living nightmare. Coming forward to find out how to wake yourself up from this nightmare takes a lot of courage. Millions of people fall victim to a substance abuse problem every year.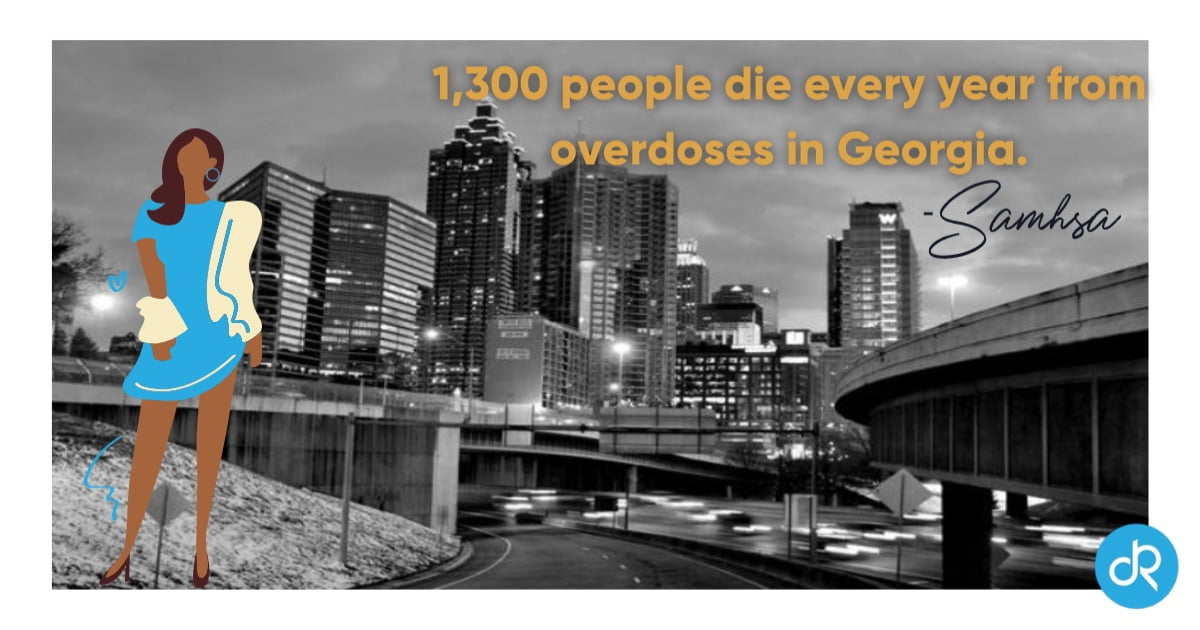 Quick Facts:
The amount of people who have died from a drug overdose in 2015 is estimated to be about 1,302 in Georgia.

The harsh reality is that there are only three options to fully cope with an addiction once it has its claws dug into you: rehab, prison or death. Too many people each year are killed by drugs or alcohol. A good number of people are put in prison because of their addiction. Lying, cheating and stealing become regular activates for people who will do anything to feed their substance abuse problem. In prison, people are usually forced to go sober via cold turkey, which is dangerous and usually does not last long. Once they are out of jail their first thought is to get loaded. Rehab is the only safe, efficient and logical way to cope with your substance abuse problem. It does not matter which substance you are hooked on, we can help you find the proper help.
The hardest step of the entire recovery process is to admit that you want and need help. You should not feel guilty or down on yourself. You have fallen ill with a disease that not many people understand, and you need help. Call us. We want to help you get enrolled into a rehab program where you can succeed. It does not matter what state you live in, how old you are, what gender you are or your ethnicity addiction can reach out and grab you. Anyone who uses drugs or alcohol with any regularity runs the risk of developing a substance abuse problem.
Should I Go to Inpatient or Outpatient Rehab?
We can go over this more in-depth when you call, but typically inpatient rehab facilities have better success rates. Inpatient rehab programs tend to last 30, 60 or 90 days and give the staff the ability to go more in-depth with your addiction. The goal of rehab is to learn about all aspects of your addiction like how and why it started along with learning ways to refrain from using drugs and alcohol to feel normal or happy. Most inpatient centers offer living accommodations to their clients. These keeps those who are seeking recovery away from their current living situation that was enabling them to use drugs or alcohol at their will. The medically-trained staff will work with you for the entirety of your stay.
Traveling to attend an inpatient rehab center can also be beneficial. When you get away from the people and situations that allow you and enable you to use drugs you will have an easier time realizing that sobriety is an option. It can be so hard for people who have a substance abuse problem to see that not consuming drugs or alcohol can be an option. It does require professional help at first. Call us now so we can help you find a rehab center that will help you.
Georgia & Drug Abuse
Drug abuse stats are on a rise in Georgia, with prescription drugs are starting to become the most abused substance. When people lose access to prescription pills they turn to hard street drugs such as Cocaine, Heroin and Meth.
Drug overdose is the number one premature killer of Georgia, killing 11 people a day. With that staggering statistic in mind, take a moment to recognize your own efforts against your addiction. Addiction has mental and physical side effects that can only be fully coped with through rehab. There are inpatient and outpatient rehab programs that can help you recover from a substance abuse problem.
We want to help you find that help. When you call, us we can give you a verity of treatment options that might just save your life.
Georgia & Alcoholism
Alcohol is the most abuse drug in the United States. It is everywhere you look in Georgia, whether it's at a friend's home, at a restaurant or grocery store. People take to the bottle in order to relieve themselves from stress, everyday drama or past tragedies. Drinking alcohol with friends and family can be fun but it can lead to serious consequences.
Alcohol can be just as powerful as Cocaine or Heroin and can ruin anyone's life. Binge drinking can lead to harsh health side effects and can even be the cause of someone's death. Because alcohol is legal, people sometimes think that it is harder to become addicted to.When addressing issues of Alcohol use, you should carefully choose the rehab that's right for you and your family.
Alcoholism is nothing to take lightly. If you cannot have a good time, unless you're under the influence of alcohol then it might be time to seek help.
Sources