Bam Margera's Recovery from Alcoholism after Ryan Dunn's Death
Daredevil "Jackass" star and professional skater credits a doctor he met on Reality TV for really helping him achieve recovery. Today, in sobriety, Bam Margera, an alcoholic found recovery and continues to live a life of sobriety. Margera rose to stardom with the success of the mindlessly hilarious "Jackass" prankster films, and spun those off into his own prankster show on MTV, "Viva la Bam", where his parents were the prime victims of his merciless pranks.
Bam has been sober for over seven months, and his path to sobriety is currently chronicled on VH1's "Family Therapy With Dr. Jenn." The first episode depicts Bam in such a drunken, alcoholic state that subtitles are needed to translate his slurred speech.
Ryan Dunn Tragedy Leads to Alcoholic Binge
According to Bam, the tragic death of his childhood friend, Ryan Dunn, sparked an alcoholic drinking binge that led his life to spiral out of control. 34-year old Dunn was killed when his Porsche careened off a Pennsylvania highway, crashing into a tree and exploding into flames. Toxicology reports showed that Dunn's blood alcohol level was more than twice the legal limit. His car was traveling 135 mph in a 55 mph zone.
Speaking of Dunn's death on "Family Therapy", Margera said, "That just totally one-eighty-ed my whole everything…What am I going to do now? It just seemed like everything at one point just came crashing down. That's when it like wasn't even drinking for the fun or the social part of it, it was just drinking—total depression…I went on a drinking bender…my mom probably worried about me 98% of the day because she never knows what kind of call she's going to get."
Margera Seeks Therapy for Alcoholism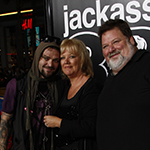 Bam opted to live in a dry house for several weeks as part of his involvement with "Family Therapy", over a private form of therapy. Reluctant at first, Bam admitted that it would be difficult because he hadn't stopped drinking alcohol for longer than a week in the last ten years. April, Bam's Mother, has supported Margera's time in alcohol recovery and realized the severity of Bam's life and death situation. She said, "If you had told me that I would have a drunk and suicidal son at any point, I wouldn't have believed you. I worry about him every day. When he gets really drunk and tells me he wants to not be here anymore, we feel this complete and utter fear."
In an interview with TMZ, April attributed Bam's recovery from alcoholism to Dr. Jenn and said Bam is a completely different person now after his treatment. She describes the transformation as an absolute miracle.
Bam had bloodied his fist by punching the window of his Porsche in an early episode of "Family Therapy" because he didn't believe he deserved it. Bam's childhood dream was to be a professional skater, it's all he wanted. When he and childhood friends, including Dunn, started making CKY (Camp Kill Yourself) daredevil skating videos as teenagers, it paved the way to his lucrative career with the "Jackass" franchise and his subsequent TV series. When asked by Dr. Jenn on "Family Therapy" what Dunn would want Bam to do now, Bam replied, "Exactly this."