Last Edited:
December 18, 2020
All of the information on this page has been reviewed and certified by an addiction professional.
Finding Substance Abuse Treatment in Virginia
Virginia is a beautiful state with the best southern food you've ever tasted and the most beautiful hiking trails. Virginians are content with what our state has to offer. However, if you're addicted to drugs or alcohol, these wonderful things about living in Virginia are usually overlooked while on the hunt for more drugs or alcohol. Drug and alcohol addiction is not something to be taken lightly. There are many people who die every day due to not seeking out treatment. Treatment can and will save your life if you put in the work that is suggested of you. It takes time and dedication to better your life, you didn't become addicted overnight so you won't recover overnight. You will experience different therapeutic approaches to discover the root cause of your problem in order to regain your quality of life. Remember, many people have struggled with addiction and they have been able to find recovery. There is hope. Take the time you need to get clean and sober and start enjoying life to the fullest.
In This Article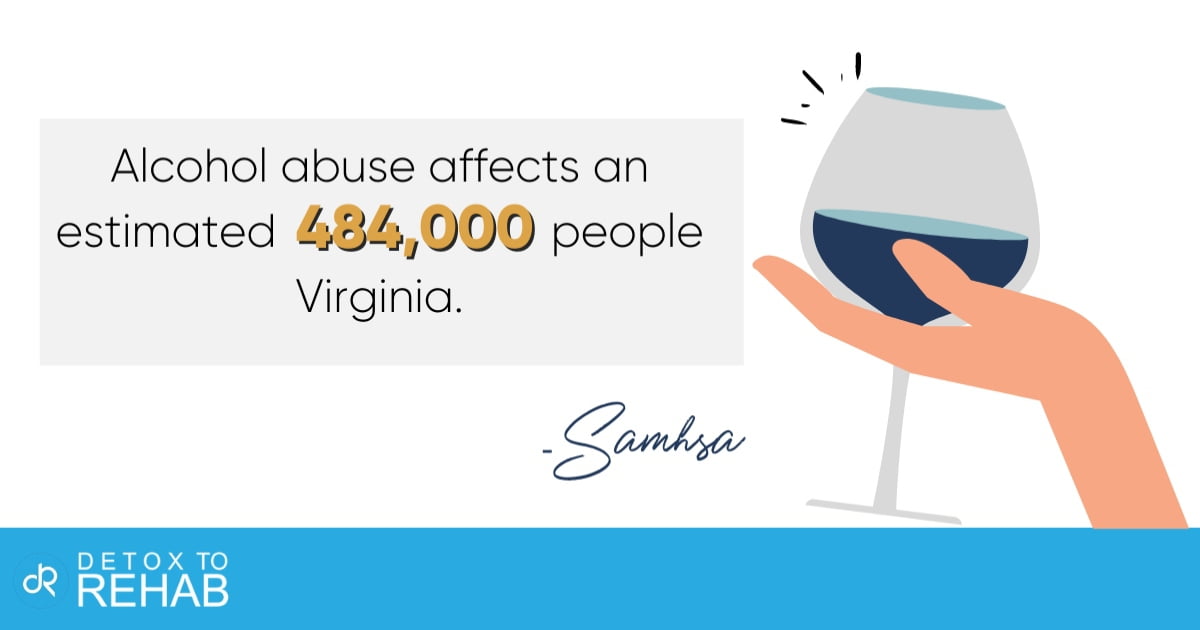 Best Virginia Treatment Centers
Virginia Inpatient Rehab Facilities
Virginia Outpatient Rehab Centers
Virginia Sober Living Houses
Virginia Drug & Alcohol Detox
During the time that you were using drugs or alcohol steadily for a period of time, your brain function was altered to adapt to the Dopamine releases of the drug itself.
Detox does the job of removing the extra Dopamine delivered to your brain. This can be uncomfortable depending what you are addicted to and can be medically detrimental to your body's processes. Medical professionals, who will give you medication if the discomfort gets to be too much, should monitor your detox. They will take your vitals, monitor your symptoms, and give you medication accordingly. With the help of medical professionals your detox will last a week tops.
Virginia Drug & Alcohol Rehab
Rehab is extremely important, even if you've been through detox and feel clean. Detox is one step in a treatment that has been designed for you with many steps.
Studies show that if you leave rehab immediately after detox, you're likely to go right back to your old life of addiction. Rehab is required to reprogram your brain to make a healthy amount of Dopamine. This will be done through counseling and behavioral therapy.
In therapy, you will find the causes and conditions of your problem, and tackle them before entering the real world. You will also learn new coping mechanisms to use on a daily basis.
Quick Facts:
Alcohol abuse affects an estimated 484,000 people Virginia.

Finding Treatment in Virginia
There is help in place for Virginia residents who find themselves addicted to drugs or alcohol. You can find several different kinds of treatment within our state boundaries and sometimes that can make it hard to choose the right facility.
Here's where to start: choose a facility that your insurance covers. From there, consider location and philosophy. You may want to consider traveling for treatment. It will remove you from your old drinking or drugging buddies. When you are away it will give you time to really reflect on yourself.
Should I Travel for the Best Addiction Treatment?
Traveling for treatment is a personal decision. If you'd feel better going through rehab away from old friends and triggers, going out of town for treatment might eliminate any distractions you could experience. But if you'd rather stay close to home so that family and friends can visit, that makes sense too.
The choice is yours and will not affect your progress in recovery. However, if you are looking to get away from all possible triggers, traveling for treatment would be best for you. It will also allow family and friends to repair their bridges with you that were burnt in your active addiction.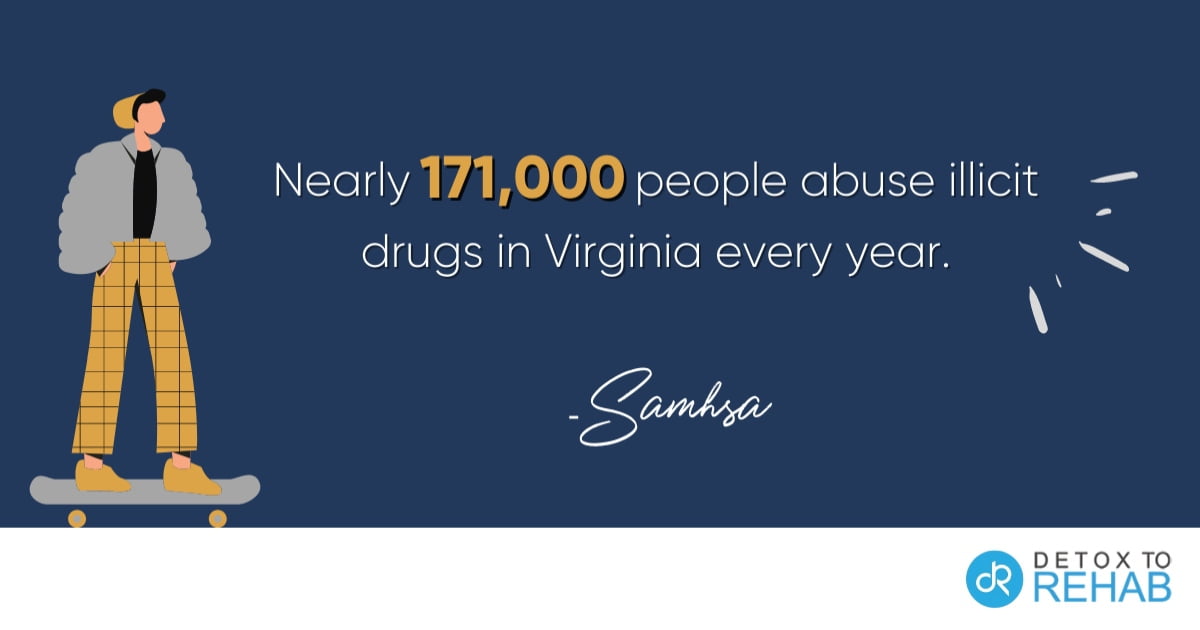 Quick Facts:
Nearly 171,000 people abuse illicit drugs in Virginia every year.

Intervention Can Make the Difference
Full of beautiful scenery, hiking trails and amazing southern food, Virginia has so much to offer residents. However, if you're reading this, it's probably because you know someone, a friend or family member, who's missing out on the beauty of Virginia in his or her hunt for more drugs or alcohol.
Properly planned with support, an intervention is commonly the snap back to reality that addicts need to recognize their addiction as a problem and start getting help. Your loved one needs help taking this first step, however, so it's up to you to call and get him or her the help they need today.
Is There Hope for Me?
Do not let the negative feelings that your addiction drowns you in keep you from getting the help you need. Many addicted people feel isolated and helpless. Afraid of what their loved ones will think, they don't reach out for help. The truth is, your loved ones probably will be proud of you for getting the help you need. Addiction floods your brain with negative emotions so that you keep feeding it.
You might be thinking that you are the only one with an addiction as bad as it is. Again, not true. There have been many people before you who were in similar situations who were able to recover from their addiction, you can too.
What is Addiction?
Addiction is a horrible disease to endure, there is no other disease quite like it. Addiction seeks to destroy your mental and physical health along with your spirit.
You may be drinking or using as a way to cope but the addiction will never stop until it takes your whole life from you. However, with treatment, recovery is possible. As soon as you enter treatment, caring people will help you with all your needs. You will begin to learn new skills that will allow you to live away from drugs and alcohol. Although treatment can be intimidating, the outcome is worth it.
Aftercare and Recovery in Virginia
Once you have left the comfort of your treatment center, it becomes harder to avoid the temptations in the real world. You will have to deal with those by applying the techniques you learned in rehab.
It'll be difficult and sometimes it will seem downright impossible, but it's much easier if you follow your aftercare procedures. Aftercare is set up before you leave rehab so you have resources to fall back on.
The more time you invest in your aftercare, the less likely you are to fall to relapse. If you do relapse, know that it isn't the end of your recovery. If you feel that you can't get back on track you may have to enter into rehab again. Our specialists can help you decide if re-entering treatment is right for you.
"I accept myself today and am grateful that I can grow from where I am."
Addiction can rob you of your most valuable possessions; your self-esteem, your dignity, your hope. You can find recovery, and you can grow. You have to start somewhere, contact us today to start here. Begin your recovery and start growing again. You are worth it!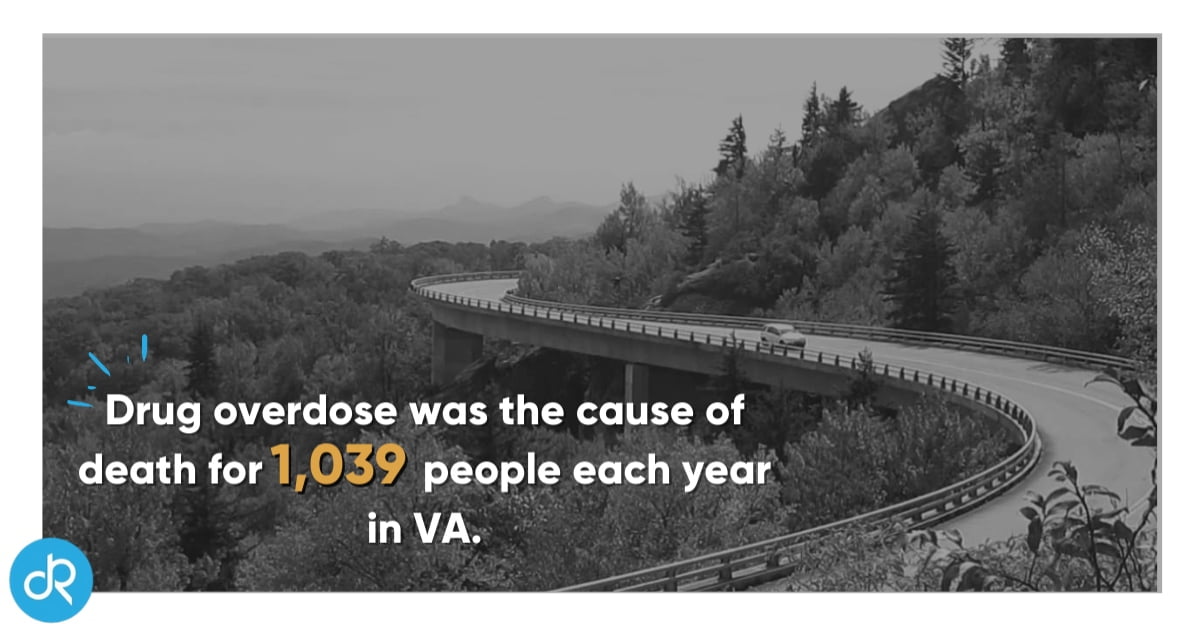 Quick Facts:
Drug overdose was the cause of death for 1,039 people in 2015 in VA.

The Basic Outline of Reaching Sobriety
Everyone has a different path to reach sobriety. No addiction is the same. Everyone who suffers from a substance abuse problem has different consequences. Everyone has different needs that they must conquer before being able to fully cope with their addiction and live a happy and sober life. There is a basic outline of how to tackle drug addiction or alcoholism. It should be stated right away that it is not easy to complete the detoxification and rehab process. But it is possible if you are ready to put time and effort into bettering yourself.
People often try to stop using drugs and alcohol on the spot and, if you have already tried this, probably know that it usually does not work. That is because addiction is a disease that affects you both mentally and physically. You have to dissect and understand all aspects of your addiction before you can be able to deny the temptations to use harmful substances.
The first step in fighting back against an addiction is to call us. You cannot get help from anyone until you are ready to admit that you need help. All of our phone representatives are in recovery. So, when you call you will be speaking to living proof that recovery, change and hope are all possible. Our representative will listen to your situation then help you map out the best course of action. There are so many options out there when it comes to detox and rehab, we want to make sure that you get enrolled into the right program.
What Happens in Detox?
The detoxification stage of the recovery process is extremely vital. In detox, your body will be given the chance to rid itself of all the harmful chemicals and toxins that it has been exposed to while you were using drugs and alcohol. When this happens, you will most likely experience withdrawal symptoms. Withdrawal symptoms occur while your body tries to break the physical dependency it has developed to the substance you abused. The most common symptoms include: puking, sweating, loss of appetite, trouble sleeping and shakiness. Your body is getting used to operating soberly again.
Many people use detox and withdrawal as an excuse to not seek the professional help that they need. For whatever reason, they think the withdrawal symptoms are worse than the state they are in now. Do not refuse to enter treatment for a substance abuse problem because of the detox process. We can help you get enrolled into an inpatient detox center where you will be under medical attention for the entirety of your stay. Doctors and nurses will make sure that you are safe and comfortable if withdrawal symptoms occur.
Moving on to Rehab
After detox, you can get started with rehab. In rehab, you will complete therapy sessions to learn about the mental aspect of your addiction. Working through your program, you can look at your situation from a different point of view to see how your actions damaged your life. You will also learn how to get through rough times without having to consider using drugs or alcohol. Rehab is not a cure to an addiction by any means. Rather, rehab is where you learn how to deny temptations to use harmful substances moving forward in life. Through substance abuse treatment you will learn how to cope with negative feelings so that you do not grow another addiction.
One-on-one therapy with a trained therapist is usually included in most programs. A trained therapist can assist you as you try to see how your actions may have affected, not only yourself but others. People who live in denial about their substance abuse problem usually do not realize that their addiction takes a toll on everyone around. Speaking with the therapists about relationships you lost during your addiction can be good as you can brainstorm ways to fix those relationships with those people.
Group therapy is also included in most modern rehab programs. Interacting with other people who have been put in similar situations as you can be a powerful experience. Addiction feeds off the feeling of isolation. When people who have a substance abuse problem think that they are past the point of help, their addiction gets an even stronger grip on themEveryone reaches a point where they think their addiction is so bad that it is unheard of. But that is not true. Working with others in group therapy can help you realize that. When people share their stories and you see the similarities, you can realize that you are not alone. Millions of people seek help for addiction every year. In group therapy, you can hear and share stories so that people do not have to feel so alone.
It is possible to fight back against your addiction. We understand that you are scared and unsure of what to do next, that is why we are asking you to call. We can help assure you that you are taking steps in the right direction just by seeking treatment for a substance abuse problem.
Virginia and Addiction
You may feel alone in your addiction to drugs and alcohol but that is not the case. Many Virginians find themselves lost to addiction. In fact, almost seven out of 100,000 people in Virginia die due to incidents of drug overdose.
Don't be one of these statistics. It may feel hopeless at times but many people have recovered their lives from addiction. You can too. Your life of recovery will start with detoxification for the body and treatment for the mind and soul. There is hope for you.
I Can't Afford Rehab
Many health insurance plans cover rehab and even if you are uninsured or underinsured, there are many rehabs that will work with you to create a payment plan. Some facilities have a sliding scale fee structure that's based on your ability to pay. There are also grants available for people to use for rehab if they have no other way to afford rehab.
All treatment centers are different and will work with you if you explain your situation. Money shouldn't come between you and your ability to overcome your addiction.
If you have any questions about which rehabs your insurance covers, we will be happy to find out for you. Just give us a call. Call before it is too late. Make the change today: (866) 578-7471.