Last Edited:
September 26, 2020
All of the information on this page has been reviewed and certified by an addiction professional.
Facing Substance Abuse Treatment in New Jersey
The beautiful New Jersey shores and the Wawa way of life are hard to enjoy with a drug or alcohol addiction clouding your mind and poisoning your body. Addiction is a no way to live, it's a way to die. When addiction is left unchecked, it has a way of destroying every facet of your life. Many people have had nearly everything taken from them due to the onset of this deadly disease.
In This Article
The most difficult step is admitting to yourself that you have a substance abuse problem. No one wants to acknowledge that they have lost control, however it is necessary to properly address the problem. If you realize your abuse of drugs or alcohol is negatively affecting your life, you are well on your way to a healthier and brighter future.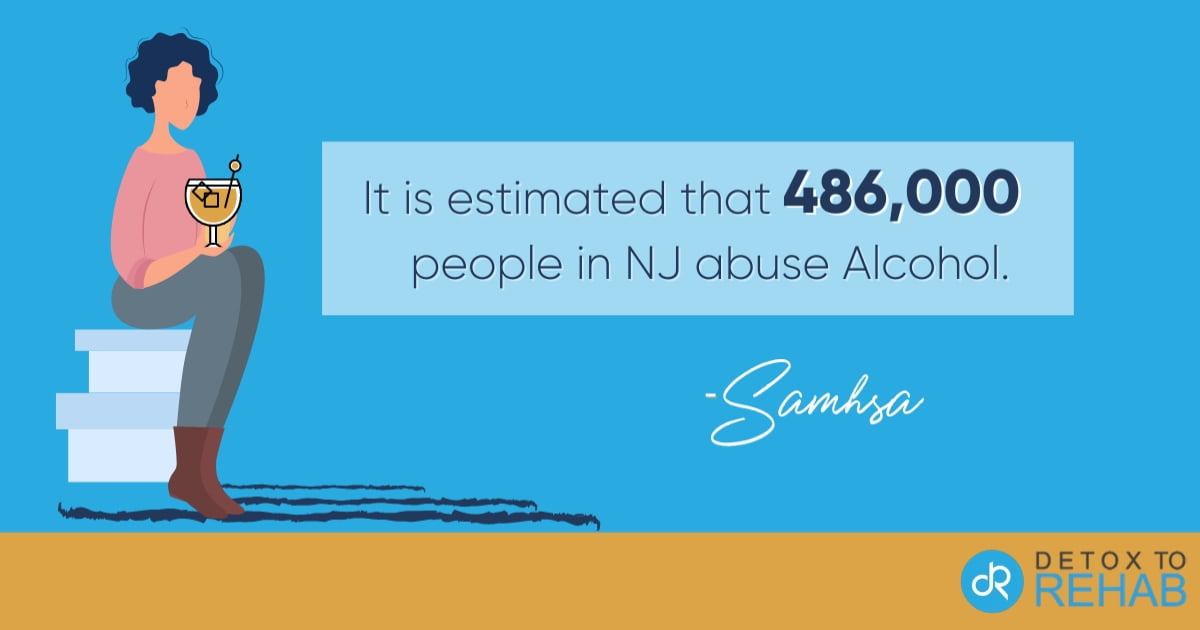 Quick Facts:
It is estimated that 486,000 people in NJ abuse Alcohol.

If you have tried to get away from your addiction and have been unable to do so on your own, it may be time for you to seek an effective treatment that will help you get and maintain a sober lifestyle. It's never too late to make a change in your life, we can provide you with assistance so you can live a more fulfilling life free of drugs and alcohol. Start a new life today. (866) 578-7471.
Best New Jersey Treatment Centers
New Jersey Inpatient Rehab Facilities
New Jersey Outpatient Rehab Centers
New Jersey Sober Living Houses
New Jersey Drug & Alcohol Detox
Trying to detox yourself is not only frightening and uncomfortable, but potentially deadly. Some of the most commonly abused substances, including Alcohol and Benzodiazepines, can cause fatal seizures, as well as a host of other withdrawal symptoms.
Detox is necessary to go through whether you are in a facility or at home. Due to the high risk of detoxing yourself, it is always recommended that you find a medical detox center. A medical treatment center will assess your condition and provide you with a slew of healing remedies. Staff will care and support you around the clock, while the medication provided will eliminate the danger and greatly diminish the amount of discomfort experienced.
Many people fear the detox process due to experience with withdrawal symptoms, movies or rumors. Withdrawing from drugs and Alcohol, however, does not have to be an awful experience. Find a detox center and get yourself started down the road to recovery.
New Jersey's Drug & Alcohol Rehab
Once you have fully eliminated the addictive substances from your system and stabilized, the work begins. Substance abuse disorders are often a symptom of an underlying issue. Many people who have mental health issues such as depression, bipolar disorder or anxiety, find themselves trying to cope with distress through the abuse of drugs and Alcohol.
Rehabilitation centers offer a variety of healing methods to help you address the root problem and thus overcome the need for mood and mind altering substances. Professionals teach you how to cope with stress, loss and other life problems in a healthy manner.
Learning to live without resorting to the use of drugs or Alcohol is a process and doesn't happen overnight. In a treatment center, you will get the love, support and guidance you need to successfully recover and go on to live a happy and fulfilling life.
Finding Treatment in New Jersey
There are plenty of places in New Jersey that will provide you with quality addiction treatment. Trying to decide where to go for treatment can feel overwhelming, but the choice can be easier than you may think.
To start, many people need to enter a detox center or facility with levels of care. Following detox comes rehab, then aftercare services such as Intensive Outpatient, sober living and 12-step meetings. With all the choices in New Jersey, you are sure to find a place that meets your every need and budget.
You may be interested in a faith-based treatment or a holistic treatment. You may prefer a luxury inpatient treatment center or an outpatient center. You may want to pay out-of-pocket or you may want use your medical insurance. No matter what your preferences are, we can help you find a center that meets your needs.
Should I Travel for the Best Addiction Treatment?
One of the best ways to get away from a downward spiral of addiction is traveling for treatment. Traveling effectively removes you from the people and circumstances that contributed to your addiction. Relapse numbers are a lot lower when people travel. If you do choose to travel to get away from old friends, neighborhoods and triggers, we can help you find a treatment center that is right for you.
Quick Facts:
Approximately 178,000 New Jersey residents abuse illicit drugs each year.

To travel for treatment is a purely individual choice. Some people greatly benefit from attending a treatment center located away from home and friends, while others do just as well at a local treatment center. If you remain in treatment until you have successfully completed the program you have a good chance of staying sober. The amount of time needed is at the discretion of the medical professionals.
When is Intervention Needed?
When one thinks of New Jersey, they often think of beautiful shores, delicious dinners and packed streets of proud people. However, enjoying these things can be difficult in the midst of drug and alcohol addiction. If you know of a friend or loved one who is suffering from addiction or alcoholism, talk to a professional interventionist today by calling (866) 578-7471.
With the aid of a professional interventionist, you can plan an intervention with love and support, thus increasing the chance of getting through to your loved one.
He or she may not realize that it has become an addiction and may be in denial about the negative consequences that that addiction is causing to his or her life. Your loved one needs your help to take that first step toward the road to recovery.
Living Your Recovery
Full of dining hotspots, beautiful beaches, and crowded streets, New Jersey is a mixed bag when it comes to recovery. On one hand, there are plenty of things to do and see and people to meet to help form new hobbies, interests, and friendships, without the influence of drugs or alcohol. On the other hand, some of the hotter scenes in New Jersey can be just as conducive to substance abuse as the habits that caused the addiction in the first place.
Therefore, one of the most important skills in aftercare is learning to remove one's self from a situation where temptation may arise. People in recovery learn these skills and tools in treatment and can use them to resist temptation and prevent a relapse.
Life in Recovery is full of adventure and fun activities. People in recovery are fun-loving and inclusive. You will find a better life in sobriety than you can imagine.
Treatment Options in New Jersey
There is an abundance of treatment options in New Jersey. There are resources available at every level of care with knowledgeable professionals ready and willing to help you find your way back to life.
Different programs may offer slightly different levels of intensity; however, most will offer detox, inpatient services and outpatient services. The best results tend to come by starting at the highest level and slowly working your way down, which ensures that you spend the time you need at each level.
While in treatment you will most likely be a part of many of treatment modalities, which gives you the benefits of each and allows you to discover what works best for you.
Aftercare Services in New Jersey
Recovery is a process that, at times, requires some work. There is no pill that solves the problem of drug and alcohol addiction. To get and stay sober for years to come, you need to stay connected to a sober community. Luckily, New Jersey has numerous ways to connect to others in sobriety.
Aftercare refers to the plan to stay connected and in a supportive and structured environment following your stay in treatment. The more programs of recovery you can combine, the better. Many people find sober living facilities to greatly benefit their recovery.
Adding in an Intensive Outpatient Program, IOP, and daily 12-step meetings only strengthen your foundation in recovery and betters your odds of staying sober.
"Recovery is a new life"
While in active addiction it might seem like there is no other way for you to live. Don't let your addiction fool you. Finding recovery is like getting a new lease on life. You can do it and we can help. Call us, get the life you deserve; One that's not controlled by addiction.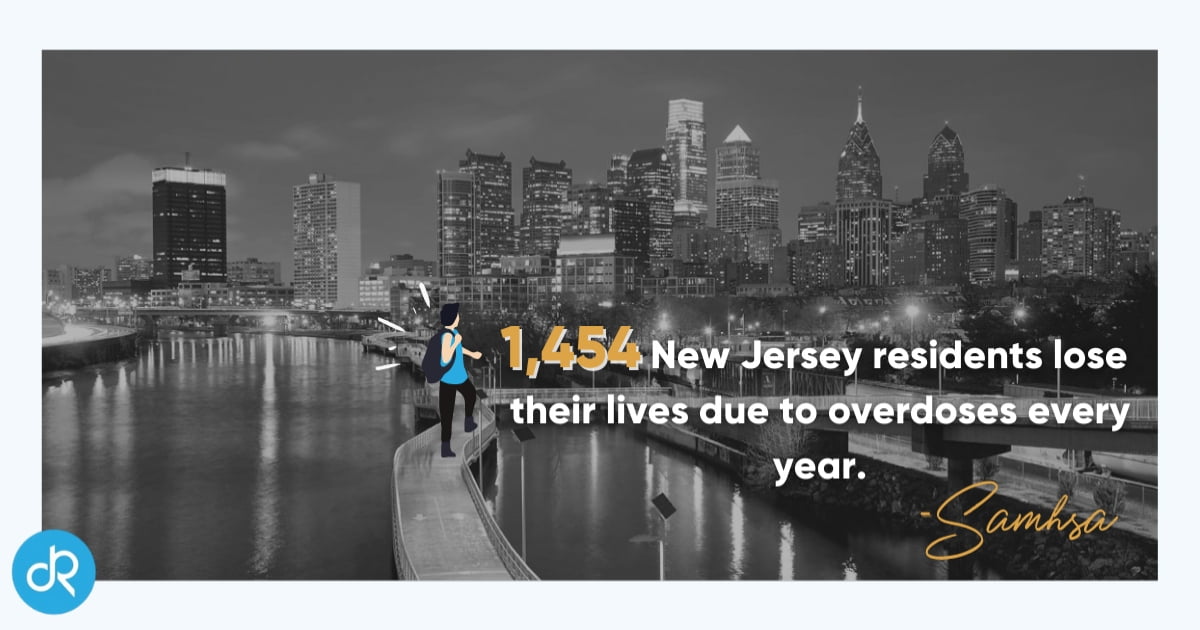 Quick Facts:
In 2015, 1,454 New Jersey residents lost their lives due to overdoses.

Alcoholics Anonymous: A Brief History
Millions of people have successfully stopped drinking and stayed abstinent with the help of Alcoholics Anonymous and the 12-steps. For many people trying to recover from the disease of addiction and alcoholism, "these few simple steps" are the only thing that has worked.
Begun in America post-prohibition, Alcoholics Anonymous was started by Dr. Bob Smith and Bill Wilson. By members of 12-step programs, they are known simply as Dr. Bob and Bill W. to keep with the tradition of anonymity.
The Oxford Group Beginning
Alcoholics Anonymous is rooted firmly in the Oxford Group teachings. Dr. Frank Buchman, an American missionary, formed the Oxford Group in 1920s. Just a decade later it changed its name from "A First Century Christian Fellowship" to the Oxford Group.
The members of the Oxford Group, a Christian society, contended that the will of God couldn't be carried out if an individual were to live in selfishness and fear. Thus, those of the Oxford Group decided to surrender to God and aimed for a spiritual life that God divined.
A moral standard was adopted and members were encouraged to behave accordingly. This moral standard was known as the Four Absolutes, which include Absolute Honesty, Absolute Unselfishness, Absolute Purity, and Absolute Love. Ridding sin from the lives of all people was the purpose of the Oxford Group, who believed alcoholism to be a moral deficiency.
When Ebby Thatcher approached Bill W. declaring that "he had got religion," history was in the making. It was Ebby, a former drinking buddy, who introduced Bill W to the Oxford Group and subsequently helped Bill stop drinking. Little did he know that he would start a movement. It was the teachings of the group that had helped Ebby pass on the bottle, and he wanted to share it with Bill.
When the topic of faith came up, Ebby asked, "why don't you choose your own concept of God?"
These words were a turning point in what is now the history of Alcoholics Anonymous. Once Bill W. stopped fighting God and religion, he overcame one of the greatest obstacles between himself and sobriety. This was a turning point for Bill that allowed him to move forward toward long term sobriety at last.
The Oxford Group saved Bill W.'s life, by his own accord. However, Bill W. and Dr. Bob broke away from the Oxford Group in 1937 over several fundamental disagreements. Two of these issues were the central figure of religion in the group and the policy of self-promotion.
Formation of Alcoholics Anonymous
It's June, 1935 in Akron, Ohio where Bill W. was staying for work. In a hotel lobby he was struck with the urge to drink, or as we might say today, had a craving for alcohol. He knew from experience that reaching out to another alcoholic would dampen his susceptibility to drinking himself. So, he began to do just that. In a desperate attempt to save himself and help another person simultaneously, he reached out to another alcoholic, Dr. Bob.
They met, conversed and the event has since become known as the very first Alcoholics Anonymous meeting. What blossomed from the connection the two made neither could have predicted. Not only did Bill W. stay sober, but Dr. Bob was able to stop drinking. A miracle as seen by those who knew him.
"Only an alcoholic can help another alcoholic," was a driving belief that propelled the two out in search of others afflicted with the disease of alcoholism. There were successes and by 1937, two groups had cropped up, one in Akron and one in New York. These two fledgling groups proved that the method was an effective method for the treatment of alcoholism.
The first group members, 100 in all, put forth a collaborative effort to record the newfound solution to alcoholism and published the book Alcoholics Anonymous. The Big Book, as members lovingly refer to it, was written with the purpose to make accessible and therefore spread this solution where previously none had existed.
These groups adopted the name of the book which communicated their teachings by 1939. The program's experimental phase ended with the publication of the Big Book.
Impact
Alcoholics simply lack character and morals, or so it was commonly thought prior to the release of Alcoholics Anonymous. The "Doctors Option," located in the prologue, features a letter from Dr. William Silkworth, a New York physician who once treated Bill W.
The first person to describe alcoholism in terms of disease, Silkworth explained that those afflicted are "both bodily and mentally different" from others. He went further and articulated the complex nature of the illness, which had previously baffled sufferers and bystanders alike. The three-pronged characteristic of "allergy of the body," "obsession of the mind," and "spiritual malady" had spelt hopelessness for many in the past. Basically, even if you address one or two aspects of the disease, there is still one waiting in the wings to strike.
The concept that people suffering from alcoholism were not bad people, but those struggling with an illness was revolutionary. This simple fact has allowed and still prompts many an individual to overcome their disease and find a better way to live.
Since its release, the Big Book has undergone revisions. The formation of numerous 12-step based programs has Bill W. and Dr. Bob to thank, as do the estimated two million global members of Alcoholics Anonymous. The revolution has grown steadily and now counts over 175 countries and an estimated 115,326 groups among its ranks.
New Jersey & Drug Abuse
New Jersey is a state that is being hit hard with illegal drug abuse. Whether it is a carryover from the big city or just the ease of access to harmful substances, numbers are showing a rise in substance abuse all over the state.
Heroin most notably is becoming more and more popular amongst those who abuse drugs. Out of the substance abuse treatment admissions, the state saw in 2015, 40 percent of patients sought help for a heroin dependency.
The state saw over 27,000 people admit themselves for heroin that year. The sad part is, that is not even close to the total number of heroin users. Too many people continue to give in to their addiction's needs instead of their own.
New Jersey & Alcoholism
In 2015, New Jersey saw over 17,000 substance abuse admissions for people dealing with an alcohol addiction. Alcoholism is a growing problem, not just in New Jersey but all over the country. People often overlook the threats of alcoholism because of how many different circumstances alcohol is accepted.
It is easy for most people to downplay the dangers that a drinking problem can present in someone's life. Alcoholics tend to put their drinking habits above and beyond anything else in their life which includes relationships, career obligations and health.
Alcoholism, just like drug addiction, can be deadly. If your drinking has gotten out of hand, call us now to find out more about getting the help you need.