Last Edited:
March 5, 2020
All of the information on this page has been reviewed and certified by an addiction professional.
Detoxing Your Brain from Drugs and Alcohol
The first step to entering a successful recovery is undergoing the detox process. It's uncomfortable, but vital to the recovery process. Rehabilitation from a mind-altering substance cannot truly work without the brain being free from the influence of psychoactive substances. If an individual is still subject to addiction, the recovery process is inhibited; the cycle of addiction must be broken through detox.
When an individual first uses a substance, the brain experiences a rush of neurotransmitters (primarily Dopamine and Serotonin). This overload of chemicals is what gives many substances its euphoric properties.
However, with repeated usage, the neuro-circuitry in the brain attempts to adjust to abnormally high levels of dopamine. The figure below demonstrate the changes a brain goes through that necessitates the need for detox.
Why is Detox So Important?
Detox is a necessary process to undergo when an individual's brain is conditioned into a matured stage of addiction. When addiction progresses to this level, many of the more severe symptoms of addiction begin to manifest. In addition to many of the behavioral problems as a result of addiction, there are two physical symptoms that make addiction significantly problematic; Tolerance and Withdrawal.
Tolerance consists in which one requires more of a substance in order to attain the same effect. While tolerance fuels the escalation of drug use, withdrawal contributes greatly to the continuation of the cycle. Withdrawal is responsible for feelings of sickness and discomfort when one tries to suddenly quit an addictive substance. The detox process looks to mitigate the symptom of withdrawals in order to break the cycle of addiction, laying the groundwork for recovery.
A Closer Look at Addiction Withdrawal
Withdrawal is known as the negative symptoms that manifest in the sudden absence of a regularly used substance. After a continued pattern of abuse, the brain will become accustomed to the consistent administration of a particular substance. This concept is known as homeostasis, or internal equilibrium.
However, when the substance is not present, the homeostasis is disrupted. The brain begins to display signs of discomfort and illness to signal the perceived need to re-administer the substance.
With prolonged substance abuse, the brain begins to build a pattern of expectation for the substance. In general, the mind adjusts in anticipation of a psychoactive substance. The figure below shows the different
Thus, as addiction progresses, substance use becomes less of a goal to experience feelings of euphoria and more of a means of deterring the symptoms of withdrawal. In essence, individuals often continue addiction for the opposite reason that they began using. Rather than taking drugs or drinking Alcohol to feel euphoric, one now does so in order to ward off feelings of sickness.
Detoxing from Heroin and Other Opiates
These feelings of withdrawal are the system's adverse reaction to the absence of specific substances. One of the more general reactions consists of cravings, in which the brain sends strong signals to pursue and re-administer the substance. While more specific withdrawal symptoms vary depending on the substance that was used.
In general, when detoxing from Opiates, there are a number of symptoms to expect. In most cases, the most common occurrences include muscle aches, chills, skin sensitivity, abdominal pain, diarrhea, hallucinations, sweating and vomiting.
The timeline of Heroin withdrawal specifically begins six-to-twelve after the most previous drug use. The peak with these symptoms usually occurs within one to three days since the start of detoxing. After that period, the symptoms should begin to dissipate over the course of the next week.
Detoxing from Heroin is known as an immensely unpleasant process due to the potency of it's addictive qualities. In numerous occurrences, people have actually died as a result of an improperly supervised detox.
While the withdrawal is generally non-fatal, there may be an indirect factor that poses a danger to one's life. One of the more common indirect causes of fatalities for Opiate detox is an individual choking on his or her own vomit. It's highly recommended for both relative comfort and safety that individuals seek medically supervised withdrawals are pursued. Learn More.
Figure 1: Comparisons of a Negative control "Normal" Brain, and a brain that has been exposed to heavy opiate abuse.
Figure 2: Brain scans noting altered Brain Neuro-circuitry due to Methamphetamine abuse.
Detoxing from Stimulants Such as Cocaine, Amphetamines and Crystal Meth
The abuse of Central Nervous System Stimulants (such as Cocaine, ADHD medications or Methamphetamine) often manifests with symptoms of hyperactivity and psychomotor agitation (purposeless or unintentional muscle movement). This occurs due to the chemicals increasing the sensitivity of neurotransmitter receptors in the system, and also increasing the release of dopamine. Over time, the brain adjusts to the escalated release and sensitivity by reducing the receptor availability.
The figures note comparisons with a normal brain (left) and a brain that regularly abused Cocaine. One can see how the addicted brain adjusted its receptor availability in light of heavy CNS stimulant abuse. However, during periods of withdrawal from CNS stimulants, the brain is then only able produce a minuscule amount of dopamine naturally, resulting in what is often referred to as "The Crash."
Upon initial onset of withdrawal, the individual begins to display signs similar to depression and anxiety. Over the next 12 hours, the depression symptoms increase, along with accompanying exhaustion and fatigue. After the 12-hour mark, the symptoms of depression reach their peak and begin to approve depending on the substance taken.
For Cocaine detox, improvements can be felt in a matter of hours, while the more potent versions of Methamphetamine can take days.Learn More.
Detoxing from Alcohol, Benzodiazepines and other Depressants.
On the other side of the spectrum, CNS Depressants (such as Alcohol, Benzodiazepines and Barbiturates) display opposite effects as well. When a CNS Depressant is administered into the system, the chemicals enhance the potency of gamma-aminobutyric acid (or GABA), a naturally-occurring neurotransmitter responsible for slowing the brain's activity.
However, in the sudden absence of CNS depressants, the brain attempts to find a semblance of homeostasis. Many of the symptoms of this process include agitation, insomnia, digestive problems, body aches, psychomotor agitation, respiratory issues and seizures.
Of all the classes of psychoactive substances, CNS depressants are known to have the highest levels of direct fatalities from withdrawals. The seizure aspect is especially dangerous for individuals detoxing from these kinds of substances.
For people looking to detox from CNS Depressants, it is paramount to pursue a detox facility or medically assisted withdrawal program as seizures are a potentially fatal prospect if done without medical supervision. Learn More.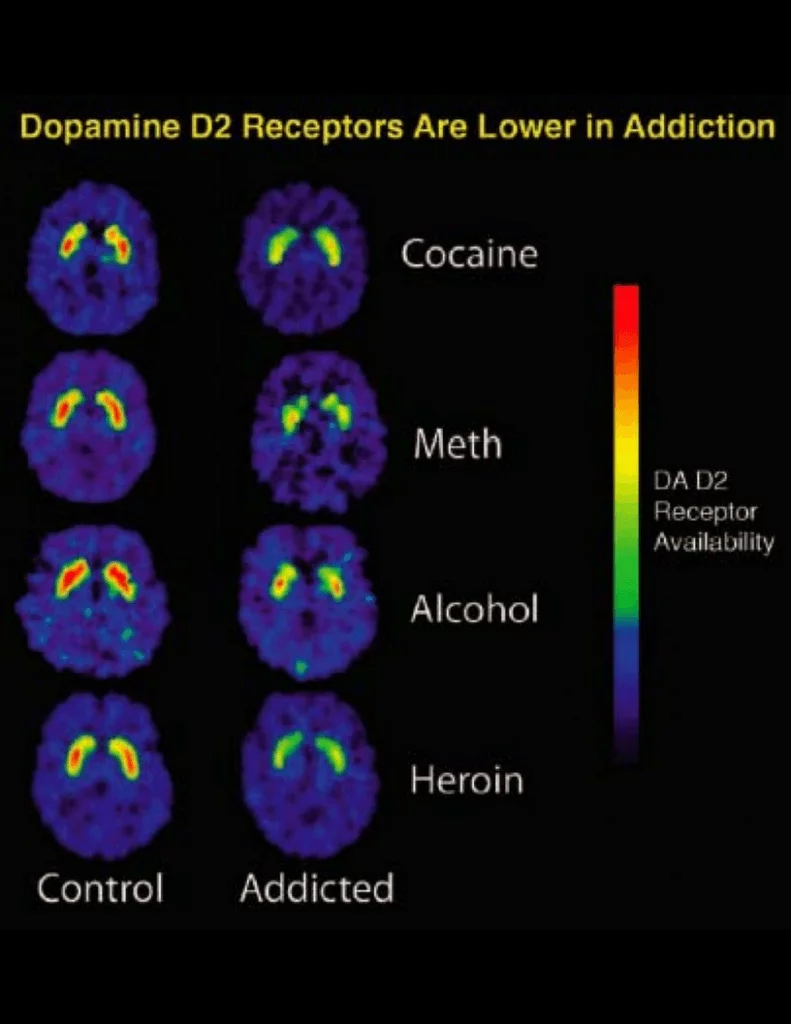 The Brain's Initial Reaction After the Detox Process.
Shortly after the detox process, the brain's neuro-circuitry will still need to adjust to the recent chemical changes. Due to the body's previous surplus of dopamine, the body has a difficult time naturally producing the neurotransmitters.
As shown in the Scans from Figure 4 (left), the brain scans all note a substantial decrease in activity in the areas of the brains Limbic System. The Limbic System is responsible for the brain's reward circuit, which primarily functions through the use of the neurotransmitter known as Dopamine.
This lack of dopamine in the system is known as anhedonia. In the state of anhedonia, one has substantial difficulties having any feelings of enjoyment;  it would not be unexpected for many people to experience signs of depression upon initially detoxing.
However, as time progresses, there are a number of improvements you begin to notice. One of the more physical signs is an improvement of overall health. Not only does recovery free one from the prospects of overdosing, but respiratory health, sleeping patterns, and heart health are improved in the absence of active addiction.
From a more psychological standpoint, one's mental state is also improved after completing treatment after a successful detox. With time, people often find enjoyment in life without needing to use substances. Many aspects of one's mood may also be improved as well.
From an external perspective, relationships are one of the most notable changes after completing treatment after undergoing detox. Given that active addiction is known to be a dividing factor in interpersonal relationships, detoxing from addictive substance helps to remove barriers that may have contributed to, or been the source of interpersonal issues.
While detox is often thought of as an unpleasant experience, it's absolutely necessary in order live a life free from the grip of mind-altering substances. Once detox is complete, an individual can begin treatment with a clearer mind, and start building a strong foundation of recovery.
Find Your Ideal Detox Center Today
For detoxing, it's highly recommended to reach out to medical professionals, as a detox program can assist with the medically assisted withdrawal process. Not only will the discomfort be lessened, but the overall safety will be improved as well. If you or someone you know is looking to break the cycle of addiction, you do not have to do it alone.
However, after undergoing detox and successfully completing treatment, many individuals can often note improvements over time, the figure below notes the progress made recovering from meth abuse over the course of a year. Even if the addiction seems unbeatable at first, there is empirical evidence that recovery is effective for treating an addicted brain.
Figure 5. Brain Scans taken over the course of two years noting the brains rewiring of neuro-circuitry.
References:
1.  Martinez D, Saccone PA, Liu F, Slifstein M, Orlowska D, et al. Deficits in dopamine D(2) receptors and presynaptic dopamine in heroin dependence: commonalities and differences with other types of addiction. Biol Psychiatry. 2012;71(3):192–198.
2-5 . Scans Attributed to National Institute of Drug Abuse (NIDA) Archives.