The late rapper and producer was a remarkable artist with an un-dimming passion for making music. Unfortunately, for Mac Miller overdose was what took him from the world and from the people who love him.
"Overdosing is just not cool. There's no legendary romance. You don't go down in history because you overdosed. You just die." – Mac Miller, PEOPLE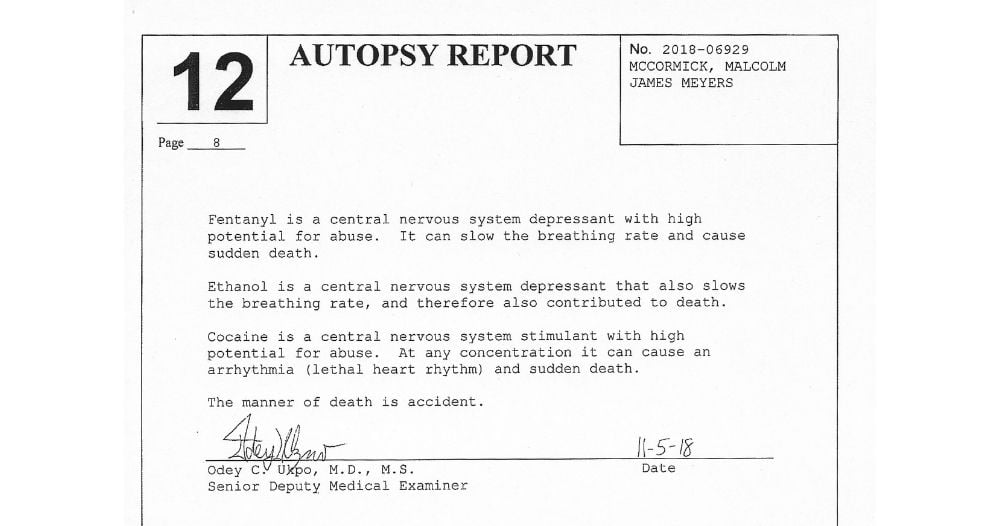 Sadly, his love for music, success and of course partying led to Mac Miller's death – sooner than expected. The Mac Miller autopsy report released by the Los Angeles Coroner's Office states that his death was from an accidental drug overdose.
Who is Mac Miller?
Mac Miller's real name is Malcolm James McCormick. He was a young iconic rapper and self-made in his hip-hop career. Miller was born in Pittsburg, Pennsylvania on January 19th, 1992. He grew up in the neighborhoods, Point Breeze with his similarly artistic parents – Karen Meyers and Mark McCormick.
"A true artist. Your spirit is what impressed me the most. The energy you brought to any space you were in. Contagious." – Macklemore via @Instagram
As a boy, he found an interest in writing songs and singing. He was moved by music and learned to play instruments such as drums, piano, guitar and base.
During 5th grade, Miller started smoking weed and eventually turned to marijuana sales to fund his musical passions. Despite his love for singing, he came to find that being a rapper was a better fit.
"My name Mac Miller who the f*** are you?" – Mac Miller, Frick Park Market Lyrics
Around 14-years-old, Miller started rapping. During high school, the to-be famous musician dedicated his time and resources to make it in the hip-hop music industry. Artists like Mac Miller are bound to be successful. With his unbreakable focus on making and sales of his music, the fact that Miller graduated high school is impressive.
How Did Mac Miller Get Famous?
At a young age, Mac Miller jumped into Pittsburg's local rap scene. By the time he was 18 years old, his musical talents and artistic soul drove him to fame.
"I was like an 18-year-old wide eyed kid excited to be successful, and now I'm just kinda making music more for myself." – Mac Miller, Noisey – VICE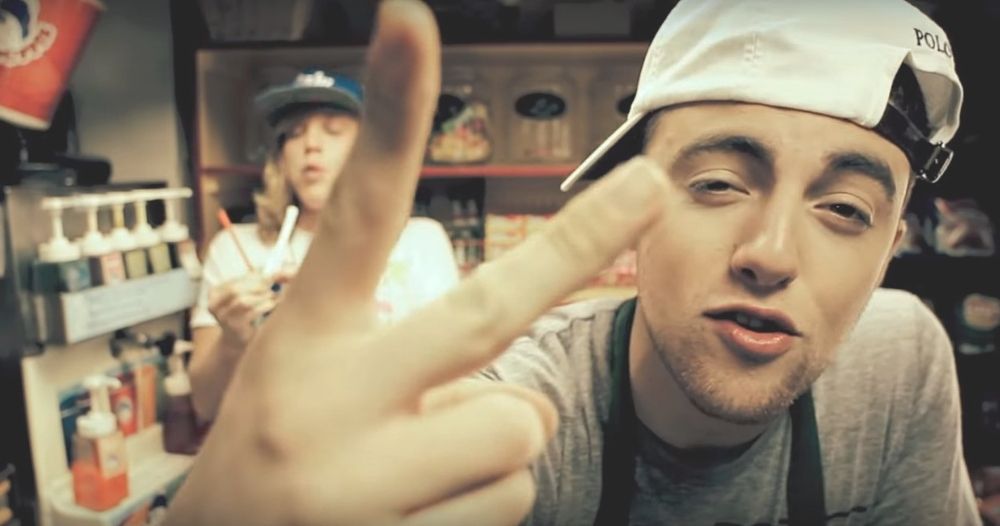 Mac Miller Frick Park Market
Miller's career jumped off in 2007 after putting a string of mixtapes on the market. Starting out – Miller released his first mixtape, But My Mackin Aint Easy. At this time, he was known as EZ Mac and had yet to adopt the lasting persona – Rapper Mac Miller.
In 2010, Miller found himself signing on with Rostrum Records. Rostrum Records is an independent recording company based in Pittsburg. After the debut of his first-ever studio album Blue Slide Park, he was soon recognized across the nation. Soon following the album's release, it landed #1 on the Top 200 Albums – Billboard 200 Chart. On this album, Mac Miller Donald Trump is still increasing in popularity.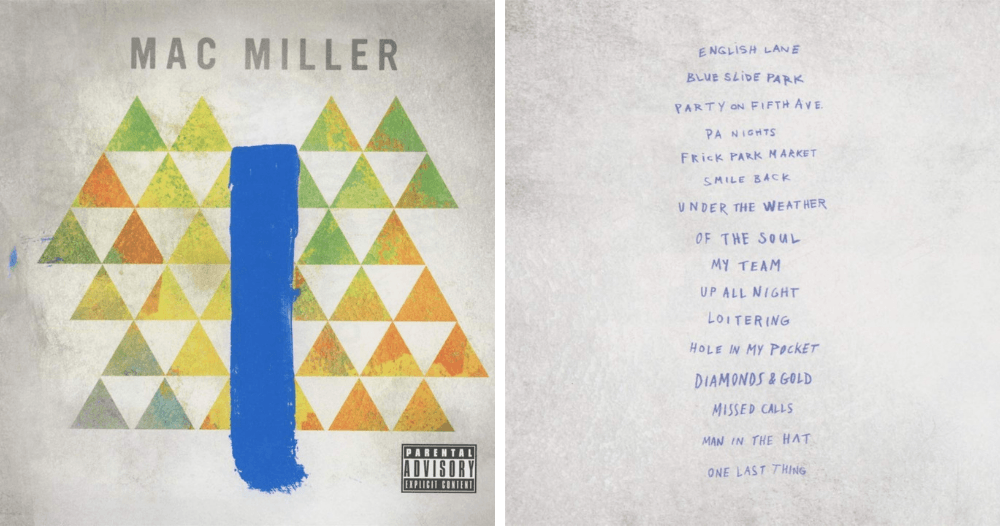 On June 18th, 2013, his second studio album, Watching Movies with the Sound Off was released by Rostrum records. This album marked a point of great technical accomplishment in Mac Miller's music and career.
In 2014, the contract between Mac Miller and Rostrum Records came to an end. With a decision to move on from the independent record company, Miller signed With Warner Bros. Records. Since the beginning of his career, Mac Miller's musical accomplishments and success have remained sky high. Not to mention ever-evolving… he was only just beginning.
How Did Mac Miller Die?
Mac Miller died on September 7, 2018, from a drug overdose. The 26-year-old rapper was found unconscious at his home in Studio City, California.
According to a statement by the Los Angeles County medical-examiner coroner, Miller was pronounced dead at 11:51 a.m. His personal assistant who discovered him unresponsive in his bed immediately called 911.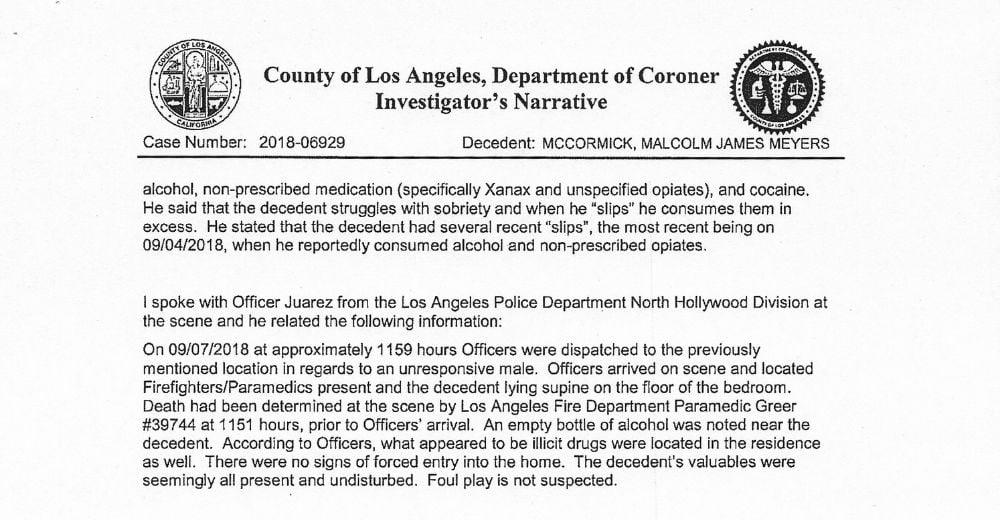 The personal assistant moved him to the floor and gave him CPR while awaiting paramedics. Miller's tragic death took place not long after the release of his latest album, Swimming.
The North Hollywood Police Department report states that an "investigator found an empty bottle of liquor and drug paraphernalia, including a $20 bill with white powder residue on it," at the scene.
But exactly what did Mac Miller overdose on? According to the official toxicology report on Mac Millers death, he overdosed on a mix of Cocaine, Fentanyl and Alcohol.
The body examination report notes a tattoo on his arm that says, "only so much time left in this crazy world," inside of an hourglass. It's as if Miller was prepared or even ready to die, which is a sad thing to think about.
Record label REMember Music
Signing on with a new company, Miller birthed his own record label, REMember Music under Warner Bros. This made the relationship less "contract" and more of a business partnership.
After signing with Warner Bros., Miller released three albums – GO:OD A.M., The Divine Feminine, and Swimming.
In 2015, Miller put out his third studio album and first one recorded with Warner Bros., GO:OD A.M. The album was released on September 18th, 2015 and has a more optimistic vibe than his previous work, Faces.
"Faces was, in short, super depressing, and I'm not as depressed anymore. Making music when you're depressed is great therapy, but I wanted this album to be in a different headspace." – Mac Miller, Billboard Interview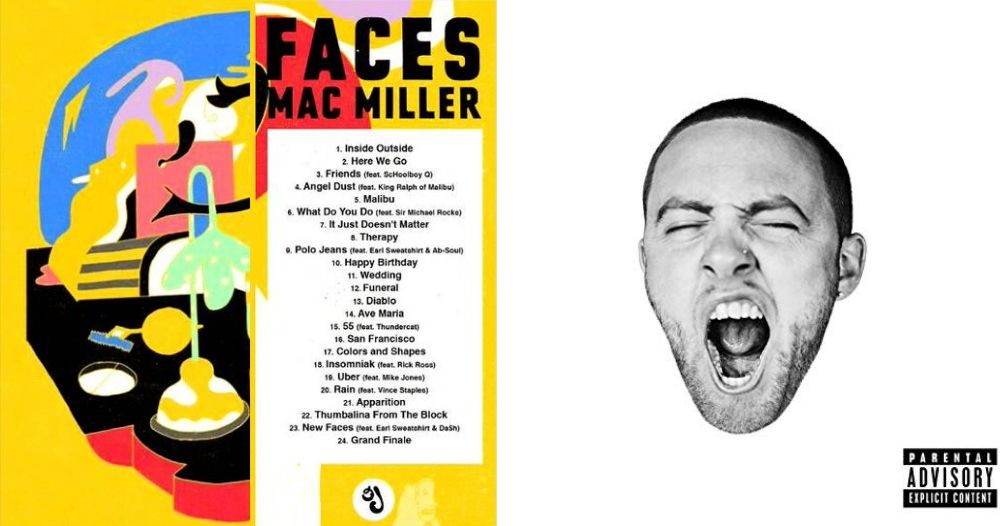 GO:OD A.M., addresses his personal struggles with addiction and efforts toward living a different life. The album's release marked the start of a new, more mature footing for Miller's career and growth as an artist.
"The first album I recorded while being happy in a long time…" – Miller on Album GO:OD A.M.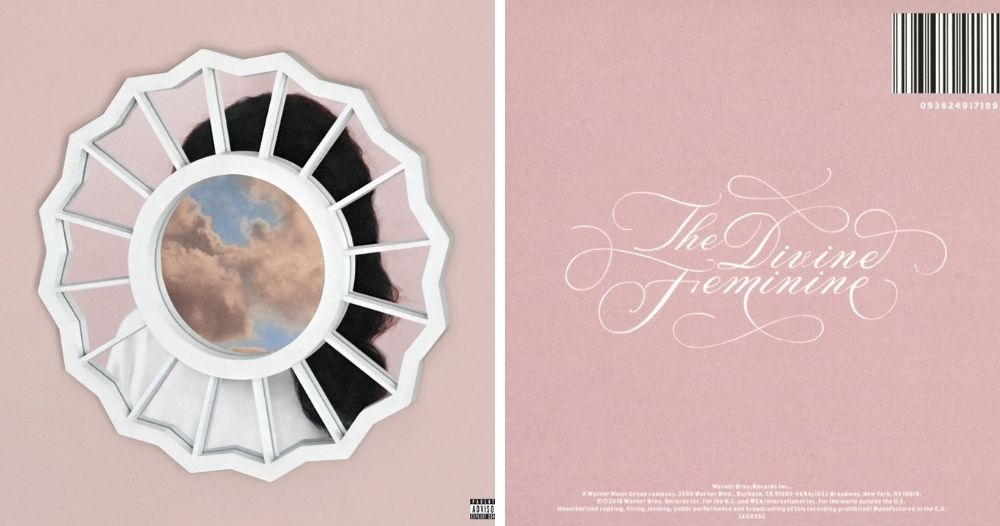 Fast forward to his next album, The Divine Feminine. Warner Bros. presented The Divine Feminine on September 16th, 2016. The album debuted #2 on Billboard 200 Albums Chart.
In addition to that, the song, "My Favorite Part" ranked on the Billboard Hot 100 Chart at #7. The leading single on the album, "Dang!" which features Anderson. Paak went certified Gold selling over 500,000 copies.
Mac Miller's Struggle with Addiction
The musician's struggle with drug use and addiction is nothing new to his fans. Over the course of his career, he has been open and honest about his life and the issue of dealing with addiction.
"Drugs are dangerous, dude. But they're awesome. Just dangerous. Drugs are not like a new thing. Especially with me, I've been doing drugs since I was fifteen." – Mac Miller, Noisy
Interviewing with Rolling Stone, Miller admits to the use of cocaine and promethazine, regularly. Aside from the substances he's actually mentioned, many are curious – what drugs did Mac Miller do? In the interview, he explains that his drug use increased especially following the release of his debut – Blue Slide Park. What's more, is that he didn't even consider being drug addicted at the time.
"There never was a better time to better myself… I'm smoking on this field of hope, waiting till my deal gets closed." –  Mac Miller Funeral Lyrics
He released his eleventh album, being a personal 2014 mixtape Faces. This mixtape says a lot and informs fans about his battle with drug addiction getting harder. Within Faces, Miller mentions substances like codeine cough syrup "lean," cocaine and angel dust.
"A drug habit like Philip Hoffman will probably put me in a coffin." – What Do You Do Lyrics
On top of drugs, Mac Miller's death came after a long fight with depression, which was something he openly spoke about. "The evil follow me, I got a devil magnet," as a mean to cope, he poured his pain into his music.
New Album 'Swimming'
On August 3rd, 2018 Mac Miller's last album, Swimming, was released. Not long after the release of his track single, Self Care the album became available to the world.
The album, "Swimming" was a product of his personal record label REMember Music and Warner Bros. Records. Swimming, being his fifth and final album to be produced went RIAA certified platinum on
"Self Care" Platinum Single
On July 12, 2018, Miller released a new single, Self Care. This single was released along with an official music video. The Mac Miller Self Care lyrics convey a deeper meaning of his emotional state and sanity.
Oddly, the setting of Mac Miller's Self Care music video was the inside of a wooden coffin. Not only was he inside of a coffin, but he was also wearing a straitjacket.
If you're asking yourself what a straitjacket is, I'll gladly fill you in. A straitjacket is a seemingly impossible restraint to break free from, that looks similar to an average jacket.
There are a few assumptions relating to miller's Self Care single that are safe to make. Miller's straitjacket seems to have symbolized a feeling of suffocating and the inability to break free. Although, during the last part of the video, he manages to climb out of his coffin and is only met with surrounding chaos.
Mac Miller was not just a famous rapper; he was an artist with a serious poetic drive and talent. Poets are naturals at sharing information that has a deeper, underlying meaning.
Not to mention – The message he wrote on his coffin wall, Memento Mori. Memento mori stands for the remembrance or a warning of death to come. On that note – many are justified in asking was mac millers death a suicide? Miller told the world, Memento Mori – "remember you must die." If that's not the most in your face message from an artist, I don't know what is. What do you think?
"My Favorite Part" – Mac Miller
The young and inspiring music artists Ariana Grande and late mac miller made the relationship official in 2016. That year, the couple released a music video and single called "My Favorite Part."My Favorite Part is from his album, The Divine Feminine.
Mac Millers music video was a sweet duet and seemed to represent the overall vibe of their relationship. In 2018, after dating for two years, Ariana and Mac Miller broke up. In an interview, he talks openly about their relationship.
Ariana Grande and Mac Miller
For Mac Miller Ariana meant everything to him. He states that he was in love with Grande and that the relationship was relatively normal. To publicly confirm their breakup, Ariana posted a photo of her and Miller on Instagram.
"This is one of my best friends in the whole world and favorite people on the planet… I respect and adore him endlessly and am grateful to have him in my life in any form, at all times…"– Instagram | @arianagrande
When someone you love lives with addiction, it's hard. This is especially true when it's your significant other. Even though she's a celebrity, Ariana Grande is not immune to heartbreak and pain.
"I have cared for him and tried to support his sobriety… Of course, I didn't share how hard or scary it was while it was happening, but it was." – Twitter | @ArianaGrande
During those two years, Ariana supported Miller in his struggle with addiction. Along with supporting him, she suffered alone and in silence with it all.
"i'm so sorry i couldn't fix or take your pain away. i really wanted to. the kindest, sweetest soul with demons he never deserved. i hope you're okay now. rest." Twitter @ArianaGrande
After Mac Miller's death, she shared a video of them together. You can only imagine the heartache Grande is dealing with. She still continues to reminisce his memory on social media and during her tours.
Celebration of Mac Miller
Approaching one year after Mac Miller passed away from a drug overdose, his hometown will be holding an event in celebration of his life. An event called the "Celebration of Mac Miller." The Celebration of Mac Miller event will take place on September 7th, 2019 at Pittsburg's Blue Slide Park.
As many fans know, Mac miller's debut album that launched him into the spotlight is called Blue Slide Park. Ultimately, he named the album after a place from childhood, Blue Slide Playground in Pittsburg, Pennsylvania.
September 7th at Blue Slide Park at 12pm until whenever. We will have music & videos being played.. this is a time to share the amazing memories of an amazing person 🙏🏼https://t.co/6F5mXmPAKB pic.twitter.com/gVTawSHi1Q

— The Mac Miller Memoir (@MacMillerMemoir) July 28, 2019
Since the Pittsburgh native's death, the city dedicated the playground in memory of mac miller. According to Pittsburg CBS Local News, the playground is now listed on Google Maps as "Mac Miller's Blue Slide Playground."
The Mac Miller tribute in September is open to all fans, friends, and family. Making sure to keep his legacy alive – the anniversary of rapper's death will have to be something great.
Mac Miller's Family Releases New Album in 2020
After Mac Miller's accidental overdose, his family got together to release a posthumous 6th and final studio album. Miller had been working on these songs around the time of his death in 2018, alongside Jon Brion.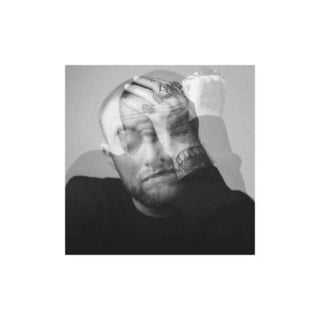 Before his death, Mac shared that this album was to be a second part to his album swimming. Pitchfork has given this album a 7.4 rating. Mac's family took to his Instagram to announce the album and expressed how releasing the album has been a complicated and emotional process.