Bradley Cooper was recently interviewed by Barbara Walters in a follow up regarding his addiction to alcohol and painkillers in his early years as an actor. Today, Cooper is 11 years sober from drugs and alcohol and proud to say that he owes his life and career to his sobriety.
"I would never be sitting here with you, no way, no chance," he mentions about his time before he stopped drinking. "I wouldn't have been able to have access to myself or other people, or even been able to take in other people, if I hadn't changed my life. No way. I never would have been able to have the relationships that I do. I never would have been able to take care of my father the way I did when he was sick. So many things."
During the darkest times of his alcohol and drug addiction, Bradley Cooper was playing the supporting role of Will Tippin in ABC's hit television show, Alias starring Jennifer Garner. As the seasons went on, he realized that he was losing more and more air time and couldn't take the feeling of failure. "And then next thing you know, I was like, 'I want to f—ing kill myself,'" he lamented. As he rode the curtails of this depressive state, Cooper felt he would be released from the show soon. He needed a change anyway, so he asked the director, J.J Abrams, to write him out of the series.
Underlying Reasons for Addiction
In the field of addiction, studies have shown that there are always underlying reasons for addiction. Cooper was experiencing depression and developed a suicidal ideology. While recreational drugs and Alcohol don't actually help to suppress these conditions, they can temporarily make you feel better.
This is sadly a common narrative in the world of addiction. Often, people who become alcoholics or form drug addictions suffer from co-occurring disorders like depression, bi-polar disorder or anxiety. They self medicate, many without even realizing this is what they are doing, and end up worse off than before.
Bradley Cooper's feelings of pressure to live up to his potential and disappointment in his role in Alias piled on. He had already developed a habit, but but his substance problem grew with the depressive state. Something had to give.
Bradley Cooper's Decision To Get Sober
It wasn't until 2012, that Bradley Cooper came out about his struggle with addiction in his 20s. He revealed that it took him until he was 29 to get sober and set his life back on track. Cooper suffered from an addiction to painkillers and alcohol which started to have a serious effect on his life and career.
"I was so concerned [with] what you thought of me, how I was coming across, how I would survive the day. I always felt like an outsider," he said, "I realized I wasn't going to live up to my potential, and that scared the hell out of me."
He recalls a time being so drunk that he smashed his head on concrete landing him in the hospital. Someone less driven or ambitious might have let the addiction consume him. It could have been worse, though, as excessive drinking can cause serious health conditions. If he had continued down that road, who knows where he would be now.
Luckily, Cooper refused to go down without a fight. It takes a lot of courage and work to get clean and sober. Overcoming addiction is no easy task, but one that is well worth it. Many people feel alone and hopeless in their pain, but a brighter and happier world awaits in recovery.
Fighting For Success in Recovery
With his new-found life of sobriety, Bradley Cooper landed the role in The Hangover, which would blast his name through millions of homes across the world. This influx of fame would elevate a simple family man into Peoples Magazine's "Sexiest Man Alive." Cooper would later accept leading roles in box office hits like American Hustle, American Sniper, Silver Linings Playbook and Joy. Cooper states that he could never have achieved the success he is experiencing today if he had not managed his addiction. Everything he has now, he owes to his sobriety and the 12-steps he took to get there.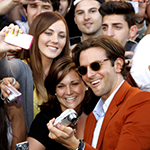 The clarity Bradley Cooper gained while being sober is far more valuable than he could have ever imagined. He has embraced the self he found in sobriety and fully committed to living the sober life.
"I was doing these movies … and I was sober," he recalled, "And I'm like, 'Oh, I'm actually myself. And I don't have to put on this air to be somebody else, and this person still wants to work with me? Oh, what the f–k is that about?' I was rediscovering myself in this workplace, and it was wonderful."
Though many good things have happened to Cooper in the 11 years since getting clean from his addictions, the road to recovery was not easy. The hole that was left there seemed insurmountable at times. Some days, it left him feeling unfulfilled and unsatisfied.
"In the back of my head, or in a place of my heart of, like, creativity, did I feel utterly fulfilled? Absolutely not," the Hangover star said. "But I was grateful and happy to be working and filling that void in smaller moments."
Today, Cooper is an inspiration to anyone dealing with depression and addiction. It just goes to show that anyone can develop an addiction and anyone can find recovery.
Find Your Own Way Out of Addiction
Many different people deal with Alcohol and drug addiction. If you are struggling to kick a habit that is getting the best of you, you are not alone. Not only are millions of others going through the same challenges, but millions of people want to help you through it. You just need to find treatment that is right for you. There are so many services and resources designed to help people overcome and heal from addiction. To hear about your options in recovery, call (866)578-7471.