Last Edited:
September 27, 2020
All of the information on this page has been reviewed and certified by an addiction professional.
Facing Substance Abuse Treatment in New Hampshire
Whether you're snowmobiling on virgin snow before breakfast or marveling at the vibrant leaf colors that you can only see in a New England Autumn, New Hampshirites sure know how to live. But no state, no matter how great, can escape the clutches of drug and alcohol abuse.
Addiction invades every nook and cranny of life. In the last 30 years or so, people have begun accepting the disease concept of addiction instead of viewing addiction as the moral failing of a weak willed individual.
In This Article
As such efforts to decriminalize and de-stigmatize the affliction continue to happen.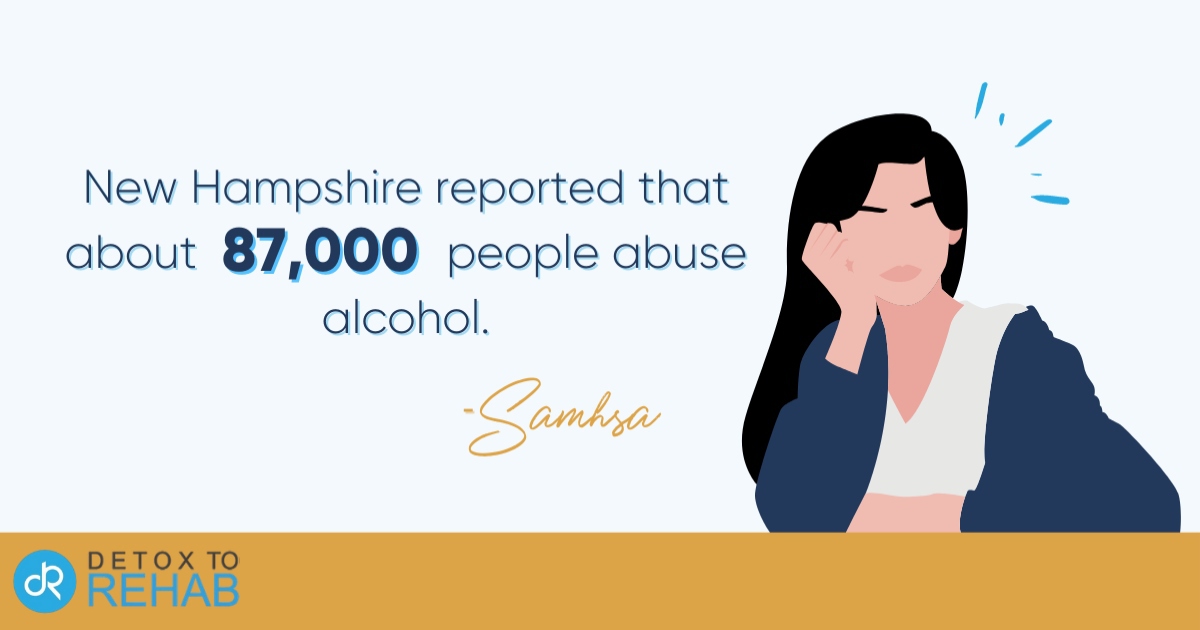 Quick Facts:
New Hampshire reported that about 87,000 people abuse alcohol.

One of the more important dimensions of fixing this issue has developed through the growth of rehab facilities. In the rehab facilities people learn how to cope with stressors that lead them to abuse.
Finding the right treatment center can prove time exhaustive. It isn't easy to decide on something that will have a major impact on your life like that. One of the most important things to consider, is whether the center has accreditation.
After that, you should consider the type of treatment provided. Does it have medically monitored withdrawal? What kind of therapeutic lens does it employ? These questions will help you find the right place for you.
Treatment is available if you need it. Contact us today: (866) 578-7471. We want to help you find the treatment services that you need. We can assist you in enrolling into a drug or alcohol rehab program.
Best New Hampshire Treatment Centers  
New Hampshire Detox Centers
New Hampshire Inpatient Rehab Facilities
New Hampshire Outpatient Rehab Centers
New Hampshire Sober Living Houses
New Hampshire Drug & Alcohol Detox
Detoxification is the removal of the toxins in your body left behind by addiction. This is usually the shortest part of rehab. If detox is concerning for you, rest assured that medications are available to allow for the most possible comfort while detoxing and should even help with avoiding relapses later; once your system is clean, it can reinforce your desire to get clean.
In detox, withdrawal symptoms occur. Typically, medications are used to ease withdrawal symptoms. Some of the most common withdrawal symptoms are vomiting, shaking and sweating. Everyone experiences different withdrawal symptoms for different lengths. Withdrawal symptoms occur as your brain and body chemistry readjust to the lack of substances.
Detox is usually the first part of a continuum of care. Detox alone is not enough, rehab must immediately follow.
New Hampshire Drug & Alcohol Rehab
After detox, rehab should begin almost immediately. Detox removes the toxins of addiction from your system, rehab re-programs your thinking to allow for healthy habits. As you enter rehab, your brain is usually functioning with a very different level of dopamine, changing your neuro-chemistry.
Rehab uses a combination of counseling, therapy, and other techniques to bring your brain function back into focus on your healthy habits. Do not enter treatment thinking that rehab is a cure for addiction.
There is no "quick-fix" that will instantly remove temptations to use drugs or alcohol. In rehab, you will develop the tools to live a happy and healthy life, coping with those temptations. Getting to the root cause of your substance use and harmful behaviors can help you recognize triggers moving forward life.
Finding Treatment in New Hampshire
There are many different treatment types available. You'll need to decide what's best for you. Will you require medication assistance? Do you prefer a faith-based program or maybe a gender-specific program? Those exist too. Does your insurance cover treatment?
We can help you answer these kinds of questions. We invite you to contact our skilled professionals to help you decide, at no cost to you. When you call, you will speak to someone who has been through treatment themselves. They can assess your situation then help you determine what next steps you should take.
Quick Facts:
Data indicates nearly 32,000 people have abused illicit drugs in New Hampshire.

It is normal to feel overwhelmed when trying to enroll into rehab. But do not let that feeling win. That is what your addiction wants, you can start fighting back today.
Should I Travel for the Best Addiction Treatment?
This is a personal decision. Some are concerned about the challenge it proposes for family and friends with whom you'd like to receive a visit. Others see nonlocal treatment as ideal because they are far-removed from old triggers. Staying close to home allows for someone to fall back into their old ways after treatment.
Usually those who travel for treatment see very good results. Addiction can narrow your perception of life, and convince you that getting loaded is all there is to life. A temporary change in your surroundings can help rebalance your perception.
It can be hard to see how people can live their life without getting high every day. In the long run, skipping town for a while to better yourself might be the best thing you can do.
Can Intervention Really Help?
There are many enjoyable things in New Hampshire, from fresh snow and vibrant autumns to maple syrup and mountains. Despite all the beauty to be found, however, some find less healthy avenues of excitement. Addiction is no discriminator of people or situations.
If your friend or loved one suffers from addiction, please don't be idle. Your loved one is going through an extremely difficult period in his or her life and may not even realizing he or she has an addiction. Love and support from you and others are going to be critical in getting him or her through this.
Call today and get the help your loved one needs. Addiction is progressive, which means it will not get better without help. To speak with a professional interventionist, call today (866) 578-7471.
The Core of Recovery
When living a life of recovery, finding new activities and hobbies is an essential part of aftercare. Fortunately, New Hampshire has plenty to offer those seeking new, healthy experiences free of the influence of drugs or alcohol. With fresh snow, vibrant autumns and the state's famous maple syrup, there are all sorts of things to enjoy in the outdoors.
Contrary to what some believe, recovery is not another stage of rehab, or a goal to be reached and then disregarded. Recovery is a manner of living, free from addiction. Without the chains of addiction, these people are free to live long, healthy, happy lives.
Addiction creates a vacuum in a person's life. Recovery is about filling that vacuum with healthy and worthwhile pursuits; family, friendships, hobbies, and careers.
How Do I Know Treatment Will Work for Me?
Making the decision to go through treatment is nothing short of deciding to turn your entire life upside down. It's understandable to want to know if it will work. There are ways for you to increase the effectiveness of your treatment.
Effective treatment will address your specific needs, not the needs of everyone that suffers from similar substance abuse problems. Determining what caused the addiction in the first place and treating the root of the problem must be done to ensure long-term effectiveness.
Your underlying issues must be approached with treatment. Speaking with your medical professional upon enrollment can help you determine that you will receive what you need. Our addiction specialists can also help you determine the most effective treatment approach for your needs.
Recovery Programs in New Hampshire
Several recovery programs call New Hampshire their home. In fact, there are so many, it might be tough to narrow down your options for the best treatment center for you. The range of options can be overwhelming sometimes, but you shouldn't avoid making a decision.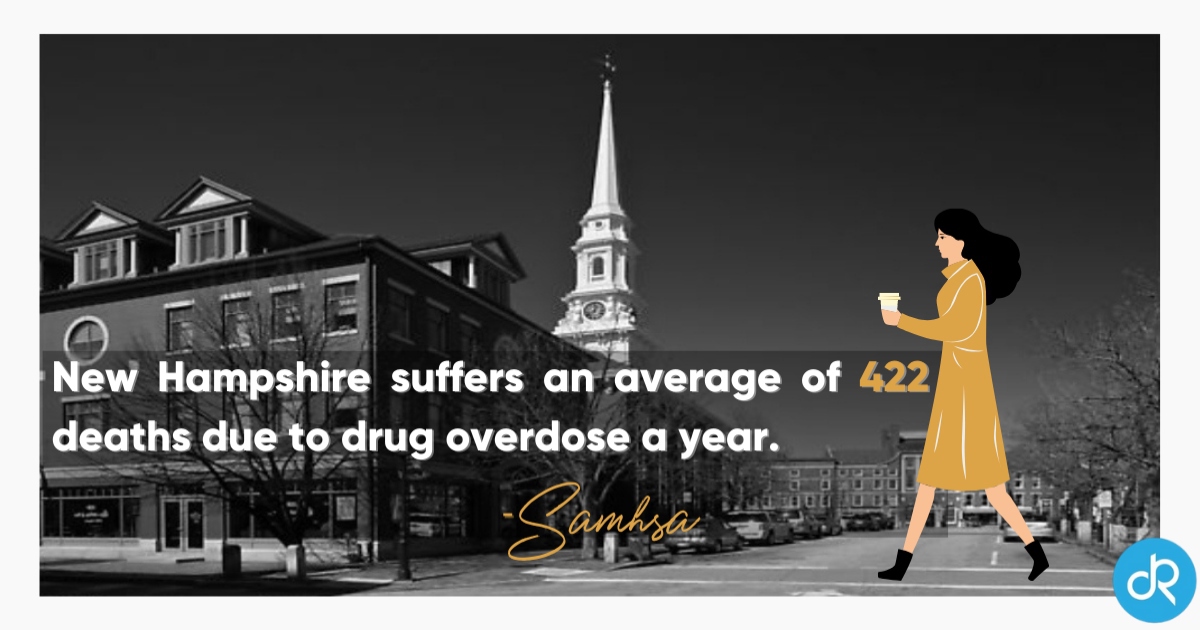 Quick Facts:
In 2015, New Hampshire suffered 422 deaths due to drug overdose.

Untreated addiction usually leads to terrible consequences, so where you go to treatment can be a vital decision in your life. If you become unsure and need help choosing, or if you have any questions, we are available to help you.
We can help you find the program you are most comfortable with and be sure that the one you choose will take your insurance or other means of payment. Contact us today and we will guide you in the right direction. It's what we're here for.
"Recovery is a lifestyle that I now welcome with each new day"
Recovery is about more than just not using substances. Recovery is about living life each day, trying to be a better person than yesterday. Every day brings challenges and opportunities to grow. Call today to start your journey to recovery.
How Did I Get to This Point?
Many people who suffer from a substance abuse problem stay quiet in the shadows of their addiction instead of getting the help they need. They feel guilty and embarrassed about being so weak to have been put in this situation in the first place. These feelings are unnecessary and unhelpful. Drug addiction and alcoholism are diseases. Like any other disease, you can think of, it requires professional medical attention in order to recover from. There is nothing to be embarrassed about. Do not let your addiction keep wining but making you feel that you are past the point of help.
Every year millions of people refuse to seek help for their substance abuse disorder. Prison, rehab or death are the only ways to stop the cycle of addiction. Rehab is the only safe and logical way to recover from the situation that your addiction has put you in. It does not matter which substances you abuse and for how long you have been abusing them. The hardest step of the recovery process is to admit that you need help. It takes a lot of courage to come forward. If you are sick and tired of being sick and tired, then you need to call us now. We will have someone guide you through the beginning of the process. It does not matter what state you are in or what state you want to complete your treatment in, we can help you find the right facility.
Is There a "Cold Turkey" Way to Get Sober?
While it is possible, it is not recommended that people try to sober up cold turkey. People who try to cold turkey often have a hard time tackling both the mental and physical aspects of their addiction. Thus, they tend to give in and go back to using drugs just to feel normal. Trying to break a chemical dependency to drugs or alcohol alone can also be dangerous. When you try to stop using, you will experience withdrawal symptoms. These symptoms can cause a great amount of pain and discomfort. To stay safe and healthy, it is strongly recommended that you enroll into an inpatient detox center to break the bond that your body has developed to the substances abused.
How Do I Know Rehab Will Work for Me?
Considering the only other choices are death and prison, rehab is the logical solution for your substance abuse problem. You cannot go into rehab thinking that it is a cure. There is no cure for your addiction. But there is a way to live without having to be under the influence of drugs and alcohol. Completing a rehab program will allow you to realize that it is possible to feel happy without getting loaded. Rehab is not easy, so it takes being in the right mindset. Once you come to terms that there is no way to control your drug or alcohol use. We are here to help prove to you that sobriety is possible. Let us assist you in helping yourself.
Why Choose Inpatient Over Outpatient?
The main reason someone should choose inpatient treatment is because it can go more in depth. Everyone enters the recovery process with different needs to recover from their substance abuse problem. With that said, inpatient programs can give you the one-on-one care that you need to cope with your addiction. Inpatient treatment also provides living accommodations to clients so you can get away from your current situations. There are probably people and events that trigger your addiction every day. If you stay at the rehab center, you can get away from all of that while you work on yourself.
Inpatient rehab puts you through intense therapy sessions with trained therapists who can help you see why your actions were so bad when you were using drugs and alcohol. Looking at your substance abuse problem from the outside can help you understand which past events or trigger set your addiction off. This is powerful information moving forward because then you will be able to realize when those triggers are building and you can avoid using drugs and alcohol after rehab is complete.
Getting Help to Find the Right Addiction Rehab
Choosing the best addiction treatment for you should include many factors. Is the facility an inpatient or outpatient? Can you afford it or will your insurance pay for it? Is it based in religious beliefs or holistic beliefs? Does the location work for you? All of these things are important and this seems like a lot to think about, but don't be discouraged.
A full continuum of care offers the best chances of success. Treatment centers accept many types of insurance and often offer financing. Some people respond better to a religious approach than a secular one. Traveling for treatment can give you better chances of staying focused.
Our addiction specialists can help you find your best answers to these questions. Call today to discuss your options and begin your recovery.
How Do Substances Affect the Pregnant Women and Their Babies?
Substances, both legal and illegal, can have negative effects on the fetus as they are transferred from the mother. The National Institute on Drug Abuse, reported that Nicotine and Cocaine have been connected to premature births and low birth weight. Some substances like Heroin can lead to the newborn having a dependency, which requires delicate treatment.
Pregnant women require specialized care to treat their addictions. It is important to find a facility equipped to handle these specific challenges. In addition to treating substance abuse, pregnant women must also protect the health of their unborn child.