Phillip H. Anselmo, the lead vocalist for Pantera, has recently publicly apologized to the public with a YouTube video as well as apologizing to his bandmates for an incident that occurred last month at the annual Dimebash, a concert that is put on in memory of late Pantera guitarist Darrel "Dimebag" Abbot.
Phil Anselmo's Behavior at Dimebash Concert
At the end of Anselmo's performance, where he was joined by several big-name musicians, including Nirvana drummer and Foo Fighters frontman, Dave Grohl, the former Pantera singer shouted what seemed to be "White Power" following a Nazi salute.
According to the vocalist, it was an "inside joke" as a result of him along with long-time friends drinking white wine backstage.  Anselmo, to nobody's surprise, was heavily intoxicated during his performance.
After receiving much criticism for his actions, including an eleven-minute video by Machine Head member Robb Flynn, Anselmo released a public apology on YouTube, saying that he was "a thousand percent apologetic" to all who took offense.  He followed with a plead for forgiveness.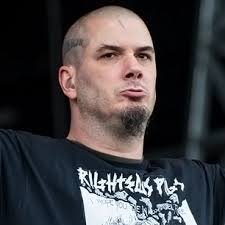 Shortly after this video was released, Anselmo's powerhouse metal band, Down, received notification that their concerts at two different venues would be canceled, including a show they were set to do in their hometown of New Orleans, Louisiana.
As a result, Anselmo also released a letter on his website, addressing his bandmates, suggesting that they move on without him.  He said that they should not suffer because of his repulsive actions. He also openly admitted in the letter that he had been going overboard with his boozing.
Anselmo has had an extensive history of substance abuse.  He struggled with heroin addiction for many years while Pantera was still an active musical act, along with several years after the platinum-selling metal band was dismantled due largely to Anselmo's chemical dependency issues.
Phil Anselmo Moving Dorward From Substance Abuse
The good news is, Phil has openly addressed his problem with alcohol, and has made a promise to take the necessary steps to overcome this impairment.
Luckily for him, and many others that suffer from the same medical affliction, treatment is in abundance nation-wide.  Thousands of people have pulled themselves away from the grips of addiction, and Phil can too.