Shantal grew up surrounded by her father and his friends rather than other kids. She enjoyed being around the hustle and bustle of the adults and was exposed to drugs and alcohol at a very early age. With two parents battling addiction, Shantal had a tough childhood. At three years old, Shantal's father was sent to prison. Her mother went through a string of bad relationships and she was shuffled around frequently. Eventually, a family member sexually abused her which dramatically affected her life without her even realizing it.
Nothing happened to the relative and it was kept quiet throughout the family for years. This made her fearful throughout her childhood because she thought that people could do things, and nothing would happen to her. Feeling insecure and alone, she ended up making poor choices later in life.
After being shuffled around for many years, Shantal went to live with her grandparents on a regular basis. They provided the best home for her that they could, and she loved them dearly. Shantal didn't realize how strong of a family she had or how much they loved her until later in life. She rebelled the way other teenagers did, but then took it to the next level by actually starting to not only use drugs but also selling it. She was more worried about surrounding herself with her friends than abiding by her grandparents' wishes. This is when things started to take a turn for the worst and her life began to spiral out of control.
When Addiction Started
Most people start off dabbling in marijuana or alcohol when their drug addiction starts, but Shantal was different. She started using meth as her first drug of choice at 14 years old. While running around with her cousin she was exposed to meth by people in the neighborhood. After one hit, she knew that it was going to be something that she was going to be doing for quite a while.
Shantal and her father fought a lot because she wanted to be independent. After many bouts of breaking the law, she spent much of her teenage years in and out of juvenile hall. When she wasn't locked up, Shantal would run around hanging out with the wrong crowd and doing illegal activity. At 17, she was committed to the Department of Corrections until she was 18. At 18, she was released, and she stayed out of trouble for the next 5 years.
At 23, she was arrested for a DUI and charged with six different felonies. In the vehicle, there was a minor who was not properly secured in the vehicle and she also had a slew of illegal items in the vehicle. That completely changed her life because once she had felonies on her record, it hampered her ability to do many things. She was put on probation and had already been through it, so she wasn't looking forward to it again. She was still using and ended up running again because she didn't want to get caught using again.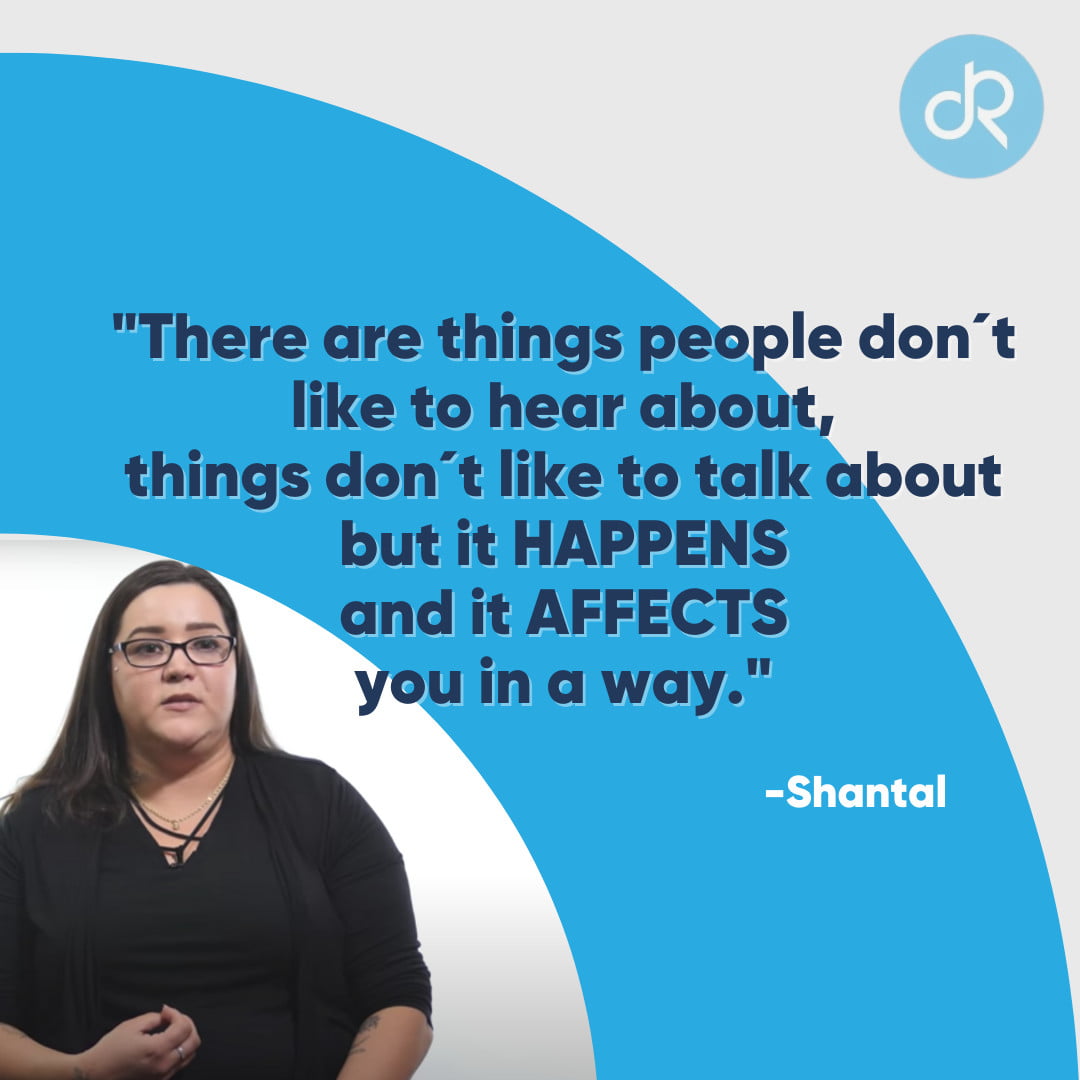 Further into Addiction
In 2015, Shantal was honest with her probation officer that she couldn't stay clean on her own. She tried to hold herself accountable, but the probation officer didn't offer the help that she needed. She got married and was still using. She was on intensive probation when she got married. She was able to pass drug tests through any means necessary. Eventually, she was able to stay clean for long enough to get her CNA but that only lasted a short time before she started using again.
Shantal went to prison in 2017. While in prison, her mother passed away from suicide. She didn't believe that her mom actually committed suicide. She suppressed the pain of losing her mom. After she got out of prison, she found out that her grandparents were very sick. She had a strong relationship with them and viewed them as being her only support system. She moved back in with them and brought her grandfather out of a nursing home where he was getting the care that he needed. She served as their full-time caregiver, while still using drugs on a regular basis. On her grandparents' death bed, she promised to take the Lord into her heart and told them she would start getting help for drug addiction and get clean.
After her grandparents died, she started to see things that she had never seen before. She went crazy. Everyone disowned her because of how close she was with her grandparents. During the three weeks that she was going crazy, she realized that something was wrong, and she needed help.
Read More about Meth Addiction, Click Here.
Finding Hope
When she went to visit her probation officer, she was arrested on the spot because she thought that she was using again. She had been clean for three weeks from her drug addiction and was so fearful to go back to jail. She faked a seizure while in the police car and was taken to the hospital. While in the bed at the hospital, she surrendered to getting help for drug addiction. She prayed for family and God to help her be able to fight for herself. She knew if she went to jail, she wouldn't be able to get the help that she needed. The police then walked in, removed the handcuffs and walked away.
She then hitchhiked to get a ride to a friend's house and got high again. She got the worst high she ever had. She called her husband and had him come pick her up. The next morning, she called her probation officer and found out that there was a warrant out for her arrest.
After everything was said and done, she got into a halfway house called TLC for a week. She then got transferred to a treatment facility where she tried outpatient treatment. She still got high every day after leaving. Eventually, she had to go to inpatient treatment for sixty days and outpatient for three months. She was able to get clean from her addiction finally. Her husband stood by her with her father. They were her support system during this tough time. Completing treatment for drug addiction was easier for her because she knew what changes she wanted to make. She now has a great life with her friends and family by her side.