Last Edited:
August 24, 2020
All of the information on this page has been reviewed and certified by an addiction professional.
Let's be honest; the cycle of addiction is real and difficult to break. The overwhelming stress of kicking the habit, only to start using again can lead to hopelessness. The good news is that help is available.
Getting professional help equips you to cope with stress without drugs and alcohol. Treatment for your addiction is the key to a new life and a broken cycle of addiction.
5 Steps to Breaking Free from the Cycle of Addiction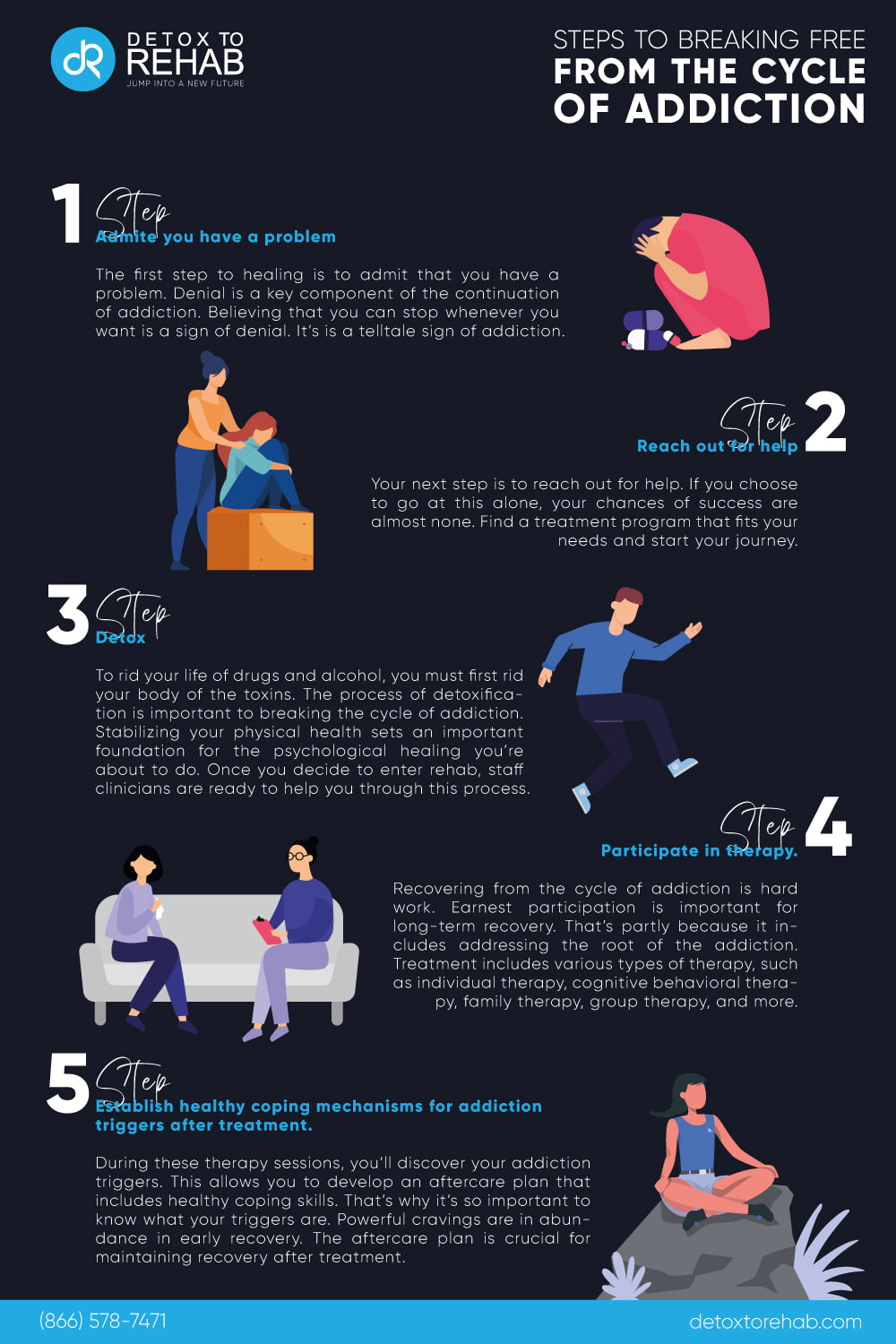 Admit you have a problem.
The first step to healing is to admit that you have a problem. Denial is a key component of the continuation of addiction. Believing that you can stop whenever you want is a sign of denial. It's is a telltale sign of addiction.
Reach out for help.
Your next step is to reach out for help. If you choose to go at this alone, your chances of success are almost none. Find a treatment program that fits your needs and start your journey.
Detox
To rid your life of drugs and alcohol, you must first rid your body of the toxins. The process of detoxification is important to breaking the cycle of addiction. Stabilizing your physical health sets an important foundation for the psychological healing you're about to do. Once you decide to enter rehab, staff clinicians are ready to help you through this process.
Participate in therapy.
Recovering from the cycle of addiction is hard work. Earnest participation is important for long-term recovery. That's partly because it includes addressing the root of the addiction. Treatment includes various types of therapy, such as individual therapy, cognitive behavioral therapy, family therapy, group therapy, and more.
Establish healthy coping mechanisms for addiction triggers after treatment.
During these therapy sessions, you'll discover your addiction triggers. This allows you to develop an aftercare plan that includes healthy coping skills. That's why it's so important to know what your triggers are. Powerful cravings are in abundance in early recovery. The aftercare plan is crucial for maintaining recovery after treatment.
What Are Healthy Coping Mechanisms?
Healthy coping skills help our mind and body maintain good habits. This is crucial to breaking the cycle of addiction in recovery.
During your time in rehab, you will have the opportunity to build friendships with your peers. They often become lifelong relationships that will be a part of your support group after treatment.
People commonly use drugs and alcohol to relax or reward themselves. The right rehab facility will help you learn new ways to relax. You will gain a new set of tools to reward yourself for an accomplishment.
Therapists encourage patients to use exercise as stress relief in difficult times. Many graduates find that it's an effective way to get out frustrations that could lead to a relapse. You can substitute the feeling of a high with the feeling of accomplishment. In fact, exercise produces similar chemical reactions in the brain to substance abuse. In other words, they both produce feelings of joy.
Other healthy coping mechanisms include journaling, meditating, and gaining a new sense of self. Research has shown that when we write down the events of our day, we can gain a better sense of what is happening in our lives. Meditation can help you relax and focus on the accomplishments you have made.
How A Rehab Facility Can Help You
A rehabilitation facility is equipped with the professional staff you need to break free from the cycle of addiction. Clinicians are available to monitor you, as your body undergoes detoxification.
Counselors and therapists are there to help you recognize the causes of your addiction and teach you ways to cope with those issues. A rehab facility offers activities that enable you to build new friendships and bond with people just like you. These bonds can be vital to your future without drugs and alcohol.
Conclusion
Breaking free from the cycle of addiction is not impossible. Once you accept that you need help, contact a facility. Then, you can begin the work of changing your life. Take this time of recovery to examine the person underneath the pain of addiction and start the healing process.
This is your life and the time to take it back is now. Be the person you always wanted to be by breaking the chains of addiction.