Last Edited:
September 24, 2020
All of the information on this page has been reviewed and certified by an addiction professional.
Find Addiction Treatment in The Centennial State
The state of Colorado has so much to offer for the people who visit, as well as those who call it home. With its beautiful mountain views, national parks, historic monuments, hot springs and more, anyone in Colorado can partake of the joys it provides.
In This Article
However, with drug and alcohol addiction growing across the nation, some residents addicted to mind-altering substances undeniably need help. With more microbreweries, per capita than any other state, and the recent legalization of marijuana for recreational use, it may be even more critical for someone who is struggling with a substance abuse problem to get help in Colorado.
Addiction and alcoholism are diseases. Like any other disease, addiction requires professional medical attention to recover from. Attending rehab is the best way to reach sobriety and to get back your life. Let us help you discover a rehab program that will help you change your life for the better. If you are ready to start taking steps in the right direction, then call us at (866) 578-7471.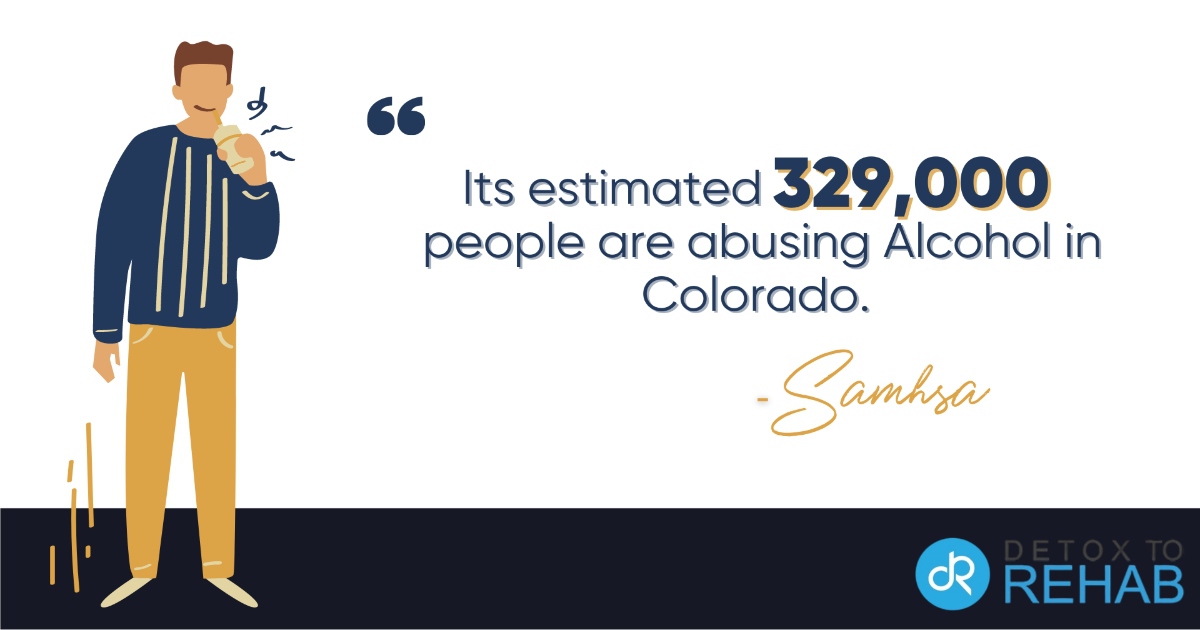 Quick Facts:
Its estimated 329,000 people are abusing Alcohol in Colorado.

Substance abuse is a growing problem in Colorado, but there is a solution. Completing rehab stint can start you on the path to better your life. Call us today, we will assist you in finding help. Remember that you are not alone, in Colorado or not, there are millions of people going through the same thing. Don't get discouraged help is one phone call away and recovery is around the corner. Call and we can help get you in the perfect place for you.
Best Colorado Treatment Centers
Colorado Inpatient Rehab Facilities
Colorado Outpatient Rehab Centers
Colorado Sober Living Houses
Colorado Drug & Alcohol Detox
Detox is the crucial first step after deciding that you need help. It's here that your body purges itself from the toxins of the substances you were abusing. Because your body is used to the substances, detoxing can become dangerous if not monitored under medical professionals.
Symptoms include restlessness, anxiety, nausea headaches, among other symptoms are all likely to occur. Therefore, it's important to undergo detox in a facility. Often, the medical professionals overlooking you may administer medications to ease the symptoms.
Detox might not seem like an ideal situation, but with the proper help you can get through it and move on with the recovery process. Trying to detox on your own is dangerous. Call now to find the right detox center for you.
Colorado Drug & Alcohol Rehab
Rehab is a step that focuses on your mind and emotions. It helps get to the bottom of your drug or alcohol abuse by uncovering the issues that may have caused you to start drinking or using in the first place.
Rehab is not a cakewalk; it requires a lot of time and effort to get through a program. By putting yourself in the right environment with the right help can allow you to realize that sobriety is possible. It is time to come out of the shadows of your addiction and get back to living life on your terms.
Do not let your addiction win. Whether you prefer a holistic or a more traditional approach to your recovery, we will help you find the best treatment for you. Give us a call at (866) 578-7471.
Finding Treatment in Colorado
It can be hard to picture yourself living any other way than the way you are right now. But if you are serious about getting better, then now is the time to act. There are a plethora of rehab facilities to choose from. No two are the same, as everyone is different.Now is the time to act if you are serious about finding treatment for an addiction.
From faith based, to psychotherapy, drug replacement therapy, dual-diagnosis and much more. There are numerous treatment resources that will accommodate your choices and lifestyle. We want to prove to you that it is possible.
If you are wondering how you would determine which rehab suits your unique needs, use the search tool above to browse available centers in the area of your choice or give us a call at (866) 578-7471. We can help determine which rehabs take your insurance and most closely align with your ideals, needs and general preferences.
Traveling for Treatment
To complete treatment successfully, it is vital that people have the option to travel for their treatment. Traveling allows one to recover away from the people and places that once galvanized them to abuse in the first place.
Quick Facts:
A 2013 report indicates that 128,000 people are abusing illicit drugs.

Traveling for treatment allows you to escape from the bad situation you are in. It is hard for you to see yourself living without drugs and alcohol because, right now, that is all your life revolves around. Give yourself some time and space from the people and situations that enable your drug and alcohol intake.
The farther away you are from the things that trigger your addiction, the easier it will be to focus on what must be done. Traveling someplace else might be the best option for you. Call today to learn more.
Intervention Saves Lives
CColorado is a hotbed for substance abuse, with addictions to Meth, Heroin, and prescription drugs rising between 2013 to 2014. If you've noticed your loved one becoming dependent on a substance, and they're in denial, then perhaps an intervention is right for you.
Conveying your message from a place of love and concern is important, and a professional interventionist can help make sure it's handled properly. An interventionist can help answer questions and alleviate any concerns. Remember, your loved one needs your love and support, not anger finger pointing, to get them through this. A specialist will help convey your message.
However, assistance is just as readily available, so don't lose hope. Call us at (866) 578-7471 to speak to a professional interventionist. We can help you save your loved one's life today.
Aftercare in Recovery
With cannabis now legal for recreational use in Colorado, some people may find it more difficult than ever before to lead a life of recovery. These sorts of temptations are why an aftercare program is so important to anyone coming out of rehab and back into the real world.
Aftercare is the plan you create after you've left the treatment facility. Meeting groups can be a big help in recovery with many fellowships out there, like Alcoholics Anonymous. Another option is to enter a sober living facility after rehab. It offers the structure of a treatment center while still being out in the real world.
Aftercare is crucial to your recovery; treatment doesn't stop after rehab. You must continuously work to live a clean and sober life. Aftercare is crucial and should not be forgot about.
Colorado Residents and Drug Abuse
Many magnificent things have happened in the state of Colorado, but it isn't immune to drug or alcohol abuse. Drug and alcohol abuse has a way of making itself prevalent where people are found. Fortunately, treatment options are a viable option. There are several treatment facilities available to you.
Millions of people struggle with addiction in the US every year. You are not the first to need help with a substance abuse problem. Countless people have been in situations way worse than you are in right now and they made a comeback. There is hope for you.
Let us help you narrow your options down to the ones that will allow you the greatest possible success. Give us a call at (866) 578-7471 to get started on your new, healthy lifestyle.
Get Help Now
Addiction is a disease without a cure, but effective treatment can help keep people sober for longer. We are committed to helping people find a detox and rehabilitation center that will promote a healthy lifestyle. One of the best ways to get help for an addiction is through inpatient or outpatient treatment.
Inpatient involves physical and psychological healing within a residential setting. Outpatient involves all the same things, but you don't have to stay at the facility. Inpatient has been proven more effective over the years because of how thorough the care is. Nevertheless, both treatment methods work well in helping people recover from addiction.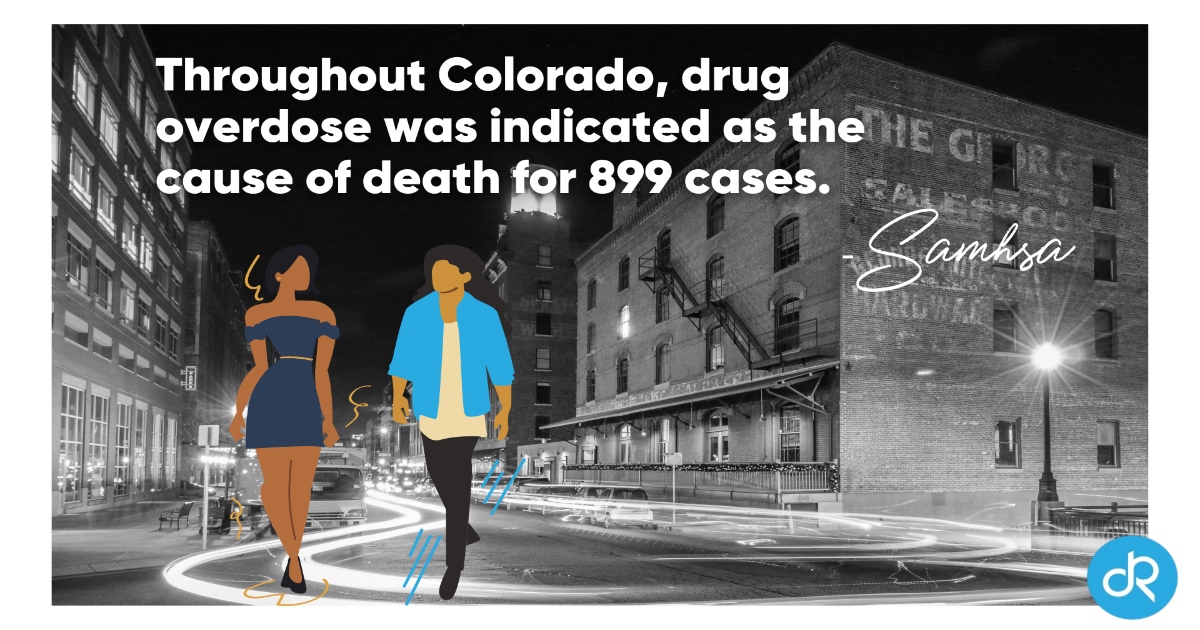 Quick Facts:
Throughout Colorado, drug overdose was indicated as the cause of death for 899 cases in 2014.

Don't let the hopeless feeling of substance abuse keep you from achieving your dreams. Everyday people can free themselves from the thralls of substance abuse, the next one can be you.
"Finding the right treatment option is crucial to your sobriety."
Treatment isn't the same for everyone; it's just as different as each person is different. There are many options available to choose from, from inpatient facilities to outpatient, to sober living and so much more. What works for one person doesn't necessarily mean it'll work for one. Finding the right method of treatment for you is crucial to your continued battle against addiction.
Don't Wait to Better Yourself
Knowing that there is a problem, and actively wanting to fix is an important step, but it can't be the only one. To truly begin the recovery process, you want to address what's wrong, and don't wait.
Working on Yourself
Reaching sobriety is an entire process. It starts with you admitting that you have a problem. The next step is to then give us a call. We will have one of our representatives who has gone through the recovery process listen to your situation. They will then help you map out the best course of action. It is normal to feel confused about how or where to start. If you call us we will help clear that up for you. There are numerous options for treatment in Colorado and the surrounding states. Coming forward to admit that you need help is probably the hardest part of recovering. There is hope for you, but only if you are willing to put in the time and effort. It can start with one phone call to someone who has been where you are now.
After you have all the info you need to make an educated decision on which rehab facility will work best for you. After you decide on which center will fit your needs, you will then undergo the detoxification process. In detox, your body will have the chance to clean itself out. Not consuming drugs or alcohol for the first time in a long time will allow your system to reset. During detox, you will probably experience withdrawal symptoms. Puking, shaking, loss of sleep, sweating and trouble eating are the most common withdrawal symptoms.
These symptoms occur because over time your body has developed a chemical dependency to drug or alcohol and will have hard time adjusting after you stop consuming these substances. Your body goes into shock for a few days, which is why you might experience puking, shaking, sweating, trouble sleeping and loss of appetite. Withdrawal symptoms are based upon which substances you abuse and for how long.
When your body is clean you can then move on to your rehab stint. In rehab, most clients go through in-depth therapy sessions to learn more about why they took to harmful substances in the first place. Working with a therapist can help you look at your situation from a different point of view so you can realize all the negative effects that drugs and alcohol on your life. You might get a better understanding of why you lost friends or why your family had to get some distance from you. Seeing your addiction form the outside looking in, you can then start to brainstorm ways to fix those relationships.
Talking about your addiction can also help you recognize triggers. Knowing what may set you off can be powerful information. Rehab does not cure you of your addiction. Rehab is geared toward getting you to live a happy and sober life. Learning how to deny temptation to use substances should be the main goal of rehab. Your addiction will always be there, wanting you to fulfill its needs and wants. One-on-one time with a therapist can help you learn that you do not have to get loaded just to function for simple tasks and activities.
Group therapy is another main component of most rehab programs. Addiction is at its strongest when the user feels misunderstood and isolated. Speaking with a group of people who have been in similar situations as you can help take those feelings away. In group therapy, you can realize that you are not the only one who suffers from substance abuse. Once you feel that there are people to connect with, you can talk about hard times with people who won't judge or criticize you because they have been there themselves.
Don't Wait Any Longer
Each day you continue to give in to your addiction is another day closer to death. Addiction does not care about gender, race or social standing. It can, and will, destroy anyone's life at any given time and kill them whenever it can. Do not feel that death or prison are your only options at this point. You can fight back against your addiction and get back to living a happy and healthy life. All you have to do is call us now. We understand you are skeptical about rehab because you think you are in so deep that there is no way out. Let us prove you wrong. We want to help you climb out of the lows that your substance abuse problem has put you in. Recovery is possible if you are willing to work on yourself.
Colorado & Drug Abuse Costs
Nothing in life is free, and unfortunately, neither is treatment. Fortunately, there are many resources that are available to help you get into the right rehab. From medical insurance, to sponsorships and loans, there are many ways to ease the cost of treatment.
The easiest route is going through your insurance company. Thanks to the Affordable Care Act, insurance companies must cover treatment, but sometimes, you might pay out of pocket. Fortunately, there are ways to help, like scholarships or grants offered by the facility. Another way to pay, if nothing else works is by getting a loan.
Find the method that works best for you. Give us a call at (866) 578-7471 and we can start by looking together for the facilities that take your insurance, and go from there.
Recognize the Symptoms
Substance abuse problems are a hard topic to address. The friends and family of someone who has a substance abuse problem will generally be able to recognize the signs if they know what to watch for.
If you are concerned about a loved one, there are signs that you should pay attention to. At first, your instincts will generally tell you that something isn't quite right. Soon you might start seeing uncharacteristic things beginning to occur, such as: problems at work and school, deteriorating health or health issues, neglected appearance or poor hygiene, changes in behavior and issues with money management.
Substance abuse is a hard topic to breach, but it's an important one to address. If you suspect that someone you love has an addiction, it may be time to get some help.
Sources