Bam Margera Addiction and Now
An update on Bam Margera addiction now… he's pushing for life without alcohol and long-term recovery from addiction. Bam aka Brandon Cole Margera, 39, is a professional American skateboarder and tv star. He was born in the town of West Chester, Pennsylvania.
'I didn't officially start drinking until maybe 24 or 25… Then the Rockstar life and drinking spun out of control.' -Bam Margera, VICELAND
His parents, April and Phil Margera – American television personality have starred in several of his tv series. So, how much is Bam worth, really? Today, Bam Margera net worth is estimated near 50 million. Being particularly famous for his rebellious and daredevil nature, Margera has gone through many ups and downs in his career.
 Treatment for Alcohol Addiction
Formerly known from "Jackass," and professional skateboarding, Bam Margera heads to alcohol rehab once again. He announced his plan to go to rehab on a New Year's Eve Instagram post. "Off to alcohol rehab for the 3rd time…"
"Off to alcohol rehab for the 3rd time. I am hoping the term 3rd time is a charm is true…" Margera, 39, captioned an Instagram photo with his baby boy, Phoenix Wolf, late Monday night.
However, raised hope for Margera's' sobriety from alcohol was soon revoked for many. His initial willingness to go rehab for addiction treatment diminished in less than two weeks after admission.
Looks like his third time's charm in rehab came to an impulsive halt. According to CNN, after 10 days Margera leaves rehab. But that's not all. He felt inclined to post on his social media account, a hand-written letter explaining why he left alcohol rehab.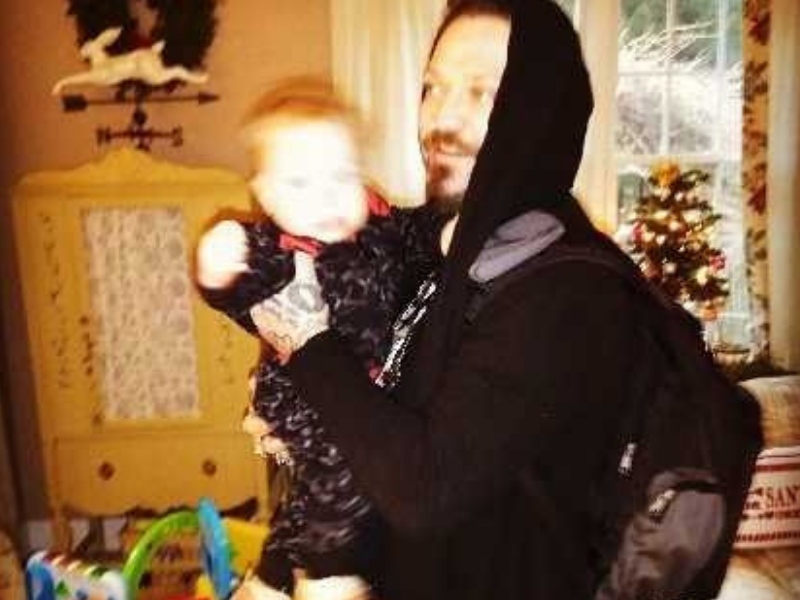 Instagram | @bam_margera
Family Therapy Dr. Jenn
After the death of his best friend, Ryan Dunn in 2011, he quickly lost control of his drinking. Margera wouldn't have a sober moment until his mother April Margera called for therapy in 2015.
In 2015, Bam Margera family therapy with Dr. Jenn helped him get a foot into sobriety. A TMZ article release from that October reads – 'he's 3 months sober, thanks to reality TV.' Later that year, Margera broadcasted his new life in sobriety on WMMR, crediting his longtime friends for his sobriety.
Unfortunately, relapse is an experience many people have and Margera was no expectation. Interviewing with Jenkem Magazine in 2017, he disclosed his relapse in 2016.
Up until 2017, Margera portrayed an appearance of having his life back in order. There seemed to be a significant decline in alcohol obliteration and public belligerence. By December that year, Margera announced the birth of his son Phoenix wolf. Not long after, he was enlightened with the hard truth of what battling alcoholism and addiction really entails.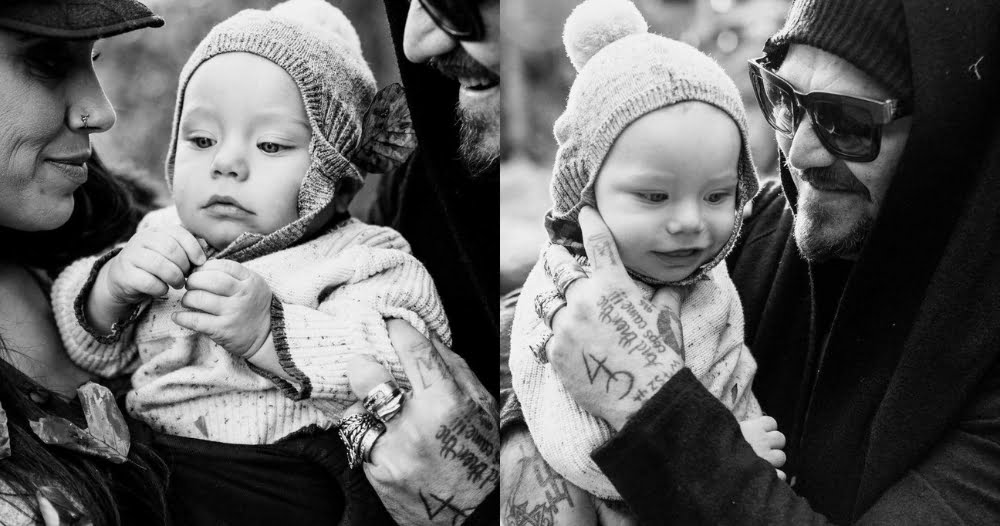 Instagram | @bam_margera
Court-Ordered Rehab
On January 7th, 2018, Margera was arrested for DUI charges in Los Angeles, CA. Following his arrest for driving under the influence of alcohol that Sunday morning, Margera went to rehab. Reports from Page Six indicate that his arrest led to a jail sentence. However, he was able to skate past serving time.
"Bam Margera just avoided jail time in his DUI case … instead getting probation, AA meetings and some fines and fees.."
Instead of going to jail, Margera got 3 years' probation. On top of that, TMZ states that law enforcement sources share that he was also required to go to a residential rehab program.
Margera isn't that only member of the Jackass cast to suffer from addiction. In fact, Steve-O and John Knoxville, among many others shared a bit of wisdom with their long-time friend. But that still wasn't enough.
Considering the nature of alcoholism, this should come as no surprise. For Johnny Knoxville drugs were a serious problem in his life at one point. And Steve-O, having faced and overcome his own issues with addiction explained to Margera that the road to come is not easy.
"Rehab is like a gym, just because you've got a gym membership doesn't mean you're going to get really fit. It just depends on what you do when you get there." – Steve-O
With that being said, Margera did go to rehab but his behaviors and legal troubles didn't change. Prior to his most recent Instagram posts, Margera claims to have relapsed after being robbed at gunpoint in Columbia back in August.
Facebook | @BamMargera
Against Medical Advice
Margera's plan to get sober in treatment was no doubt well-intentioned. However, well-intentions only go so far. Only 10 days after being in alcohol rehab, he decided to leave.
"I left rehab to begin doing all the things I have put aside…"
On Instagram, Margera posted a hand-written letter explaining the reason for bailing on his commitment. His note covers that he feels confident in his ability to stay sober from alcohol at home. To back his confidence, he explains that he doesn't require detox or medication-assisted treatment.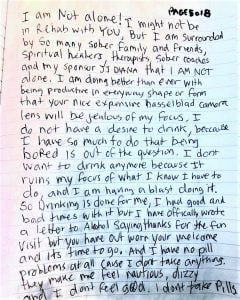 Instagram | @bam_margera
"I have spent enough time grieving over Ryan Dunn through alcohol," he wrote. "I'm 39 years old, the party is over, I don't plan on drinking anymore. I have wasted too much time at the bad and all my friends who needed decades of help are now all sober. I would like to join the sober parade."
Steve-O and Knoxville are not alone in his concerns about Margera's life. Another long-time friend and co-star Brandon Novak feels the same way. Novak is in recovery from heroin addiction and struggled to get where he is today. In conversation with TMZ, Novak expresses disappointment by Bam Margera's decision to exit rehab early. Those who loved him are unsure how to get to bam about the recklessness of addiction.
"Writing is one thing to do in rehab." – Margera, Instagram 2019
Sharing an eight-page letter on his Instagram page. He revealed his decision to leave the rehab facility because he prefers to stay sober on his own watch.
Margera also revealed that he wrote a letter breaking up with alcohol. "Thanks to the rehab, bye to the rehab … Now I realize that the party is over, and I want to say goodbye to alcohol for good so I can finish the mission I remember clearly what I am supposed to do here."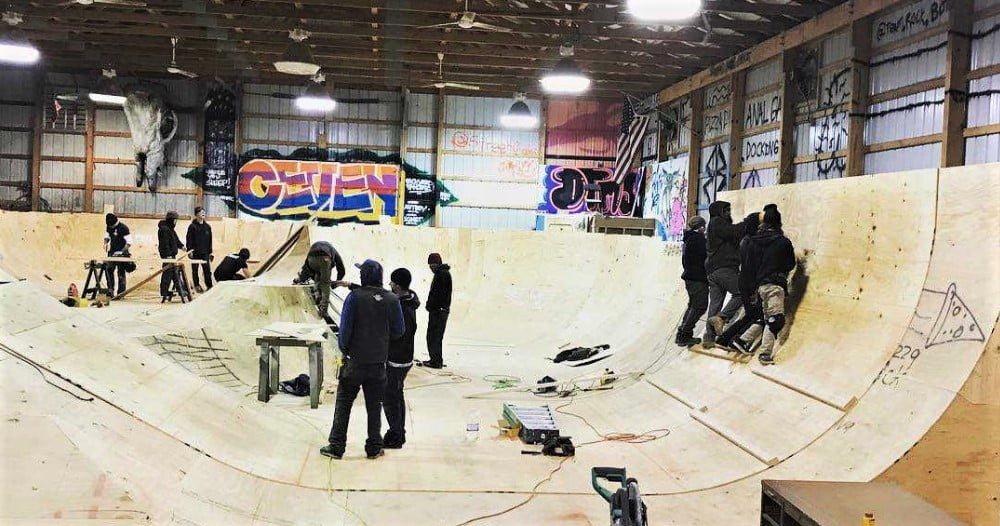 Instagram | @bam_margera
Life of a Pro Skateboarder
At 13 years old, Margera was recognized in the professional skater world. As a kid, he'd shoot amateur videos of him and his friends' unique skateboarding style and stunts. Eventually, these videos turned into the creation of a CKY video series.
The shooting of the CKY series took place in West Chester, PA. Margera received sponsorship from the company Toy Machine Skateboards in the late 1990s. This is where his skateboarding career began to take off.
"Actually, I've always wanted to be a professional skateboarder ever since I was about six."  – Bam Margera
A few years down the road in 2011, he became sponsored and part of the element skateboard team. Later to be sponsored by major brands such as Volcom, Destructo Trucks, Fairman's Skate Shop and Electric Sunglasses. Although Margera has come to retire from professional skateboarding, he will continue to ride under the day he dies.
Bam Margera Movies and TV Shows
Margera rose to stardom with the success of the mindlessly hilarious "Jackass" prankster films and spun those off into his own prankster show on MTV, "Viva la Bam", where his parents were the prime victims of his merciless pranks.
Margera was first noticed for his CKY skateboarding videos. After the CKY video series became successful, Margera received an offer to join a team, that'd soon become MTV's Jackass. Originally, the main cast members were Margera and his deceased best friend Ryan Dunn. Nonetheless, the other members of the CKY crew played various roles in the show.
The Jackass TV show was first released in October 2000 and quickly grew in popularity. The cast of Jackass consisted of well-known celebrities Johnny Knoxville, Steve-O, Jason Acuna, Chris Pontius, and several others.
"I skate all the time, but it's silly for me to do contests when MTV is giving me a boatload of money." – Bam Margera
As a result of the show's success, Margera and his crew took roles in Jackass: The Movie and Jackass Number Two. In October 2010, the movie Jackass 3D proceeded to break box office records.
With the end of the TV show Jackass, Margera was gifted his very own series, Viva La Bam on MTV. The American reality tv show ran its course from 2003 to 2005. This spin-off of Jackass released a total of five seasons on the air.
Margera career in film was not limited to Jackass and Viva La Bam. Over his years in the spotlight, he took part in various movies and tv shows. A few of the other movies that Margera appeared in are: "Grind,' 'Haggard: The Movie' and 'The Dudesons Movie.' His other noteworthy television hits include 'Bam's Holy Union' and 'Loiter Squad.'
Facebook | @BamMargera
Ryan Dunn Death
According to Margera, the tragic death of his childhood friend, Ryan Dunn, sparked an alcohol binge spree that caused his life to spiral out of control. Dunn, 34, was killed when his Porsche careened off a Pennsylvania highway.
Resulting in the vehicle crashing into a tree and exploding into flames. Toxicology reports showed that Dunn's blood alcohol level was over twice the legal limit. Driving under the influence of alcohol, Dunn was traveling at 135 mph.
Speaking of Dunn's death on "Family Therapy", Margera states,
'That just totally one-eighty-ed my whole everything…What am I going to do now? It just seemed like everything at one point just came crashing down…'
He continues, 'That's when it like wasn't even drinking for the fun or the social part of it, it was just drinking—total depression…I went on a drinking bender…my mom probably worried about me 98% of the day because she never knows what kind of call, she's going to get.'
Margera's childhood dream was to be a professional skater, it's all he wanted. When he and childhood friends, including Dunn, started making CKY daredevil skating videos as teenagers, it paved the way to his lucrative career with the "Jackass" franchise and his subsequent TV series.
"When you're drunk, you always think you're not. If you even drink at all don't get behind the wheel."
When asked by Dr. Jenn on "Family Therapy" what Dunn would want Bam to do now, Margera replied, "Exactly this." It's awful and pains to witness how the death of a person can shatter the life of one who still lives. As for Margera, this showed to be more destructive than anyone could've predicted.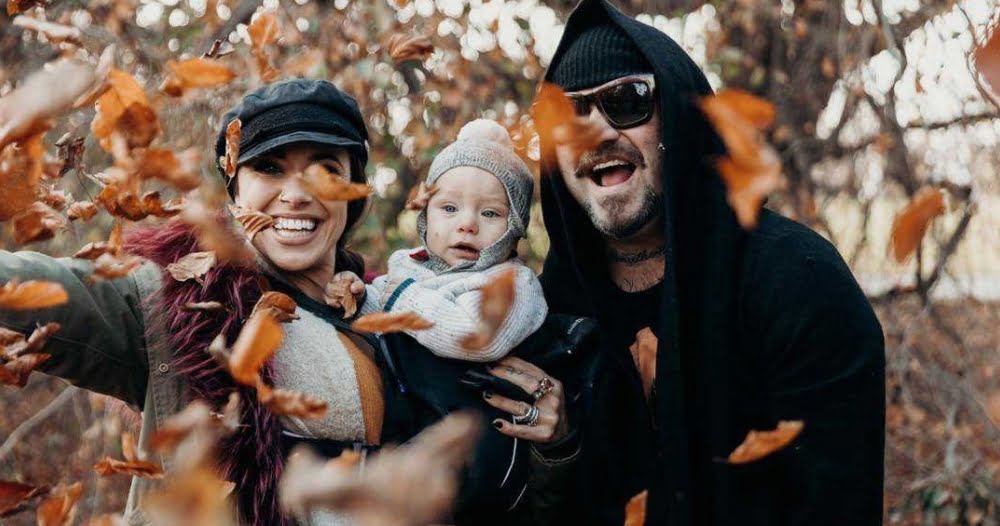 Instagram | @bam_margera
Alcoholism Effects on Family
April, Margera's mother, has supported his time in alcohol recovery and realized the severity of his life and death situation. Here's the thing – death is part of life. On that note, it's common to get to a point in life when we begin to think about the possibility of a loved one dying.
"If you had told me that I would have a drunk and suicidal son at any point, I wouldn't have believed you. I worry about him every day. When he gets really drunk and tells me he wants to not be here anymore, we feel this complete and utter fear." – April Margera
In a Viceland episode, Epicly Later'd with Bam Margera, the family opens up about his substance abuse and living with an eating disorder. On the show, Phil Margera disclosed that April was concerned after visiting their son in Spain. While visiting, she witnessed him drinking some wine at dinner, even though he's trying to walk a sober path. Despite all this, April still insisted, "He's fine, he's doing fine in Spain."
"He hasn't conquered drinking but he's still trying." – Phil Margera
The effects of alcoholism on a family are impressively harmful. The reality of Margera's drinking wasn't fine and deep down she knew. Only a few weeks after April's trip to Spain, he started "drinking until he was crazy." When someone we love has an addiction or alcoholism the effects are heartbreaking and often leave us feeling hopeless. Nonetheless, his father stays as hopeful as possible.
In addition to the negative impact drug and alcohol abuse takes parents and other members of the family, it proves to damage our intimate relationships as well. The question is – what can be done at times like this?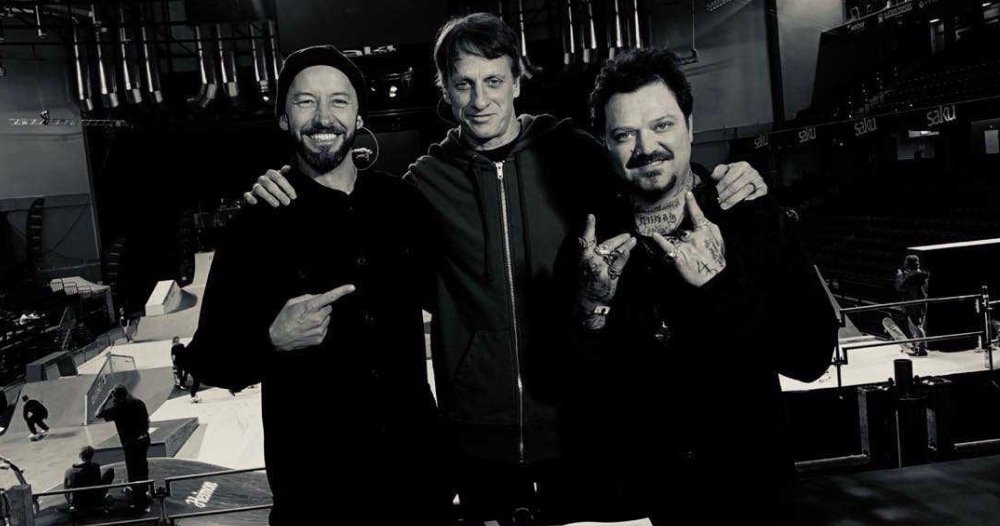 Instagram | @bam_margera
Bam Margera Sober
After several attempts of sobriety. Margera is taking another shot at joining the "sober parade." With the recent news on Margera flooding in the web, it seems that his actions are rather reckless.
On a side note, Just because your famous doesn't mean you're immune from or not allowed to have real-life human problems. In all reality, he could simply be in denial of the severity of his problem. As it turns out, denial among those with alcoholism and addiction isn't uncommon.
"Margera said he still plans to stay sober." – People Magazine
But who knows, everyone's experience reaching recovery from alcoholism is different. Anyway, the question here is, will Bam Margera stay sober for good this time? Or will he continue to relapse until he hits a 'real' rock bottom? What do you think?
April Margera Speaks for Family
Relapsing after his last stint in rehab, Bam Margera needs help staying sober and now he is asking for it. In a public post on Instagram Bam Margera reached out to Dr. Phil.
"I think for anybody who has any issues with substance abuse or alcohol, it affects an entire family, and of course we're no exception for that. It's a family dynamic that you have to try to work through. You never know what you're going to get." – April Margera Page Six
All the members of the Margera family current feel the state of turmoil and crisis due to Bam's drug use and alcohol addiction. For the family and Bam Margera health is of paramount importance at this time.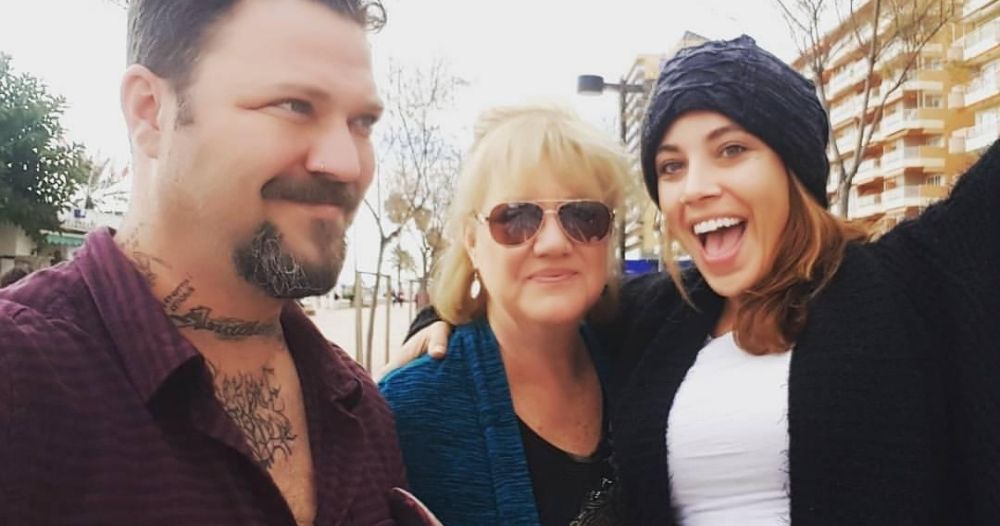 Facebook | @BamMargera
Continuing in the interview with Page Six, April Margera stated -"It's in epidemic proportions these days. Many families are going through it — not knowing what to do, when to help. There's hope maybe it'll fix itself. It ends badly sometimes. Every family doesn't want it to happen to them."
Bam Margera Now
On Bam Margera Instagram feed, he released videos asking the Talk show host, Dr. Phil for help. Hopefully, this public emotional break down is enough to give Bam willingness for sobriety and healing with rehab.
"Dr. Phil, I need your help in a big, big way," a distressed Margera said in his video post, rocking dark shades and a gold chain. "My family is in shambles. It's worse than it's ever been, ever." – Bam Margera Instagram Video
According to Entertainment Tonight, this Bam Margera intervention or self-imposed meeting with Dr. Phil took place in a one on one setting. After their meeting, the plan is to get Bam back in rehab for another attempt at recovery.
For Bam Margera rehab seem to be the last house on the block for him. He's made an agreement to get treatment at a residential rehab facility. However, this time is going to a long-term program. This program may or may not last anywhere from 60 to 90 days – only time will tell.
What about Kat Von D?
If you weren't already aware the famous tattoo artist and sober celebrity Kat Von D is over a decade in recovery. In a recent Instagram video post, Kat Von D visits Bam Margera in rehab. To make her message clear, she captions, "Getting sober was not easy for me." Turns out Bam's standing strong in his commitment to a 90-day rehabilitation program.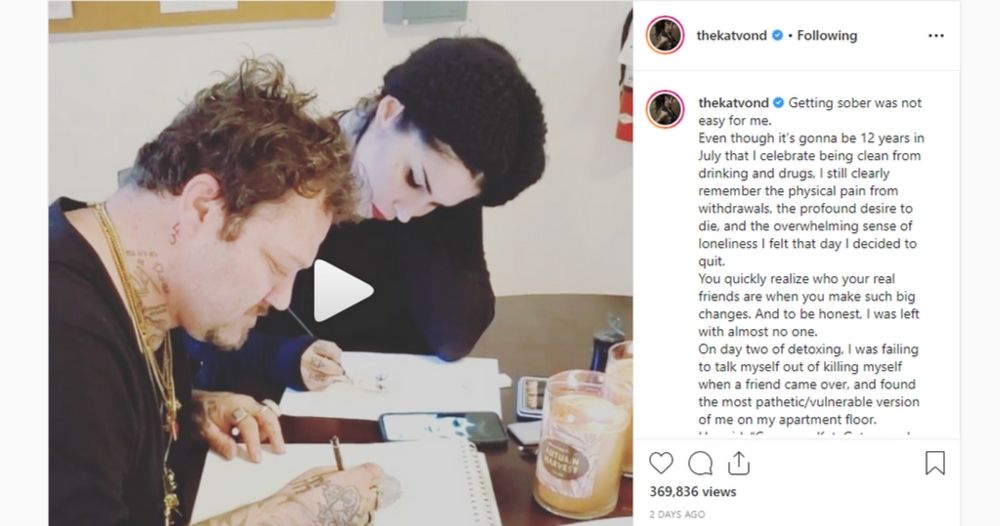 Instagram | @thekatvond
'On day two of detoxing, I was failing to talk myself out of killing myself when a friend came over… "Come on, Kat. Get up and let's draw." I managed to scrape myself up somehow, find a piece of paper and whatever pencils were laying around.' – Kat Von D Instagram Video
Kat expresses her personal struggles with drugs and alcohol and facing the reality of addiction. Regardless of who you are, getting sober and living a life in recovery isn't easy.
If you or a loved one is living with an addiction to drugs or alcohol get help. You don't have to live that way anymore. However, that is something that many don't understand or hear often enough. Addiction and alcoholism is a disease, not a morality issue. Stop letting substance abuse and addiction run your life. Reach out and get treatment – contact (866)-578-7471