Last Edited:
October 8, 2020
All of the information on this page has been reviewed and certified by an addiction professional.
Finding Substance Abuse Treatment In Wyoming
Wyoming is the least populated state in the United States with a total population of 586,107. It is truly a magical place, full of gorgeous mountain ranges, prairies, rivers and lakes. The scenery takes your breath away.
In This Article
Yellowstone National Park and Grand Teton National Park lay within the borders of Wyoming and are among the top tourist attractions in the state. The stunning snow-capped mountains set as a backdrop against emerald green rolling hills makes Wyoming perhaps the best kept secret in America.
No amount of beautiful views can prevent someone from falling into addiction. Addiction is a disease, not a moral failing, and should be treated as such.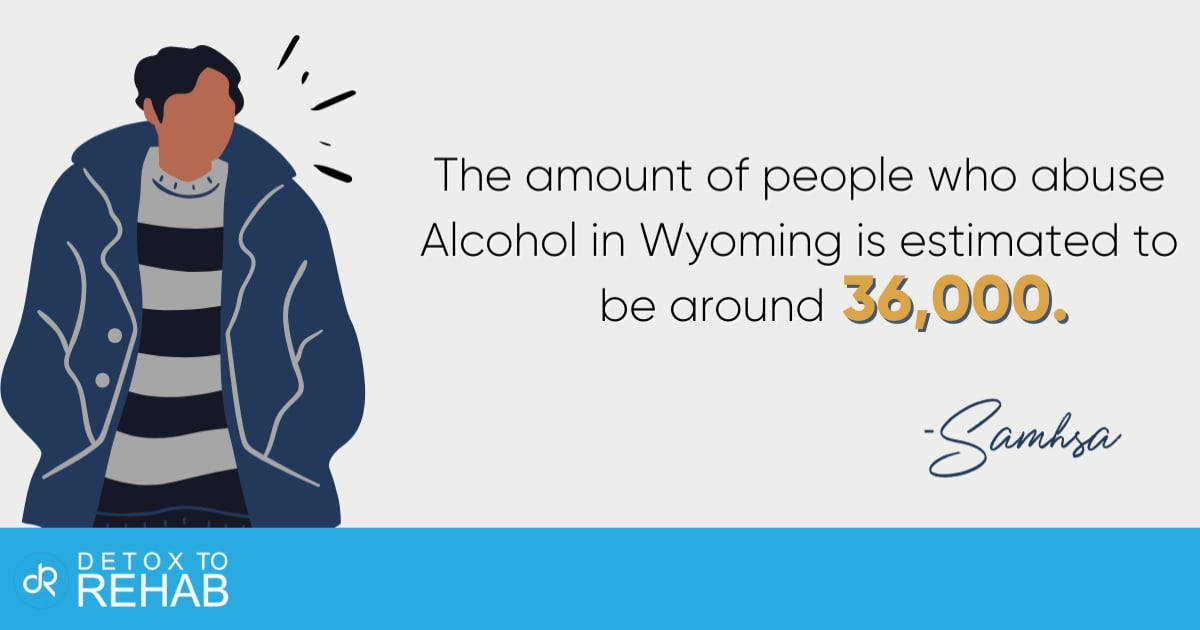 Quick Facts:
The amount of people who abuse Alcohol in Wyoming is estimated to be around 36,000.

The Center for Disease Control estimates that one in 10 Americans struggle with substance abuse. With staggering statistics such as this, people shouldn't feel too ashamed of their condition to seek treatment.
Addiction is nothing to be ashamed about. The strongest of people have fought and overcome their addiction. Many people have also fought and lost the battle because they didn't seek treatment when they needed too. Keep that in mind when you are trying to decide whether or not to get treatment. If you have any questions on how to go about seeking treatment give us a call at: (866) 578-7471.
Best Wyoming Treatment Centers
Wyoming Inpatient Rehab Facilities
Wyoming Outpatient Rehab Centers
Wyoming Sober Living Houses
Wyoming Drug & Alcohol Detox
If you are suffering from drug addiction or alcoholism the first step you will likely need to take is detox to cleanse your body.
Detox removes the toxins from your body but does not teach your brain how to function without these substances. Therefore, your brain doesn't know how to behave once it's left it its own devices. Detox is important but it's only the first step. You will need to move on to rehab for a successful recovery.
If you go to detox and do not follow it up directly with treatment in a rehab center, you are likely to fall back into old habits immediately. It will take time to get used to life without drugs and alcohol but it will be better than you ever imagined.
Wyoming Drug & Alcohol Rehab
Rehab is very important because it gives you tools to use when you are presented with a chance to drink, pop a pill or use other drugs in your normal, everyday life. Rehab also gives you the daily training you'll need to connect and communicate with people when you're not drunk or high.
You can find fun and happiness again and it can have nothing to do with drugs. Sound like it's impossible for you? You're not alone. The possibility is there. This is what rehab is for. The probability is there for you if you're ready for rehab.
If you are not sure if you are ready for treatment give us a call. We can work out treatment options and figure out if you are ready for this life changing event.
Quick Facts:
About 11,000 people in WY reported to be abusing illicit drugs.

Finding Treatment in Wyoming
Wyoming has treatment centers of all shapes and sizes. Now that you've decided that you may need treatment, you need to narrow down your options.
Start with what's most important to you. Do you need to find an affordable treatment center? Do you prefer a treatment center that focuses only on your specific needs such as an alcohol abuse only treatment center? Maybe you would prefer a faith-based treatment center? A 12-step program? Deciding on what's most important to you will allow you to narrow it down. Call us so we can help guide you in the right direction. Make sure to write down some questions that we can answer.
Should I Travel for the Best Addiction Treatment?
You don't have to stay in the same place when going to treatment. Traveling out of your hometown for a program offers one priceless benefit: removing all of the distractions from home during this difficult time.
If your connection is right around the corner or just one little phone call away, then you're constantly choosing between quitting and going back or staying and continuing to struggle. If you are states away from your triggers and every other distraction that being close to home has to offer, your chance for success is much higher. Taking the choice away oftentimes keeps people dedicated to their goal.
If you're serious about success, traveling to a treatment center far away from your hometown may be the best idea you've ever made for yourself and your loved ones.
Intervention is A Powerful Source
Wyoming is unfortunately the home of an ill-fated drug mortality rate. With 15 out of every 100,000-people claimed by drug overdose, Wyoming places 15th in the nation for drug-related fatalities.
This is a frightening thought for those with a loved one who has succumbed to addiction, but don't lose hope. Help is available. Speak with a professional interventionist and call at (866) 578-7471 so you can find the best method of intervention to reach your loved one.
It's crucial to remember that addiction literally rewires the brain to seek continued use, so the people in active addiction cannot control their addiction, nor can they stop by themselves. They're going to need your support and love so they can get through this and draw strength from. Call us now so your loved one can get the help they need.
Living in Recovery in Wyoming
When you have completed your stay in rehab, the fight is not over. You then enter the next stage: recovery. Recovery is a journey and it should never be treated as something you only have to do once.
While you were in treatment you would have met with your therapist to come up with a strategy for your aftercare. It's meant to help you stay in the treatment mindset even after you have left the facility. For those who feel they may not be ready to live on their own, there are sober living homes where you can stay. This is one of the best options someone just out of recovery can make, but we also know that some of the clients may already have a home to come back.
You can find a fellowship to join where you will be encouraged to follow the 12-step program.
What Does Addiction Treatment Entail?
Treatment is a broad term that encompasses a lot of different parts. Most people require some level of detox followed by inpatient rehab. During detox, medical professionals will ensure a safe detox and help reduce discomfort as much as possible.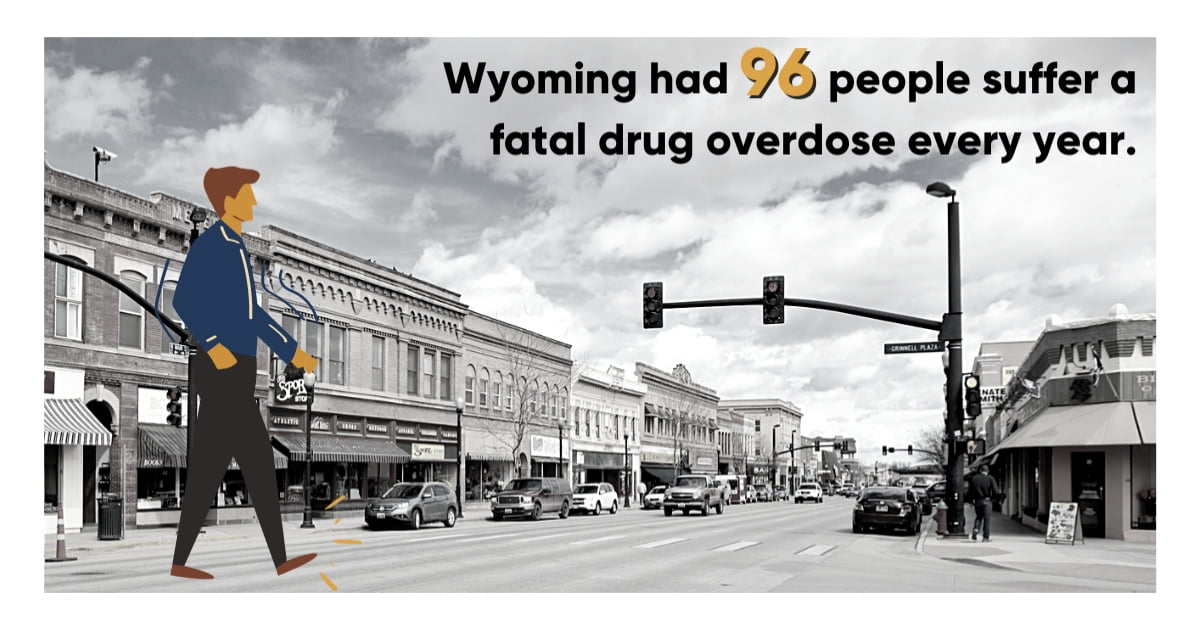 Quick Facts:
In 2015, Wyoming had 96 people suffer a fatal drug overdose.

During inpatient treatment you will receive several forms of intensive therapy, including individual, group and family therapy. Through these different methods, you will learn about the disease of addiction, work through difficult issues and arm yourself with coping strategies to better handle problems in the future. Outpatient therapy is the third step, during which you will continue therapies while you acclimate to your new life in sobriety.
If you are struggling with substance abuse, you are not alone. You are not responsible for your disease, but you are responsible for your recovery.
Are You Struggling in Recovery?
One of the most important lesson's one can gain from recovery is this: recovery is never easy. It is hard and it will push you to your limits. The reason for this difficulty is because you are changing yourself to something better.
After going through treatment, you will learn valuable tools and skills that will help you fight your temptations, addiction and relapse. One of the most important tools learned is when to spot a negative situation and walk away before the temptation has chance to strike.
However, if a relapse does occur- do not lose hope. Relapse does not mean you have failed. It is just a learning curve and you may need to go back into treatment. A relapse will teach you what not to do in the future. For more information on anything recovery related, give us a call. We are happy to help.
"Not everyone handles addiction treatment in the same way. "
Each and every individual is unique, which is why it's important to find the right approach to your recovery. What that means is, you first have to find out which detox and rehab center would benefit you the most, meaning that you need to do research and find one that meets your needs and expectations. This is because each Treatment center handles things a little differently. Another thing to take into account is whether you want to stay home, or travel somewhere else for treatment, and then after that, if you'll stay in a sober living house, or maybe just live on your own. The options are endless, all you need to do is find one that works for you.
Four Stages of Substance Abuse Treatment
Addiction is a disease that can put people in the lowest of lows. It takes a lot of courage for people to admit that they have a problem and that they need help. Many people who suffer from either drug addiction or alcoholism feel trapped. They think there is no way out because they cannot picture themselves not using drugs or alcohol.
The truth is, there is a way to deal with an addiction and get back to living a meaningfully happy and healthy life. Completing detox and rehab at an inpatient center is the only safe way to reach sobriety. While rehab is not easy, it is the safest and most efficient way to recover from an addiction.
Everyone has different wants and needs when it comes to seeking treatment for a substance abuse problem. So, there might not be any single treatment method that works on every single person, there is a basic outline that most people struggling with an addiction or substance abuse problem should follow:
Admitting might be the hardest step. It can be confusing, upsetting and overall extremely difficult to know when to enough is enough. Not knowing if you can even get the help you need, even though you need it can be scary. If you are ready to start taking the first steps toward reaching sobriety, then give us a call. All our intake specialists have been through detox and rehab. So, when you call you will be speaking with someone who has gone through a similar situation to what you are going through now. They will understand how you feel and will make things easier for you. Our representative will listen to your situation and then help decide on what to do next. We want to help you get enrolled into the right rehab center. If you have health insurance your treatment may be covered. If you are willing to travel for treatment, we can help you find an out-of-state facility. If you are unable to travel or do not have health insurance, you should still call. We can also help go over your options under those circumstances.
Once you have all of your arrangements squared away, you can enter the detoxification process. In detox, your body will be given a chance to clean itself from all the harmful toxins that have compiled in your body throughout your substance abuse. Unfortunately, during detox is when withdrawal symptoms reache their peak. Common withdrawal symptoms include: trouble sleeping, loss of appetite, puking, sweating and shaking. These symptoms can cause some discomfort and pain. In severe cases, symptoms can leave ever-lasting serious health side effects. To remain safe, comfortable and stable it is recommended that you complete your detox cycle at an inpatient facility. Having medical attention from doctors and nurses will make sure you remain on track to get through your detoxification as quickly as possible.
Once your body is clean of the toxins, you can begin rehab. It's in rehab that you will try to work through the mental aspect of your addiction. Substance abuse problems often rise from past events in our lives. Learning what your addiction's triggers are can be powerful information because then you will recognize situations that may push you toward relapse after rehab. You can achieve this feat by working with a trained therapist in one-on-one therapy. the therapist and you can explore how and why you used drugs and alcohol in the first place, then work on ways to relieve stress and sadness without using harmful substances. Most rehab programs also incorporate group therapy sessions into their programs. Group therapy is helpful because you can associate with people who understand what you are going through. Many times, our addictions become stronger when we feel isolated. Taking away the feeling of isolation by relating with other people can help you fight back against your addiction. You are not the only one who has a substance abuse problem, you can realize that in group therapy.
Lastly, and maybe most importantly, follow-up and aftercare programs. This step of the outline is ongoing. Detox and rehab is not a cure for addiction, but in rehab you will learn how to recognize and deny the lure of drugs and alcohol moving forward in life. Getting involved in aftercare programs, like AA and NA, are a fantastic way to keep focused on sobriety. These 12-step community meetings give those in recovery a chance to connect with one another. Your family and friends probably were all about you going to rehab, but they might not know what it takes to remain sober day-after-day. But sharing experiences with people who understand will help put you at ease.
The overall important message to understand is that you are not alone. Your addiction wants you to feel alone so that you keep feeding it. Sobriety and happiness are options for you. If you want to start down that road, just pick up the phone and call us now.
How Long Does Treatment Last?
Contrary to popular belief, all treatment isn't the same. It's dependent on the person; for some, it may only last a short time, while others can last up to a year. It's tough to rely on treatment ending in a particular time frame, as treatment can last as long as it needs to last.
There are 28-day programs and programs that will require your commitment for up to two years. At least stay in treatment as long as the program is designed for. You run the raised risk of relapsing if you don't complete the program you begin. If you're serious about success, make a deal with yourself to at least participate in the program until it ends.
It takes time to recover, you didn't become addicted overnight so you won't find recovery overnight. Just keep moving forward. You deserve to life a happy, joyous and free life.
I Can't Afford Rehab, Can I?
By the time you have reached this part of the page, you have probably already researched on different rehabs and how much they cost. With that being said, just like everything else in life, treatment centers require payment, and depending on the treatment, the price can get costly.
Don't despair just yet; you do have options. Many times, your health insurance will cover your rehab. Also, there are grants, payment plans and other options that may apply to you. There is treatment out there for everyone.
Keep looking and moving forward. There are many options available. We'll be happy to help you sort them out. Give us a call at (866) 578-7471.