Last Edited:
January 7, 2021
All of the information on this page has been reviewed and certified by an addiction professional.
Dangers of Crystal Meth Abuse
One of the more well-known street drugs is also one of the most dangerous drugs to abuse. Millions of people have an addiction to Crystal Meth; its power can be beyond devastating. Crystal Meth is a Central Nervous System Stimulant and is made by refining and synthesizing Amphetamines to form a crystal-like substance. The crystalized substance can be crushed and snorted, liquefied under heat and injected or smoked and is extremely addictive. Crystal meth also has devastating health implications, and it ravages drug-using populations. First cooked or manufactured in Portland, Oregon, Crystal Meth has quickly become one of the most abused drugs world-wide. It is a synthetic chemical and is commonly produced in illegal, hidden labs, mixing different types of amphetamines and other stimulants to boost its effectiveness. Meth can be bought almost anywhere in the country. Many people who have an addiction problem do not even realize it. If you or loved one is having to use absurd amounts of meth just to function through the day, then call us now. We can help you find a rehab center that will make it its mission to help you recover from your substance abuse problem.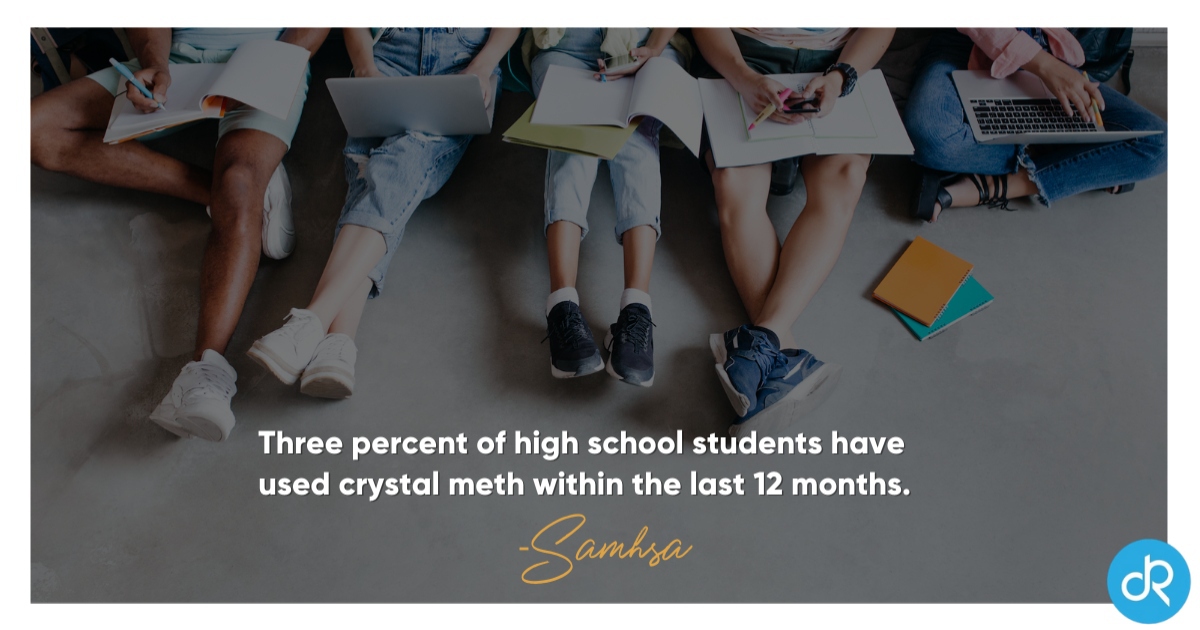 Quick Facts:
Three percent of high school students have used crystal meth within the last 12 months.
Street Names for Crystal Meth
Crystal Meth goes by many names when it is illegally sold and purchased. Some of the more common street names for Crystal Meth are Glass, G, Crank, Speed or Ice. These are the most common street names for Crystal Meth, but there are plenty of others depending on what part of the world you are in. Meth is found all over the world in all countries. Crystal Meth addiction lurks around waiting to take victims down. People who use meth usually think they are immune to substance abuse disorders. When someone abuses a substance with any regularity, they run the risk of developing a chemical dependency to that substance. Once the harmful substance has its grip on someone, it is hard to be released. Attending rehab is the only way for someone to get their life back on track. There is no telling where your addiction will lead if you continue to give in to Crystal Meth.
Click Here for a confidential benefits check to see if your insurance will cover the cost of treatment or call (866) 578-7471 to speak to a addiction specialist.
Crystal Meth Effects
If you are covered by health insurance, your recovery may be covered partially, if not fully. If you have no coverage, talk to the treatment centers about paying in installments. As well, there are many states that have programs for people unable to afford drug and alcohol treatment. There are many foundations around the country who offer grants to people in need of financial assistance for drug and alcohol treatment. Also, ensure that the treatment center of your choice does treat Crystal Meth dependency, as some centers may treat one substance and not the other. If you feel trapped and think you have no way out of your addiction, please call us now. We can run your insurance information to see if you qualify for help paying for substance abuse treatment.
Warning signs of Crystal Meth abuse in a loved one
Crystal Meth abuse is extremely dangerous, but luckily, due to the nature of the drug, it is extremely easy to spot. If you suspect a loved one to be abusing Crystal Meth, there are some common signs you can look for. Some will be painfully obvious, while other symptoms may not have been noticeable at first. Nevertheless, it all comes down to observing your loved one's actions. Some of the more common signs of Crystal Meth abuse include:
An increased energy and need for physical activity. When under the influence of Crystal Meth, users tend to have more energy at strange times. Abusers will stay up all night moving around due to an increased heart rate, resulting in obscure sleep patterns.
There are many physical symptoms regarding Crystal Meth abuse. A main symptom is that people will often have dilated pupils. Other symptoms of Crystal Meth abuse are: muscle spasms due to dehydration, body odor, and bad mouth hygiene known as Meth Mouth.
Crystal Meth abusers will suffer from Paranoia, and other psychological stress. Mood swings, fear, and panic will often accompany paranoia along with hallucinations. A common one is the sensation of insects under the skin, causing many to pick and itch.
Factual Dangers: Crystal Meth
It's ok to not know much about Crystal Meth abuse and addiction; it's a topic that not many people should have to know. Unfortunately, Crystal Meth abuse is all too common of a topic, and if you need to be educated, then admitting so is not shameful at all. These videos are designed to help educate people about the dangers of crystal meth addiction. The long-acting drug can cause many different mental and physical problems for the user.
Best Voted Treatment Centers
Crystal Meth
Detox Centers
True Stories of Addiction: Ron's Battle with Alcohol Led to Meth
Ron thought abusing Crystal Meth would help his addiction to Alcohol. He realized Crystal Meth was just as powerful as alcohol and reached out to a 12-step program for help. – View all episodes now
Crystal Meth Rehab Treatment
Call ahead to the rehab center of your choice and make sure they offer treatment for people suffering with dependency on Crystal Meth. Depending on the treatment center, there should be several therapy options available, but the recommended form is inpatient treatment. Inpatient rehab is the go-to idea of rehab, where the patient is under 24-hour medical care. The advantage for Crystal Meth patients is that because it is a highly addictive drug and relapse rates are high, being under 24-hour care will help ease the transition into sobriety much easier.
If you or a loved one need help finding treatment for a Crystal Meth addiction, please call us now. Our addiction specialists wait by the phone to take your call. They can listen to your situation, they list out some treatment options for you. It can be easy to decide that you need substance abuse treatment, but it can be hard to find what the right spot is for you.
Everyone wants to make sure that they are getting the best care possible when it comes to rehab. Our specialists can help you find a rehab center that offers personalized treatment programs in Crystal Meth addiction. Working through a rehab stint that is built off your needs is the best way to recover from a drug addiction or alcoholism problem. – Learn More
Crystal Meth Detox Treatment
Once an abuser of Crystal Meth is admitted into treatment and undergoes the assessment process, the next step is detox. This phase consists of purging the mind-altering chemicals and harmful toxins found inside of Crystal Meth from the patient's body. Detoxing from Crystal Meth should be conducted under medical supervision, as the withdrawal symptoms are severe and dangerous and could be life threatening. Crystal Meth detox typically employs a medication-assisted process to help the patient cope with the painful withdrawal symptoms. When the toxins from Crystal Meth are passed from the system, the patient will then be in a clean state of mind, ready, physically and mentally, to begin their rehabilitation process.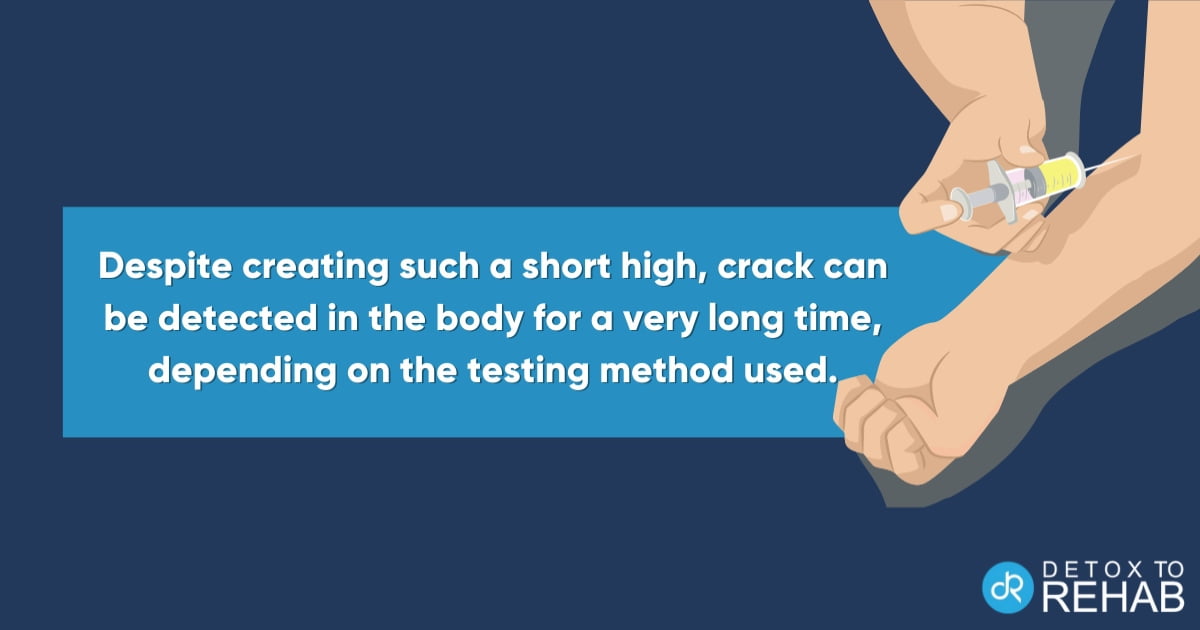 Quick Facts:
Despite creating such a short high, crack can be detected in the body for a very long time, depending on the testing method used.
The detoxification cycle of recovery is usually seen as the worst step. Some people who need help with a substance abuse problem, refuse to get help because they feel they cannot stay motivated throughout the detox stage. Trying to avoid detoxing can be costly in the end, as your body will not have a chance to clean itself out.
Detox treatment is the only way to effectively begin recovery. Allowing your body to get clean can give you a better advantage of staying focused in rehab. It is not easy to achieve sobriety, but it is possible through dedication. Detoxing requires the same commitment, but remember: it's only the first step. – Learn More
Crystal Meth Withdrawal Symptoms
When you admit yourself to treatment, the first step is detoxification, where the toxins in your body are cleansed to prepare you for rehab. If you are suffering from an addiction to Crystal Meth, there will be withdrawal symptoms. The crash from CM is intense. It is more severe than a Cocaine crash and typically lasts longer. However, the withdrawals are typically not as severe as those from Heroin. The following withdrawal symptoms are associated with Crystal Meth: extreme fatigue, substantial feelings of depression, heightened anxiety, unpleasant dreams, paranoia, lethargy or excessive sleeping, increased appetite and psychosis. Crystal Meth is too dangerous to attempt a self-detox. It is recommended to detox at a medically monitored facility.
Fighting back withdrawal symptoms is easier done when under medical supervision. Some inpatient detox facilities even provide clients with medicine to help alleviate the pain and discomfort that most people experience when trying to detox from Crystal Meth.
Do not let withdrawal symptoms be one more excuse to not get treatment. Your addiction will try to kill you, if it gets the chance. Withdrawal symptoms are temporary. Check into an inpatient facility, and get past withdrawal symptoms with professional-medical help.
Dangers of Crystal Meth Overdose
It is easy for users to overdose on Crystal Meth. Many people try to up their dosage to get the same high that was once had in the beginning, and because of the Crystal Meth's effect of wearing off quickly, this leads many to abuse more of the drug each time that it is used, adopting a binge-and-crash method of using, heightening the risk of overdose. In 2009, about 4.6 million people needed to visit an emergency room because of drug-related overdoses. Just over 21 percent of those visits were due to illicit drugs, such as Crystal Meth.
Other known effects of excessive Crystal Meth abuse can cause substantial tooth decay and mouth sores, known on the street as Meth Mouth. Abusers of Crystal Meth can also have powerful psychological delusions, such as bugs crawling in and around of their skin, causing many to pick and itch at their skin, resulting in sores covering their body. Chronic use can develop permanent psychotic disorders and ongoing hallucinations.
Abusers of Crystal Meth have an increased risk of stroke; repeated abuse will result in permanent brain damage. Overdoses of high frequency and dosage can often lead to comas and even death. Meth addiction is not something that is on your side. Call us now to get help. Do not keep upping the amount of meth, up your chances of being able to live. We can help get you out of your situation. – Learn More
Intervention for Crystal Meth Abuse
Staging an intervention for a loved one with a crystal meth addiction, might just be the difference between life and death. It may feel weird to assemble your loved one's family and close friends to confront them about their meth addiction. The goal of an intervention should be to point out that your loved one must go to rehab, because the only other options are prison or death. Your group must explain to your loved one that the best shot of living is to go to through treatment. Expressing concern, while showing support can be done in an intervention. Hopefully it serves as a wakeup call for you loved one.
Intervention's aren't something that can be winged and made up on the spot though. It must be planned accordingly and even rehearsed. If an intervention is unprepared or goes off the rails, it can cause the subject of the intervention, most likely your loved one, to seek solace in Crystal Meth or other substances. It is recommended that research be done, and a professional interventionist, who is professionally trained, should be hired.
Showing someone that you still care can have a profound effect on your loved one. Many continue a cycle of abuse with Crystal Meth due to feeling unloved and uncared for. In an intervention, you have a chance to open your loved one's eyes to the life-saving decision of seeking sobriety through rehab. It's important to your loved one's health, and your own sanity that an intervention is successful, meaning that a decision has been made to seek treatment. – Learn More
Recovery from Crystal Meth Abuse
Family members of those who abuse Crystal Meth are also victimized by the loved one's addiction. Belongings can be stolen and sold for Meth; loved one's can lie to keep a substance abuse secret and many can be manipulated for money to get high. Addiction can destroy familial relationships and severely damage the support system of any family. This is the need for family rehab, and what family rehab attempts to heal.
Through family therapy, the patient and family members are encouraged to attend counseling sessions together, as well as lectures and talks given by addiction professionals. Family members are also taught the basics of addiction, how it is a disease and how to relate with abusers of substances. The goal is to return the family to a viable support system for those that are recovering, and to repair the strained and severed relationships in the family. Building a stronger connection can help eliminate the feelings of isolation that a loved may have. Crystal Meth addiction does not only harm you physically and mentally, but it also hurts all the relationships with friends and family and loved ones. Going at it alone is hard, but fighting back against an addiction is easier when your family and loved one's have your back.
Rebuilding family relationships is often accomplished in rehab, as long as everyone is willing to heal. Family therapy is a terrific way for everyone to get back on the same page. Your family can once again learn how to cope, forgive and love one another again.
Effects of Crystal Meth Use & Abuse Over the Years
The main reason for Crystal Meth's success, and what makes it so dangerous, is that it isn't considered a solo drug; it is called a party or club drug and it is designed to get the abuser to relinquish all inhibitions and enjoy the moment to the fullest of extents. Many people will combine other drugs and alcohol on top of the Crystal Meth that has already been consumed. Crystal Meth zaps people of negative feelings and guilt, which allows a sense of relief to party harder without any self-awareness. Once addicted, it is almost impossible to recover and kick the habit without the help of a treatment center.
Some of the common signs and symptoms of Crystal Meth use are: increased physical activity, dilated pupils, loss of appetite, sleeplessness and fleeting feelings of euphoria.
When somebody begins using Crystal Meth, over a period of time they will begin to experience a variety of crippling effects. Some of these short-term effects are: loss of appetite, mood swings, change in sleeping patterns and significant weight loss.
When someone continually uses Crystal Meth, abusers may begin to experience significant and harmful effects. Some of the long-term symptoms are: Psychotic symptoms, stroke, coma, feelings of bugs crawling on skin and breathing problems.
Quick Facts:
3.3 percent of students who are in college and high school in the U.S. either have tried crack cocaine once, or are active users of the drug.
The physical damages of Crystal Meth can lead to a premature death, but the mental damages that the substance can entail on a person are horrible as well. When someone is trapped deep inside a Crystal Meth addiction, the abuser will begin to make questionable actions to sustain the addiction. It can make it almost impossible to hold a job, let alone have a relationship with friends, family and loved ones.
Crystal Meth doesn't let go of you; it snatches on and creates a craving for it the moment it is first use. Coupled with the substances nature of quickly crashing after the intense high, it creates a precedence of continued abuse.
The important thing to know is that these people do have hope to change their ways. Enrolling into inpatient rehab can save anyone's life. Learning to how to live life in sobriety is the safest way to recover from an addiction. Addiction and alcoholism are diseases that must be treated with professional attention.
Working through a rehab plan with the help of a qualified staff can get anyone out of their rut caused by crystal meth. Intense therapy sessions take place in most inpatient rehab programs, so that those seeking recovery can find out why they took to drugs in the first place.
The real work, though, comes after rehab. Living a life in recovery is not easy, but it is possible. There is no way to fully rid one's self of an addiction, it will always be there waiting to attack if given the chance. The best way to stay focused and healthy is to work a program. Finding a sponsor and building a support group may sound easy, but there will be bad days. When those in recovery feel scared, stressed or upset is when their addiction lurks waiting to pounce back at them.
Keeping those temptations at bay can be difficult, but after learning how to deal with an addiction in rehab and working a programing, it is not impossible.
Do not feel that anyone is past the point of help. As long as the crystal meth addict is willing to change for the better, then there is always hope. But the person has to be willing to put the time, effort and acceptance into sobriety. We can help anyone find help from any state. We accept calls at all times of the day and are willing to place anyone in a rehab program that best fits their needs. There is no low that we cannot help someone out of. Addiction and alcoholism can be coped with, it starts with a phone call.
The Dangers of Freebasing Crystal Meth
Powder methamphetamine is the hydrochloride salt form of meth. It is smokable as is. Crystal meth is the crystallized version of methamphetamine. It is purer and easier to smoke in this form, but it is not truly considered a freebase. Actual methamphetamine freebase is an oil, which is an uncommon form of the drug.
Learn more about freebasing: https://detoxtorehab.com/substance-abuse/what-is-freebasing
Travel for Treatment
Those who travel away for drug and alcohol addiction treatment, tend to see much more impressive results than those who stay close to home. Getting away from everything that urges and triggers Crystal Meth use, gives those who are suffering from abuse and addiction the chance to stay focused on rehab. It is not easy to complete inpatient treatment. If the addict is far away from their friends and dealers who encourage their meth intake, then it will be easier for them to see the light at the end of the tunnel. If the person is in a different area, they have a greater chance at seeing that sobriety is possible.
It can be hard to realize that making a comeback is possible. That is because right now, every day revolves around getting meth into your body to feel normal. If you leave your current surroundings, you can see that it is possible to live a life where you do not need to intake Crystal Meth. Do not let meth be the reason of your untimely death, call us now to get help.
Stats prove that traveling for treatment can increase the chances of one gaining sobriety. Many people who attend a rehab facility in their town, often walk out when they are ready to give up. If you are far away from any friends or family to pick you up, then you might be more likely to stick it out. Completing rehab is not easy, if you give yourself every advantage possible, then you are more likely to make a comeback and get back to living a happy and sober life.
Group Therapy Helps
Once those seeking recovery complete detoxification and are assessed for a treatment plan for recovery, different therapy methods will be available to choose from. One of the more popular methods of therapy is Group Therapy. Group therapy is effective for people who work better in groups. Extroverts who enjoy opening up and sharing their experiences, as well as those who enjoy listening to others and helping with their addiction.
This process of sharing and digging into the past and talking about one's addiction, when shared with peers and addiction specialists can lead to healing and growth. Meeting peers who struggle with Crystal Meth can afford them the opportunity to create a support system among other like-minded peers. You may also find a sponsor at group meetings who can help you on an individual basis on your road to recovery.
Part of recovering from a drug addiction is to get rid of the feeling of isolation. Often, people start using harmful drugs because when they are loaded they feel more normal, making it easier for them to be in groups. Many people who suffer from Crystal Meth addiction believe that no one will understand what they have gone through and what it takes to gain sobriety. In group therapy, many people who have been where you are now, will understand and help you. Connecting with people who know how hard Crystal Meth can hit, will allow you to feel less isolated and feel less like someone who cannot be helped, and give back your self-esteem. Anyone can be helped.
True Stories of Addiction: Crystal Meth Taking Control
Janelle watched her parents use and abuse drugs when she was growing up. She saw what the drugs did to her parents and made a vow to never become like them. She broke her vow as soon as she tried Crystal Meth. The Crystal Meth took away the pain she felt inside from her childhood and made her feel invincible. Janelle ended up going to jail, where she realized her life has become a mess. When she was released from jail, she tried to stay sober but didn't know how. Janelle was about to give up on herself but thankfully found recovery and has been sober since.
Find out More about your available options today (866) 578-7471.
Inpatient Crystal Meth Rehab
The most proven form of treatment for drug and alcohol addiction is inpatient treatment. Inpatient care is a live-in facility where patients are under 24-hour medical care. The durations are typically 30, 60 or 90 days. Most treatment facilities offer a core group of therapies including individual, group, family and cognitive behavioral therapy. The major benefit of inpatient care is that it removes you from the temptations and negative influences that may be tempting you to abuse drugs or alcohol, and allows you to focus completely on recovery.
People who need help for a substance abuse problem often do not want to go to inpatient rehab, because it can disrupt work and home life, looking for other ways to cope. Unfortunately, Crystal Meth addiction is complex and needs in-depth treatment, and inpatient rehab provides that.
Inpatient rehab is the only efficient way to overcome a Crystal Meth Addiction. Enrolling into an inpatient facility will allow you to get help from medical professionals who understand addiction as a disease. Substance abuse problems exists in all races, genders and ages. There is no discrimination. Working through a program at an inpatient center will give you the opportunity to realize that it is possible to be happy and healthy once again. You have been living on your addiction's terms for so long that it might be hard to realize living life any other way. If you are ready to seek the help you need, and fight back against your addiction, then please call us now. – Learn More
Outpatient Rehab
Outpatient care is treatment available for people who are unable to attend rehab at an inpatient facility. Patients can travel to a treatment center a few nights a week, allowing them to continue life uninterrupted while focusing on recovery. Unfortunately, the patient may still be exposed to negative elements and environments that can tempt them to use again. However, patients receive the same therapy models and coping mechanisms in outpatient care as they do in inpatient. Outpatient treatment is also generally less expensive than inpatient care, and may be a great option for you if cost is a primary factor.
Outpatient rehabs are good follow-up programs. After inpatient is complete is when the real work begins. Rehab does not provide a cure for any addiction, but it does help others learn how to live a sober life. When rehab is completed, you will need to have strong follow-up programs to stay focused on your recovery.
Outpatient rehab programs are usually more affordable than inpatient. One of the setbacks is that outpatient rehab does not give someone the in-depth professional care they would get with an inpatient program; most outpatient programs help with alcoholism. It is recommended that if you or a loved one are having a hard time with Crystal Meth, that you seek inpatient help. All in all, any help is good help. Call us now to see if inpatient or outpatient rehab will be a better fit for you. Everyone has different needs when entering rehab, we will help you find the right spot. – Learn More