In Lancing, Michigan a small tattoo parlor, Ink Therapy, was just voted Michigan's Coolest Tattoo Shop according to MLive readers. The owners, Corey Warren, 26, and his mother, Jacque Liebner came up with the idea for Ink Therapy after working with recovering addicts and alcoholics. Warren had also struggled with addiction in the past and wanted to do something to give back to the community in order to help those who are trying to navigate sobriety.
"When I was in high school, I end up becoming dependent on Heroin and Alcohol and other drugs," He went on to explain, "My mom and I lived through 8 to 10 years of hell. Our relationship was complete chaos."
New Age Sober Living Home
Eventually he was able to find the recovery he was looking for and started to love living sober. The mother and son duo eventually started a nonprofit called WAI-IAM Inc., which helps those in the community who were or are suffering from substance abuse and addiction. The non-profit includes a sober living home they named Rise Recovery Community. The self-titled "new-age sober living" facility provided everything Warren needed to open this one of a kind shop.
Finding Talent for Ink Therapy within the Rise Recovery Community
One of the men Warren flew in came with a shiny case, and when asked what was in it, he said, "I'm a tattoo artist."
It wasn't long after meeting him that Warren met a woman who also lived at Rise who shared her passion for piercings. She had hopes of working more with body piercings, but revealed that the environment that surrounds a traditional tattoo shop would hinder her sobriety.
That's when Warren's idea started to bloom; he dreamed of a "clean and sober tattoo shop" where recovering addicts who shared a passion for tattoos could come together and use their amazing gifts to find healing and therapy that traditional after-care options don't provide.
"That name says it all-Ink Therapy," Warren described, "It's therapy to them."
At the moment, there are four tattoo artists who work at the shop—Jero Garza, Preston Evans, Shawn Farr, and Warrens own fiancé, Karley Miller. They only have one piercer, Melissa Knight, while Jackie Evans runs the front of shop.
Building a Sober Family through Ink Therapy
"What we're doing over there is very pure, it's very genuine," Warren said, "They make you feel like you're family when you're in there."
This is a sober facility, so those clients who come are expected to be sober. If there is anybody within that shop who appears drunk or impaired, they are asked to leave.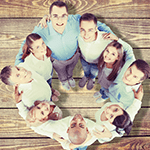 The profits the shop makes help to support the Rise Recovery Community program, as well as help pay for treatment for those who are having financial difficulty within the facility. The facility itself has been able to work with 17 different drug courts and helps to bring in residents from around the country.
The need for more facilities like this is staggering. Those not within the recovery community seem to forget that addicts and recovering addicts are people too– with dreams, wants, desires and professions. They may have skills or trades that are not being tapped because they are "criminals." Mistakes are made, but recovering addicts are strong people who fight every day to overcome their demons. They are compassionate and caring and want to give back to the community that gave them life again.
Everyone deserves a chance to make a difference—give them theirs.