Last Edited:
November 25, 2020
All of the information on this page has been reviewed and certified by an addiction professional.
Losing Your Kids to CPS to Your Addiction
The possibility of losing custody of a child can be a distressing experience for individuals in need of addiction treatment program. However, in many cases of parental addiction and abuse, treatment is the first step to restoring visitation rights and ultimately custody.
If you've lost custody or are worrying about losing custody, one of the best things you can do is get help for yourself — so you can best help your child. Second chances exist, and they usually exist at the end of rehab and recovery.
In This Article
When Courts Typically Get Involved
Courts generally respond to a parent's substance abuse either during a child custody hearing or when complaints about suspected substance abuse—and its impact on the children—are reported either to the court that issued the child custody order or to the state (through the Department of Child Protective Services).
True Stories of Addiction: Child Protective Services
Addiction is a Family Disease
The disease of addiction and alcoholism is one that not only impacts the individual suffering from substance use disorder but also the family. It is a difficult statement for many to accept because believing that addiction is a family disease means that it is not just the individual with the "problem" but rather that the addiction has caused sickness within the entire family unit. This can be very difficult for the family to accept, because accepting that the family is dealing with the disease means that the family, and not just the individual suffering from addiction, must also get help in order to heal and get well.
A child's health, safety and best interests are always the primary concern, and governing bodies recognize that a child's best interests are usually to be with his or her family.
Child Protective Services
Child Protective Services (CPS) is the name of a government funded business in many states of the United States responsible for providing child protection, which includes responding to reports of child abuse or neglect. Some states use other names, often attempting to reflect more family-centered (as opposed to child-centered) practices, such as Department of Children & Family Services (DCFS). CPS is also known by the name of Department of Social Services (DSS) or simply Social Services.
Department of Children and Families – DCF
Department of Children and Family Services – DCFS
Department of Social Services – DSS
Department of Human Services – DHS
Department of Child Safety – DCS
Department of Child Services – DCS
Department of Human Resources- DHR
CPS/DCF is a department under a state's Health and Human Services organization.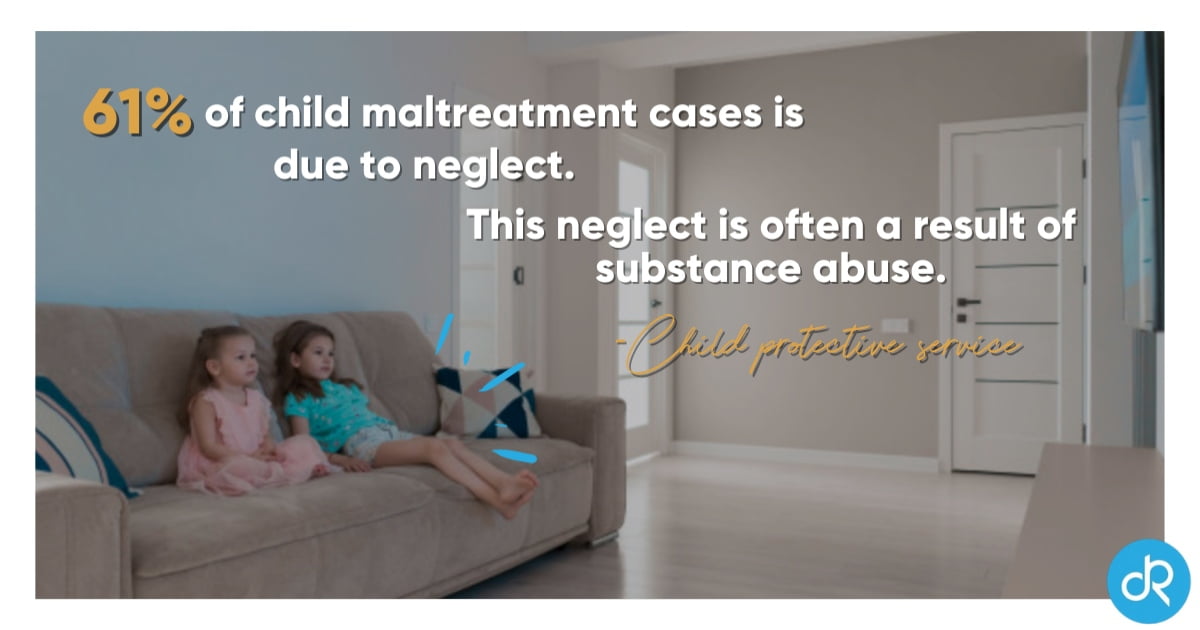 Substance Abuse & Child Trauma: A Dark Reality
Drug/alcohol abuse by parents and caregivers has an effect on children, often resulting in neglect of the children and threatened abuse.
Drug abuse is non-discriminate, affecting all socioeconomic groups and people from all walks of life. Tolerance and dependency on drugs can develop quickly, without the user even realizing that addiction is taking hold. The pattern of abuse and addiction can be extremely difficult to stop.
Alcohol abuse (parent/caregiver)—the compulsive use of alcohol that is not of a temporary nature.1
Drug abuse (parent/caregiver)—the compulsive use of drugs that is not of a temporary nature.1
Domestic violence (parent/caregiver)–abusive, violent, coercive, forceful, or threatening act or word inflicted by one member of a family or household on another.1
When you recognize that someone has a problem, it's essential to seek help right away.
Impact of Drug & Alcohol Abuse on Children
1/3 to 2/3 of child maltreatment cases involve substance use to some degree.11
In one study, children whose parents abuse alcohol and other drugs were three times more likely to be abused and more than four times more likely to be neglected than children from non-abusing families.11
Two-thirds of the people in treatment for drug abuse report being abused or neglected as children.9
More than a third of adolescents with a report of abuse or neglect will have a substance use disorder before their 18th birthday, three times as likely as those without a report of abuse or neglect.14
11.5% of children have a parent/caregiver alcohol abuse risk factor.1
28.5% of children have a parent/caregiver drug abuse risk factor.1
25.0% – 33.2% of children have a domestic violence abuse risk factor.1
Opioid Crisis & Effects on Children
Parental opioid and other substance abuse can have a devastating impact on children. The early trauma exposure makes children more likely to suffer mental health disorders including substance abuse and post-traumatic stress disorder later on in their lives. Children are often the hidden victims of our nation's opioid epidemic.
A 2015 study from the National Institutes of Health found children exposed to opiates during pregnancy suffer from behavior and attention problems. Such children require therapy and often, specially licensed and trained foster families. States have indicated that they are struggling to recruit qualified foster families to home children with behavioral and attention issues.
The increase in the number of children in foster care occurs at the same time as the increase in the percentage of children entering foster care due to parental substance abuse. Anecdotal evidence and expert opinion link this increase to the parallel rise in parental opioid addiction and overdoses. One-third of children entering foster care in 2016 were due at least in part to parental drug abuse—an increase of nearly 50 percent since 2005.
Neglect, the finding in 61 percent of child maltreatment cases and the leading reason for foster care entry, is also often a result of substance abuse.
Click here to learn more about Childhood Emotional Neglect and Its Effects.
A Recovering Alcoholic Can Get Their Children back from CPS.
How To Get Your Kids Back From CPS
Getting custody back once you are sober can be a long and challenging road. Don't give up hope, though, it is possible if you put in effort and time. First, get some legal advice; you probably qualify for free legal aid.
To regain custody, you must prove to the court that you: have completed addiction treatment, are actively sustaining recovery and are not using Alcohol or drugs currently.
Based on the severity of your case and whether you were arrested or not, the time it takes to do this can vary. For some it may take years, while it could be a matter of months for others. There are many things you can do to help the process along.
Working with Child Protective Services and Not Against Them
When parent(s) are faced with an open CPS investigation or case, the best course of action is to comply with the CPS case manager's requests. An open CPS case can often feel like it's the end of the world. The truth is, it is only the end of the world if the parent(s) make no effort to comply. Of course, it is not just about getting your children back home with you, it is about helping you overcome your addiction and create a safe, healthy, and stable environment for your children.
The sooner that you get into a program, the better. Seeking treatment or having a treatment plan will send the message of your willingness to get better for yourself and your children to CPS.
Sources