Last Edited:
November 12, 2020
All of the information on this page has been reviewed and certified by an addiction professional.
Finding Addiction Treatment in Connecticut
Connecticut is full of rich history about strength and production. Today, Connecticut leads New England in the production of pears, peaches and boasts having the nation's 2nd largest oyster crop. Jet engines, helicopters and motors are also produced in Connecticut. But even in a proud, family-based state like Connecticut, substance abuse problems lurk around looking for victims. Drug addiction and alcoholism are diseases that claim lives every day. Rehab, prison or death are the only three ways to cope with an addiction.
In This Article
Going through treatment may seem hard, but it helps to know that you will have support not only from staff, but from other people in the center. Addiction might happen in isolation seemingly, but recovery happens in fellowship. To recover from an addiction, you must get past the feelings of shame, loneliness and fright. Enrolling into an inpatient rehab facility can help you achieve that feat. It is not easy to complete rehab, but it is possible if you have the right help. You can get through the hardest part of all this right now by giving us a call. We can find a treatment specialist that will walk you every step of the way to get started.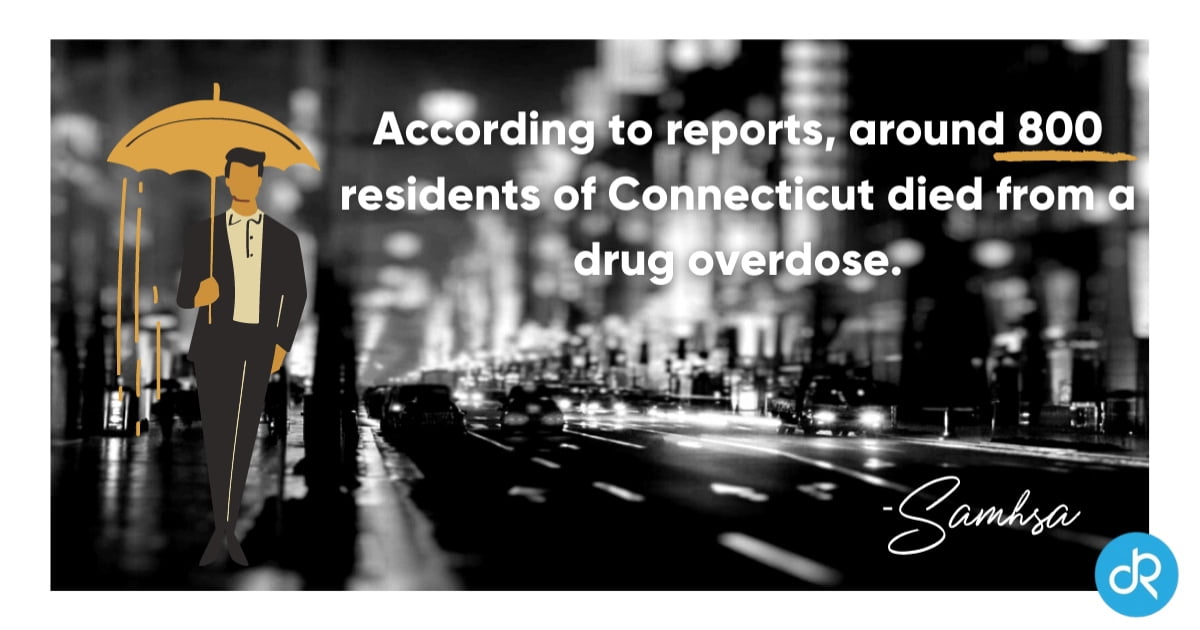 Quick Facts:
According to reports, around 800 residents of Connecticut died from a drug overdose in 2015.

No one in Connecticut should feel helpless. We are here to help find the help that you need so you can begin your recovery from your addiction. Choosing to receive help is a big and terrifying step to take. We know it is hard to see a better life for yourself, but trust us, it is there. When you call us, you won't be speaking to some random person, but to someone who has been where you are. Call us now for help, and remember, it is never too late.
Best Connecticut Treatment Centers
Connecticut Detox Centers
Connecticut Inpatient Rehab Facilities
Connecticut Outpatient Rehab Centers
Connecticut Sober Living Houses
Connecticut  Drug & Alcohol Detox
Detox is the beginning of your recovery process, but it is also tricky. Most, if not, all medical professionals will urge you to only undergo detox with the supervision of a doctor that specializes in detox and rehabilitation. They will be able to provide medications when necessary to help you through the process.
Detox clears your system of the toxins that are left behind by the abuse of drugs or alcohol. You might experience withdrawal symptoms. These symptoms are often times the reason people refrain from getting the professional help they need for their substance abuse problem.
The best way to cope with these symptoms is to enroll into an inpatient detox facility.Having constant medical attention can keep you save and comfortable while you get past the detoxification process.
Connecticut Drug & Alcohol Rehab
If you have been through detox, the next natural step will be to rehabilitate your behavioral patterns. Breaking the habit of looking to drugs and alcohol as a stress reliever or even as a great night of partying, will begin to change and be replaced by healthier actions.
There are numerous inpatient facilities and outpatient programs across the country and in Connecticut that will teach you new behaviors and responses.Maybe it's time to really enjoy the popular resort area that Connecticut has to offer. You never know what doors will open when you are clean and sober.
When you call you will speak with someone who has gone through the recovery process. So, whether you are looking to travel for treatment in Connecticut or elsewhere, we can help you find the right facility for you.
How Do I Know If I Have a Substance Abuse Problem?
Substance abuse problems don't just happen overnight, and because of this, it may be difficult to realize if you have one. You may have a sinking feeling in your stomach when you first consider the possibility that you have a drug or alcohol problem.
Does it feel like you can never have enough? Do you spend too much money on it? Are you having a hard time meeting your obligations and responsibilities? Was it too hard so you justified continuing your habit? Do you obsess about drinking or using when you can't have it? Have friends and family shown concern for your well-being?
If you answered yes, to any of these questions, it may be time to look into a facility that can help. Give us a call; we can help.
How Do I Know What Treatment Facility is Best For Me?
Connecticut has much to draw from when someone is fighting an addiction. Choosing the right facility that will focus on your recovery and not your addiction will help with your treatment. Don't be afraid of getting out of your comfort zone, as it may be just what you need.
We'll talk to you about your preferences and then help you find a facility that will take your payment method (insurance, cash, etc.) Drug addiction relapse rates soar when people stay in the place where they developed their addiction.
If you are from one of the Connecticut counties, you should especially consider traveling for treatment. Doing this could be just what you need for long-lasting sobriety. Give us a call and break free from the addiction that has enslaved you. Call us now: (866) 578-7471.
Why Is Intervention Important?
If a loved one is suffering from substance abuse disorder or addiction, and they are in denial of it, then perhaps an intervention is necessary. Your loved one is suffering, but might need help recognizing the danger they're in. Your love and support is crucial in getting them the help they need.
Interventions provide an outlet for loved ones to show support, not a way to place blame. A specialist can help keep the intervention on track. Don't wait for them to get worse, pick up the phone and get them the help they need.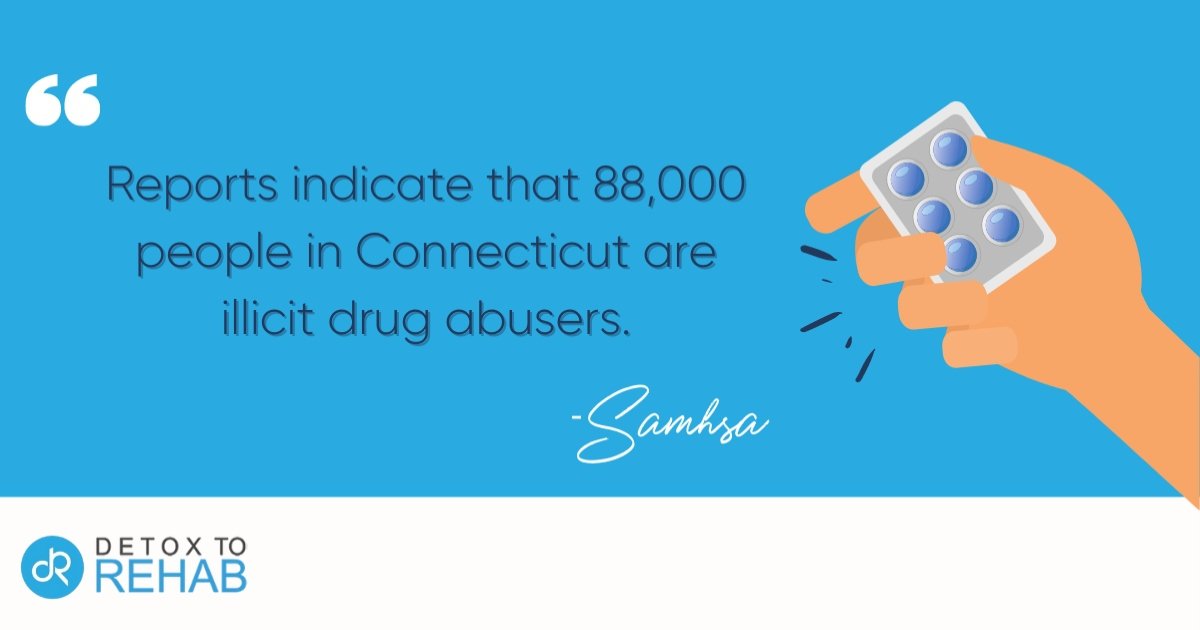 Quick Facts:
Reports indicate that 88,000 people in Connecticut are illicit drug abusers.

There are many options to choose from when seeking treatment, so if you have a friend of loved one suffering from addiction or alcoholism, don't wait. A professional interventionist can help identify the right method of intervention for your loved one, so call (866) 578-7471 today.
After Treatment, Recovery
The state of Connecticut offers a great many choices for treatment facilities, but what about the life that comes after treatment? That's called recovery and it's not an end goal, but rather a way of life.
Aftercare programs is important, as it will help with the day to day challenges of recovery, and help keep you on the straight and narrow path. Connecticut counties have regular meetings with a fellowship group are known to help millions of people in their recovery. Some groups also have alumni meetings, where people who have also completed the program will get together to do fun things.
Recovery is a challenge and in some ways, more challenging than rehab itself, because now you're out on your own again, back in the world that contributed to your addiction in the first place.
Treatment Options in Connecticut
Connecticut counties have recently done a study of the drug and alcohol abuse problem striking its residents. Connecticut comes in 4th when a national study was done on the drug and alcohol abuse of adults. Even more alarming; more kids in Connecticut abuse drugs and alcohol than in any other state.
Even though addiction can seem like a never-ending pit of hopelessness and despair, there is a solution. There are a plethora of treatment options in the great state of Connecticut, with many of them being able to accommodate many, if not all of your needs.
Be part of Connecticut's solution, not one of these statistics. Call us today and we'll help you find the right rehab facility for you.
Treatment for Drug Or Alcohol Abuse Works
If you are wholly committed to recovering your life, then treatment will work. Addiction itself is complex, and because of that, treatment has adapted to tackle that complexity. But treatment is a broad term that can mean different things.
With addiction being a complex problem that not only affects the health of your overall physical body, it's important to choose a facility that will address all aspects of your addiction, such as your brain function or coping habits. Treatment works, but only if you are dedicated to recovery, and finding the right method t is crucial.
Recovery is not a one size fits all program. Adapt your recovery to what you need, be willing to put forth maximum effort and you too can recover. We can help you find the right one. Just give us a call.
"Find what works for you; it can make all the difference."
Finding the right treatment method for you is crucial for your recovery. As new two people are alike, the way you go about treatment isn't either. For some, going to an outpatient facility is perfect for their needs; others may prefer the structured environment of an inpatient facility. No matter your preference, finding the right treatment plan for you can make all the difference.
Substance Abuse and it's Effects
When referring to substance abuse, it's important to understand that just abusing a substance, whether it's alcohol, prescription medication or meth, isn't the worst part. Substance abuse affects all aspects of life, with no regard for anyone or anything.
Quick Facts:
It is estimated that 206,000 people in Connecticut abuse alcohol.

Substance Abuse
To put it simply, substance abuse is an addiction to drugs or alcohol, constantly abusing the substance into dangerous levels. There are many side effects to their health such as strokes, cancer, HIV/AIDS, mental disorders, and a plethora of others. But health isn't the only thing that is affected by substance abuse: relationships, work, and social lives all become non-existent. When you put the substance in front of everything else makes your life, for lack of a better word, difficult.
It should be obvious that drug abuse is bad, but confronting someone about why they abuse drugs or alcohol isn't as easy as it sounds. There are many factors that go into why someone would abuse a substance, whether it's because they've just become dependent on it, because they're depressed, or maybe they're coping with a traumatic event.
People drink in social settings, usually too wind down after a hard day at work; it's a way to relax, and there isn't much social stigma attached with it. There is a difference, though, between drinking socially, and drinking to drown out your worries. When you have the constant urge to get drunk, or need liquor to just function properly is when you should realize you have a problem. But alcohol abuse is tricky since alcohol consumption is socially acceptable, you might not even realize you have a problem. It doesn't matter if how much you think you can handle; alcoholism doesn't discriminate.
Drug abuse is a bit more serious in the eyes of many, mainly because when people reference drug abuse, they mainly think about illegal, or street drugs. The problem though, is that prescription drug abuse is just as bad. Drugs can end up rewiring your brain, making it difficult to even get out of bed without their consumption. Drug abuse is drug abuse; it doesn't matter whether the drug is illegal or not.
There are plethora of signs to look out for in regards to substance abuse. One of the more prominent signals is a behavioral or mood change with no identifiable cause.  Similarly, a loss of interest for usual activities, and a lethargic attitude toward anything should be noted. Moodiness, tiredness, and an excessive need for privacy are some other prominent examples.
Over 45,000 people died of a drug overdose every year in the US, and the main reason why is because those with a substance abuse problem don't get the help they need. Just like any disease, addiction requires professional help for someone to cope. Identifying the cause of they're substance abuse is an important step in their recovery, but it's only one step.
Substance abuse isn't something that's going to go away easily, and you're going to need help. Truthfully, there is only really three ways to deal with an addiction: rehab, prison, or death. Granted, only one of those seems attractive, and it's the only one guaranteed to help you recover from your addiction, and that is, obviously, rehab.
After identifying the signs, you want to be able to get some help. Most of the time though, it's not as easy as a simple google search. The first thing you need to do is to make sure that either you or a loved one understands they have a problem. Sometimes, an intervention is needed, and other times it's not. Each person is different and need to be treated with love and care.
As stated before, rehab is probably the best option in regards to recovery. There are many different rehab locations that can help, and figuring out which one is right for you can be a chore, but just like all chores, although monotonous, it's very important.
There are two types of facilities: inpatient, and outpatient, and finding the right one can be difficult. Inpatient care is the one everyone knows about, where you go to a facility and are under medical care the entirety of your time. Outpatient facilities usually deal with a patient going in to a facility under care in the day, and then leaving to return home at night. It is usually cheaper and more affordable to go through an outpatient facility rather than inpatient. Inpatient facilities typically have a statistically higher chance of success in regards to recovery. Nevertheless, help is help, and finding which way is right for you is important.
The battle with substance abuse isn't over once you leave the facility, though. After care, as in going to meetings, acquiring a sponsor, and making sure you stay on top of your sobriety and keeping back negative influences are going to be a constant struggle throughout the rest of your life. It's not an easy battle, but it's one that needs to be fought.
If you are sick of being sick and tired and watching all that you care about get pushed to the back burner of your life, then it's important to act now. Rehab, prison, and death are the only ways to deal with substance abuse, and if the last two seem unfavorable, then getting into rehab is your only option. Act now; call (866) 578-7471 to start fighting back.
Drug Abuse in Connecticut
Connecticut cannot escape the terrible wraith of substance abuse problems. Growing numbers in both drug addiction should scare everyone. Addiction does not care about where you live or who you are friends with. It can drag anyone into the shadows at any time.
Heroin has grown to be the drug of choice in recent years. Connecticut counties have seen an increase of 76 percent in drug-related deaths from 1999 to 2013. Many are affected by drug abuse and addiction, but it doesn't need to end there.
Let us help you help yourself. There is only three ways to end an addiction: death, jail or rehab. There is a way to get back to living life on your terms instead of your addiction's terms. We are here to help you; just call.
Connecticut and Alcohol Abuse
Alcohol abuse is a tricky, as it's hard for someone to admit they have a problem. Because of the social acceptability of its acceptability, alcohol is widely regarded as safe to use. Unfortunately, it's here that lies the
Alcohol is the most abused drug in the United States, and because of its legality coupled with its acceptability, alcohol abuse and addiction will always be difficult to handle. Unfortunately, addiction is non-prejudiced in all aspects, including age. Connecticut has the highest alcohol use of minors, with 18 percent of kids aged 12 to 17 having used it in the past month.
But there is hope; help is always readily available. Whether you or a loved one is in trouble, we are here to help. Give us a call at (866) 578-7471.
Sources