"With ministers, and the world's religions, I parted right there"–Bill Wilson, co-founder of Alcoholics Anonymous
Alcoholics Anonymous, or A.A., was conceived in 1935 in Akron, Ohio by two struggling alcoholics, Bill Wilson and Dr. Bob Smith. It has since been a driving tool for many who seek a more productive way of life, as opposed to the unhealthy lifestyle of hopeless addiction and self-degradation.  Other programs of recovery have also branched from A.A., such as Narcotics Anonymous (N.A.), Cocaine Anonymous (C.A.), Gambling Anonymous (G.A.), and many other organizations revolved around self-improvement.  It has also been a healthy alternative to established and organized religion.
Alcoholics Anonymous Founders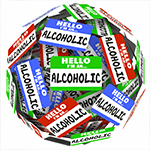 Bill Wilson was born in East Dorset, Vermont in 1895. Bill, commonly referred to as Bill W. amongst those who have embraced Alcoholics Anonymous for personal recovery, spent much of his life suffering from onsets of depression. He had a military career that later fueled many of his impulses to use alcohol as means of coping. After his military career ended, he became a stock speculator. In 1933, Wilson was committed to a hospital in New York City where he was told that his failure to control his drinking would either kill him, or leave him in a permanent state of mental paralysis. He was eventually introduced to an evangelical Christian organization known as the Oxford Group, where he met Dr. Bob Smith.
Dr. Bob Smith was born in 1879, also in Vermont. He was a physician and surgeon. The doctor began drinking at Dartmouth College, where he quickly learned that he was an alcoholic due to his level of tolerance and immunity to normal amounts of alcohol. He spent many years after college struggling to maintain his drinking and practice medicine. While attending the Oxford Group in Akron, Smith was introduced to Bill Wilson after Wilson was referred to him for fear of relapse, and on June 10, 1935, Alcoholics Anonymous was born.
The Beginning of Alcoholics Anonymous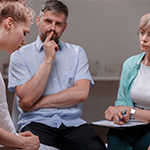 The first A.A. group was established in Akron's City Hospital where Bill W. and Dr. Bob started working with alcoholics, and witnessed a patient experience complete sobriety. The second group sprung up in New York, and the third in Cleveland. It was reported by A.A. history experts that it took over 4 years to produce 100 sober alcoholics amongst the three groups.
In 1939, A.A. published its first text, known as the Big Book of Alcoholics Anonymous. Within this literature were the principles and methods that are now well known as the 12-Steps of recovery. Alcoholics Anonymous grew rapidly from this point on. Dr. Bob and Bill W. worked tirelessly to expand A.A. as a productive solution to alcoholism in a time when institutionalization was viewed as the only means of helping the suffering alcoholic.
Lasting Effect For Alcoholics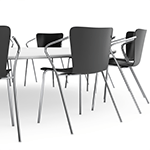 Bill Wilson and Dr. Bob Smith laid the foundation for 12-Step recovery that is now widespread and effective to struggling addicts and alcoholics across the world. Twelve Step recovery can now be found in over 132 countries. Today, millions of people experience long-term sobriety as a result of the founders' willingness to understand their own struggles with alcohol.