Prescription medication abuse is common today. From opioids to anti-anxiety medication to stimulants, more people are becoming dependent on drugs than ever before.
While you may not hear much about gabapentin or Lyrica addiction, it does occur. Those that struggle with chronic neurological pain can become addicted to these medications and not even know it. These anticonvulsant meds do help minimize pain, but they also have a higher potential for abuse and addiction.
In fact, according to a study published in JAMA Internal Medicine, the number of people taking gabapentinoids tripled from the years of 2002 to 2015.
What Does Gabapentin Treat?
Gabapentin is an anti-seizure medication that is commonly prescribed to treat chronic nerve pain, restless leg syndrome, and epilepsy. It's also used to treat fibromyalgia.
What Does Pregabalin Treat?
Pregabalin, or Lyrica, is a medication that is also prescribed to treat chronic nerve pain, epilepsy, and fibromyalgia.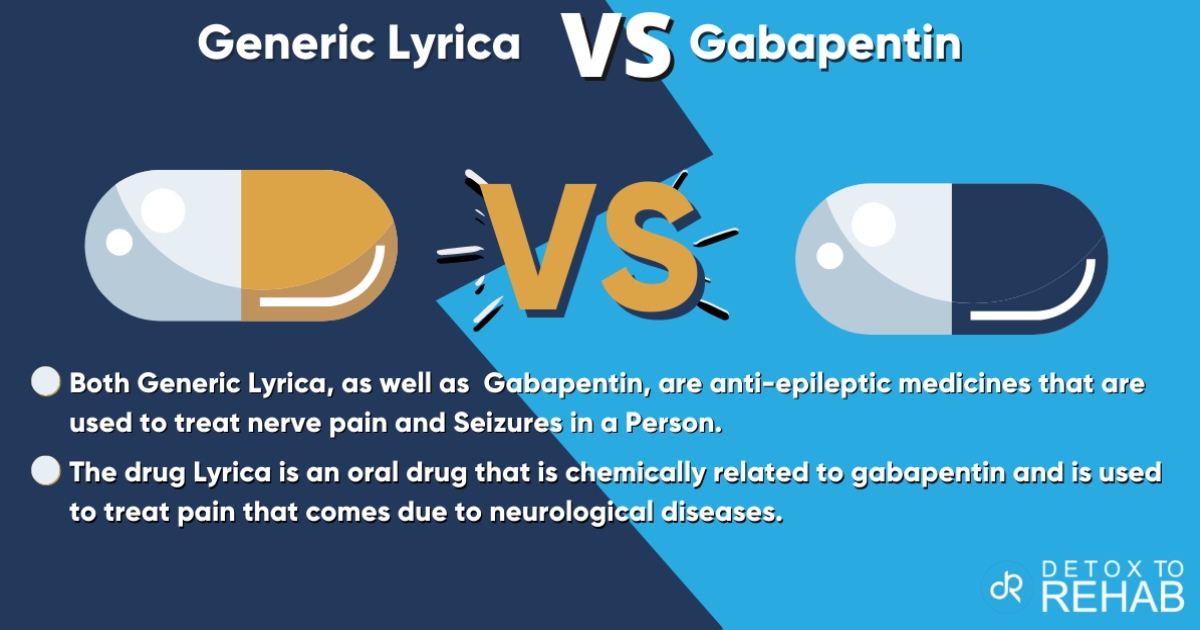 Gabapentin Vs Lyrica
Gabapentin and Lyrica are both gabapentinoids that treat neuropathic pain and some forms of epilepsy. However, even though they are similar, they are not supposed to be used interchangeably. If you're taking one medication and want to try the other, you should talk with your doctor.
Both medications have the potential for abuse and dependence, leading to withdrawal symptoms when you stop using them. Both also affect the GABA neuronal systems in the brain, ultimately helping reduce nerve pain due to things like diabetes, shingles, spinal cord injury, and more.
One of the biggest differences between gabapentin and Lyrica is that the Drug Enforcement Administration (DEA) labels Lyrica a controlled substance. This means it has a higher potential for dependence and addiction.
Gabapentin And Pregabalin Side Effects
Both gabapentin and pregabalin have various side effects. Some are the same, but there are some differences. If you're taking gabapentin, you may experience the following side effects that are not common with pregabalin:
Trouble with speech
Viral infection
Fever
Body jerks
If you're taking pregabalin, you may experience the following side effects that are not common with gabapentin:
Inflammation
Dry mouth
Constipation
Enlargement of breasts
Both gabapentin and pregabalin share the following side effects:
Feeling dizzy
Vomiting
Fatigue
Trouble concentrating
Shaking muscles
Blurry vision
Feeling off balance
Is Gabapentin Addictive?
Many people think that gabapentin or Lyrica can't be addictive since their doctor prescribed it to them. However, both drugs have the potential for abuse and addiction.
The main difference between becoming addicted to an opioid pain medication and nerve pain medications like gabapentin is that with opioids, you're more apt to experience more intense feelings of relaxation or euphoria.
Nerve pain pills like gabapentin and Lyrica provide a mild sense of relaxation.  Those that become addicted to this type of medication aren't usually abusing it for the "high" they feel. It's more likely due to developing a higher tolerance over time.
Symptoms of Gabapentin Addiction
If you're wondering if you are addicted to gabapentin or pregabalin, the following are some signs of addiction:
Your tolerance has increased. You have to take more of the drug to get the desired effect.
You experience withdrawal symptoms when you try to cut back on your medication.
You exaggerate your symptoms to your doctor so that they will prescribe higher doses or increase the frequency.
You refuse to stop taking the drug, despite negative consequences.
You're obsessing about the medication. You think about it all the time and fear running out.
You hide from your family the fact that you're using or abusing the medication.
You know you're addicted, but put it in the back of your mind. You figure you'll do something about it some day in the future.
Gabapentin And Pregabalin Withdrawal Symptoms
If you're struggling with an addiction to gabapentin or pregabalin, know that treatment is available to help you get free. There are residential and outpatient addiction recovery facilities that can help you fully recover from prescription medication addiction. There you will be able to be under the care of addiction specialists who will help you get through the detox process, and go on to build a strong recovery foundation.
The first step to coming off any drug is going through the detox process.  As you stop using gabapentin or pregabalin, you may find yourself feeling detox symptoms as your body tries to adjust to life without the medication.
Common symptoms include:
Headache
Nausea or vomiting
Diarrhea
Feeling dizzy
Trouble sleeping
Feeling agitated
Itchiness
Nightmares or vivid dreams
For those that take these medications to control their seizures, the most severe withdrawal symptom when stopping the drug abruptly is the increased risk of more severe seizures.
Within about a week, your body should be through detoxing. You can then continue treatment with substance abuse professionals at a treatment facility. They can help you understand addiction better, as well as how to avoid it from happening in the future.
Getting Help For Pregabalin Or Gabapentin Addiction
It can be somewhat of a challenge when dealing with pregabalin or gabapentin addiction. The reason is because those that are prescribed these medications are usually dealing with intense, chronic nerve pain.  They usually become addicted to the drugs because they're in a lot of pain – not because they are intentionally abusing them.
Stopping the use of such medications leaves the person dealing with the chronic pain, which can be quite debilitating. Therefore, it's essential to seek help from a substance abuse expert who understands how to work with those struggling with chronic nerve pain or fibromyalgia. They can direct you to other forms of pain management so you don't have to suffer.
If you or someone you know is addicted or going through withdrawal from gabapentin or pregabalin,  please contact one of our addiction specialists at (866) 578-7471. We are standing by to address your questions and concerns, and help you get on the path to pregabalin or gabapentin addiction recovery.