Last Edited:
October 2, 2020
All of the information on this page has been reviewed and certified by an addiction professional.
Facing Drug and Alcohol Addiction in South Dakota
While many Americans think that our state is defined by Mt. Rushmore, South Dakota residents know better. What about the Badlands? Or Deadwood, where Wild Bill Hickok took his last breath? And we haven't even talked about the fossil beds yet!
In This Article
South Dakota residents know the special gem that we live in. But even with the lush surroundings of historic places and the friendliest people, the threat of addiction to drugs and alcohol still looms. In fact, no matter in what state you live, the clutches of drug and alcohol addiction have penetrated your community.
Quick Facts:
A yearly average of 53,000 people in South Dakota abuse alcohol.

Coming to the realization that you have a substance abuse problem can be startling and frightening if you do not know where to turn. Many people realize that control over using has been lost, but experience too much shame and fear to reach out for help. Unfortunately, without proper addiction treatment, many people pay the ultimate price to their disease.
Don't worry. There are plenty of treatment centers in South Dakota that will suit your needs. Call us today and let us help you find the treatment you need. Find the courage to combat your addiction and start a new, better life. If you have questions, call us now: (866) 578-7471.
Best South Dakota Treatment Centers
South Dakota Detox Centers
South Dakota Inpatient Rehab Facilities
South Dakota Outpatient Rehab Centers
South Dakota Sober Living Houses
South Dakota Drug & Alcohol Detox
Before any progress can be made in your recovery, you may require help from a detox center. Detoxification is the process by which harmful chemicals and substances are removed from the body. It is strongly recommended that everyone taking this first step enter a medical detox center as some withdrawal symptoms can be life threatening.
Detox is your first step in recovering your healthy lifestyle and it should be a supervised detox. The detox process can not only be uncomfortable, but incredibly dangerous if you attempt it without professional help. The professionals in a medical detox center will most likely administer medications to ease your symptoms and prevent life-threatening complications.
If you have any questions, give us a call or speak to your medical professional about the detox process.
South Dakota Drug & Alcohol Rehab
After your body and mind have cleared from the toxic haze caused by addictive substances, rehab begins. Rehabilitation uses different treatment methods to retrain your brain functions in a positive manner.
Utilizing therapeutic techniques including individual therapy, group therapy, educational seminars, and other approaches, you will develop skills to cope with stress, communicate without discord and function in a healthier way. Rehab gives you the opportunity to grow in your recovery with others. You will have the added benefit of being able to learn from others how to best grow into a happy, meaningful life.
There are many rehab facilities to choose from in South Dakota. Some are 12-step based, others faith based. We can help you find a treatment center that meets your specific needs. Get started toward a better way of living today.
Finding Treatment in South Dakota
Addiction is a disease that affects neural processing and behavior. Each person presents with a situation that is as unique as they. The multi-pronged aspect of the disease makes it necessary to have a tailored treatment plan that will address your individual needs.
The first step is to determine your appropriate level of care. If withdrawals are a concern for you, a detox center is right for you. If you have already gone through withdrawal, you can probably enroll directly into a rehab program. Whatever your needs, we can help find the best facility.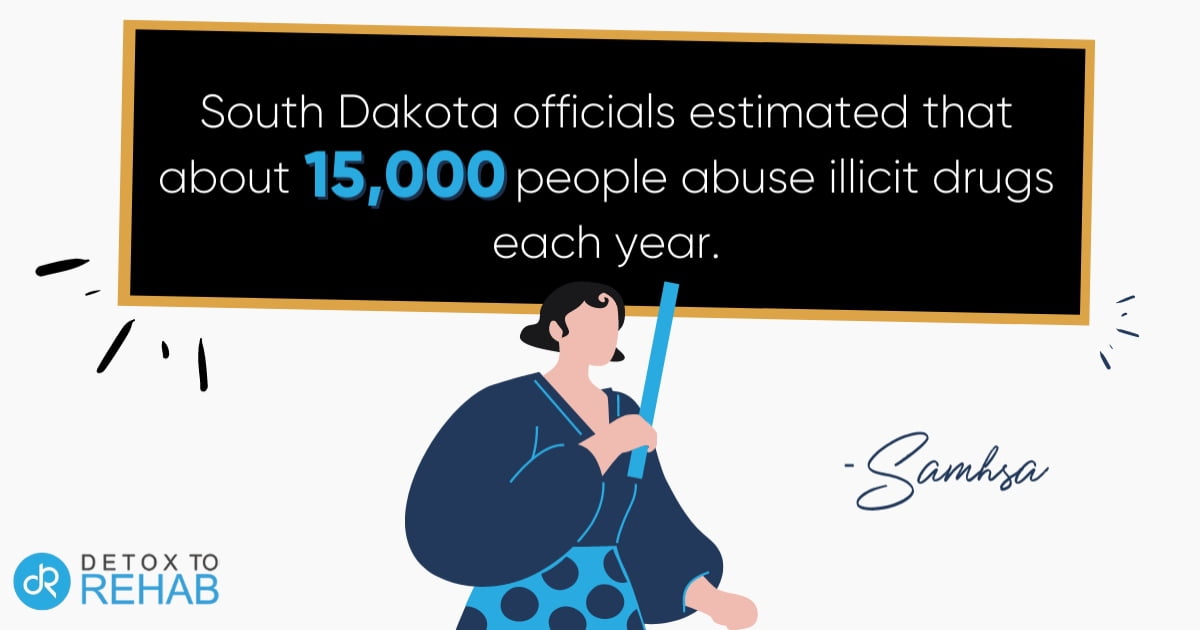 Quick Facts:
SD officials estimated that about 15,000 people abuse illicit drugs each year.

Everyone needs help finding their way out of addiction. It is not an easy road, but one that is well worth every ounce of effort. Do not hesitate any longer. Today is the day you change your life for the better!
Should I Travel for Treatment?
If you live in South Dakota, consider traveling away from the area to complete your treatment. Staying in the area that began your addiction can make it hard to return to a normal routine without relapsing.
When you travel, it can help you begin again in a new place without having to worry about being triggered. Addiction doesn't happen in isolation; there are a lot of factors within a community that galvanize someone toward addiction. Traveling for treatment also helps someone maintain anonymity. Anonymity helps people focus on their treatment without worrying about seeing someone they know or getting triggered.
Some people do prefer staying close to home for treatment. The choice is yours and should be based on whether you have a local support group that also wants sobriety for you.
When is Intervention Needed?
South Dakota offers so much beauty and history to its residents. Unfortunately, no state is immune from the lure of drug and alcohol addiction. If your friend or loved one has become addicted, don't wait for the worst to happen.
Many people in the midst of addiction, do not realize the reality of their using. Some people realize that control has been lost, but he or she may not know where or how to get help. Your love and support are crucial during this time. Stage an intervention and help your loved one moved forward toward a brighter future. Don't wait.
Talk to a professional interventionist to plan the correct intervention method. Call us today and get your loved one the help he or she so desperately needs. (866) 578-7471.
Living Your Recovery
To integrate to a new way of life you really must live your recovery. You should surround yourself with others who live healthy lifestyles and who practice the kind of balanced schedule you want in your own life. If you surround yourself with people who still use drugs and alcohol, you are setting yourself up for failure in sobriety.
Maintaining your sobriety certainly requires effort and hard work, but that doesn't mean that there is no time for play. There is no shortage of fun-filled activities and exciting adventure in sobriety. It is vital that you find sober activities that you enjoy.
Experiment and discover whether you like to hike, paint, play group sports, or whatever else comes to mind. Life is too short to pass up opportunities that could bring you happiness and belonging.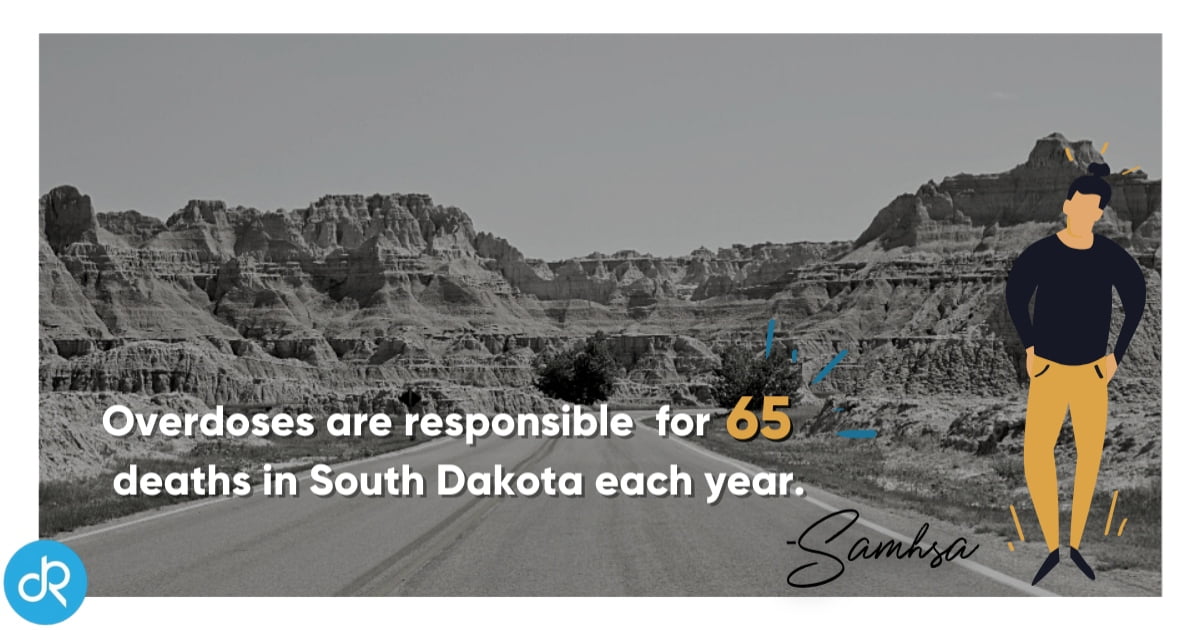 Quick Facts:
It is estimated that drug overdoses were responsible for 65 deaths in South Dakota in 2015.

Treatment Options in South Dakota
South Dakota has several treatment options for those seeking recovery from addiction. The dedicated individuals in these treatment centers will help you find your way back to life.
The first step and highest level of care is detox. This is a stabilization and cleansing stage where the mood and mind altering substances are safely removed from your system. Detox, however, is not a stand-alone treatment for addiction. Should you go to detox and then return to your normal life, you will see almost no change in your behavior. Rehab is required immediately after detox.
Rehab will help you understand your disease, uncover the underlying issues behind why you used and learn a better way to live.
Aftercare Services in South Dakota
We always recommend having a firm aftercare plan in place before leaving rehab. Meet with your therapist or case manager and devise a plan of action that starts the moment you walk out the door. Everything you have learned, everything that you have been taught and practiced will play some part in your recovery after you leave.
There are many different aftercare options that you can choose from. One of these that we recommend is a fellowship. Through a fellowship, you will be encouraged to implement the 12-steps into your life so that you will always be prepared for things that come your way.
By becoming more confident in yourself and in your treatment practices, you become less likely to relapse and more likely to stay on the straight and narrow.
"Every day is an opportunity to learn and grow in my recovery"
Recovery is not a "one and done" event, it is a lifestyle. The changes in recovery can be frightening, but you don't have to make them alone. Call one of our specialists today and get started on your path to recovery!
Is it an Addiction?
The difference between substance abuse and addiction can often be confusing, as they are so similar. Usually, the terms are used interchangeably, but substance abuse and addiction are vastly different issues. Although both effect life in adverse ways, knowing what the difference between the two can help you learn and understand the situation, and in turn, it can help find a way to remedy the situation.
For starters, substance abuse doesn't necessarily mean that someone has become addicted to a substance. Yes, they are more likely and are in higher danger to become addicted, but that doesn't mean they are yet. Sometimes people who abuse drugs still have a sense of control over how much they use.  Typically, it may seem as though someone is addicted to something, but they are in complete control over how much they decide intake. That's the take away of it, their choice is not made from a need, but rather from a want.
Even though they have some level of control, their life may begin to fall apart, or it may not. To make it clear, substance abuse is very dangerous and can have many adverse effects on your life.  More likely, it's a desire to acquire vast amounts of one or more substances and then consume them within a short period of time.
Basically, when someone abuses substances, it doesn't necessarily mean that they are addicted to it. An example of this would be if someone were to take a larger dose of medication than what was originally suggested and prescribed. The same can be said about alcohol and other narcotics as a use of coping with stress, or to relax or gain energy; abuse of a substance as a means to continue or deal with life is the essential rot of a substance abuse problem.
Although previously stated that substance abuse may not necessarily disrupt a person's life, it doesn't mean that it makes it right. Risks of infectious disease, bodily harm and overdose are still prevalent in casual use.
Luckily, those with substance abuse problems can still learn from their negative consequences and change their behavior for the better. This can happen with something as simple as a conversation that outlines the abuse and how it's affecting them and their life. Other ways involve going to a treatment facility and experiencing and in-depth lesson. No matter what though, the individuals who abuse must learn the consequences of their continued abuse, and the potential to become addicted to the substance.
Addiction is similar to substance abuse, with the main difference being that addiction is a chronic disease, it affects the entirety of a person's existence. It's categorized as the inability to stop using a substance, no matter the toll it takes on their life.
It's important to understand that,  the person suffering from addiction has a literal chemical dependency on the substance. Their abuse has gotten so bad that they're body has adapted itself to the point that it cannot function without  the substances.
The constant cravings for the substance will affect someone suffering from addiction's daily lives; will-power alone won't be able to do anything to help them. Although education is important, addiction, unlike substance abuse, needs more to be treated. The only safe and reliable way for a person to cope and get through with an addiction to change their habits is through medical attention, I.e., rehab, as the only other ways are through prison or death.  Through rehab, a person will go through detox, which is where the symptoms of withdrawal can be eased by a team of trained medical professionals, and treatment, which is where a person suffering from addiction can learn how to live life without substances in a facility that can help them without the distractions of everyday life. As well, while in treatment, they can develop a plan after they are released, like going to a sober living center, and finding a place to attend regular meetings.
South Dakota & Drug Abuse
Drug abuse is becoming more common as the culprit for claiming the lives of South Dakotans. Drug abuse and addiction are becoming more prevalent thanks, in part, to the availability of prescription drugs.
People across the socioeconomic spectrum, from all walks of life, are experiencing the heartache and devastation caused by drug abuse. Addiction is no respecter of people or circumstance. Drug Abuse is a subtle trap that requires patience and support to overcome.
Drug abuse should never be dismissed or considered lightly. Drug abuse claims millions of American lives each year and shows no signs of slowing down. An individual who is stuck in the vicious cycle of drug abuse needs your help to find the way out. His or her life has been taken over by the drug of abuse.
South Dakota & Alcoholism
Alcoholism is a serious problem in South Dakota. Alcohol abuse affects all communities and people of all ages, races, gender, culture, and socioeconomic level. The prevalence, ease of obtaining alcohol, and its legality lead many to mistakenly believe that Alcohol is harmless.
Alcohol is capable of an extraordinary amount of damage. It is a drug in liquid form that can take over and decimate your life and the lives of everyone close to you. Alcohol can also wreak havoc on your body.
Due to the social aspect associated with alcohol, many people can fool themselves into thinking that their behavior is normal and healthy. In reality, their drinking may well be out of control. If you are unable to abstain from drinking for an extended period, you may have a problem with Alcoholism.