Last Edited:
September 24, 2020
All of the information on this page has been reviewed and certified by an addiction professional.
Finding Addiction Treatment in Idaho
The good citizens of Idaho are not immune to the disease of addiction. Substance abuse doesn't discriminate by state lines, ethnicity, race or social class. In fact, there is no one factor that will determine a person's vulnerability to addiction. Substance abuse is something that many people in the United States struggle with. Though the reasons why are complicated, the reality and consequences are not. Living in active addiction is a date with death. People who don't seek help will most likely end up dead or in jail. It is not a game.
In This Article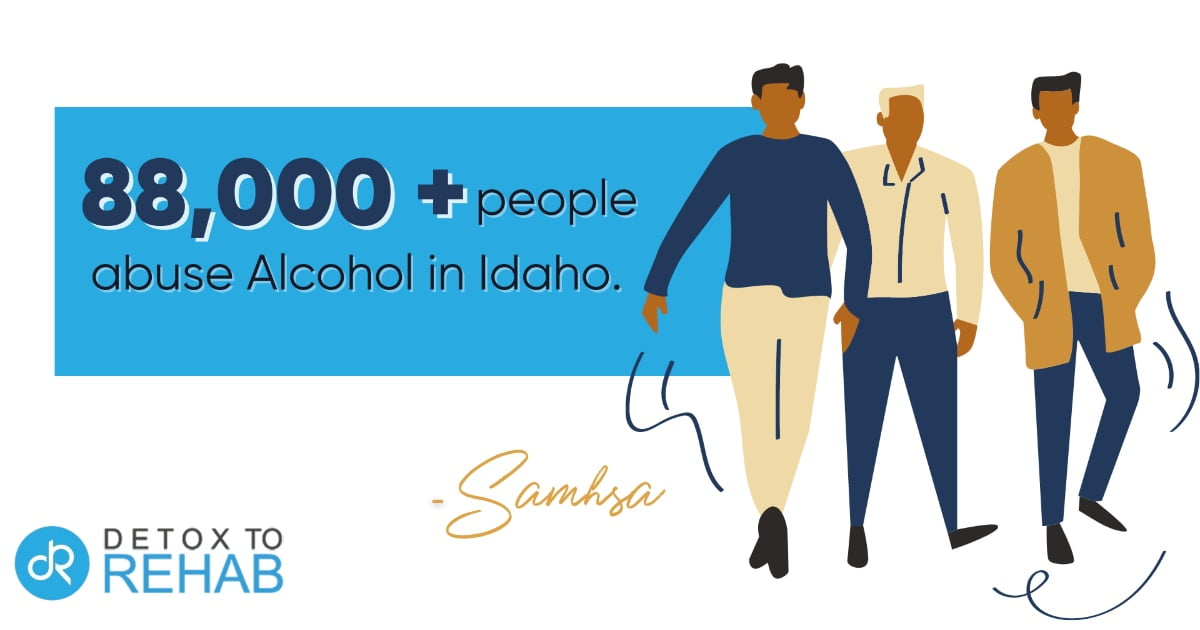 Quick Facts:
88,000 people abuse Alcohol in Idaho.

Best Idaho Treatment Centers
Idaho Inpatient Rehab Facilities
Idaho Outpatient Rehab Centers
Idaho Drug & Alcohol Detox
While detox alone will not solve your addiction problems, it's the first step down the right path. Addiction is a disease that not only affects the physical body, it affects brain function as well. Identifying a detox program that will be the most effective, should be followed by identifying a rehab that will work best for the addicted person's specific circumstances.
Detoxing in a facility is typically the best option, being in a facility means you can be medically monitored by a professional.Some withdrawal symptoms can be dangerous but being monitored can also help to keep you safe.
While detox is only the beginning of treatment it helps to get a good solid footing, if you can detox in the same facility you are attending treatment it can help you feel more comfortable when the therapeutic part of treatment begins. Contact us, we can help you continue down the right path.
Idaho Drug & Alcohol Rehab
Choosing a rehabilitation program is critical. But even more critical is the addicted person staying with the program for an adequate amount of time. Rehab choices range from short-term outpatient programs to long-term inpatient luxury programs.
Inpatient rehab tends to give people better odds at staying clean or sober since it allows you to focus on just your recovery and eases you back into regular life. Outpatient works as well but it takes a higher level of dedication because you are in the thick of it while finding your recovery.
Both options wrk for different types of people, we can help you figure out which on is best fou you. Give us a call. We can help you find the rehab program that best suits your needs.
Seeking out Treatment: What is it Like?
Getting help for yourself or your loved one is not as hard as it seems. There are thousands of treatment centers in the United States that can help treat your addiction. Now, while it's true that addiction has no cure, there are treatment methods that can help keep people sober.
Some of the more prominent treatment options are inpatient and outpatient.
The biggest difference between the two is that outpatient doesn't have a residential component like inpatient does. In both, the clients will undergo intensive detox to cleanse the body of toxins followed by therapy to help them learn coping mechanisms to deal with the real world.
How Does Traveling for Treatment Benefit Me?
Traveling for treatment is a great way to make sure that your care goes effectively. Addiction often happens in the context of community. People don't just start doing drugs on their own. They generally learn the behavior from someone.
Given that, it's important to remove people from the environment that spawned their addiction so that they can start a new life in a place free from temptation.
Addiction is nothing to be ashamed of, getting help is a tough decision, but we can help. If you or someone you care about is ready to get back in control, you've come to the right place.
How Can Intervention Help?
With strong agriculture, technology, and tourism, Idaho has a great deal to offer our great nation. This includes facilities to treat those suffering from the effects of addiction or alcoholism.
If you have a friend or family member who is spiraling out of control because of substance abuse, don't wait. Call (866) 578-7471 and talk to a professional interventionist to find the best method of intervention.
Your loved one needs your strength to help them recognize what is happening to his or her life. Your love and support needs to be the foundation of the intervention because you need to be the foundation of your loved ones support system and recovery.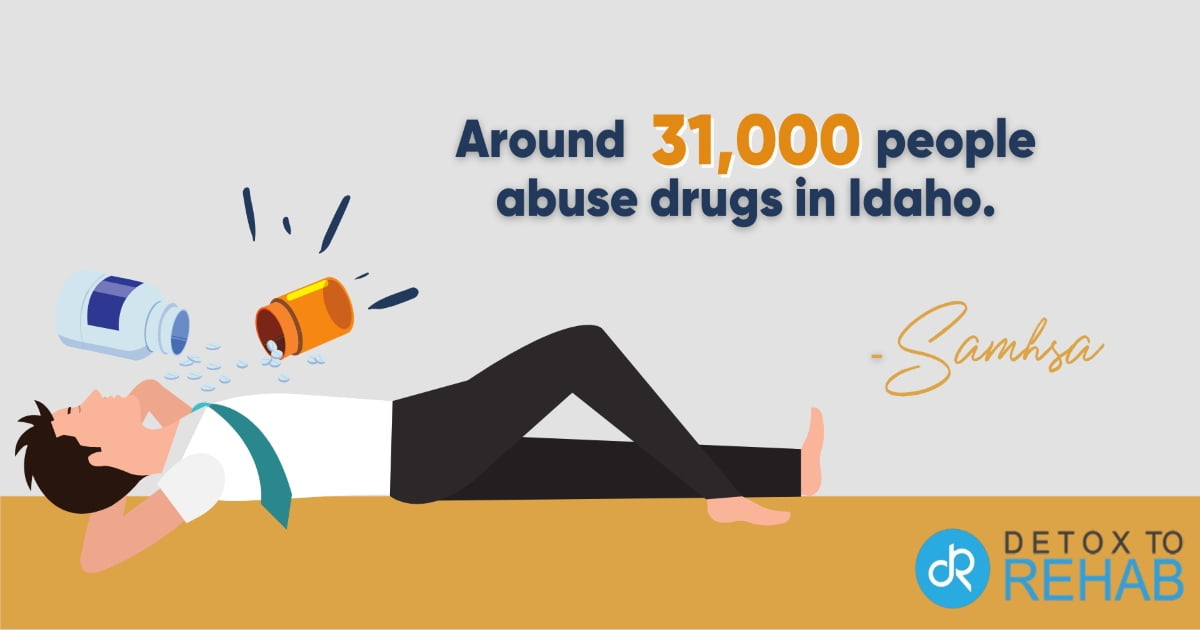 Quick Facts:
Around 31,000 people abuse drugs in Idaho.

Living A Healthy Recovery
It's pretty well known that Idaho has a lot to offer its residents, not least of that is an impressive support system for those dealing with addiction and living in recovery. If you've recently completed your rehab program, you're now in recovery.
Recovery is not just an end goal to strive for, reach and be done with it. It's a lifestyle that you choose to abide by, keeping you healthy and happy for many years to come.
Dealing with temptation and avoiding relapse is part of a life of recovery, but even if a relapse does occur, it doesn't mean that your recovery is over. While some people will need to return to treatment, others can simply learn from their relapse.
Idaho and Substance Abuse Treatment Programs
In Idaho, there are numerous resources available that are dedicated to assisting individuals on their road to recovery. Different treatment modalities will be available to accommodate the client's specific needs.
While some individuals may believe that one therapy may treat every issue. People are encouraged to examine different forms of therapy and see which one works best.
In addition, several therapies may even be interwoven in the treatment process to address abuse and addiction on multiple levels.
Is There a Program Near My Home?
People that are ready to kick their habit for good have plenty of questions about the rehab they will be entering. Is it near my home? Will I be able to contact my family? Can I afford it?
Going into rehab is stressful enough, don't take on all of those worries by yourself. Give us a call.
By allowing us to verify your insurance, we can find you a facility that is covered and has all of the amenities that are important to you. Call us at (866) 578-7471 .
Relapse Warning Signs
When you are starting a new life in recovery, relapse seems like the foulest thing that could ever happen to you. However, you would be amazed by how many individuals in long-term recovery that have gone through a relapse. Just remember, "It's not how many times you get knocked down that counts, it's how many times you get back up.
Drug and Alcohol Addiction Stressors and Triggers
When dealing with a possible relapse the smartest thing you can do for yourself is to learn from your experience and move on. It may seem like an evident assumption, but if you know yourself and your triggers, you'll understand how to avoid a relapse in the future.
A trigger is a form of exterior or interior stimuli that makes you feel like you need to use again. It can be caused by a memory, song, or a just the view of an old apartment you used to hang out before rehabilitation. When you eagerly place yourself in a harmful atmosphere where you are faced with your trigger, you are inviting yourself both knowingly and involuntarily to do it again. You may even think, "Just once won't hurt, right?" or "I got out before and I can do it again.
One is too many and One Thousand is Never Enough
Take a look at this scenario: Say some buddies want to go to the bar after a long work day. You feel sheltered in your recovery and the individual steps you are taking to stay that way; so, you agree to go with. You end up going to a bar down the street but you used to visit this bar frequently in the deepness of your addiction [trigger]. When you walk in to the bar, the stuffy smell becomes peaceful on your skin, you feel normal again [trigger]. As you settle at the bar you watch as the waitress fills the cold glasses of your friends with the golden liquid [trigger], you could taste it as they gulp the froth. All individuals around you are having a good time. You love the ambiance of the bar and everybody knows everybody. Some people suggest to buy you a drink and each time you feel your willpower fading away. You cannot take it anymore and you rationalize your behaviors by saying that you can stop after one sip; this will not amount as relapse because theoretically I only drank one!
One is too many and a thousand is never enough.
During addiction, the desire will not stop at one drink. You will rationalize more behaviors as you slip beyond your path of recovery.
During your recovery, triggers will make you want to slip-up and use, drink, or engage in actions that you are doing our best to avoid. It will be a continuous fight and the enemy is yourself. Your recovery rests on you understanding the success is worth the blood, sweat and tears you put into your recovery.
Tumbling back into your addiction is a slippery road. You must be honest with the individuals who are supporting you. You will overhear the stories from those in long term recovery, "I don't comprehend; I just abruptly caught myself calling my dealer" or "I did not even grasp I had ordered a drink up until it was in front of me." Honestly, if they were too look back over the previous few days or months, they would see this was the usual development of relapse. The quicker you see yourself slipping into old actions, the higher your chances are of catching yourself before it's too late.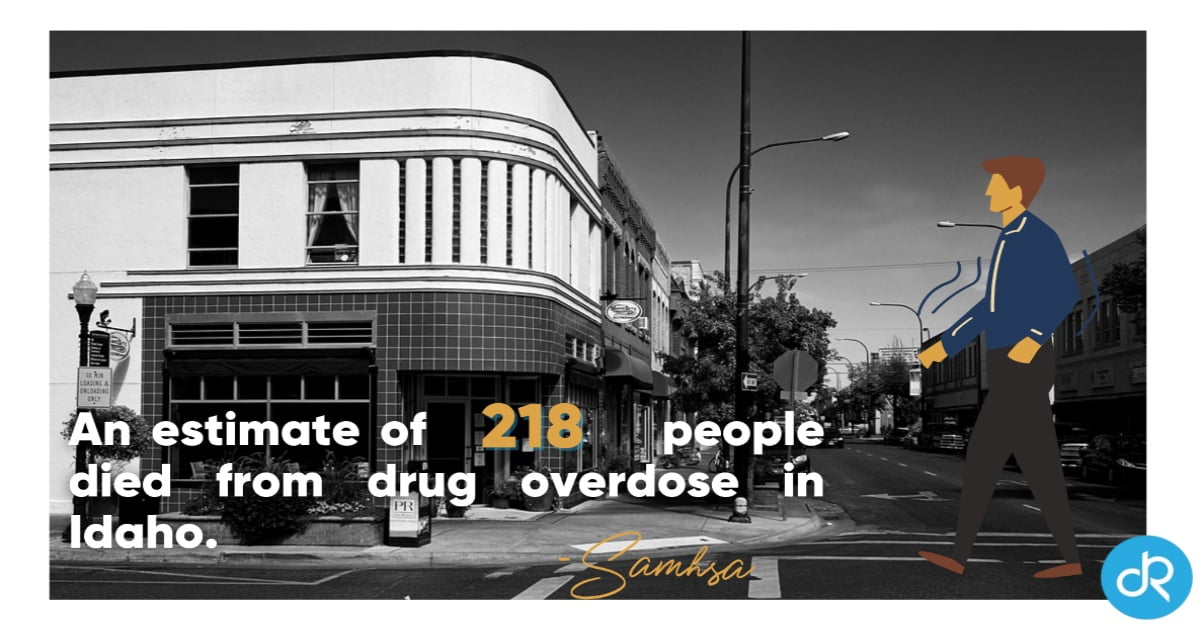 Quick Facts:
An estimate of 218 people died from drug overdose in Idaho.

If you do end up going through a relapse it does not have to be your last fight, do not give up on yourself, use it as a learning experience. Try not to waste time being too tough on yourself, as an alternative create strength and lean on your support system. Be sure you think of your relapse as a blessing, you now understand your triggers and what not to do with them. Think of what the relapse did- it gave you a little more understanding so, get with a newcomer and share your experience strength and hope, you might save them from going through what you had to go through.
Idaho & Drug Abuse
Drug addiction and abuse is an equal opportunity employer, it can affect anybody, anyplace. It is a fatal and progressive disease. Nearly 50 percent of primary drug treatment admissions in Idaho were for Marijuana.
Take a second to distinguish your own efforts in acting against you or a loved one's addiction.
Drug addiction and abuse is not something to be taken lightly. When someone is abusing drugs his or her entire life is positioned around the getting, finding, and using ways and revenue to get more.
Idaho & Alcohol Abuse
After the detoxification, the treatment stage Alcohol addiction is a sinister disease within civilization. It does not service any individual ethnicity, culture, sex or race.
Alcohol is nearly everywhere you look in Idaho, whether it's at a restaurant or gas station.
It may be problematic to identify when it's time to seek treatment when social drinking can become out of control, developing to addiction without any notice. When addressing matters of alcohol abuse, you must wisely choose the rehabilitation that's right for you.