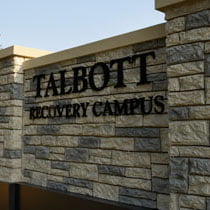 Talbott Recovery Campus
5448 Yorktowne Dr, Atlanta GA, 30349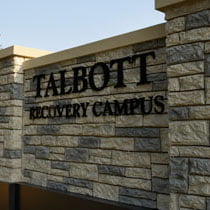 Description
With more than 38 years of experience helping men and women deal with addiction, Talbott Recovery truly understands the pain, sorrow and confusion that accompany substance abuse. The caring team of professional counselors, physicians, social workers and support staff at our private addiction recovery centers are here to help you work through your pain, disappointment and anger with alcohol, drug, and co-occuring psychiatric disorders. These research-proven methods of treatment and therapy truly work. Talbott Recovery will be the premier behavioral healthcare system that responds to the needs of the community we serve. We will be recognized for our commitment to service excellence, providing superior services to our patients, families, referents and alumni. We will deliver outstanding individualized treatment with clinical care of unsurpassed quality and will support a knowledgeable, skilled and caring professional staff.
Where can you find us?
Talbott Recovery Campus
5448 Yorktowne Dr, Atlanta GA, 30349
Reviews
2018-10-22 02:38:03
UHS owns a chain of Hospitals/Treatment Facilities. See my review for Talbott and Anchor.I had a terrible addiction and placed myself voluntarily in this facility. I was locked (yes, locked) in Anchor Hospital to allegedly detox. They finally transferred me to this Talbott Marsh place after a horrific week of abuse at Anchor.They controlled EVERYthing people did. People do nothing but plot their escape from day one. Mind control tactics is what I saw. If you do not completely conform you are strongly targeted by staff.When I tried to leave they threatened me that my kids/house would be taken. I called the airline from their lock up apartment and split immediately. Of course I was shunned completely by the other 'inmates'. Cult programming? Terrified of no more house or kids when I got home.I have remained sober (they tell your family if you want to leave you are going to relapse) without their so called treatment.I found out a Dr. sued for false imprisonment and the high suicide rate was exposed. Also, I heard many 'clients' talk about selling their homes to pay the exorbitant cost of this long term facility. They said I needed at least two years there. Hmm? How many hundreds of thousands would that be? My personal bill was over forty thou for three weeks 'programming.'
2020-07-18 13:46:01
Doug Talbot was a genius.I started drinking alcoholically at age 13. At age 18 I saw the movie "DAYS OF WINE AND ROSES, and concluded that I was an alcoholic, and that was OK. I picked up my first white chip in the late 1970s. After losing yet another job, I agreed to enter Talbott on October 28, 1995. I had 6 bloody marys on the plane trip to Atlanta.My sobriety date is October 29, 1995.My stay at Talbott was scheduled for 3 months, but I stayed for 6 months because some people are sicker than others. I completed Steps 4 and 5 before I left. Those steps hinted to me that the problem was me, and the only solution to my problem was for me to change.You guys did a miracle for me.Today I have been married to a woman who has 20 years of sobriety for 17 years. Our children and their relatives are in the AA program.The 12 Steps are helpful with the pandemic, also.You may use my name if you want, and any portion of my review, including its entirety.Thanks for everything. Your program saved my life and the lives of my loved ones.
2020-09-22 11:55:01
Disappointing experience all around . Staff and treatment were not in tune with patients on a personal level. I felt like a number in an algorithm just waiting for my 90 days to be up. Other patients laughing and making fun of the most vulnerable patients was cruel and hard to watch. There is personal information that I can attest was not kept in a safe place. One example, Renee in nursing spoke freely in front of other patients about meds, diagnoses, and treatment. I couldn't believe she was talking about patients addictions, meds, and personal info without regard for clear HIPPA violations. Unfortunately, I cannot in good conscience recommend this facility for quality treatment and addiction recovery.