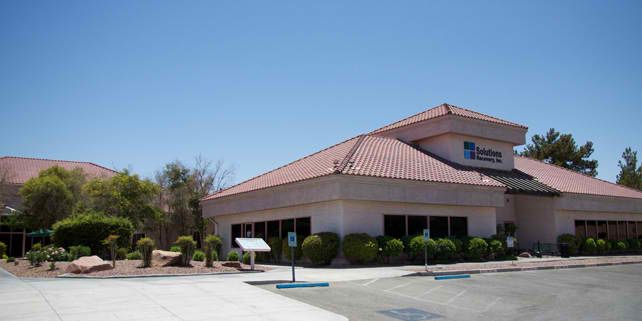 Solutions Recovery - Las Vegas, NV
2975 S Rainbow Blvd, Las Vegas NV, 89146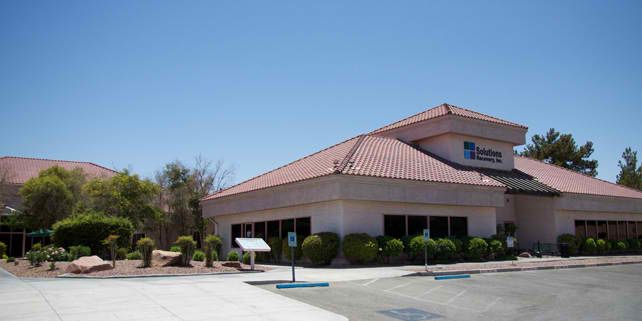 Description
Solutions Recovery, located in Las Vegas, Nevada, is now part of the American Addiction Centers (AAC) family of addiction treatment facilities located across the United States.For almost a decade, Solutions Recovery has shown our dedication to getting families and their loved ones out from under the shadows of addiction. We provide individualized treatment plans for adults 18 and over struggling with alcohol and drug addiction. Our substance abuse care continuum includes: Detoxification, Residential Treatment Care (RTC), Intensive Outpatient Programs (IOP), Partial Care, and Continuing Care.Our Residential Treatment Care (RTC) drug and alcohol facility is located on the Solutions Wellness Campus in Las Vegas, Nevada. To serve the individuals of nearby Nevada towns struggling with addiction and co-occurring mental health disorders we operate Intensive Outpatient Program (IOP) facilities in Downtown Las Vegas, Pahrump, and Reno.
Where can you find us?
Solutions Recovery - Las Vegas, NV
2975 S Rainbow Blvd, Las Vegas NV, 89146
Reviews
2017-12-23 15:43:35
Minus the constant problems with insurance, Solutions Recovery Is as it represents its self. Solutions provides an environment that allows and indivisual to fully focus on their recovery. The staff truly cares about its clients. Their level of commitment is commendable. The In patient houses are beautiful, always the best food at your leisure. Beyond that to the more important things the environment including other clients is set for the most comfortable process in ones personal growth. The house managers truly care about you on a very personal level.Darlene Rutledge is mother hen and will literally give you the shirt off her back, a truly beautiful human being. Curtis Go-Go Man Gaul is the best go cart driver you will ever meet, and his level of compassion is heart breaking at times. Jason Shiftlet intimidating on the surface, is the kindest man of god on the inside i have ever known. His life experience is incredible a man of love for all humans. Suzie Russell last but not least. She is full tough love which is often needed, she will tell you truth and lay it on you in the m most compassionate manner, a heart of gold. Jeff Carson hands down the best clinician at the facility, his ability to get on any indivisual level is a gift.He can help anyone process even the most difficult of situations. Overall Solutions Recovery is truly a cornerstone in this field dedicated to changing peoples lives forever. A Recovery Center for others to strive to more like.
2018-09-22 10:25:50
I had one of their employees call me a sick miserable fuck on Facebook. I have it screen capped an saved if anyone at this place cares. Thankfully my insurance would not pay for me to do inpatient here. I thought it was my best hope. After being ridiculed on social media by an employee, I'm so glad I didn't go into treatment here. I would love someone to contact me from here, I can provide the persons name an a screen grab of what he said. This is a horrible way to speak about an addict trying to get clean and into recovery
2016-03-16 10:27:29
Solutions Recovery has saved my life!! Coming to Solutions was the best choice I ever made! Every person here has made a difference in my life. They have taught me more than I ever could have dreamed about my addiction and so many tools and ways to cope with my addiction. The clinicians, house managers and all the other staff members I am forgetting truly care about each client and their recovery! They are always there to answer a question, talk to you when you need a shoulder to lean on and anything else you need to help you with your recovery! As soon as you walk in the door at Solutions you automatically get a sense of welcome, warmth and support. Solutions and its staff will always hold a special place in my heart! They truly have taught me how to live again happily!