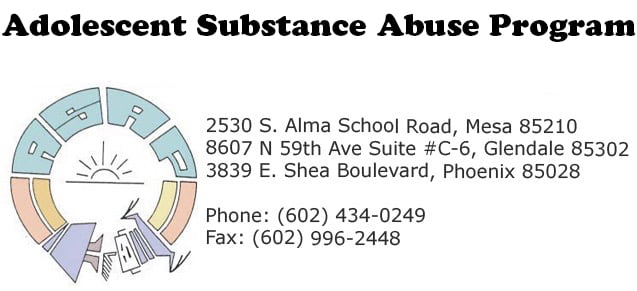 ASAP Adolescent Substance Abuse Program
2530 S Alma School Rd, Mesa AZ, 85210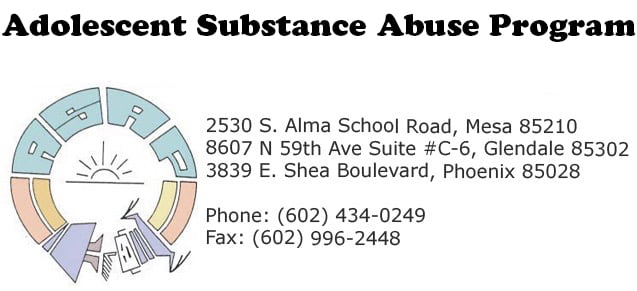 Description
The Adolescent Substance Abuse Program (ASAP) has proven itself Arizona's finest treatment program for young people ages 12-18 involved with alcohol and drugs since 1991. In 2016 we have celebrated our 25th year. All ASAP Programming is based on research proven, "best practices" interventions. Designed by three Phoenix-area psychologists, Dr. Phil Lett, Dr. Mark Rohde and Dr. Curtis Walling, the ASAP intensive outpatient program (IOP) pursues the "real-world" changes in home, family, peer, and school environments that yield lasting sobriety and a vastly improved quality of life for the entire family. The goal of the ASAP IOP Program is to help adolescents and their families re-establish a sober, safe, and mutually supportive relationship.Active participation is required of both adolescents and their parents. Interventions include comprehensive admission evaluation, drug education, coping skills training, emotional processing, group therapy, multifamily therapy, and urine drug testing. An eclectic treatment model and an eclectic staff are utilized to approach adolescents from many diverse angles. The ASAP Handbook and FAQ's orient adolescents and their parents to the ASAP program. The ASAP Curriculum is utilized as an effective teaching took at all sites, and many ASAP handouts are utilized for growth-oriented homework assignments. Parents are taught techniques for urine drug testing at home that can serve as the best deterrent of ongoing drug use. Outcome studies and satisfaction surveys are regularly conducted to measure treatment success and provide the feedback necessary for continuous quality improvement. All ASAP treatment is research-based and follows "best practices". No smoking is allowed in ASAP facilities,and strict adherence to the highest ethical standards is maintained.ASAP contracts with all major private health insurance companies (the one exception is TriCare). ASAP is not an AHCCCS Provider, and ASAP is not contracted with AHCCCS. For admission to the ASAP Program, or for more information, call (602)434-0249.
Where can you find us?
ASAP Adolescent Substance Abuse Program
2530 S Alma School Rd, Mesa AZ, 85210
Reviews
2018-01-18 20:19:04
I served as a therapist at ASAP for 3 years. I personally witnessed hundreds of children between the ages of 12 and 18 get clean and make positive changes in their lives. This profoundly changed the families of these children as well given that ASAP curriculum focuses not exclusively on children, but on the whole family unit. ASAP is an incredible program that has made a remarkable impact over it's 25 years in the Phoenix area. If your teen is struggling with addiction, I strongly encourage you to look into ASAP. It an intensive outpatient program at an extremely reasonable price.
2019-01-30 17:46:13
The ASAP program not only teaches youth about the hazards of substance abuse, but it teaches stress management and life coping skills that support abstinence and healthy living.. This is my #1 referral for adolescents and their families who seek my recommendation for intensive care. i choose ASAP because their curriculum is research based and relevant to current substance abuse trends and behavior; they maintain strict accountability for abstinence via urinalysis testing and they involve families in the treatment process to teach applicable support skills to the youths primary support system. If you are considering help for your youth, think no further....call ASAP ASAP!
2017-08-10 18:31:52
As a professional in the substance abuse field, ASAP is my go to resource for teens and their families struggling with addiction. Not only have they been around the longest, but they have the reputation, top clinical staff, and kindness and support that anyone struggling deserves. I can't say enough wonderful things about Dr. Walling- he is firecely compassionate and intelligent, and his wonderful spirit and expertise are greatly appreciated when I refer families. I am honored that we have such a top notch resource available to us in AZ. Thanks to you all at ASAP for the amazing work you do!
2015-04-15 06:22:00
Best substance abuse program I have ever seen. These guys really care about these teens and genuinely want to make their lives better. They don't just go through the motions to check it off their list. They are helping kids change their lives. Wish every parent knew about this program!
2017-06-01 15:05:05
As a Licensed Professional Counselor, I have referred teens and their parents (as well as other therapists) to this program over the years, and will continue to do so with the highest recommendations! The staff is great to work with, the program is designed and run by experienced and skilled clinical psychologists, and I have personally witnessed profoundly positive changes in the lives of the young people completing this program!